Third Jedediah Smith Trail 1826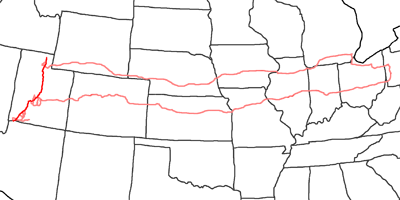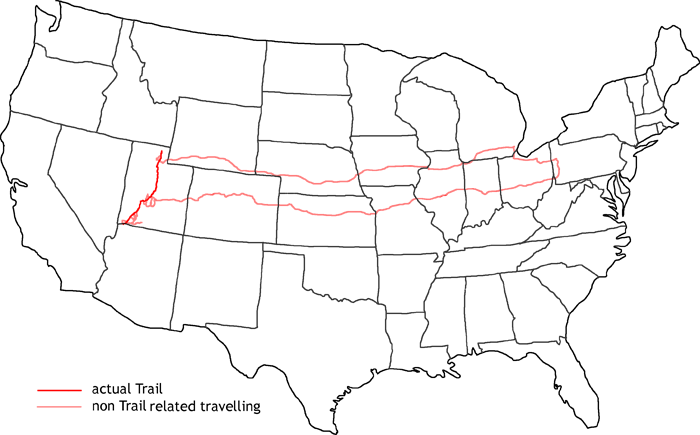 Map of third Jedediah Smith Trail
This year I am following the trail of Jedediah Smith in the year 1826, when he set off for his south west expedition. I will follow his trails also in the oncoming years until his death in 1831 by Comanches.
My trail starts in the area of nowadays Logan, UT. Here in Cache Valley Jedediah set out around August 15th, 1826, in southwesterly direction in search for beavers. But it is assumed that he was also searching for the legendary Buenaventura River which should empty into the Pacific Ocean. He already searched for this river when traveling around the Salt Lake before. His way went over the mountain range south of Logan into the Salt Lake Valley and from there into the Utah Valley. I do not follow his trails in the valley but as much as possible up on the mountain range to have great views of the valley. This also gives me some opportunities for offroading and hiking.
On August 22nd Jedediah arrived in Utah Valley at the Ute Indians and he distributed the usual gifts. Then he went on south to the Sevier River. He followed this river until he was not able to proceed any further. Then he went west, following Clear Creek over the mountain range. I-70 follows approximately his course. I use the opportunity to explore off his route the beautiful landscape of Fishlake National Forest for a couple of days.
I am moving on in southerly direction close to I-15. South of Beaver I follow a bit more to the east some forest roads over the mountains until I reach Cedar City. There I also spend a couple of days off the trail to explore the Cedar Breaks and the northern Zion National Park with a lot of hiking.
In the area of nowadays Hurricane, Jedediah reached the Virgin River. Again I spend a couple of days in this area exploring now the lower Zion National Park with a lot of day hikes. Then I am back on Jedediah's Trail following the Virgin River down to St. George and further on to the state boundary of Arizona. Here is the end of my this year's trail and I travel back on Interstates to Pittsburgh.
The daily trails are in preparation