John Colter Trail 1807 — 1808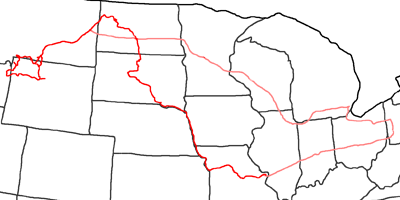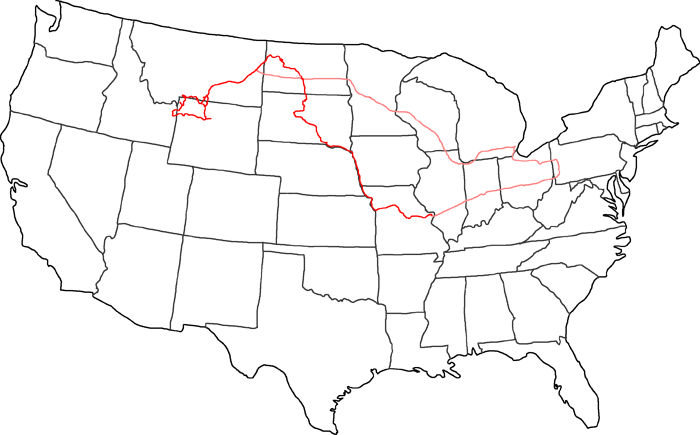 Map of John Colter Trail
In 2005 I follow the trails of John Colter and Manuel Lisa. Lisa was the first trader who established a trading post at the Yellowstone River. In the meantime, John Colter was sent out by foot to meet the Indians in their winter quarters and to tell them, that there is a new trading post at the Yellowstone. On his trail, he saw the wonders of Yellowstone and was the first white man to tell about it.
First I follow the Interstates from Pittsburgh to St. Louis. Lisa followed the Missouri up to Omaha. There he met John Colter, a former member of the Lewis & Clark expedition, who was on his way to St. Louis to sell his winter catch on beaver fur. Lisa was able to win Colter for his plan to establish a trading post. When they reached the Yellowstone, they followed the river up to the mouth of the Big Horn. There Lisa started the building of his trading post. Colter was sent out by foot with trading goods to meet the Indians, while the winter approached. Unfortunately there are no records of his trail, but most likely he followed the Yellowstone up to Pryor Creek in the area of nowadays Billings, Montana. Then along Pryor Creek through Pryor Gap to the Pryor Mountains. There he saw for the first time the gigantic Sunlight Basin. He left Pryor Mountains to the southwest and reached Clark's Fork. Passing Dead Indian Hill he reached nowadays Cody in Wyoming, which should later wear the name 'Colter's Hell'. He crossed the Absaroka Range and reached the Wind River Valley. From there he crossed the Wind River Range and reached nowadays Jackson Hole and the Snake River. The next mountain range were the Teton Mountains. After corssing them, he turned to the north and followed the ridge up to the north end of Jackson Lake. There he turned back east, crossed the Snake River and reached nowadays Yellowstone Park via Chicken Ridge. Propably he followed on the ridge and did not climb down to Yellowstone Lake. He reached the Yellowstone River above Yellowstone Lake, which he followed up to Canyon Junction. He crossed Dunraven Pass and went on to Tower Junction, where he hit an old Indian trail through Yellowstone. Along Soda Butte Creek and Clark's Fork he reached again Dead Indian Hill and Cody. He went via Lovell to the north and crossed again the Pryor Mountains at Pryor Gap. Eventually he followed the Yellowstone River back to the new established trading post, which he reached in spring after 6 months of traveling.
I follow now again the Interstates up to Detroit, where I visit my friends Jean & Matt. Then I drive on to Pittsburgh.
The daily trails are in preparations