Sixth Jedediah Smith Trail 1826/1827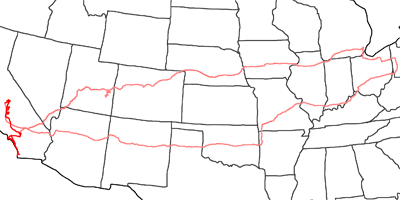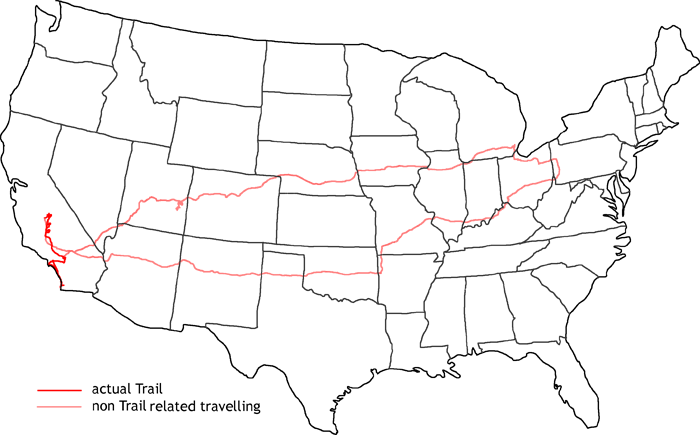 Map of sixth Jedediah Smith Trail
This year I am following again the trail of Jedediah Smith in the years 1826 — 1827, when he set off for his south west expedition. I will follow his trails also in the oncoming years until his death in 1831 by Comanches.
My trail starts this time again off my historic trails. First I visit the area north of Arches National Park. There are still old remnants from the uranium boom to see. Then I travel on to Canyonlands and the Islands in the Sky district. After passing Las Vegas I reach the San Bernardino Mountain range where I pick up Jedediah's trail again. He went on to Mission San Gabriel in Los Angeles and waited for the permission from the Spanish to travel on North. Eventually he had to go to San Diego to see the governor. The Spanish thought he was on a military mission, because it was very suspicious to have a beaver hunter arriving from the desert
Jedediah sailed to San Pedro and went back to Mission San Gabriel. I follow his path along the coast line and to the Mission. The governor had ordered that he has to leave California the same way as he came in. So he went again over the San Bernardino Mountain range. There he decided that he has complied with the governors order and went at the Mohave Fork to the northwest. He crossed the Tehachapi Mountains on old Tejon Pass and followed the San Joaquin Valley up to Kings and American River. I only follow his path up to south of Kings River where I do some side trips to see the giant Sequoia trees. Via Barstow I reach I-40 again and travel via St. Louis and Louisville back to Pittsburgh.
Impressions from the road


Yellow Cat Trail


Yellow Cat Trail


Old Mining Truck


Squaw Park Trail — this is the "Road"


Canyonlands Mesa Arch


Canyonlands Green River Overlook


Canyonlands White Rim Trail


Canyonlands Shafer Trail


White Rim Trail Gooseneck Overlook


White Rim Trail Musselman Arch


Canyonlands Shafer Trail


Canyonlands Potash Road


Canyonlands Thelma & Louis Canyon


Canyonlands Potash Road Mud Hole


Mission San Gabriel


LA Olvera Street


LA Hollywood Sign


LA Hollywood Sign


Cabrillo Point Loma Lighthouse


San Diego Coastline


Sequoia National Park


Sequoia National Park


Sunset in Visalia, CA


Bears in Sequoia National Park


Tornado Warning along I–64
The daily trails are in preparation