John Colter Trail 1807 — 1808
Day 40: September 22nd, 2005 Pittsburgh (Mine)
Breakfast is early today.
Then we leave for the mine.
In the meantime, I slowly start to recognize the roads, we are going.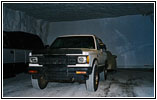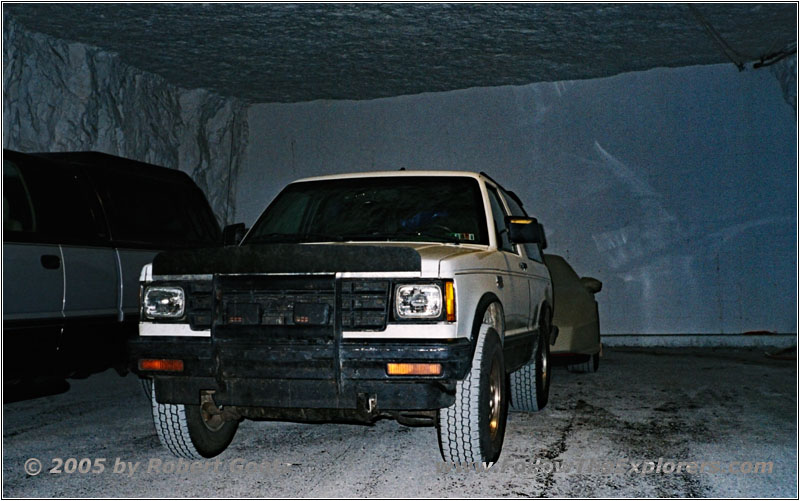 88 S10 Blazer at Mine
They are currently whitewashing everything in the mine and it really looks bright and friendly. They have also placed up way more lights. Looks like they are really investing money! I could have even received my old spot. But this place must be whitewashed and they would have been forced to move my truck around. In this case I really appreciate to receive a spot in the new area, which is already whitewashed and where she can sit for the next couple of months.
I disconnect my battery and that's it. Unfortunately I forget to disconnect my second battery. But this I realize just when we arrived back home around noon. If I remember correctly, there is only my charging circuit drawing power, which is not really much. So I think, it will work out until next year…
Helen quickly prepares some sandwiches for us. Then I start to repack my suitcase. On the road I have just thrown my stuff in. But now I must fit way more in my suitcase. Therefore I must fold my old clothes more thoroughly. Around 2pm I have finished this annoying job. I use the rest of my spare time to listen to the rest of my new CDs.
Helen must leave, because she has to pick up John from his Hockey training. But she wants to be back by half past six. I spend the rest of this afternoon in front of her computer to look for some fender flares and maybe a lift kit for my little truck.
Just past six Helen is already back and we drive over to the Outback Steakhouse to meet David and his girl friend Lisa. It is a very pleasant evening. Around a quarter past seven I pay and we say good–bye until next year. Then we drive back home. We spend the rest of the evening with watching TV and a nice conversation, before I go to bed.
General
Breakfast: Home
Dinner: Outback Steakhouse, Pittsburgh
Motel: Home
Distance: —