Lewis and Clark Trail Back Home 1805 — 1806
Day 35: September 15th, 2001 Fargo — Madison
Unfortunately I don't wake up as early as I hoped to. Additionally today is Saturday and I assume the restaurants are more busy. During my yesterdays search I only found a Perkins for breakfast. This is where I go first today. The breakfast is like it usual is in these big chains. Also my hashbrowns have a strange taste. I am wondering what the best use date was…
But at least it fills up my stomach. Then I drive over to Jiffy Lube. I don't know if they are already open. Therefore I don't park in front. I enter the garage and a young guy shows me the way to the counter. I ask them to do an oil change for my Blazer. When I tell him that I want Mobile 1 he looks pretty astonished at me. Looks like only people with big sports cars ask for the good stuff and not guys with an old SUV.
Next they try to sell me the usual spare parts. But my friends in Pittsburgh have warned me. So I only ask for the oil change. Then I have to take a seat with the other people waiting for their cars. The guy next to me also tells me that he has learned his lesson with these guys. They sold him a spare part worth a couple of Dollars for 50 bucks. You really should only change the oil here. I hope, they are really putting in Mobile 1 and nothing else. But I can only try to trust them.
After half an hour my truck is finished. The back differential level is still full. I hope I will make it now to Pittsburgh. When I want to pay I see that they have a discount for AAA members. I take out my ADAC card, which have a cooperation with AAA, and happily receive my discount. That's great!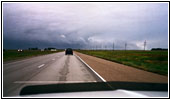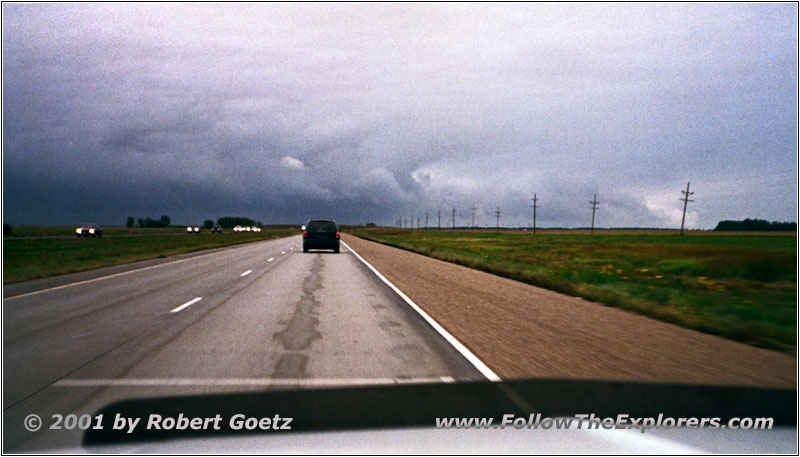 I–94, MN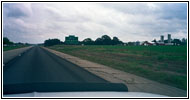 Sign New Munich, I–94, MN
Next stop is at a gas station. Just past eleven I am back on the Interstate. I still follow I–94 East. Now the traffic should pick up. I am entering the more populated areas. But I have to deal with it, even if I don't like it. Around St. Cloud the traffic really picks up. Unfortuantely it stays on this higher level for the rest of the day.
It's interesting: It doesn't matter if you drive east or west. There is always one city acting like a frontier from where on the traffic increases or decreases. Whereas around Minneapolis there is always the usual big city traffic.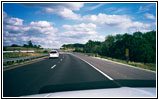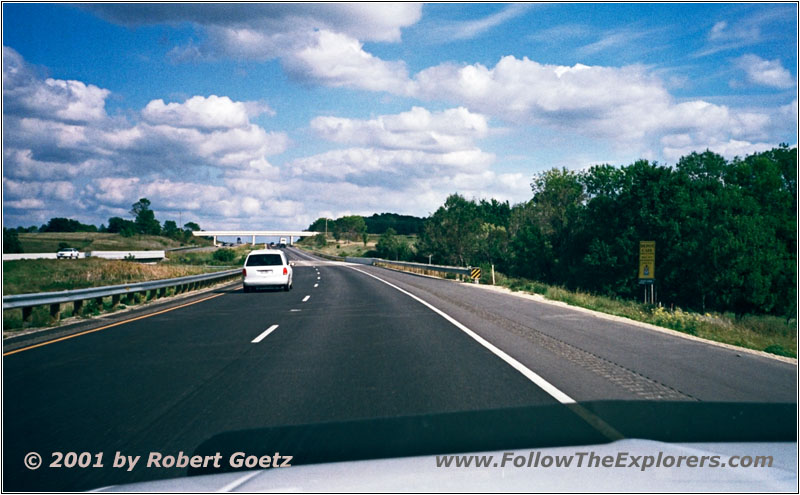 I–94, WI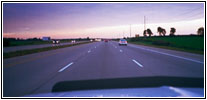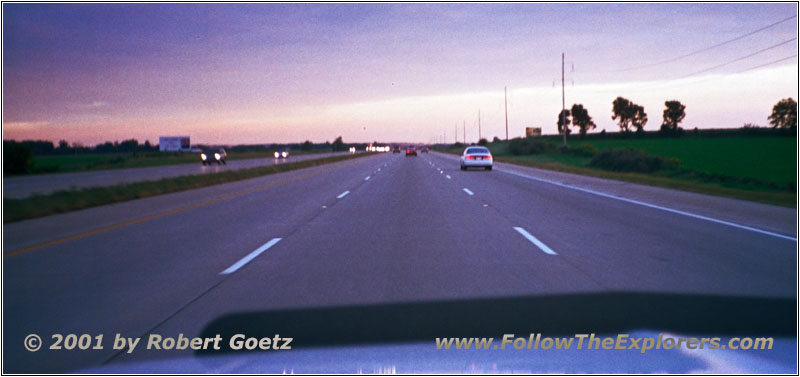 I–94, WI
Then I cross the Mississippi to Wisconsin. Around Eau Claire I leave the Interstate in time to fill up my gas tank. Then I return to I–94 to drive the last leg for today to the Motel 6 in Wisconsin. Surprisingly I find the motel without a big search. When looking back I had long odysseys driving around and search in this town. Wisconsin is one of the rare cities where I always take the wrong turns. It doesn't matter where I go.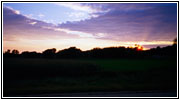 Sunset I–94, WI
I check in around half past seven. As usual there is no room left on first floor. But they do have elevators — great. The reception guy also tells me that I am lucky with the elevator. A couple of days ago someone glued all elevator buttons — such idiots. He had to replace all buttons. And they were not able to arrest the guys who have done this.
I put my stuff in my room and set off. I hope I will be able to find my Outback Steakhouse just by memory. But as expected I take again wrong turns and get hopelessly lost. After an one and a half hour odyssey through Wisconsin I almost want to give up. But then I see the sign. It's already around half past nine. My stomach is way below "E" and I assume I don't have to wait at this time of day. But when I enter the parking lot I am getting discouraged. It is still heavily crowded and a lot of people are waiting outside.
When entering the restaurant my fears get confirmed. There is even no space at the counter. And the waiting is around half an hour. I almost cannot believe it. Ok, it's Saturday, but I haven't had something like that before. They put me on the waiting list and I really have to wait past ten until I get a table.
Tired and hungry I enjoy my Outback Special. Then I pay and drive back to my motel. Unfortunately it is on the other side of town. It takes me a while until I am back. I also have to check the video of today before I am able to go to bed. Looks like I will not be able to be up early tomorrow which also means another long waiting for breakfast.
General
Breakfast: Perkins, Fargo
Dinner: Outback Steakhouse, Madison
Motel: Motel 6, Madison
Distance: 512 miles