George Rogers Clark Trail
Day 12: September 1st, 1999 Paducah — Cape Girardeau
Breakfast is again at Denny's. At a quarter past ten I drive on Highway 60 into the city of Paducah. At the bank of the River, there is a long concrete wall, where some artists have left some very nice pictures.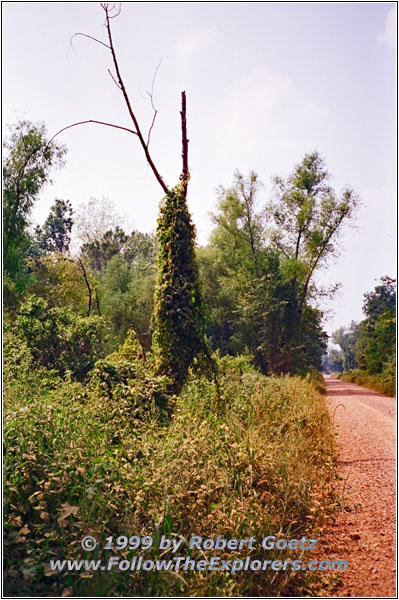 Sallie Circle Rd, KY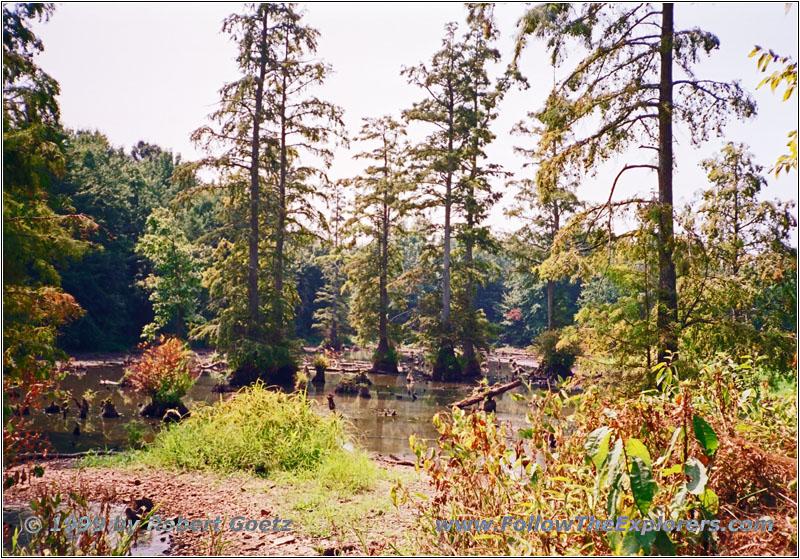 Ballard WMA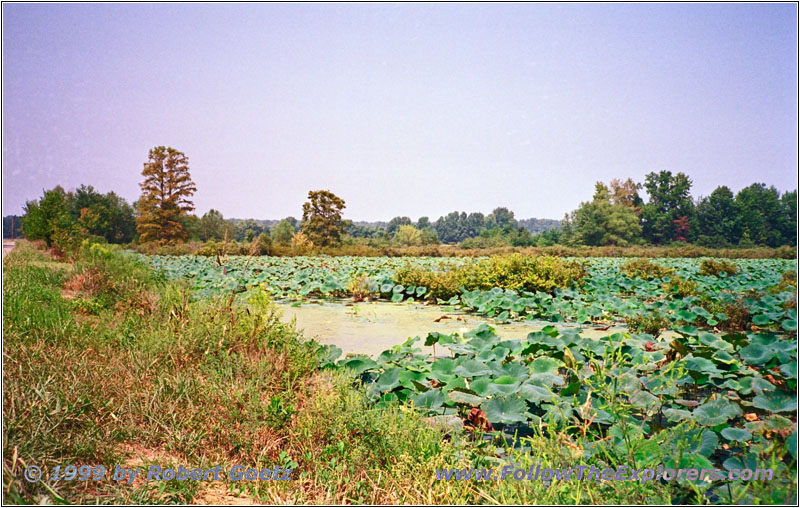 Ballard WMA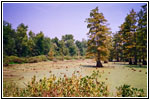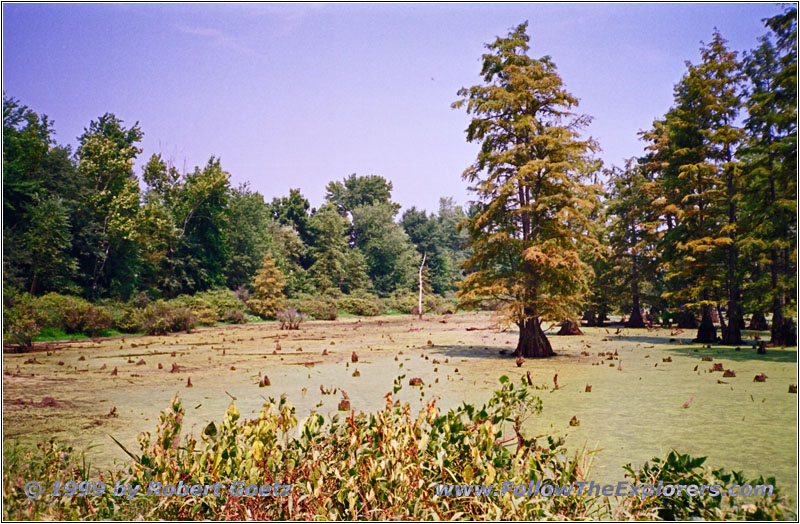 Ballard WMA
On Highway 305 I enter Cecil. From there I follow the Highway 1420, 996 and 1782 up to the Ballard WMA. But I have no chance to reach the river road, because this area is a refugee for birds. So I follow a paralleling gravel road up to Sallie Circle Rd. The road leads me through a real swamp area with water lilies and reed. During my filming I can hear a woodpecker working hard on a tree.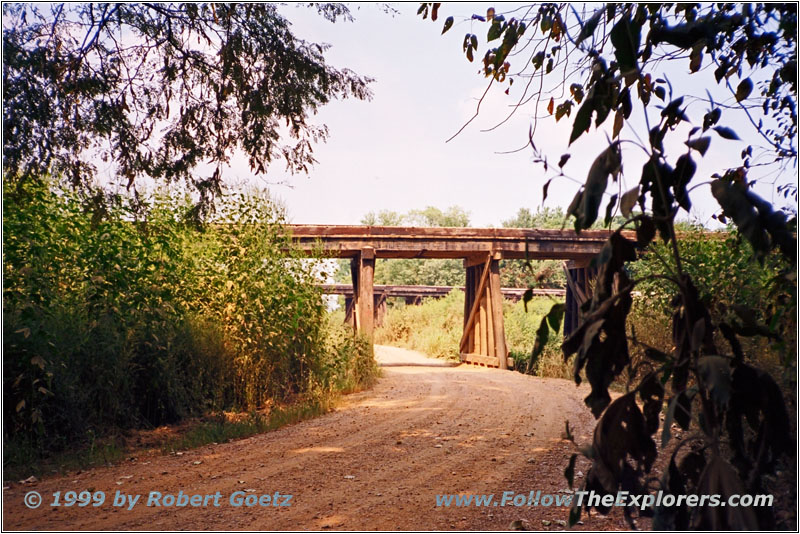 E Cairo–Holloway Rd, KY
With plenty of sunshine I drive on the gravel and sandy roads. But because of the big stones on the road, I only make small progress. I don't want to be hard on my tires, because it is still a long way to Seattle…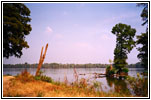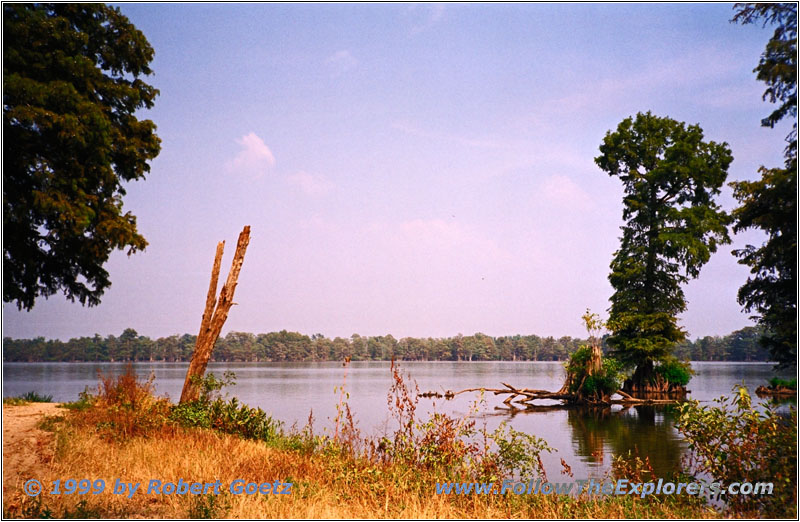 Swan Pond WMA
On Highway 51 I drive to the next park, the Swan Pound WMA. There is also a gravel road, on which I can reach the small lake.
After a couple of pictures I drive back to the Highway and I reach Wickliffe Mounds.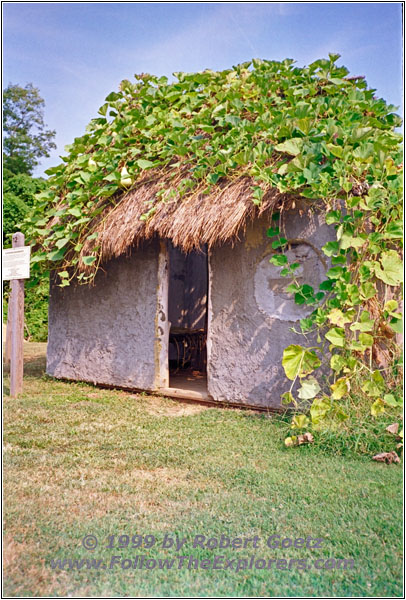 Wickliffe Mounds SHS
This settlement is yet on the Mississippi, a bit below the confluence with the Ohio. Also this settlement was abandoned around 1500 with no reason. The exhibition gives you a good understanding of how the life of the Indians has been in this time. There is also a excavation with some skeletons. But these have been changed to plastic skeletons. The originals have been reburried at a different place. On some places, the skeletons have been burried at their original place, after everything was recorded.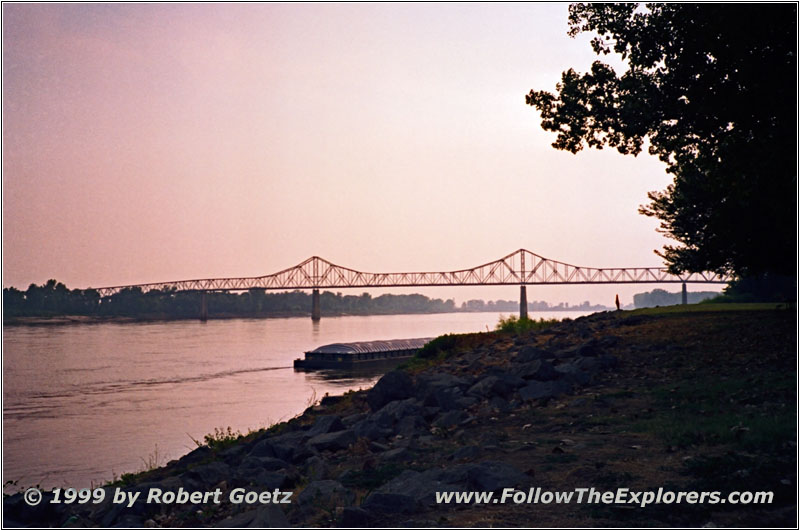 Fort Defiance State Park, Mississippi River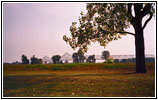 Fort Defiance State Park
On Higwhay 51 I cross the Ohio for the last time. At the confluence of the Mississippi and the Ohio is the Fort Defiance State Park. From there I have an excellence view of the confluence.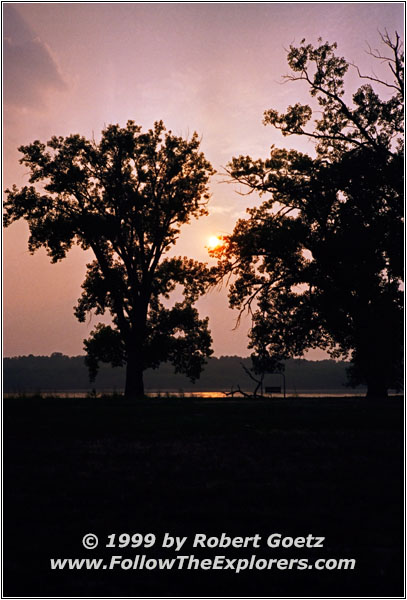 Sunset Mississippi River, IL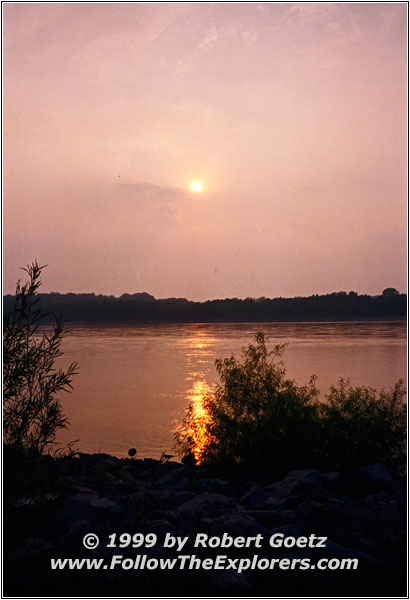 Sunset Mississippi River, IL
I follow again Highway 51 up north and further on Highway 3. After a couple of miles I have another chance to hit the small backroads. There I have the luck to see a beautiful sunset on the Mississippi River once more.
Highway 146 takes me across the Mississippi up to Cape Girardeau and the Super 8. I am checking in around seven. This time I don't have real luck in my search for a nice restaurant. So I ended up (for the first and only time on my trail) in a Pizza Hut. Around ten I drive back to the Motel.
Sights
Ballard WMA (Free Admission)
Swan Pound WMA (Free Admission)
Wickliffe Mounds (Fee $4)
General
Breakfast: Denny's, Paducah
Dinner: Pizza Hut, Cape Girardeau
Motel: Super 8, Cape Girardeau
Distance: 179 miles