George Rogers Clark Trail
Day 11: August 31st, 1999 Evansville — Paducah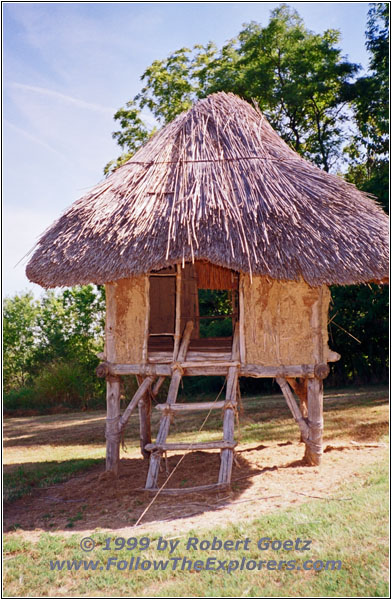 Angel Mounds, IN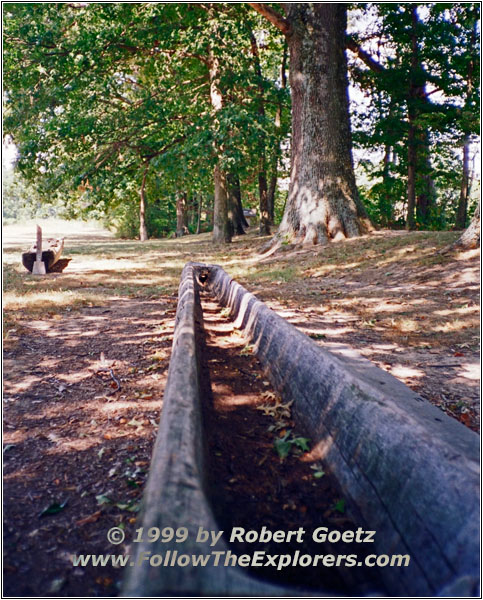 Angel Mounds, IN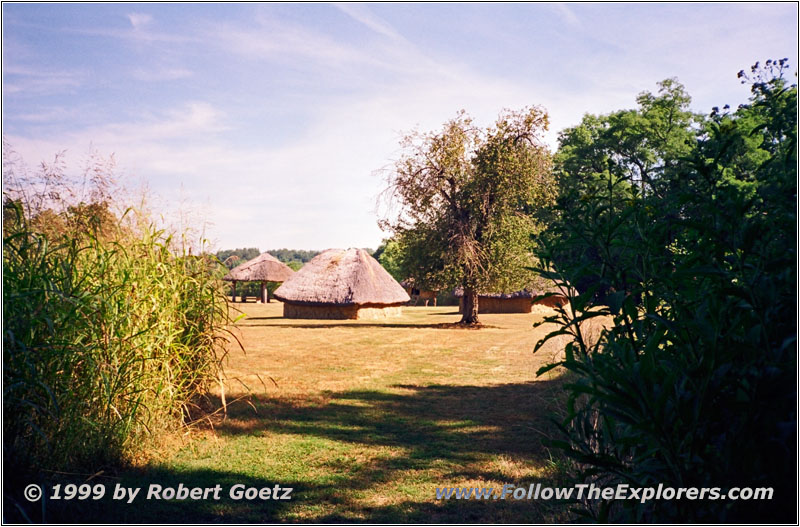 Angel Mounds, IN
I have breakfast again at Denny's. At a quarter past eight I drive to the old Indian settlement Angel Mounds, which has been founded somewhere between 900 and 1200. Around 1000 to 3000 people have lived there until 1400, when the settlement has been given up. The reason for giving up has never been found out. The settlement was 50 miles in radius around the central place, where I am right now. It consisted of 11 mounds. The height of the mound reflected the position of the owner: The higher the mount, the higher the position.
Unfortunately, the Visitor Center is being renovated when I arrive, so I am only able to see the outside. But you can get a small booklet, which describes everything of the life of the Indians. I am also the only visitor at the moment, so I have a chance to get some good pictures of the nature around me.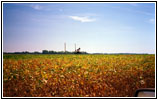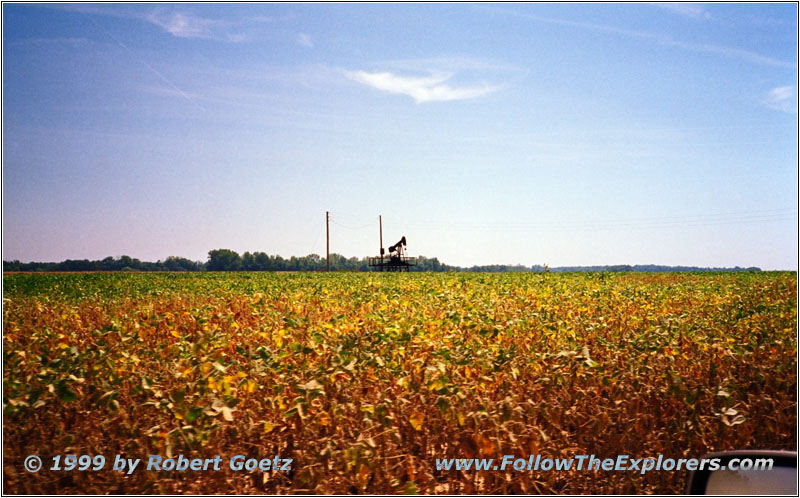 Mt. Vernon Rd, KY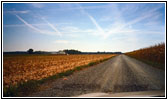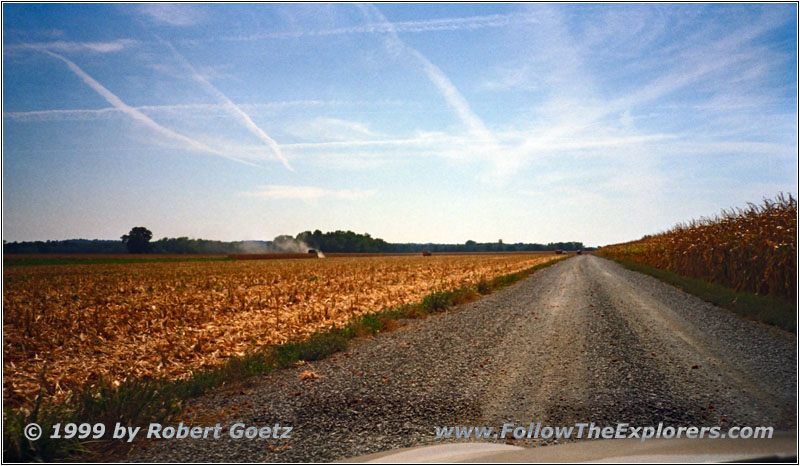 Highway 667, KY
Around 11 I am back on Interstate 164 and then crossing the Ohio on Highway 41. I am also crossing the border to Kentucky. At Henderson I branch to Highway 136, which soon becomes a gravel road.
Up to Highway 56, I follow on paved and unpaved roads the Ohio River. Then I cross the Ohio again and enter the State of Illinois. Just behind the bridge I branch to the backroads up to Highway 1.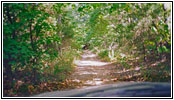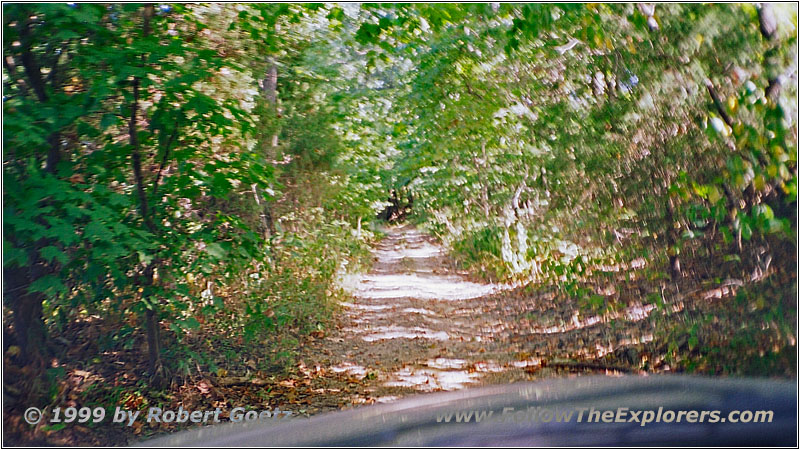 Backroad, IL
After a couple of miles I leave the Highway again. But a fallen tree forces me to return to the Highway.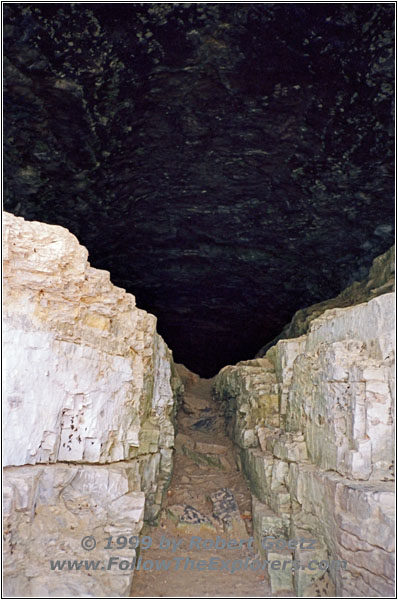 Cave–In–Rock State Park
On paved roads I reach the Cave–In–Rock State Park. The park has gotton his name from a cave, which the Ohio River has washed out a thousend years ago. From 1800 to 1830 numerous bandits have used this cave as hiding place. From their they have robbed the settlers, who came down the Ohio. But the cave has propably gotton the most popularity by the movie "How the West was won".
On Highway 146 and a couple of other backroads I reach Highway 45. I cross the Ohio the last time for today on a endless bridge, where you can see the Ohio through the grating of the metal, I am driving on…


Sunset Ohio River, Highway 45, Paducah
But I have another chance to see a beautiful sunset at the Ohio River while crossing the bridge. At a quarter to eight I am checking in at the Motel 6 in Paducah, Kentucky. On my drive to the Motel I have seen an Outback Steakhouse, which I know from my last business trip to the US. It was great back then, so I give it another try today. I order an Outback Special Steak with 12 ounce, a salad, baked potato and a bread — and it was great!
Sights
Angel Mounds (Free Admission)
Cave-In-Rock State Park (Free Admission)
General
Breakfast: Denny's, Evansville
Dinner: Outback Steakhouse, Paducah
Motel: Motel 6, Paducah
Distance: 198 miles