George Washington Trail
Day 5: August 25th, 1999 Erie — Pittsburgh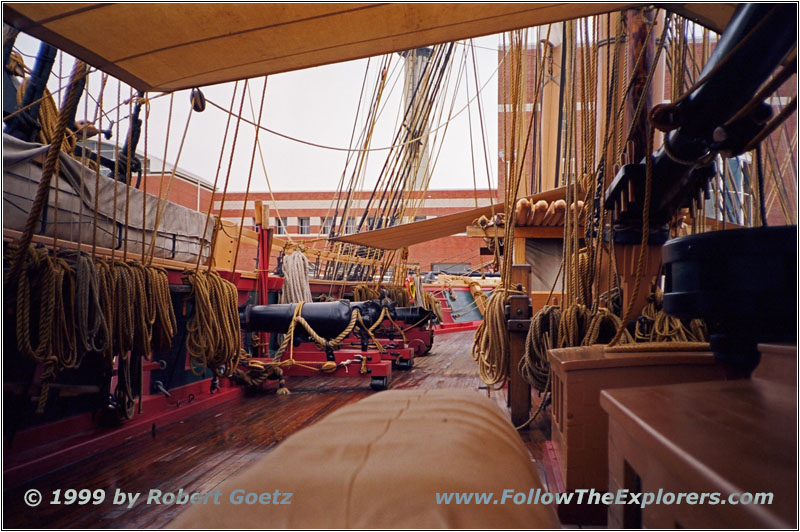 Flagship Niagara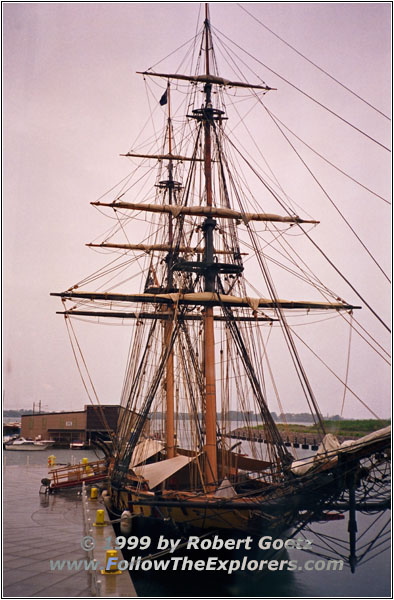 Flagship Niagara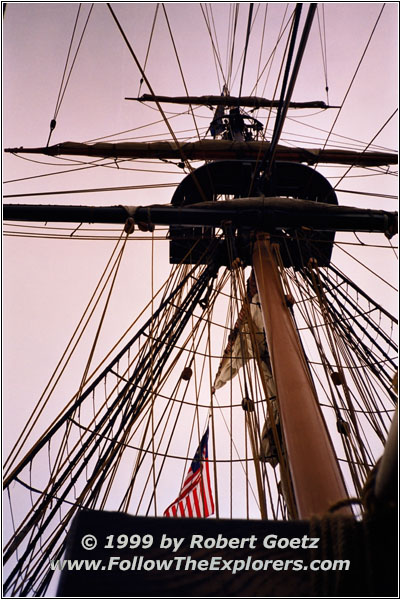 Flagship Niagara
I have my breakfast again at Perkins. At a quarter to ten I drive to my next destination: The Erie Historical Museum. There I learn a lot about the history at Lake Erie. The main attraction is Commander Perry's victory with the Flagship Niagara in the battle at Lake Erie, September 10th, 1812. This victory was the key victory for the battle between the US and the British. In the museum, you can see a lot of pictures and readings as well as a short video showing the fight.
At the back of the museum, you can see a replica of the old Flagship Niagara. Every year is a big event, where traditional dressed people are sailing with this ship. Unfortunately the weather is pretty bad today with occasional rain showers, so I don't have too many chances for nice shots of this flagship.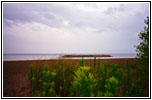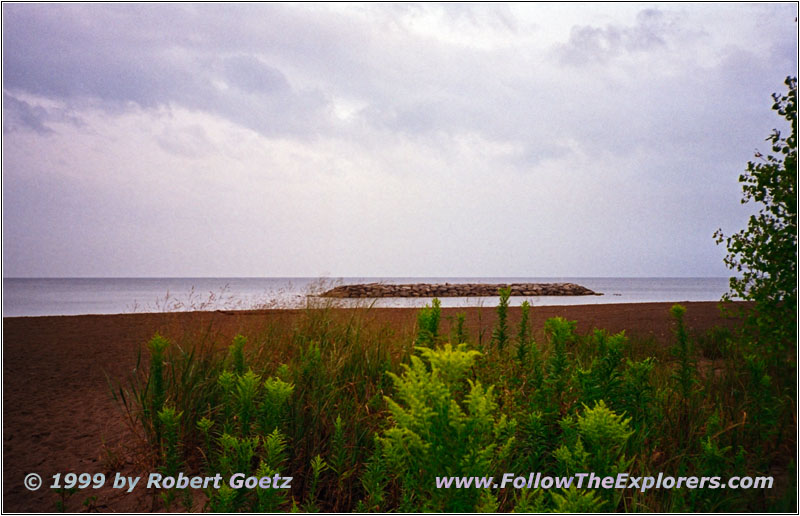 Presque Isle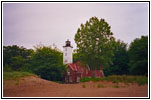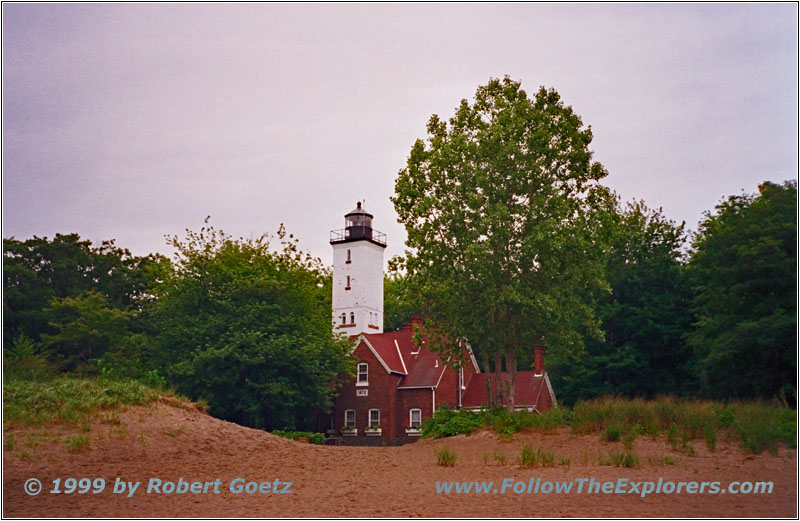 Lighthouse Presque Isle
After the visit, I drive on to Presque Isle. If there is sunshine, it is a nice place to spend the day. But today with all the rain, the sandy beach is not very inviting. So I drive on to the end of the peninsula to visit the lighthouse. But it started to rain again so I jumped back into the car.
On my way back to Pittsburgh, I follow a different way, the same like George Washington did. I drive Highway 19 to the south, passing Ft. Le Boeuf, where George Washington delivered his letter to the French Commander, and soon I reach Meadville. From there I follow the south banks of the Allegheny River on small Backroads.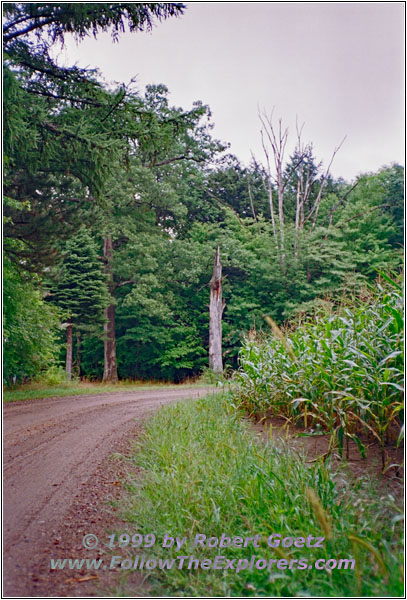 Backroad Pennsylvania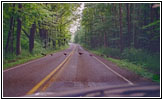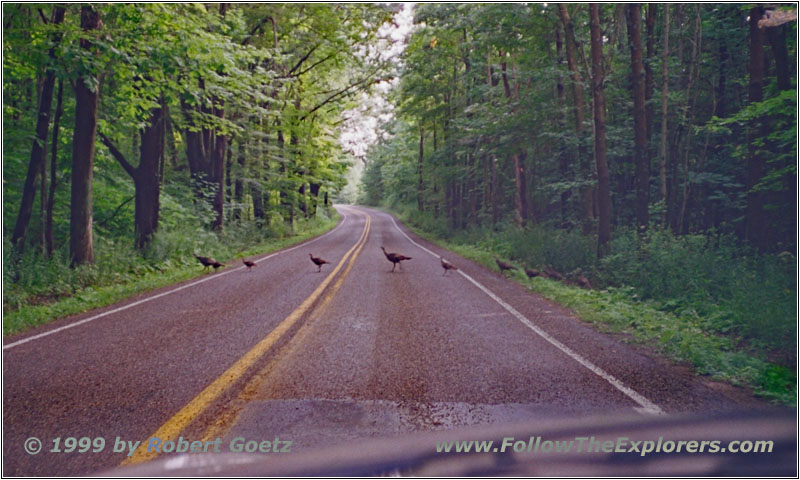 Turkeys on the backroad
Suddenly a group of wild turkeys are crossing the street. I wait patiently, until the last member of the family has safely reached the other end. Then I drive on to Highway 965 and 173. I follow Highway 528 until I reach again Highway 19. This one guides me to I–79, which brings me back to Pittsburgh and the Motel 6, I have stayed two days before. I reach the Motel pretty early, so I decide to find a different Restaurant like the King's Family Restaurant. On my search I find the Primanti Brothers, a nice sportsman restaurant. The menu is not too big, but the pizza looks really good. The surprise comes, as the waitress arrives with the pizza: 14 inches! This is way too much, even after a long day!
Sights
Erie Historical Museum (entrance fee)
General
Breakfast: Perkins Family Restaurant, Erie
Dinner: Primanti Brothers, Pittsburgh
Motel: Motel 6, Beecham Drive
Distance: 190 miles