Lewis & Clark Trail
Day 25: September 14th, 1999 Mobridge — Bismarck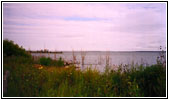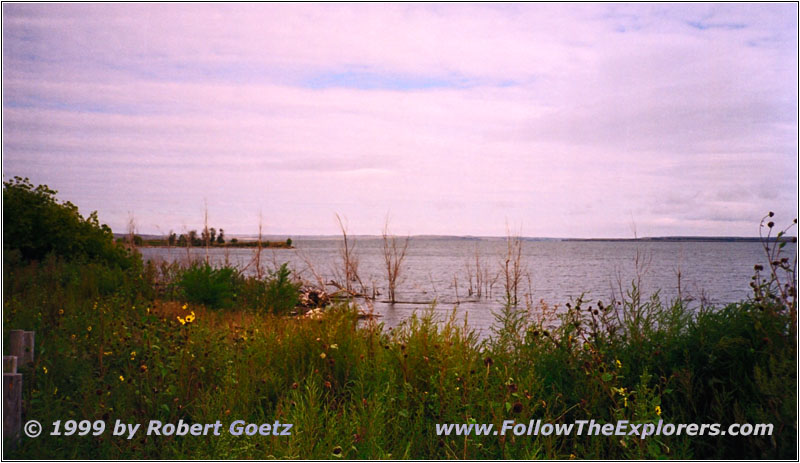 Lake Oahe, Highway 24, ND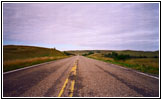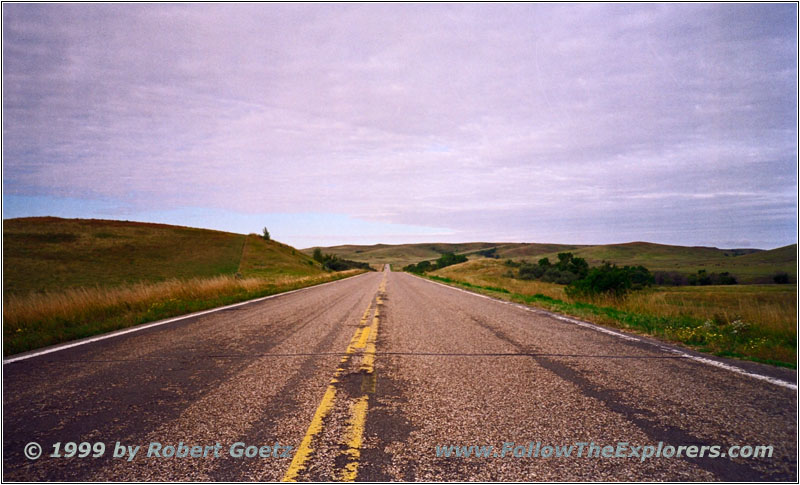 Highway 1806, SD
I would have the chance to sleep in a bit today, but I still wake up early. I leave the Wheel Family Restaurant just past nine after a big breakfast. First I cross the Missouri again. Then I turn onto Highway 1806 north. I cross the border to North Dakota just a couple of miles past Kenel — without any signs. I follow Highway 24 to Fort Yates. This is a small Indian village on a small peninsula in the river. There are no Whites around. I drive to the boat ramp and then back to Highway 24.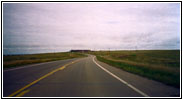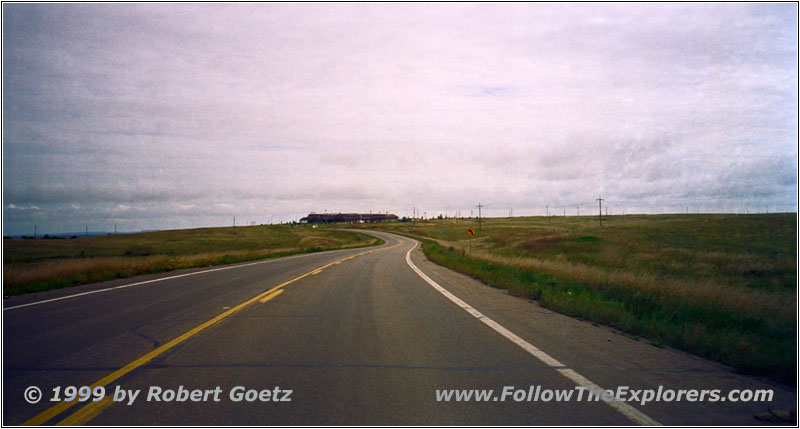 Prairie Knights Casino, Highway 24, ND
The Highway takes me further up north. Suddenly I see a casino with hotel and gas station on the right side of the road in the middle of the prairie. No city, nothing around. I guess it is at least 20 miles to the next city. But I don't have time for gambling and I drive on north.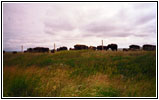 Buffalo, Highway 24, ND
Surprisingly there are bison next to the road. These anmials are often called buffalo, especially in history. But this is not correct. At times of Lews & Clark these animals were roaming by thousands through the prairie. But they were almost extinct by the Whites. Nowadays there are some small herds roaming the National Parks. Or some are here for breeding and fenced in.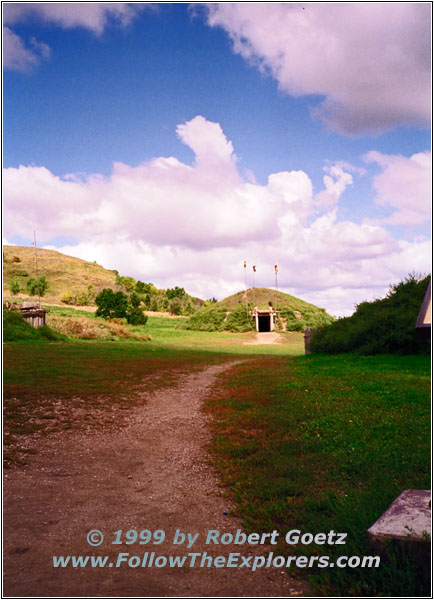 On–A–Slant Indian Village, ND
Next I reach Huff Hills. These hills are formed by completely different stones than the sorrounding are. Just a couple of miles further I reach the Fort Abraham Lincoln State Park. Inside the park is the On–A–Slant Indian Village. As usual for the plain Indians these were also earth mounds. There were 85 mounds in this settlement which were occupied from 1575 to 1781. Smallpox and attacks from other Indians forced the Mandan Indians to eventually give up this settlement. Lewis & Clark camped close to this village on October 20th, 1804.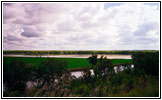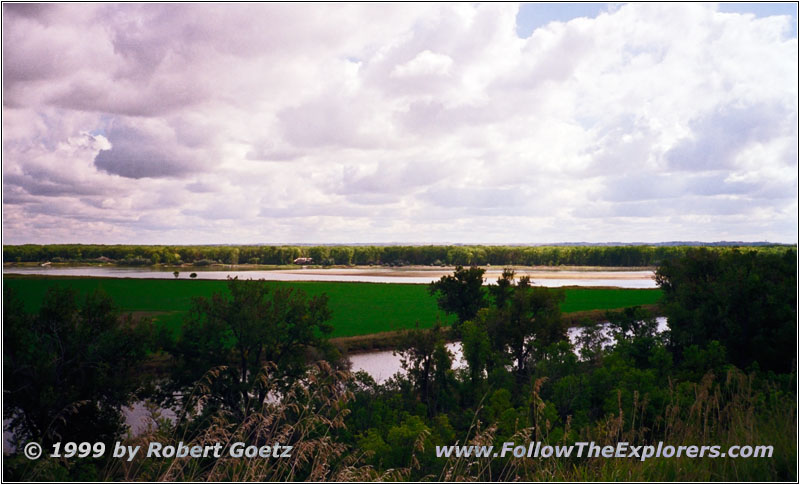 Missouri River, Fort Abraham Lincoln State Park, ND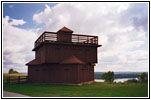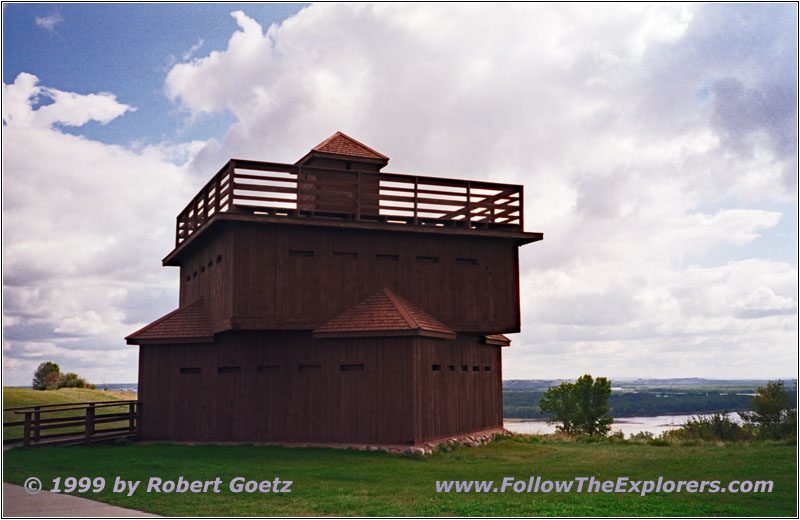 Fort Abraham Lincoln State Park, ND
Almost half a century later this spot was getting famous again when the Northern Pacific Railroad was making its way through the plains. On June 14th, 1872, an Infantry Post was erected to protect the workers. On March 3rd, 1873, a Cavalry Post was built. The first commander was Lt. Col. George Armstrong Custer who set out for the legendary fight at Little Big Horn in Montana on May 17th, 1876. In the eighties the Fort lost more and more importance and was abandoned on May 28th, 1891. It took until 1907 when president Theodore Roosevelt declared this location as a state park. This is now the oldest State Park in North Dakota. Restauration started in 1934. Today it is possible to visit some earth mounds. There is also an Interpretative Center and a historical marker at the spot were Lewis & Clark pitched up their tents on October 20th, 1804. Finally they also started to re-erect the Fort.
I am driving now further on to Bismarck. I am checking in just past two at the Motel 6. Then I drive to the landing stage of the Lewis & Clark Riverboat Cruises. But as I already asumed the last tour has left for the season.
So I am driving back into the city and to the big shopping mall. I hope to find something nice, but have no luck. Then I look for a place to have dinner. I run into a mexican restaurant with a lot of cars parked in front. This should be a good sign. Also the name "Paradiso Mexican Restaurant" sounds promising. And the dinner is plenty and really great! I drive back to the motel around half past six.
Sights
Fort Abraham Lincoln State Park ($3)
General
Breakfast: Wheel Family Restaurant, Mobridge
Dinner: Paradiso Mexican Restaurant, Bismarck
Motel: Motel 6, Bismarck
Distance: 145 miles