Lewis and Clark Trail Back Home 1805 — 1806
Day 27: September 7th, 2001 Hardin — Miles City
As expected I wake up early today. I am already checking out at a quarter to eight. I have my breakfast at the Purple Cow as planned yesterday. Breakfast is great, not like the breakfast at the big chains. This here is much more homemade cooking.
After breakfast I drive to the gas station next door. It's a quarter to nine when I leave the gas station. I am traveling on Highway 47 back to the Yellowstone River. This is a similiar path like Clark's four soldiers took. When they reached the Yellowstone they had to build some small canoes to catch up with Clark. But they will not reach him until they arrive at the Missouri…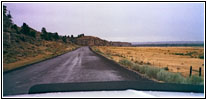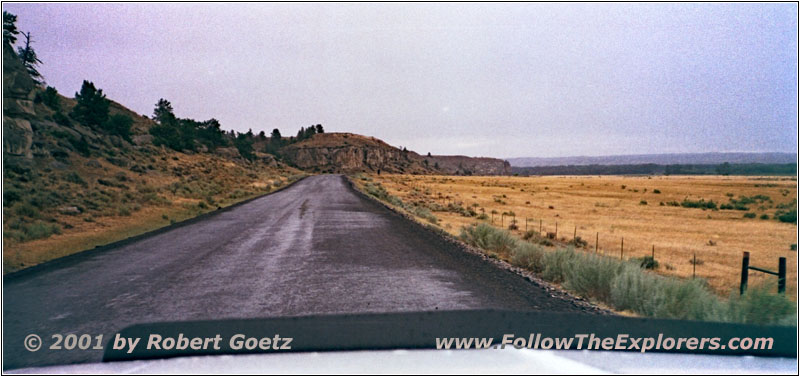 Pease Bottom Road, MT
I cross the Yellowstone River on the same bridge as yesterday. Past the bridge is Pease Bottom Road junction. Amazingly this is a paved road and also called Highway 311. When looking at my map I expected more a gravel than a paved road. But this way I can save a lot of time. Unfortunately the weather is still not nice. But at least it is currently not raining.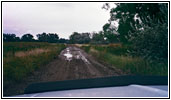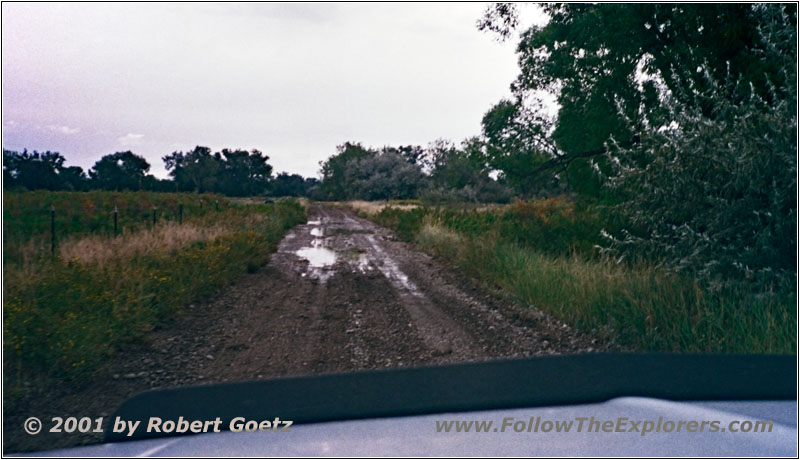 Backroad, MT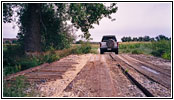 88 S10 Blazer, Backroad, MT
I leave Highway 311 at Myers and follow the north bank of the Yellowstone River on backroads. While driving this backroad I encounter an entrance to a Wildlife Management Area. There are no signs that it is not allowed to enter. So I take this road to be closer to the river. Whereas road sounds much more than it is. It is more a dirt road. The rain of the last days made the road really muddy. But I have no problem to get through with my 4WD. I only hesitate when there is suddenly a little lake on the road. But I also have no problem to get through there.
After a while I reach the end of this area and I approach private properties again. Unfortunately I run into a sign which forbids trespassing due to private property. Therefore I have to turn to the other direction and have to search for a different route back to my original planned trail.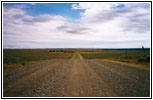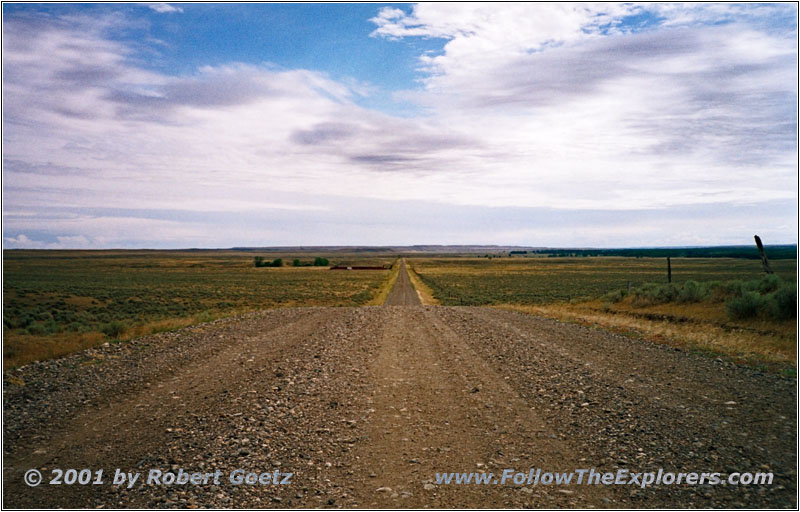 Mission Valley Road, MT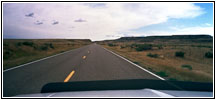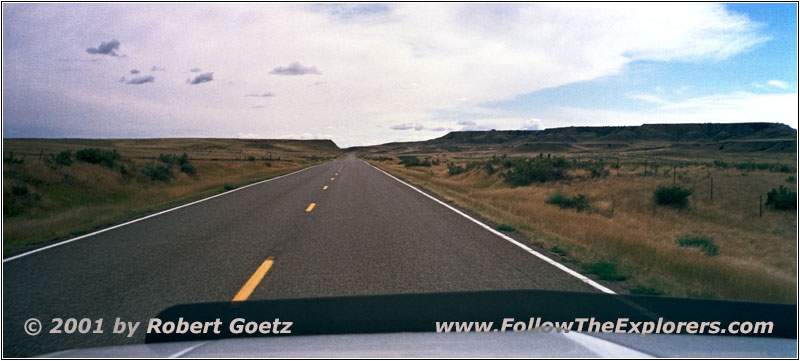 Highway 12, MT
But the detour is not as bad as expected. Soon I reach Mission Valley Road. Now I can follow the Yellowstone River again all the way to Cox Road. I continue on this road, but not for long. Again a no trespassing sign stops me and I have to turn around.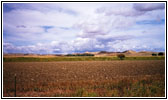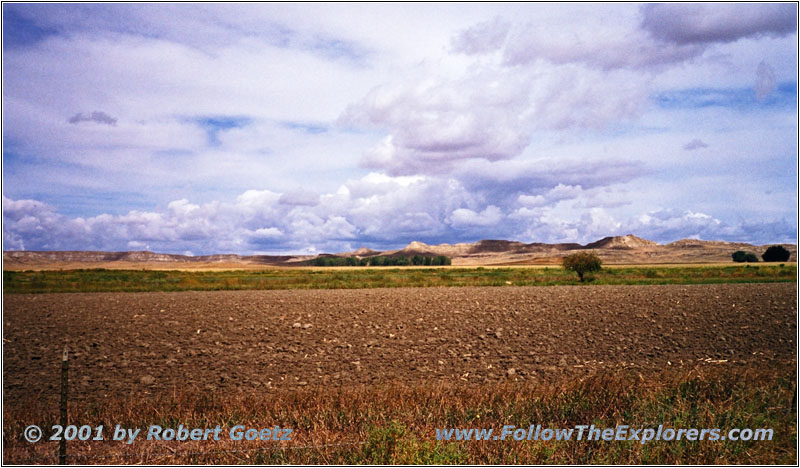 Cartersville Road, MT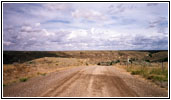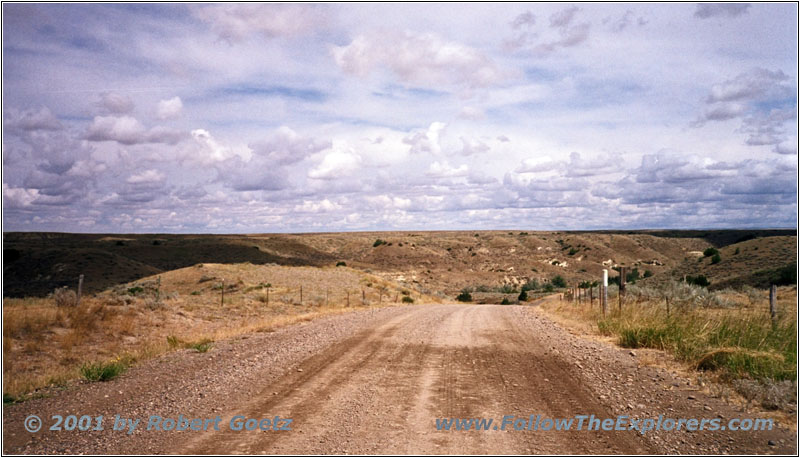 Cartersville Road, MT
This time I have to drive all the way back to Highway 12. Now I am driving back to the Yellowstone River on pavement. Just before I reach the river I turn onto Cartersville Road to the east. It is great to be on the backroads again along the northern river banks.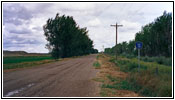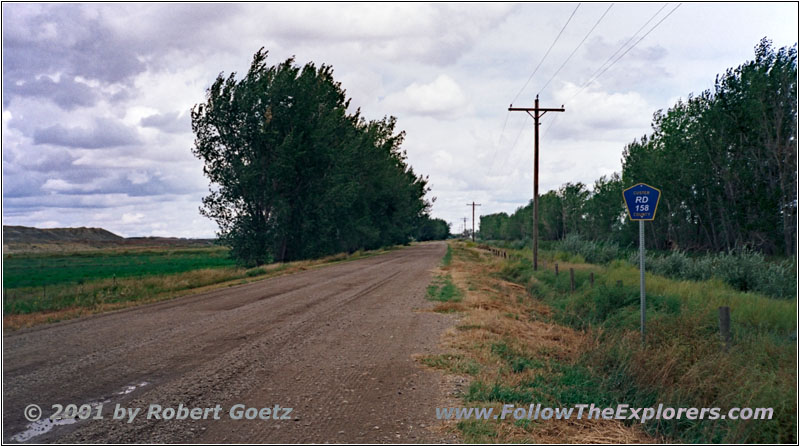 Sheffield Road, MT
After a while this road is merging to Sheffield Road, which is also RD158. Lucky me there are no further closed or blocked roads and I reach Highway 59. This is the highway which takes me to the Motel 6 in Miles City and my destination for today.
I gained so much time on the paved backroads, that I am able to check in around 3pm. First I check my video tapes of today. Then I drive To Walmart to see if they have some more video tapes for my camera. And I am lucky again. They even have the same Panasonic miniDV video tape brand that I use. And they are not more expensive than in Germany.
While checking out the audio department I see a CD walkman from Sony, which also has a cassette adapter and cigarette lighter adapter included. The price is just $60 and the same as the price without these car adapters. The walkman should also be able to read CD–RW. I hesitate a little bit but finally I decide to buy it. I also save taxes when I buy it here in Montana compared to other states.
Back in my motel I test the walkman immediately. I plug it at the motel mains supply and play one of my CDs, which works great. Then I try it in my car to see how the sound is. I am skeptical about this cassette adapter, but we will see. First the sound is really miserable. It is very quiet and noisy. But it is attached to the ear phone output. I tune up the volume and suddenly the sound gets really great. But I should be careful to not attach my ear phones at this volume settings. Otherwise it will most likely blow away my eardrum. I am totally happy with my new acquirement and I listen to a bunch of my CDs.
Then it's time for dinner. There was a steakhouse next to Walmart. But when I arrive at this place again, there is no parking space left in this area. It is Friday and it seems everybody is out for dinner now. I should have known that and should have left earlier for dinner. But my walkman kept me up longer than expected.
I drive on but I am not able to find something else. Eventually I end up at a restaurant close to my motel, the Gallagher's Family Restaurant. Usually you can do nothing wrong by going to these kind of restaurants. So I give it a try. It is pretty full but I get a table immediately. Dinner is really good. Only my server is a bit slow. But eventually I receive my check and I can pay and leave around half past seven. Back in my motel I listen to couple of my CDs before I go to bed.
General
Breakfast: Purple Cow, Hardin
Dinner: Gallagher's Family Restaurant, Miles City
Motel: Motel 6, Miles City
Distance: 158 miles