Lewis and Clark Trail Back Home 1805 — 1806
Day 26: September 6th, 2001 Billings — Hardin
Yesterday I saw a Cracker Barrel close to my motel. This is my place for breakfast today. My next stop is at Walmart. I am looking for some Country CDs and I also need some rolls for my photo. Time to stack up my supplies!
I am driving on to the next gas station. There is a little bit of a traffic jam. A tank truck has just entered in this small gas station and is blocking the way. But I have already pulled in and they have free air. Therefore I fill up the air in my tires first before I stop at the gas pump.
I am ready to go around 10am. First I follow I–90 to Exit Sacrifice Cliff and Pictograph Cave. It's currently raining which doesn't look like fun being outside. I decide to skip the visit because I would have to pay an entrance fee. It doesn't make sense to pay a fee with no chance to see the park.
I drive back to I–90 and follow the Interstate to junction I–94. Now I follow I–94 along the Yellowstone River to Pompey's Pillar Exit. This is my next stop.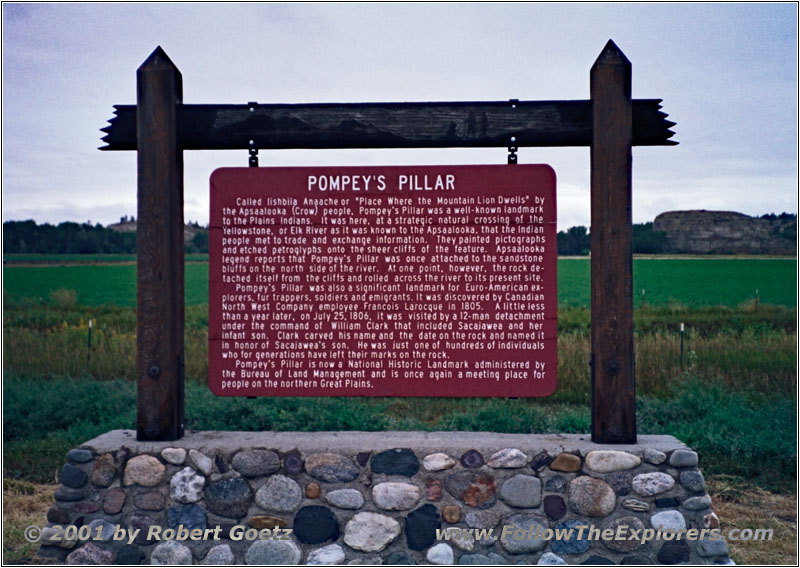 Historical Marker Pompey's Pillar, MT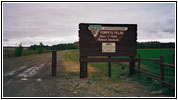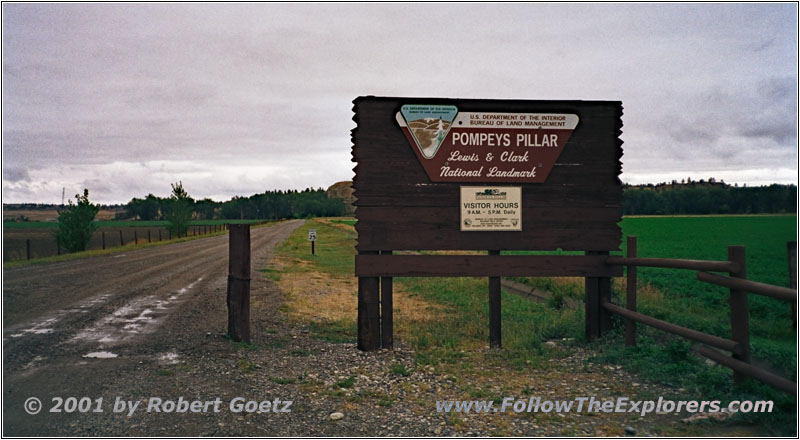 Sign Pompey's Pillar, MT
Clark arrived at this location on July 25th, 1806. He was so fascinated by this limestone hill that he climbed up to the top to get an overview of the area. Before he left he carved an inscription with his name and date into the soft limestone.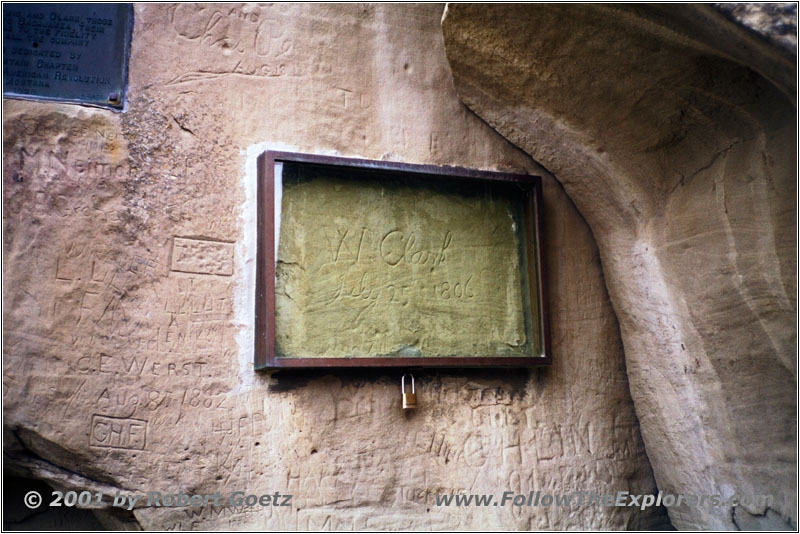 Clark Inscription, Pompey's Pillar, MT
This is the only visual mark which left the expedition on the whole trail and can be seen today. But the inscription is nowadays behind thick glass to protect it from vandalism and natures force. There is a big wooden staircase to this inscription and further on to the top.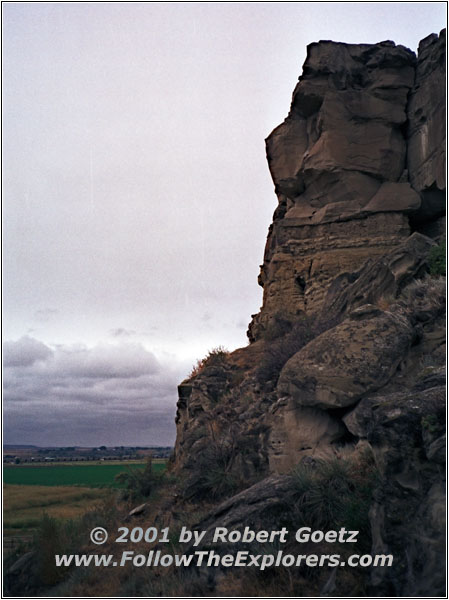 Yellowstone River, Pompey's Pillar, MT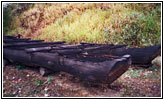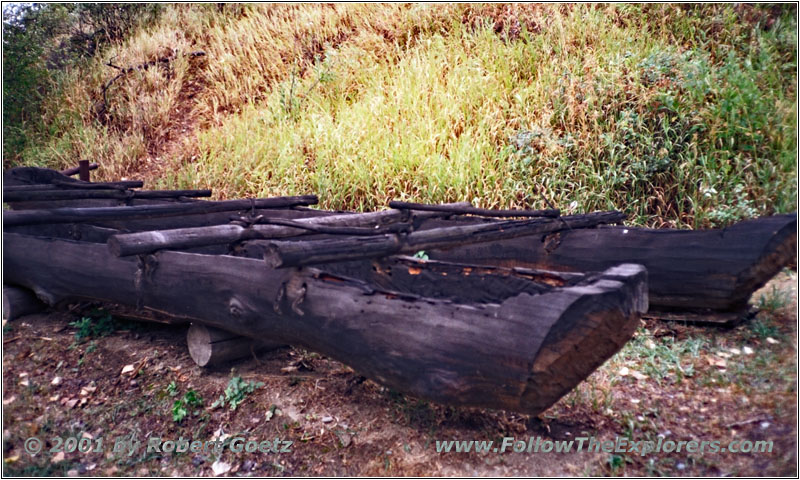 Clark's Catamaran, Pompey's Pillar, MT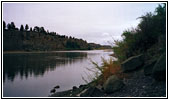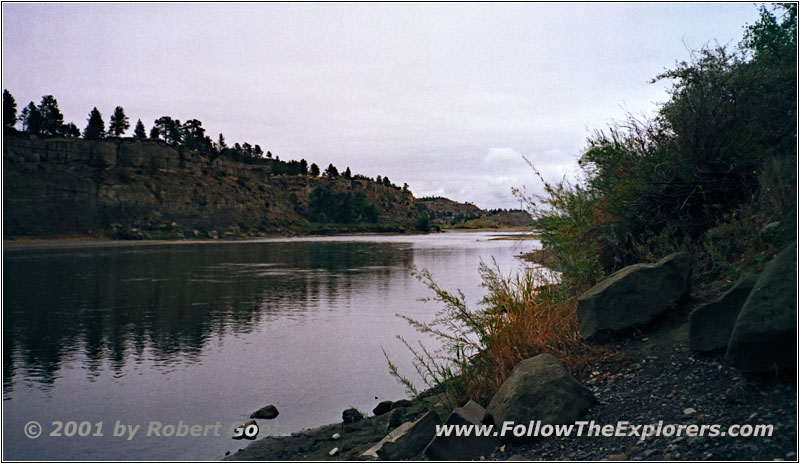 Yellowstone River, Pompey's Pillar, MT
I also hike up to the top. The wind is extremely cold and shows me very clear the temperature drop to yesterday. There have been almost 90 degrees yesterday. But today it is more like 50, which feels way colder in the icy wind. Therefore I don't spend much time at the top and hike back to my car.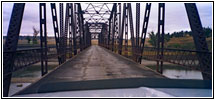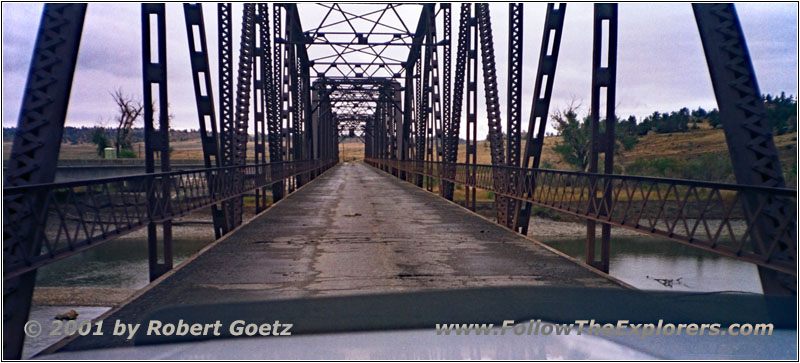 Bridge Bundy Road, MT
Now I am again searching my way on the backroads. After taking a couple of wrong turns I am eventually on Bundy Road. There is a big road construction in progress and I am afraid the bridge will be closed. But one of the worker waves me through the construction zone and I am able to enter the bridge. But this one doesn't really look trustworthy. On the other hand they would have not let me on the bridge if it would not be stable. So I am driving on.
I only have to travel on for a short distance on the other side before I reach the crossing to Castle Butte Road. Hopefully I don't have to turn around on that backroad. I don't want to drive through the construction zone again.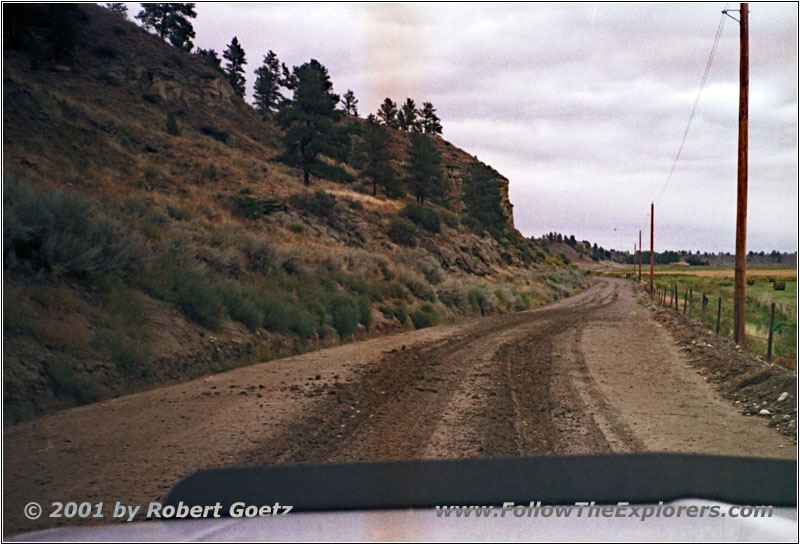 Seven Mile Flat Road, MT
But things look good here. I am also able to drive Seven Mile Flat Road. There are only some small branches closer to the river from this road which I have to skip. But even from this road I have great views of the river. Unfortunately it starts again to rain. The roads are not the best out here. So it's best to put in 4WD. My truck has no differential lock (pretty weird for an offroad truck!). 4WD really helps in stabilizing my drive. I have a lot more grip and the truck slides way less around.
Even with some muddy section I am able to reach Buffalo Creek Road safely. I follow this road to Highway 310 and Allen Creek Road passing the Yellowstone River. Then I follow Highway 47 to Hardin, which is my destination of today.
Clark's four soldier only made it this far. During the night some Indians stole their horses. They had to shoulder their saddles and gear and had to walk all the way to Yellowstone River.
I can imagine what they have been gone through when following now Highway 47. It is incredible what people were able to achieve back then.
I check in at the local Super 8 motel. This motel lays in the Crow Indian Reservation, who had stolen Clark's horses back then. A new Indian receptionist is currently being trained. She is a bit unsure of what to do and gets some guidance from her colleague to check me in.
As almost usual I get no room at the first floor. So I have to drag all my luggage to the second floor. I didn't expected this around 4pm. At least I have now enough time to go through all my video taping of today before I leave for dinner. I take a look at the phone book, but there are not too many restaurants around. I ask at the reception and they recommend the Purple Cow. Let's see how that works out.
It's only a short drive to the north across the Interstate. When I arrive there all tables are occupied. I have to wait around 10 minutes until a table is ready for me. The whole restaurant looks like a family restaurant. But it doesn't look like being part of a chain. The dinner is ok and plenty.
I leave the restaurant a quarter to eight. Before I leave I ask if they also serve breakfast. They confirm and so I have a place for breakfast tomorrow. Today I go to bed early when I arrive at my motel. I plan to be up early tomorrow. I see in the news that there is already snow toady in the Rockies. Looks like I have left this area just in time!
General
Breakfast: Cracker Barrel, Billings
Dinner: Purple Cow, Hardin
Motel: Super 8, Hardin
Distance: 141 miles