Sullivan, Clinton and Broadhead Trail 1779
Day 9: September 11th, 2000 Kutztown/Allentown — Elmira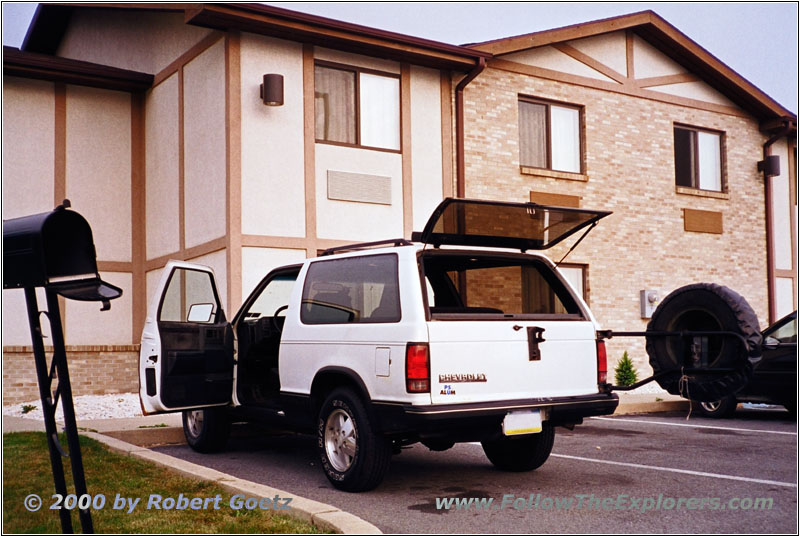 Loading 88 S10 Blazer, Allentown, PA
I start early today. I am checking out at a quarter to eight and drive to the Cracker Barrel from yesterday. The restaurant is along my way anyway so I give it a try for breakfast. But before I arrive there I have a scary encounter with a deer which suddenly jumped out of the bushes directly in front of my car. Lucky me I am not driving too fast and I am able to stop fast enough!
With plenty of adrenaline I arrive at the Cracker Barrel around eight. And they serve breakfast. There is also no long waiting this time and I get my table immediately. The breakfast is great and plenty. The only thing I didn't like is the grit for breakfast — at least I know now the English term for this. I finish my breakfast and leave the Cracker Barrel at a quarter to nine.
My destination is Easton at the border to New Jersey. This is where the John Sullivan Trail started. I plan to visit the Canal Museum first. But they are closed today. So I am heading on north. Now I am crossing the Appalachian Mountains. They are not very high. But at the old times they were real obstacles for sure. Especially when I see how thick the bushes are growing here. At Cherry Valley Vineyards I follow the nice valley. I am still driving through thick forest. Then I reach Highway 115 which I follow to Wilkes–Barre. Originally I planned to spend the night there. But I am too early because the museum was closed and I was faster on the road as planned. Therefore I decide to drive on to my next destination Elmira.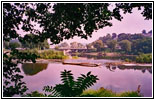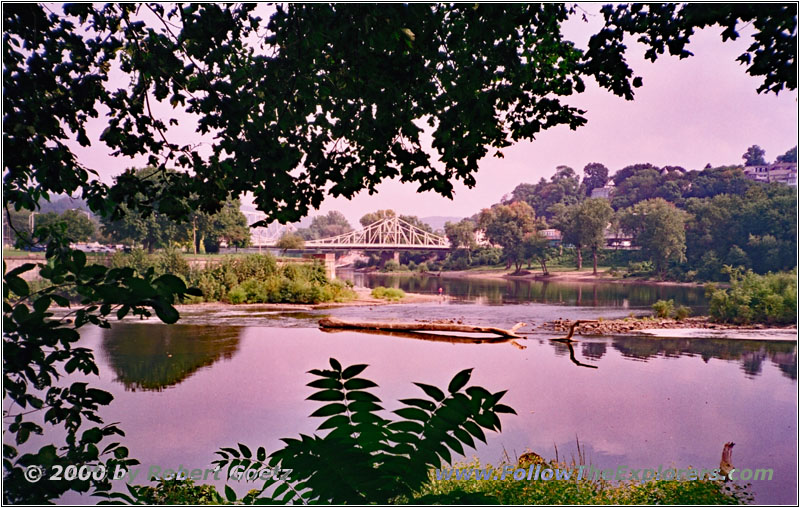 Susquehanna River, PA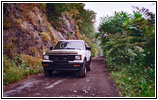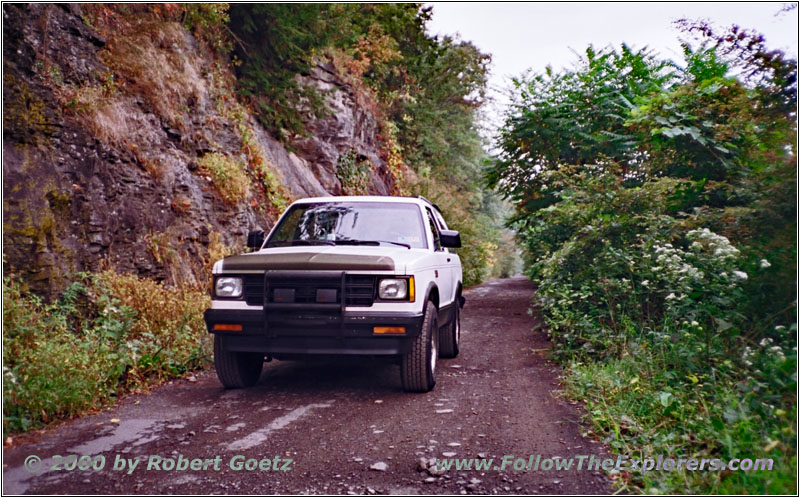 88 S10 Blazer Backroad, PA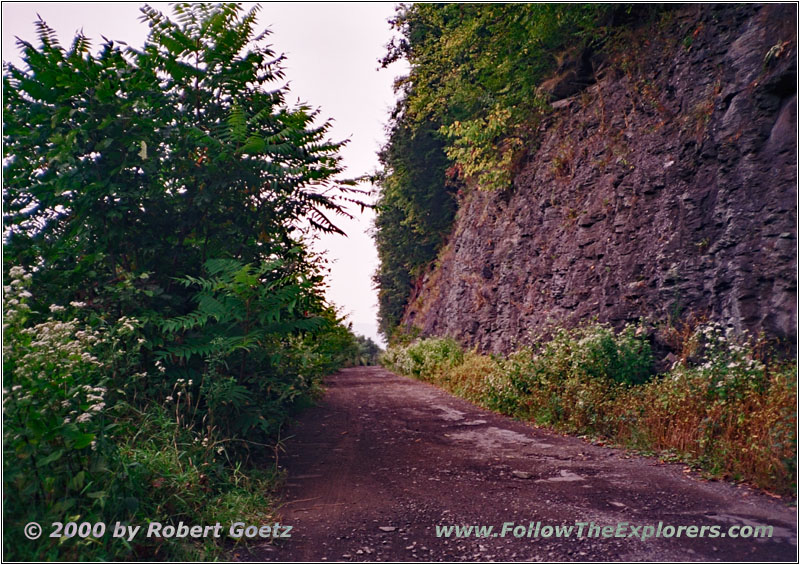 Backroad, PA
I follow the Susquehanna River upriver. But just past Wilkes–Barre I am no longer sure if this was the right decision. The first time I am on real backroads this year. There are big holes and washouts in the road. Even with my SUV I am only able to drive very slowly. But I am still going way faster than with a regular passenger car. With my car from last year I would have been crawling now. But with my SUV I am still able to kind of drive…
But this bad road is only for a couple of miles and I am soon back on pavement. I still follow the Susquehanna on some very small roads. This is the only way to experiance the area like John Sullivan did on his trail. When I reach Sayre/Waverly the sun is already going down. I try to find a nice motel there without luck. I take a look at my map and the motel guides. I see that my planned Motel 6 in Elmira is not too far away. It would be only around an hour of driving. Therefore I decide to take the big highway to Elmira — which is almost an Interstate.
I am checking in at the Motel 6 around 7pm. They still have rooms, but only on the second floor. This is still better than nothing. I ask at the reception for a nice restaurant. I tell them that I would like to have some steak and they recommend the Beemans Country Cooking. It 's only a couple of minutes by car and the food should be really good there. I put my stuff in the room and give it a try. And they were right. The restaurant is really nice. Everything is build with a lot of space. Also the food is excellent. But the steak had a bit too much spice on it for my taste. I remove most of it and then it is really great!
I pay around a quarter past eight and drive back to my Motel. In the meantime it has started to rain. Hopefully it will stop tomorrow. I plan to visit the Newton Battlefield and I don't want to do it in a rain jacket…
General
Breakfast: Cracker Barrel, Fogelsville
Dinner: Beemans Country Cooking, Elmira
Motel: Motel 6, Elmira
Distance: 272 miles