Sullivan, Clinton and Broadhead Trail 1779
Day 10: September 12th, 2000 Elmira — Canandaigua
I am early up today again and check out around 8am. Dinner at Beemans was great yesterday. Therefore I ask at the reception if they also serve breakfast. Yes they do and it should be great too. Let's give it a try. Unfortunately it is still raining. But maybe it stops within the next hour. When I arrive at the restauarnt I get a parking spot exactly at the front door. That is luck, especially with a bad weather like that. Also the breakfast is great and plenty. But they are a bit short with coffee — or at least my server. After I received my breakfast she never checks on me again. This means the rest of the breakfast has to go down dry! Even after a longer waiting she never shows up again. That is a bit disappointing compared to the prefect service yesterday evening. When I pay at the counter I get the usual question how everything was. I cannot resist to say: "Well, breakfast was great but it seems you try to save on the coffee!"
This seems to hit. I get an immediate discount of 10%. I would have never expected that. After plenty of food but a bit thursty I drive back to the city and further on to the Newton Battlefield. And I am lucky. It is around 9am and the rain has stopped! When I arrive the sun is already shining a bit. This gives me the chance to do my video taping. Almost no one is here. This gives me the opportunity to test my new tripod and have myself on the video. I think the best is when I enter the car and drive off. I hope I get the good sound of my 4.3l engine with the camera microphone.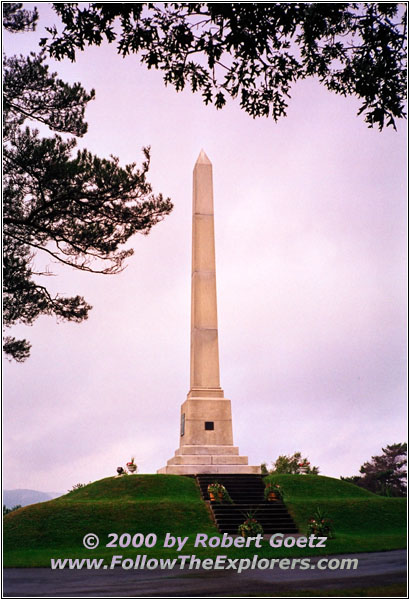 Newtown Battlefield Monument, NY
John Sullivan had to worry about other things here. The British and the Iroquis have built an ambush at this spot on August 28th, 1779. They planned to fire on Sullivan's troups from both sides to separate them. The troups were guided by Butler and the Mohawk Chief Joseph Brant. But Sullivan's scouts were able to detect the ambush with being caught themselves. Now Sullivan also planned to circle around the British and the Iroquis. He planned to send the troups of Poor and Clinton behind the Indians. Hand should stay in front and Maxwell should be prepared as spare troup. They started around 11am. Sullivan's artillery should stay hidden until Poor and Clinton have reached their positions. Then they should also start to proceed. In the meantime Butler was still not aware about the building of the trap around him.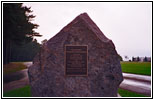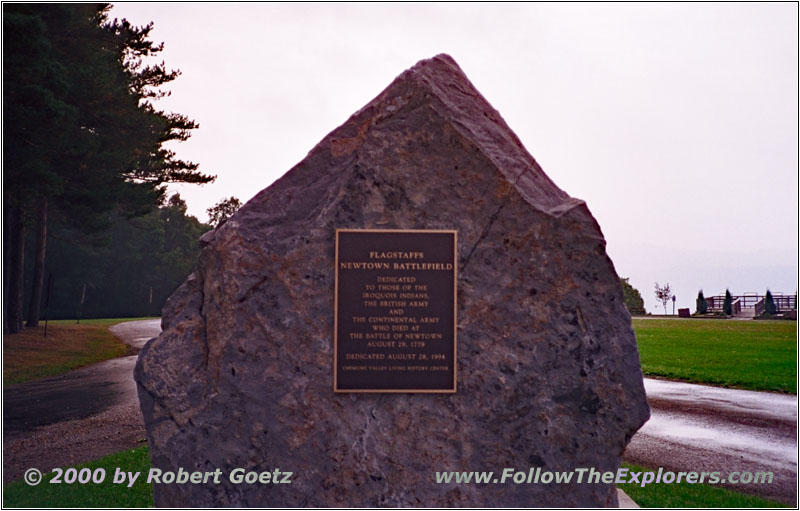 Newtown Battlefield Sign, NY
Around 3pm the shooting started. Unfortunately Poor and Clinton got stuck in a swamp and were not yet at their positions. But they fighted with all their force to reach their destination. They managed to be there in time to also start firing from behind. Butler and the Iroquis had to flee and Sullivan was able to plunder Newton and burn it down. Most of the Indians fled to the north. Sullivan assumed that they were trying to reach Catherines Town (which is in the area of nowadays Chequega and Montour Falls). They started their march in the night of August 31st through the swamp area. They reached the city at dawn. But the city was already abandoned. They burned everything down and tried to relax from the hardships of the last couple of days.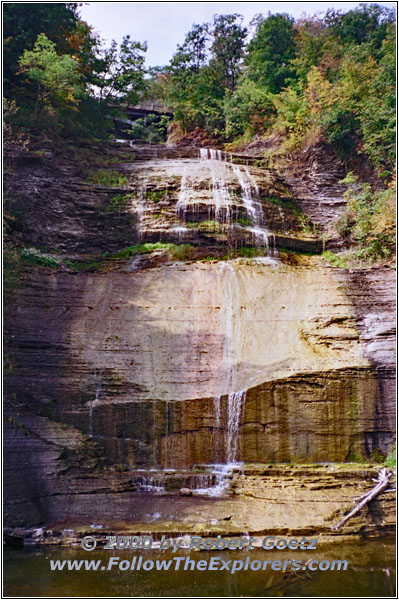 Shequaga Falls, NY
My drive is way less strenous. I take Highway 17 from Newton Battlefield to Elmira and then Highway 14 to the north up to Montour Falls. Shequaga Falls are in this little city, which I plan to visit. They are located inside of town between houses. You have to be careful not to miss them. There is only a small sign to point to the falls way back from the street. I take a few shots and then I drive on.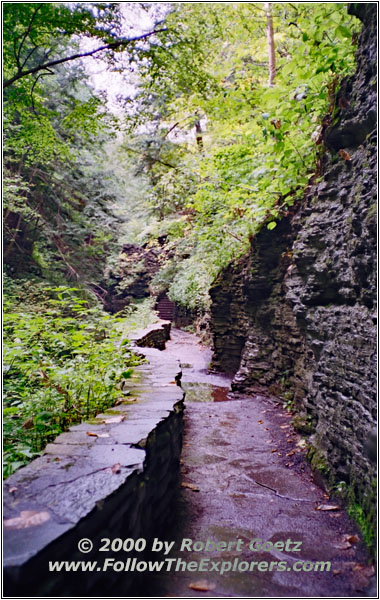 Watkins Glen State Park, NY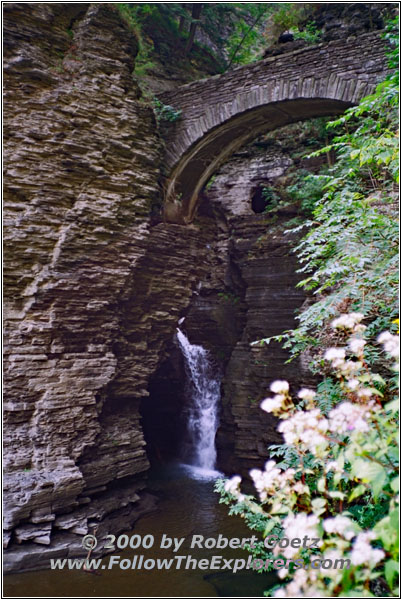 Watkins Glen State Park, NY
My next destination is Watkins Glen State Park. The landscape here is really amazing. The whole park follows a small creek which builds small waterfalls and nice cascades. It changes from narrow gorges to wider ones. Sometimes you hike through little caves and behind little water falls. The landscape is so great that I stop every few yards to take pictures and to video tape.


Central Cascade, Watkins Glen State Park, NY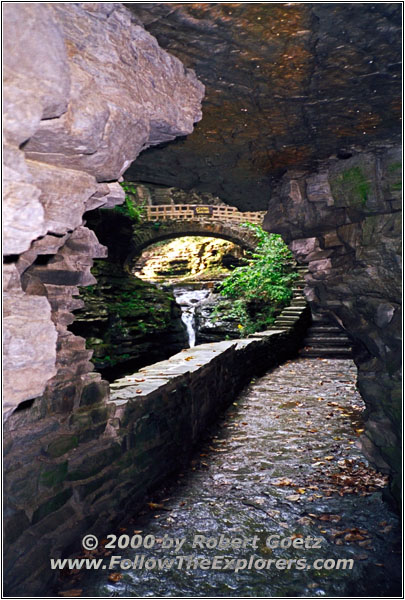 Central Cascade, Watkins Glen State Park, NY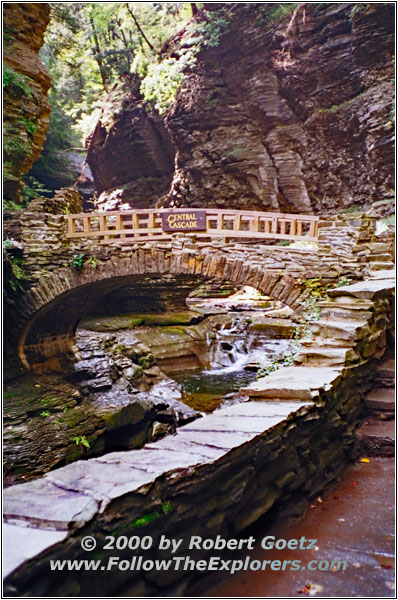 Central Cascade, Watkins Glen State Park, NY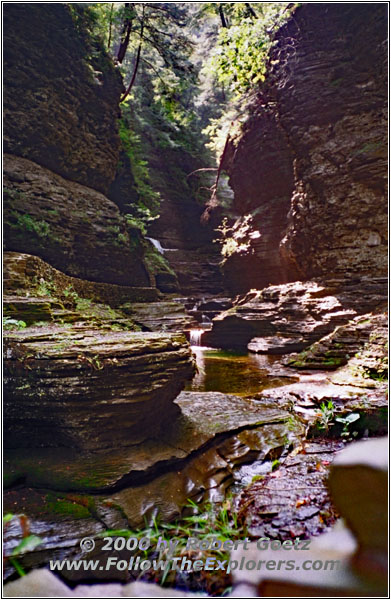 Central Cascade, Watkins Glen State Park, NY
Also my tripod helps a lot — not only for having more stable pictures. A lot of people think I am a professional and they wait patiently until I have finished my shooting. Without tripod this only happened a couple of times last year. I spend several hours in the park. When I reach the end of the park I meet a nice elderly couple. They are here for the first time and are not sure which way to go back. I tell them that I am also here for the first time and that I am not familiar with the area. But at least I am able to help them reading the map. But they decide to hike a different path back than I will do and we say good bye. I see them later again from my path, but they are too far away to say hello again. When I am eventually back at the parking lot they are already gone.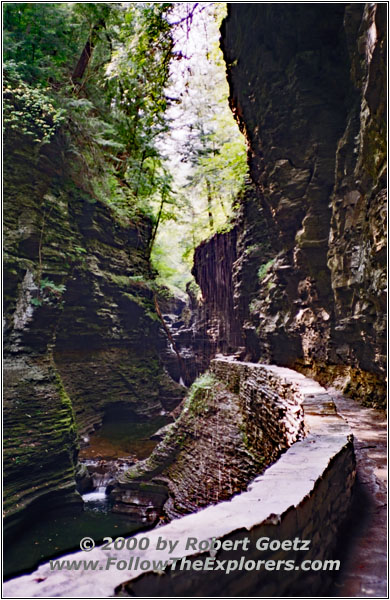 Watkins Glen State Park, NY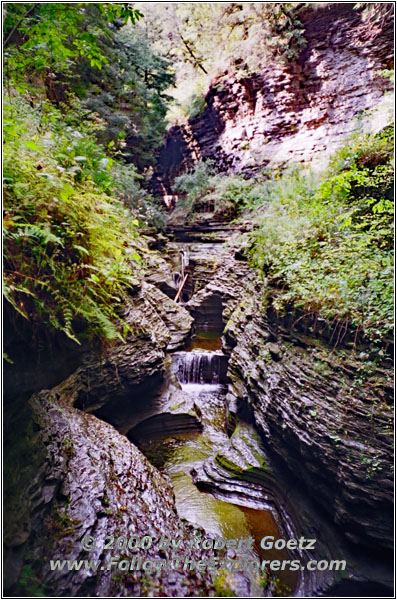 Watkins Glen State Park, NY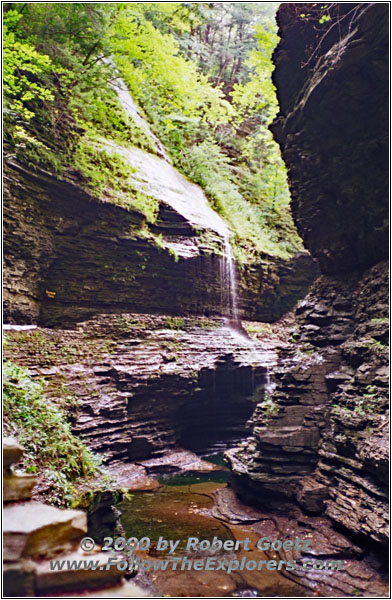 Watkins Glen State Park, NY
Even after spending more time than expected in the park I am still good in time. My next destination is the Super 8 in Canandaigua. I follow the east side of Seneca Lake to the north like John Sullivan did in 1779. But a heavy thunderstorm hits me on this road. I am glad that I made it out of the park just in time. It's raining so heavily that the wipers are not able to do their job. Also the road looks like a battlefield. There are branches on the road everywhere and some trash bins are rolling around. The only way to get through is driving slalom. It takes half an hour until I am through the storm.
At the north end of Seneca Lake I go west. I follow Highway 5 and later the smaller Highway 4 to the west up to Canandaigua. My destination for toady is the Super 8 at the east end of town. I check in at half past five — and I am shocked again by the price: $77 including my 10% discount. This is still the peak season price whereas my motel guide says I am already past the season…
But I am not in the mood to search around and I have to agree. I ask for a nice place for dinner and they recommend the Manetti. It's only a couple of minutes drive by car. I unload my stuff and give it a try. The restaurant looks more like upper class. They have table cloth which usually is a sign for higher prices. But prices could be worse. And dinner is awesome! I never had such a good sauce ever in the US. And the food is really plenty! Unfortunately they don't serve breakfast. I drive back to the Motel and I see a Denny's along the road. That's ok. Last year I really liked this chain. But if you are getting used to the great food of the smaller restaurants you are not too happy with the chain food like in Denny's any more…
Sights
Newtown Battlefield
Shequaga Falls
Watkins Glen State Park
General
Breakfast: Beemans Country Cooking, Elmira
Dinner: Manetti, Canandaigua
Motel: Super 8, Canandaigua
Distance: 115 miles