Sullivan, Clinton and Broadhead Trail 1779
Day 25: September 27th, 2000 Pittsburgh — Munich
Today is the day to return back to Munich. This will be my last breakfast at Bob Evans. Anyway there are no real options this time as I don't have a car and need something in walking distance.
I return to my motel around nine. I still have plenty of time as my plane leaves around 1pm. I check again if I have packed everything together. Then I check out at the motel.
My friends plan to pick me up around half past ten. I am ready a little bit earlier. This gives me the chance to get my stuff out of the motel. It doesn't take long until my friends show up. We load my luggage into the truck and hit the road to the airport. We have no trouble to reach the terminal on backroads. We have a hearty goodbye. I will be back next year to pick up my car from the mine. Hopefully everything will still be functional.
I am early at check in. The boarding is on time. But when they tell me that my bag is too big for the carry on I get nervous. When we go outside to reach the plane not via the gangway but on ground I realize: There is a small plane with just two airscrews and only 12 seats. OMG, hopefully I will reach Washington D.C. in time for my connection.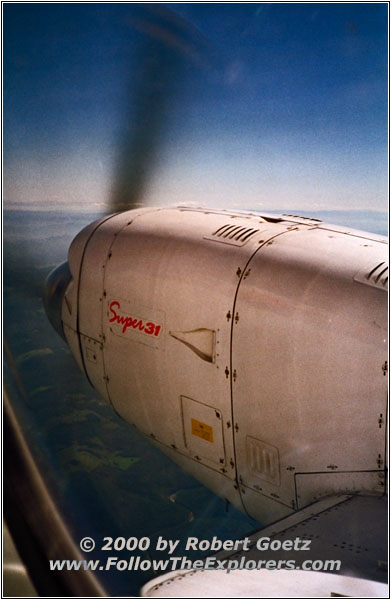 Flight from Pittsburgh to Washington D.C.
But I am lucky and there are no issues on the flight. I arrive on time in Washington. I still have 3 hours spare time. Around 6pm the boarding for my transatlantic flight starts. Unfortunately I have again no window seat. But I already have a bunch of take offs and landings on video.
The plane lands the next morning an hour late. But my Dad is still there to pick me up. It is really great if you don't have to travel with the train after a long flight and with all the luggage.
General
Breakfast: Bob Evans, Cranberry Township
Dinner: Outback Steakhouse, McKnight Road, Pittsburgh
Motel: Super 8, Cranberry Township
Distance: 76 miles