Sullivan, Clinton and Broadhead Trail 1779
Day 24: September 26th, 2000 Pittsburgh (Mine)
As usual I have breakfast at Bob Evans. Then I collect all the stuff in my car that will stay inside during storage. All my tools, sprays and silcone. I also wanted to get some ramps to not have the weight on the tires. But my friends told me that these are not allowed in the storage area. Let's hope I can still use my tires. They also said that I don't have to worry about fuel separation — let's hope the best!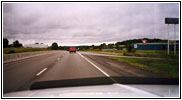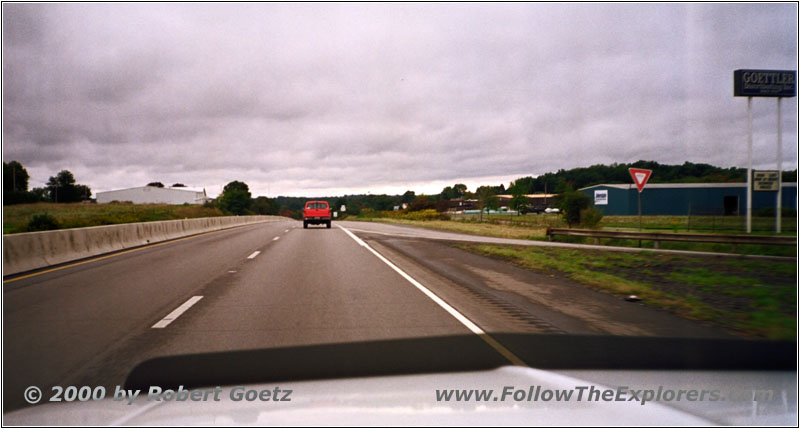 Highway 422, PA
Then I follow my friends to the mine. It takes an hour until we arrive at the mine reception. This is still a working mine where they dig out the gravel for the roads. The tunnels they don't use anymore will be leased for storage. You can choose between non climated and climated storage, which is double the price. I decide to take the climated and dry storage to not run into trouble with the rust on my vehicle.
After a while an employee shows up who takes us into the mine. There are a couple of hundred miles of tunnels in this mountain and you can easily get lost without a guide. He opens the gate for the climated storage area and we can drive in. He points to a spot, where I shall park my car. This is the spot for almost a year now…
When driving back home my friends tell me that they invite me for dinner. My plan was the other way round, but I have no chance. They pick me up around 6pm at my motel and we drive to my Outback Steakhouse. This is my favourite restaurant for dinner. I take my standard 12 ounce Outback Special. When it's time to pay I make another attempt to take care of the bill — without success. But I may invite them next year!
Sights
Bradys Bend Underground Storage
General
Breakfast: Bob Evans, Cranberry Township
Dinner: Outback Steakhouse, McKnight Road, Pittsburgh
Motel: Super 8, Cranberry Township
Distance: 76 miles