Zebulon Montgomery Pike Trail to Red River, Arkansas Journey 1806 — 1807
Day 11: August 25th, 2004 Jefferson City — Osage Beach
Directly at my motel is a Country Kitchen, where I have breakfast. But it seems like they have just cleaned the coffee machine, because the coffee is almost inedible. I pay and drive over to the next gas station. Around half past nine I am back on the road again.
First I take Highway B south until I reach Wardsville. Then I drive on Highway B, a couple of other backroads and Highway B over the Osage River.
Alternately I drive on backroads and paved roads along the Osage River until I reach Highway 54. The weather is today way better than yesterday. In the morning I already had around 70 degrees. But now we are almost in the hundred!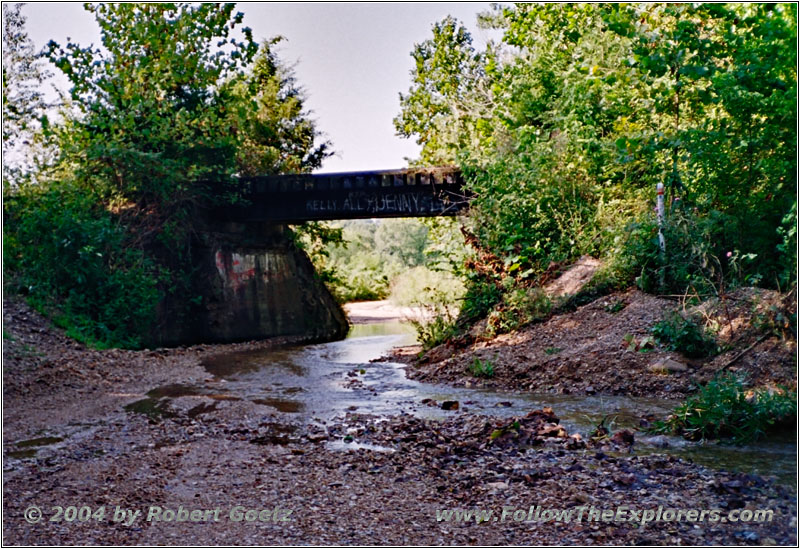 CR B-2, MO
But you still can tell that it has rained yesterday. Everywhere on the backroads small creeks are running over the road. There is even a lot of water standing under one railroad bridge. But after getting out of my car and checking the soil I decide to continue through this water. Indeed, it is not as deep as I first expected. Then I continue on my backroads.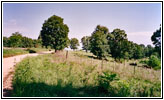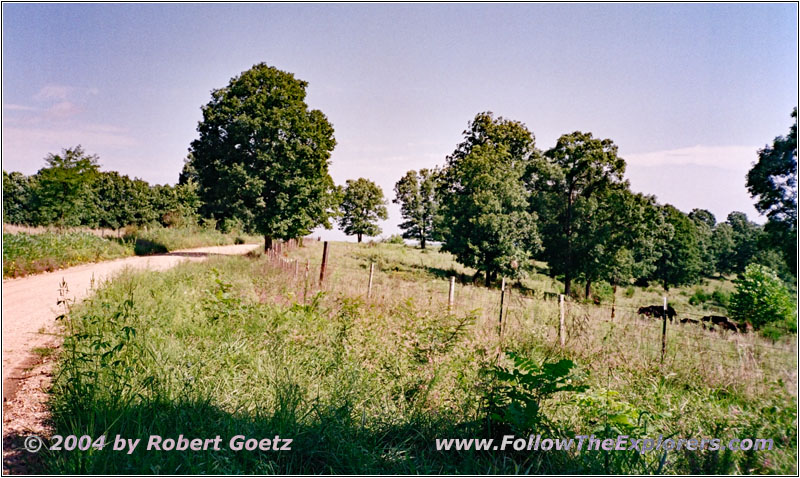 Highway E, MO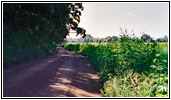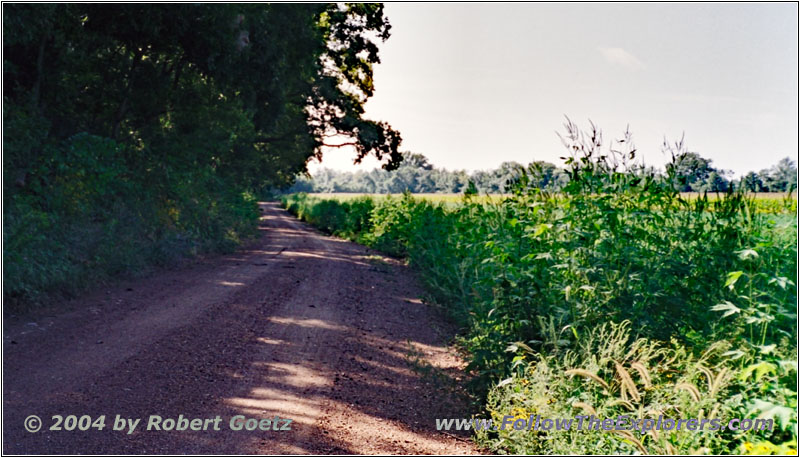 Highway E, MO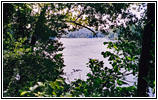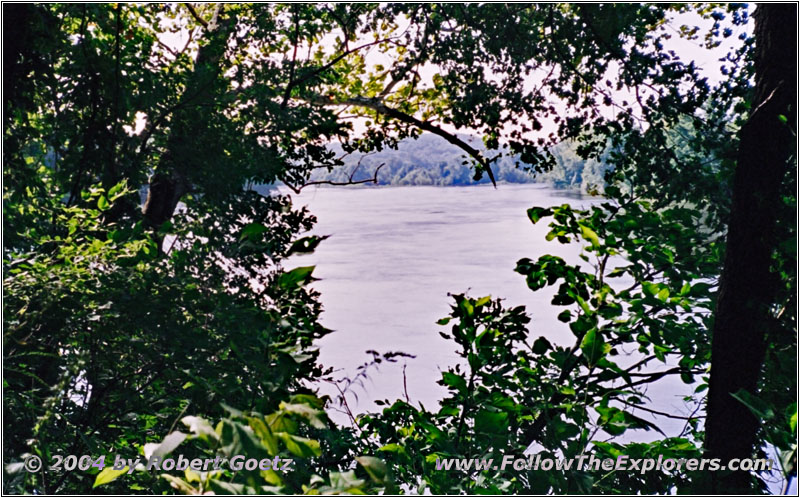 Highway E, Osage River, MO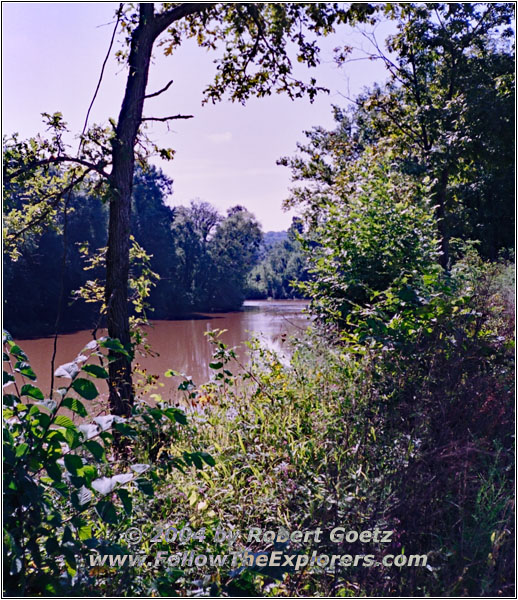 Highway E, Osage River, MO
There are some occasional views of the Osage River along Highway E.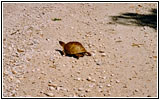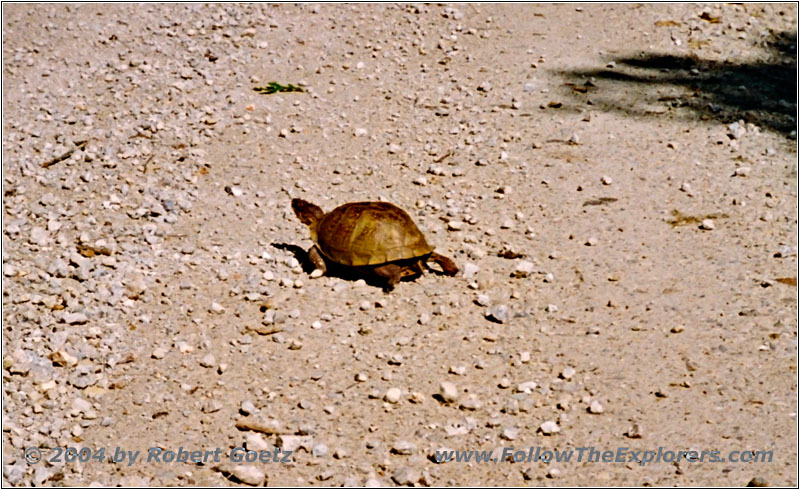 Turtle on Highway E, MO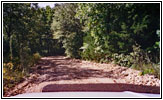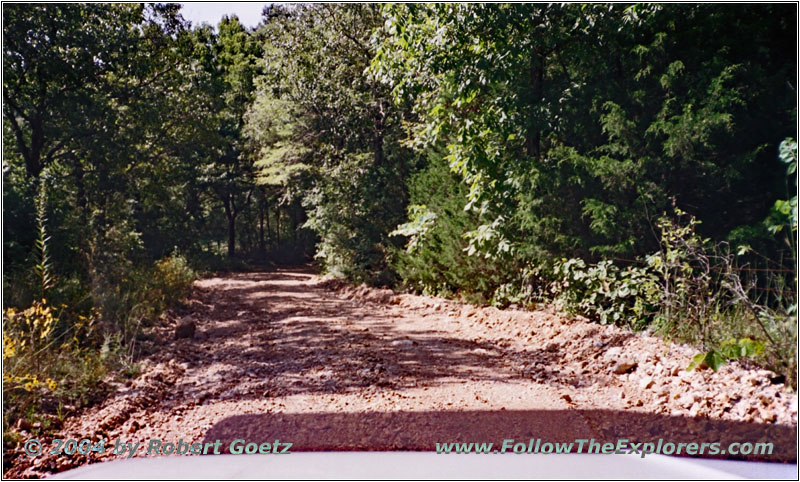 CR E-2, MO
There is also one little turtle, who tries to cross the street.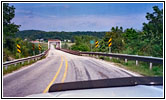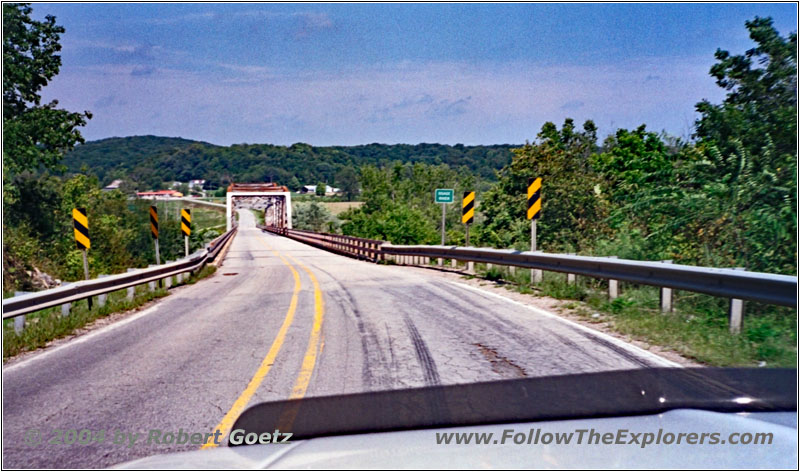 Highway 52, Osage River, MO
After arriving on Highway 52, I first drive north to visit the Fantasy World Caverns. But the signs look already pretty washed out and are not very promising. When I reach the little road running downhill, which leads to the caverns, the almost grown over road shows me, that it was a long time ago, when someone drove down this road.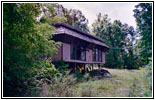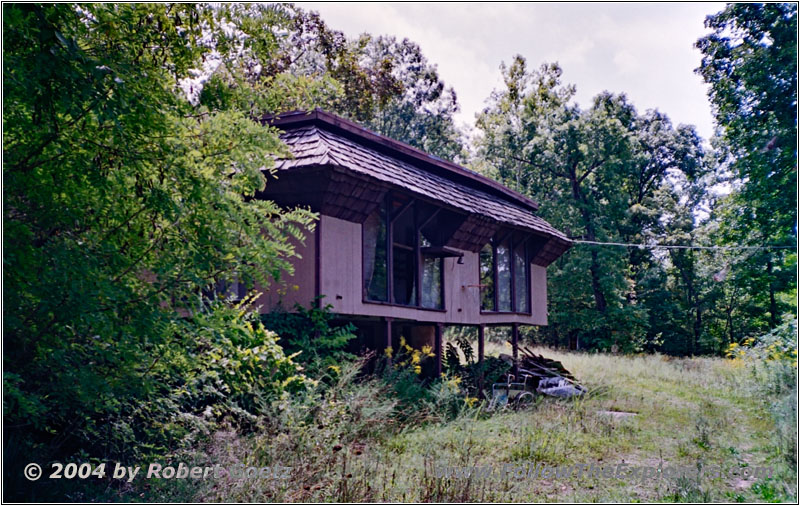 Fantasy Wild Caverns, Abandoned Office, MO
When I finally arrive at the "Office", my worries come true: The building is already pretty rotten down. It seems, like the cavern is already completely given up. As it is almost past noon, I use the isolation to have lunch here. Then I take some pictures to proof the rotten office. Then I drive back to the main road.
On Highway 54 I drive south in direction of Lake Ozark. According to my records, there shall be a Motel 6 around here. But even after driving the road up and down a couple of times I am not able to find a Motel 6 here. Eventually I got the reasonable suspicion, that the construction area is the spot, where the former Motel 6 was.
Therefore I drive on to Osage Beach, where they have a Super 8. Luckily, this one still exists and I am able to check in already at half past two. First I check the video taping of today, because it has started to rain again. As expected, the rain started, when I started to unload my truck.
Around 5pm the rain is getting less and finally completely stops. I use the time to walk through the giant Outlet Mall. The area is really huge and built up like a small village. You really have to take care to not get lost and you will find your parked car again. Unfortunately I am not able to find something nice, which I would need. Not even a replacement for my almost falling apart purse is in sight.
Around half past six I drive over to Wal–Wart to fill up my drinking water supply. Then I drive over to the Outback Steakhouse. There I have my 9 ounce Outback Special again. The size is absolutely sufficient, even with my doubts in the beginning. This also gives me the opportunity to eat more of this delicious bread, that they are serving here. Around eight I pay and drive back to my motel.
General
Breakfast: Country Kitchen, Jefferson City
Dinner: Outback Steakhouse, Osage Beach
Motel: Super 8, Osage Beach
Distance: 123 miles