Zebulon Montgomery Pike Trail to Red River, Arkansas Journey 1806 — 1807
Day 41: September 24th, 2004 Pittsburgh — Munich
Way too early I am ready to depart. But it is better to be too early at the plane rather than late. I say good–bye to Helen, who drove me over to the airport, and promise to message her, when I am back home. Then I walk into the airport with my suitcase and all my luggage.
Thanks to my Diclofenac the back pain is tolerable. But I have not taken another one in the morning, because they always make me a bit dizzy. Checking in is then without any issues. Like last year I must hand over my suitcase for X–ray. Then I walk over to my gate.
The flight to Chicago is almost completely booked. You can tell that they do everything to make the flights profitable. My arrival in Chicago is again at the other end of the airport and I must walk through the whole terminals. In kind of exchange my flight is already mentioned on the monitor. It's also possible to complete the immigration check out right now.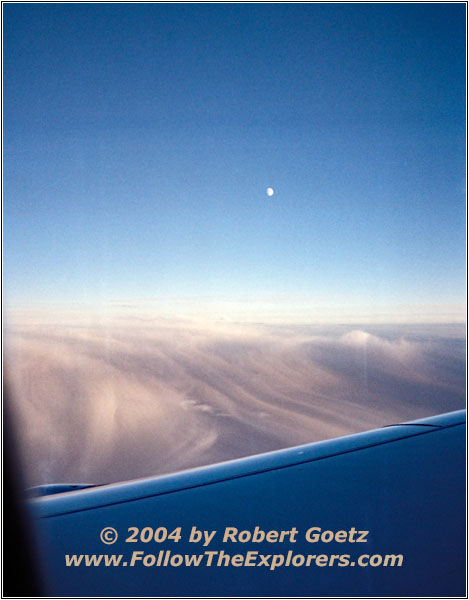 Flight Chicago to Munich
I am barely able to find a place to sit down. There is only one left in the direct sun. But I don't want to stand for a long time with my back pain. Therefore I take what I can get. After a long waiting the boarding eventually starts. My neighbor is this time a young English guy. However he is absolutely unsympathetic to me. Therefore I don't start a big conversation. Instead I start watching the movie.
Then I try to sleep a little bit. I even doze a little bit before the breakfast already starts. This time I skip the garlic dressing and I feel way better. Unfortunately the weather in Munich is really bad — cold and continuous rainfall.
My parents really had to hurry up, because my flight arrived half an hour early. They take me back home and they have everything prepared for a real Bavarian veal sausage breakfast — thank you sooo much!
General
Breakfast: Home
Dinner: Plane
Motel: Plane
Distance: —