Zebulon Montgomery Pike Trail to Red River, Mexico Journey 1807
Day 30: October 27th, 2003 Del Rio — San Antonio
As I have been in bed early yesterday, it's easy for me to get up early today. But the search for a breakfast restaurant turns out to be as bad as my search yesterday evening for a dinner restaurant. It seems like there is only fast food in Del Rio. But eventually I find the Skillet's Restaurant, which is not too far away from my motel. This is one of the typical American Restaurants, like you expect them.
The breakfast is great. I pay at a quarter to nine and drive over to the gas station. Because I have traveled already a lot through Del Rio, I know in the meantime where the cheapest gas station is. Around nine I am ready to hit the road.
First I take Highway 277 to Eagle Pass.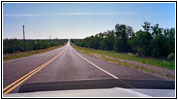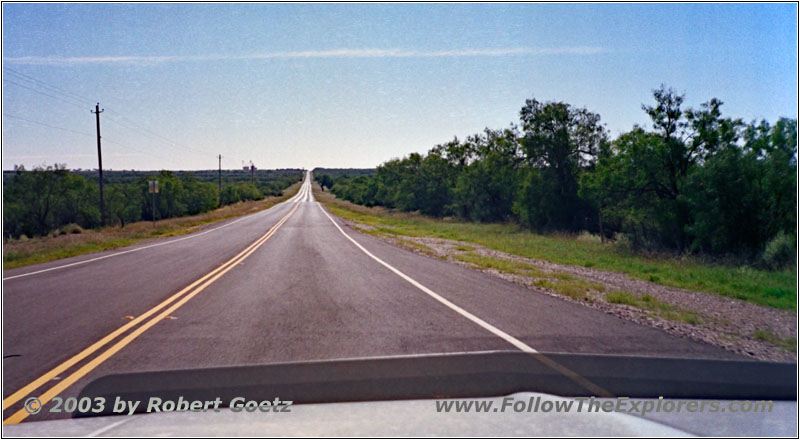 Highway 1021, TX
From there I follow Highway 1021 to the end. There I plan to reach the Rio Grande and the point where Pike reached Texan territory on June 2nd, 1807, which was Spanish territory at that times. But at the end of this highway is a massive gate. Indeed it is open, but it looks like a closed area.
So I resign from driving the backroads here and drive Highway 1021 back to the branch of Highway 2644 back east. At that highway I eventually reach Pike's trail again. But first I need a bush to relieve myself. Eventually I see a curve, where a short gravel road leads to a fenced property.
Between my car and the bushes I have a chance for my relieve. When going back I remember, that I heard some weird noise in the morning, which seemed to come from the rear. I take a look at the end of my exhaust pipe, but only the end has some dents. It doesn't look like there is some serious damage at this end. So the noise must have been something else.
When I want to enter my car I see the Border Patrol driving down the road. I enter my car and want to depart. But they are already there. One of them stops directly in front of my car, the other at my side. Friendly but determined he asks, what I am doing here. I tell him the story of my exhaust pipe — and keep the other stuff for myself.
He says that they were worried, if I might have a break–down. I tell him that everything is alright and say thank you. Then I continue my journey. As the border patrol takes the same direction, I have them behind me all the way to the branch of Highway 277 to Carrizo Springs.
Even as I am driving slow, they don't pass. This is already annoying. So there is no chance for sudden stops to do some video taping — otherwise the border patrol would end up in my trunk…
I planned to stay overnight in Carrizo Springs. But it is not even half past twelve and the remaining distance to San Antonio is also planned with only 6 hours. So I decide to get ahead of one day to have a chance to spend an extra day at San Antonio.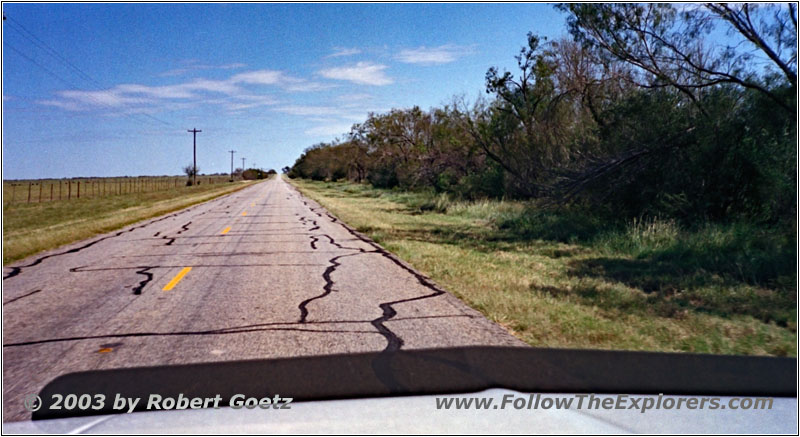 Highway 1025, TX
I follow Highway 83 North to the exit of Highway 1025. There is a small rest area, where I have two apples for lunch, Lucky me, the temperatures are back to normal in the meantime and I travel with pleasant 70 degrees.
I follow Highway 1025 to the exit of Highway 117. Then I continue to a backroad exiting north. This one is still a bit muddy from the recent rain, but I am able to easily proceed.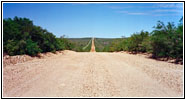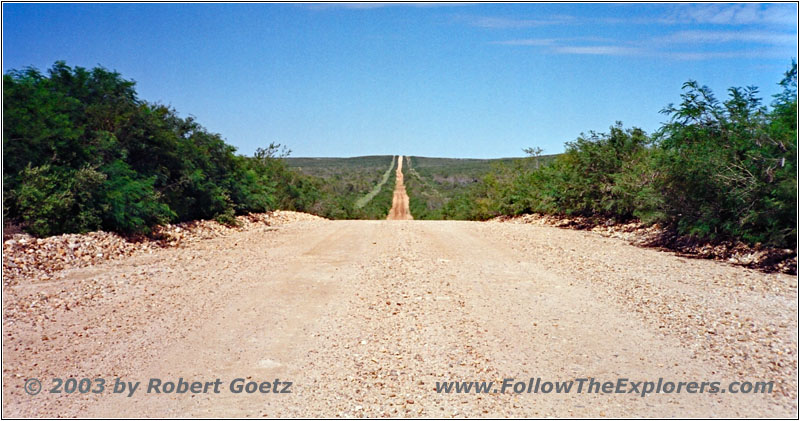 Highway 4757, TX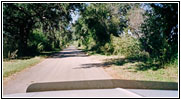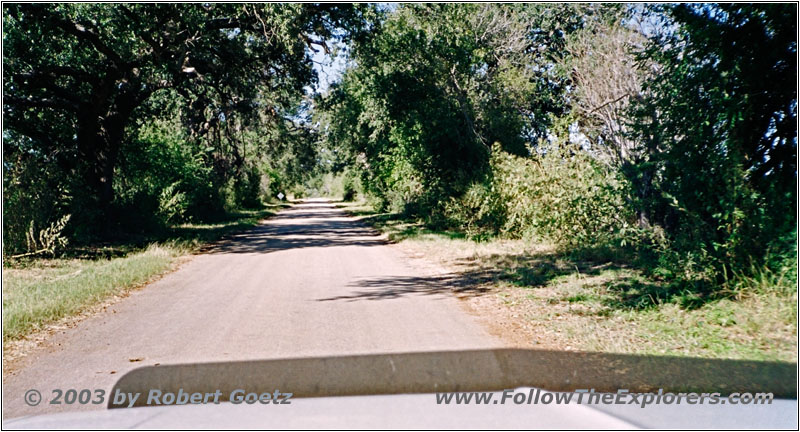 Highway 765, TX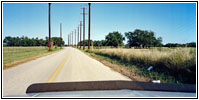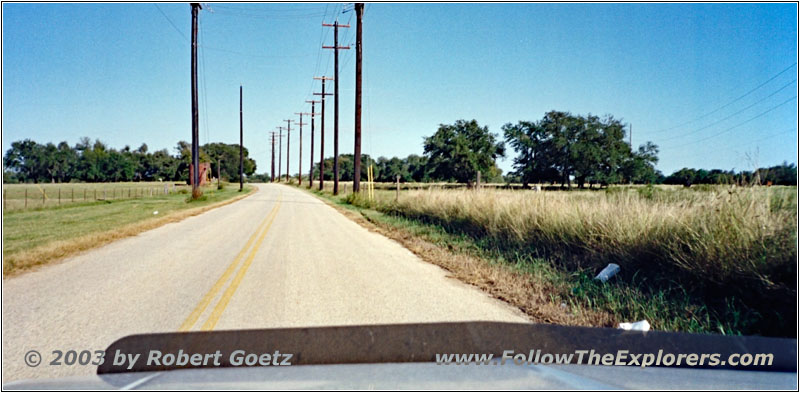 Old Frio City Road, TX
I make good progress up to Highway 57. Just before I reach the Interstate I turn onto some small paved roads and then dirt roads. This way I reach the Interstate to San Antonio on small backroads, where one is closed due to road damages. Probably the rain caused some rivers to flood the region, which damaged some of the roads.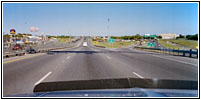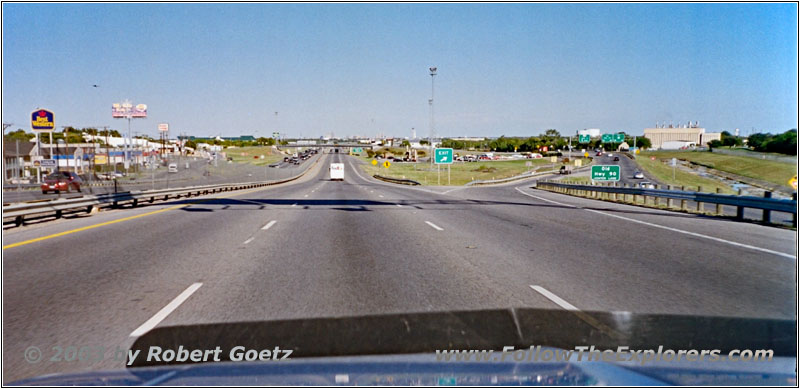 Highway 90, San Antonio, TX
I follow I–90 through San Antonio to the exit of Loop 13, where my final destination of today is located, the Motel 6. Despite everything I progressed so fast, that I am already checking in around half past four. Also this time I receive a room on first floor, where I can park in front of my room. You can tell the difference: If you stay longer, you receive the quiet rooms in the back area. The ones just traveling through for one night receive rooms directly at the beginning close to the main road.
I put my stuff into the room and check the video taping of today. Then I take a look at the phone book and really discover an Outback Steakhouse. Eventually a real steak again! Unfortunately it is located close to the north end of town, which takes me almost half an hour to arrive there. Next time I will look for a strategic more convenient Motel 6 to stay. But for now I order my usual 12 ounce Outback Special. I pay around a quarter to nine and drive back to my motel.
General
Breakfast: Skillet's Restaurant, Del Rio
Dinner: Outback Steakhouse, San Antonio
Motel: Motel 6, San Antonio
Distance: 313 miles