Zebulon Montgomery Pike Trail to Red River, Mexico Journey 1807
Day 29: October 26th, 2003 Sanderson — Del Rio
Because I have been in bed yesterday pretty early, I also wake up very early today. Additionally today is also the change from summer to winter time, which gains another hour. So I am already checking out around 8am. It is freezing cold. My thermometer reads around the freezing point and now it also starts to rain!
But for now I need a place to have breakfast. My motel recommends the Kountry Kitchen, which should be open. I cannot really believe this. All in all I am here in a small town and this restaurant should be open at 8am on a Sunday?! Let's see…
When I arrive there, a couple of people enter the restaurant. But everything is still dark. When I am seen (probably the owner) by a lady, she pointed out in a very harsh tone that they are still closed. Didn't I had this kind of experience already at the west side of the Big Bend National Park…
I am barely able to get the information from here, that they are open around half past eight. Great. There is also nothing else around here open. So I drive over to the next gas station to get this task done. There my fingers almost freeze. I am in Texas and have temperatures around the freezing point. Two days ago I was struggling to sweat enough and now this!
Eventually my gas tank is full. Into the bargain the pump does not print out a receipt. It shows on the display to ask the cashier for a receipt. But I have plenty of time, so I walk into the building. There they explain me, that they don't get any receipt in here. They have no chance to print one out here — all of this sounds like a bad joke…
Let's see, if this day continues as weird as it started. I drive back to the Kountry Kitchen. It's still around five minutes to half past eight. But at least the light is on. So I give it a try. More than throwing me out again cannot happen. And indeed, they are now officially open!
I even receive a breakfast now. This starts to compensate a bit and just past nine I am ready to hit the road again. But what is this: When I leave the restaurant I am standing in snow rain! Hell, I thought I am in Texas here!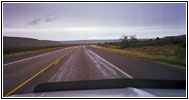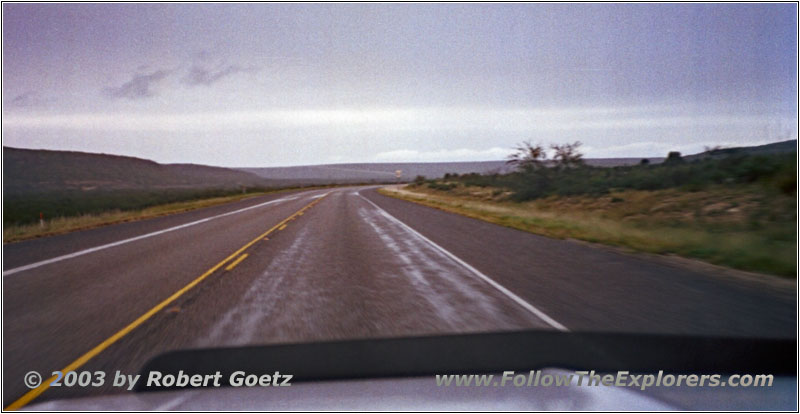 Highway 90, TX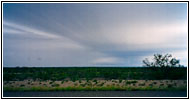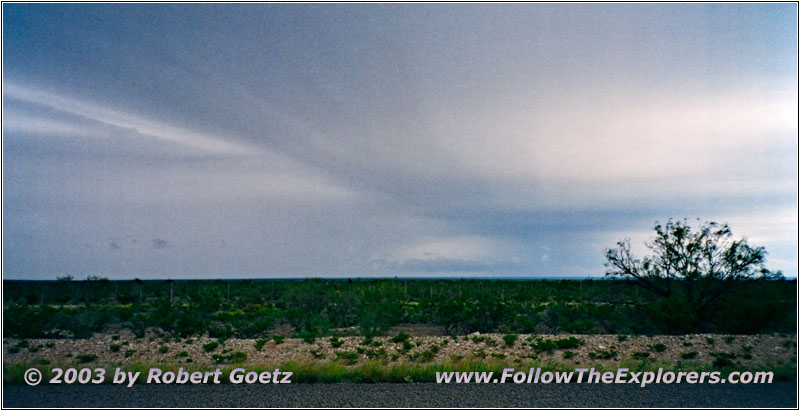 Highway 90, TX
I run to my car and hit the road. My next destination should be Judge Roy Bean, who was judging west of the Pecos in his very own way. But the historians assume, that this was also the reason, why he was accepted as judge in this tough area.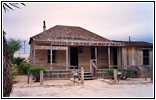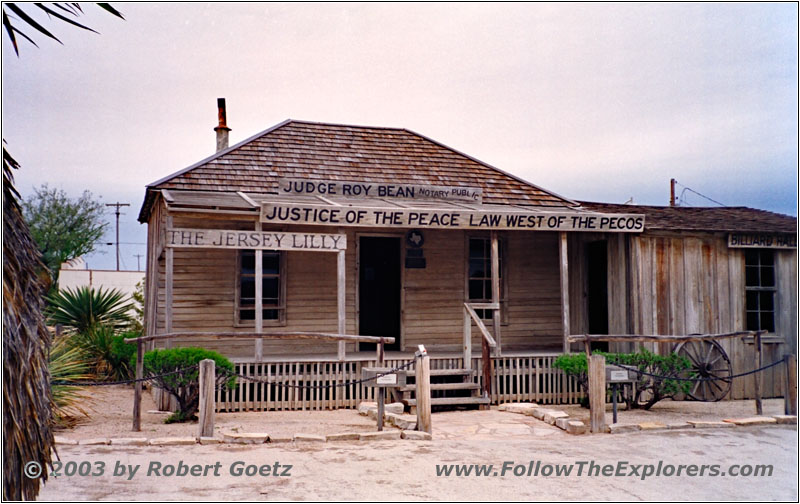 Saloon Judge Roy Bean, Langtry, TX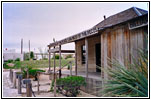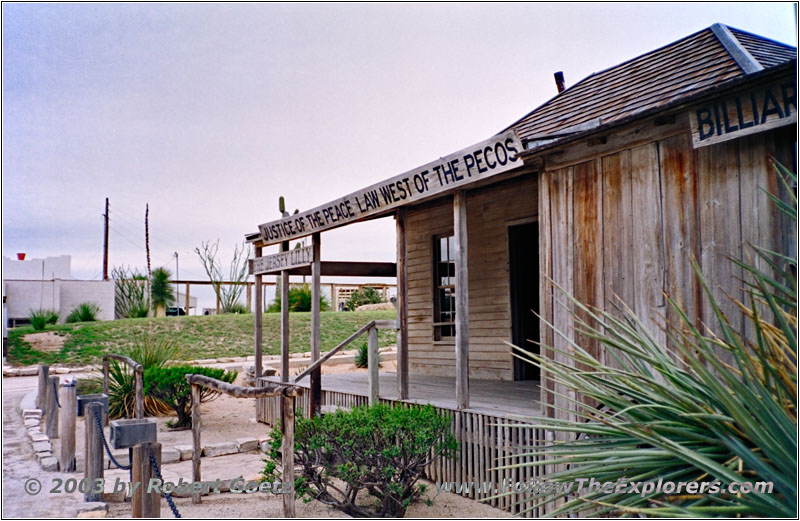 Saloon Judge Roy Bean, Langtry, TX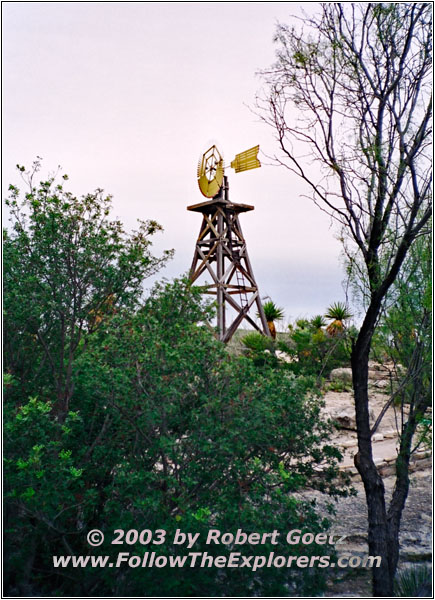 Judge Roy Bean, Langtry, TX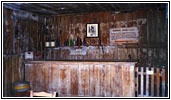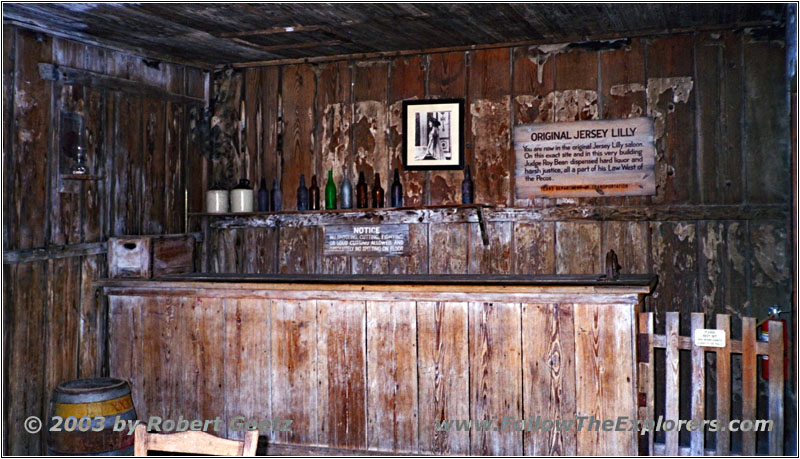 Saloon Judge Roy Bean, Langtry, TX
It's not even ten when I arrive at Langtry, the home of Judge Roy Bean. The town was named Langtry by him to honor an opera singer named Lilly Langtry, which he would have loved to once meet in person. To further honor her, he also built a little house where she could sing, which he proudly named opera house. But she arrived here a couple of months after he died.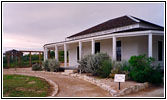 Opera House, Judge Roy Bean, Langtry, TX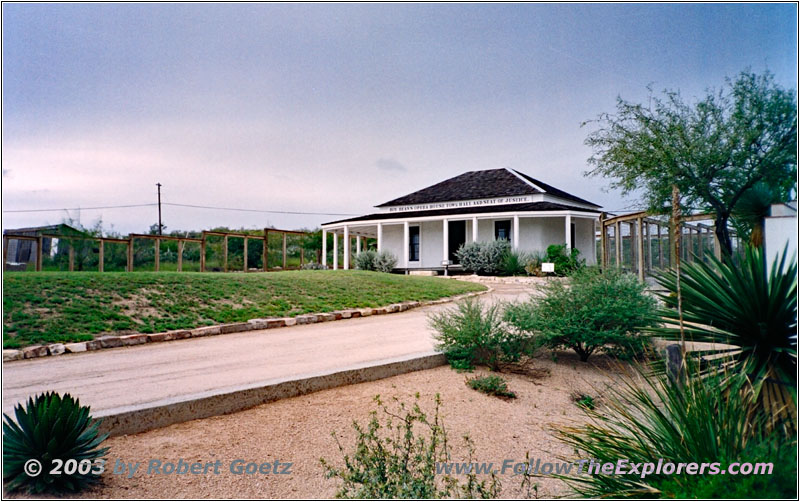 Opera House, Judge Roy Bean, Langtry, TX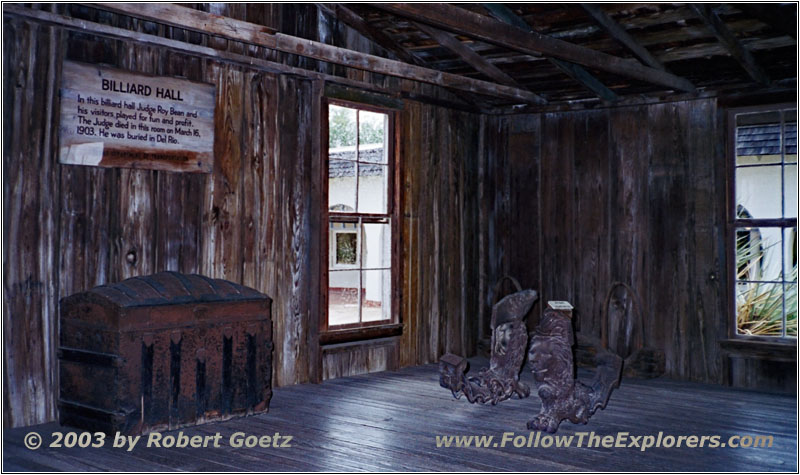 Billiard Hall, Judge Roy Bean, Langtry, TX

Saloon Judge Roy Bean, Langtry, TX
Today you can visit these old and restored buildings together with a few original items from that time. I am lucky and am able to get some nice shots between the rain showers. Unfortunately not in sunshine, like five years ago, when I was here with my friend Franky. But maybe someday again.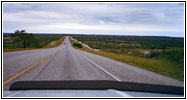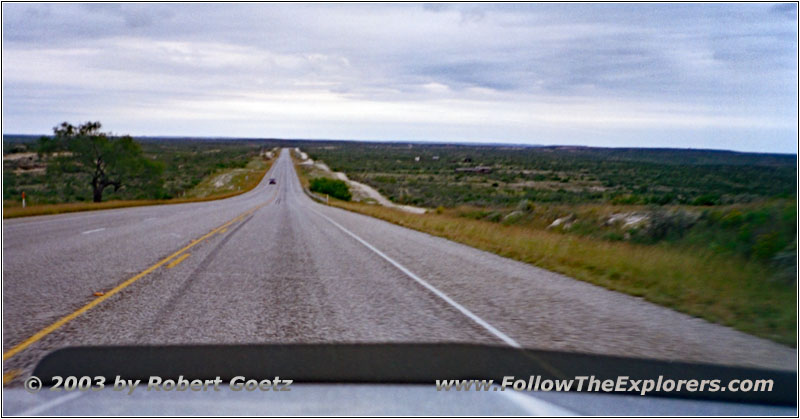 Highway 90, TX
I just do a brief visit at the gift shop to get some picture post cards. Around a quarter to twelve I continue my journey. My next stop over is planned at the bridge, which crosses the Pecos River. The original bridge is no longer there — this one was sold and dismantled — but the "new building" also looks very nice.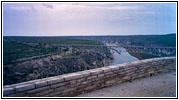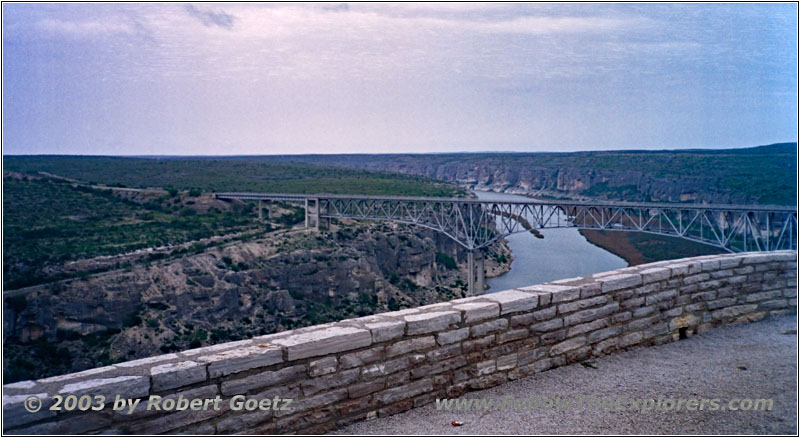 Pecos River, TX
Unfortunately I am only able to get my camera in the safe shelter, then it starts to rain from the bucket again. I only do a short shooting from my shelter, then I do my best to get my camera back into my car dry.
A bit disappointed I continue driving. The hiking into the Seminole Canyon Park must be eventually canceled. This weather is really starting to annoy me now. On top of that it is this freezing cold. When I arrive at Del Rio around a quarter past one, there are not even 50 degrees on my thermometer to read!
But therefore I receive another room at first floor in this Motel 6. The only downside is that I am not able to park directly in front of my room, almost as usual. Now the whole side is a fire zone and you must park at the other side of this through road. But that is okay. All in all it is only a couple of yards.
I pack my stuff together and check the video taping of today. Then I drive first over to Wal–Mart to get some bottled water. The water consumption will most likely go down at these temperatures, but you never know. Around 3pm I got everything and I decide to stroll through the covered shopping center for a while.
I remember that I have been there also five years ago. But somehow this place was way bigger in my memories. Anyways, maybe I am wrong. All in all this was my first real trip to the United States back then. I look for a nice gift to bring back home, but nothing around here really catches my eye. But I still have plenty of time and I use it to enjoy my time in the shopping mall.
Then I drive back to my motel. The dinner shall be also in the steakhouse, where I have been five years ago. But I cannot find it in the phone book. So I just try to find it by driving down the main road — this was around 6pm. Just past seven I am still circling around. Eventually I give up frustrated. I drive back to my motel to ask them, if they might know this restaurant. But they never heard of that name.
When I ask them where else I could go for dinner, they only one they know is the Applebee's in the city center. Beside that, they only know some Fast Food Chains — thanks a lot, but I ran into these kind of places twice by accident, once without recognizing it. Only when I realized, that no server showed up, I figured out where I am — and fled out of this restaurant.
So I give the Applebee's a try. A couple of years ago, I have been at this chain for dinner at the east coast and it was really good. Also today I like my dinner. Only two tables apart there are some newly rich teenagers, who already had some alcohol, which reduces the enjoyment of this evening. I pay around half past eight and drive back to my motel.
Sights
Judge Roy Bean Museum
Pecos River Bridge
General
Breakfast: Kountry Kitchen, Sanderson
Dinner: Applebee's, Del Rio
Motel: Motel 6, Del Rio
Distance: 129 miles