Zebulon Montgomery Pike Trail to the sources of the Mississippi 1805 — 1806
Day 2: August 12th, 2002 Pittsburgh (Get Car from Mine)
We leave home at 10am as promised and arrive around 11am at the mine. I pay the rest for August (they charge exactly per day!), then we follow the pace car into the mine. The employee has to get the keys which gives me the opportunity to take a picture of my truck in the mine.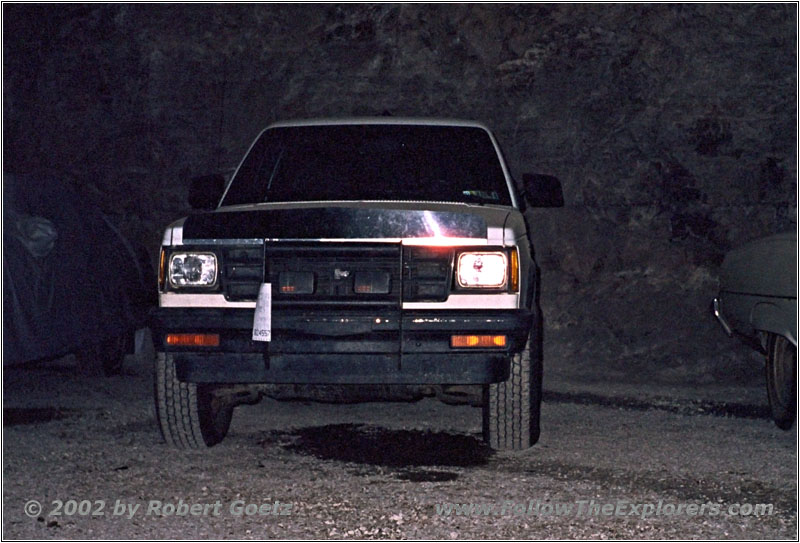 88 S10 Blazer at Mine
I unlock my car and connect the battery. At least the light under the hood is turning on. So it seems the battery is not completely empty. The pace car also has a battery connector in the front to jump start stored vehicles. Seems like they are used to that. It doesn't take long until my truck fires up and immediately runs clean. After more than 10 months sitting this is a bit sensational for me!
I like the invention of the ignition. Then I follow Helen out of the mine to the highway. On our way back a stone works out of her tire treads and gives another crack in my already broken windshield. Let's see what inspection will tell me tomorrow…
We are back home around noon. She prepares me a sandwich. Then I go to my truck to drive to Wal–Mart to buy a new backup battery. But this time the starter battery did not survive. There was not even the slightest sound from my starter. I measure the voltage and it drops down to 8V. It looks like one cell is completely gone. So I have to ask Helen again to give me a ride to Wal–Mart. I get a new battery and the Vitamin C I forgot at home.
Back Home I immediately install my new starter battery. But I realize that my great Wal–Mart toolkit doesn't contain the right tools for the battery bolts. Lucky me Helen has the right tools in her home. After the usual issues when installing the battery (the cooling water overflow container has to be removed like last year) my truck runs great again.
Next I drive back to Cranberry to get an auxiliary transmission oil cooler at Pep Boys. But during my drive I realize that something is wrong with my transmission. Every time I give a bit more gas the transmission starts to slip. Hopefully nothing is broken. I drive on to Wal–Mart and get the right tools for a battery change. I am back home around 3pm. There I take a look at the manual on how to install the transmission cooler. When I get my car back from the mechanic I want to start immediately with the installation.
David stops by in the afternoon. It was planned that he should get the battery. But as I was already forced to get a new battery, I will use the old starter battery as backup for this year. I will not be in the wilderness like last year. Therefore this old battery will work as backup for my accessories.
He also offers me that I may work again in his garage to install the transmission cooler. I should get my truck back on Wednesday from my mechanic so I should be able to start on Thursday. Then I also want to check for a mobile phone and a winch.
In the evening I leave the house with Helen again to get some coffee. She usually only drinks tea, so she doe not have much coffee at home. While shopping I get the idea to also look for a threaded bolt to mount my tripod. After a while of searching and asking we eventually find the right one at Trader Horn. Then we drive back home. Great to have an American Mom who takes care of you! Around half past ten we go to bed.
General
Breakfast: Home
Dinner: Home
Motel: Home
Distance: —