Zebulon Montgomery Pike Trail to the sources of the Mississippi 1805 — 1806
Day 21: August 31st, 2002 Cassville — Richland Center
When checking out I ask for a nice breakfast place. They recommend the "Town Pump" in downtown. Hopefully it is not as bad as the restaurant yesterday. I hit the road and almost miss the restaurant. It is exactly in downtown. But I am up early today and even with the beginning of Labor Day weekend the restaurant is not yet crowded. The interior is nice and comfortable, just like a real small–town downtown restaurant. To my surprise my server is a young girl. She is probably not older than 10 years and I am wondering if she is really allowed to work?!
But I assume it is the owner's daughter. She does a real great job! And the breakfast is really good. You can tell that here is not mass cooking like in big chains. I pay around 9am and start my trip. Unfortunately I cannot find a reasonable gas station. But I don't have to drive too far today. Therefore I skip my usual stop at the gas station. If everything fails I still have my 10 gallons gas.
It was late when I arrived in Cassville yesterday. Therefore I moved the Dewey Heights visit to today. But also today is pretty good filled with the visit of Wyalusing State Park. It looks there will be only one hour left to visit Dewey Heights.
At the crossing I see that I would have to pay an entrance fee. As I paid almost ten bucks at the last state parks I decide to skip this visit. One hour is too less time if you have to pay…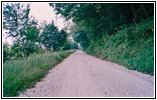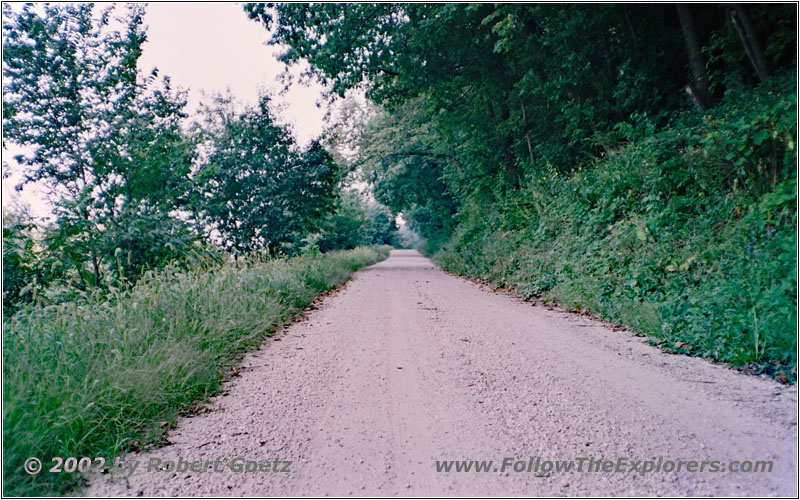 Closing Dam Road, WI
A little bit further County Road VV leaves the road to the left. But I stay on my road and follow the Mississippi banks. The road turns out to be an absolute highlight. There are so many spots to stop for video taping and taking pictures that I have to be careful to not run short in time. According to my plan I have to leave this road at the Good–Nuf Hollow Road crossing. But I try to stay on this road further. On my map this road ends within 2 miles and changes to a dashed line. Maybe I am able to process further with my car.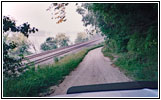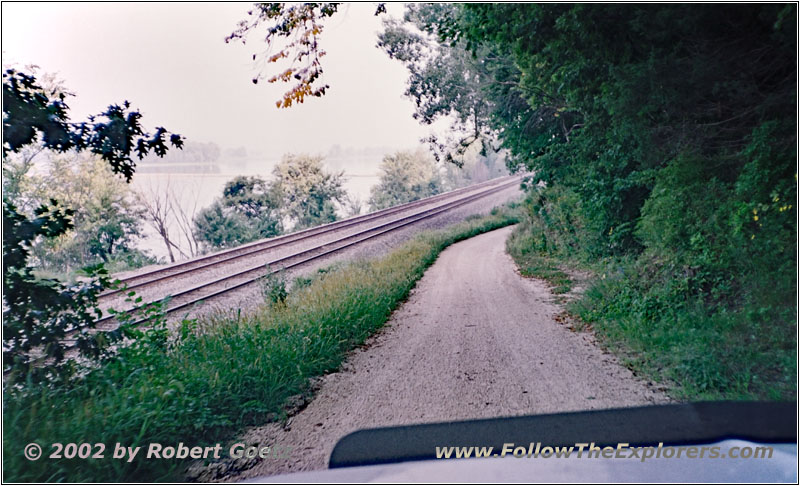 Mississippi River, Closing Dam Road, WI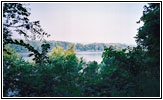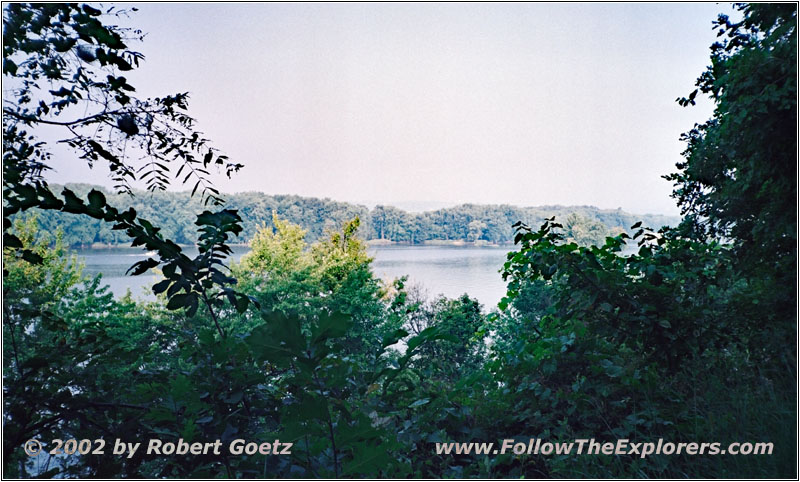 Mississippi River, Closing Dam Road, WI
I follow the river banks until I ran into a van and a Ford Pickup Truck with a giant trailer, which looks like stuck in the rail road rocks on the side. My first thought is, that they had an accident. But after offering my help they tell me, that this is the end of the road here and they try to turn their trailer around. This is really careless as the road is not much more than a single lane. And they take this road with this giant trailer! I cannot understand this. But I am not able to help, so I turn around and drive on.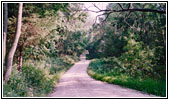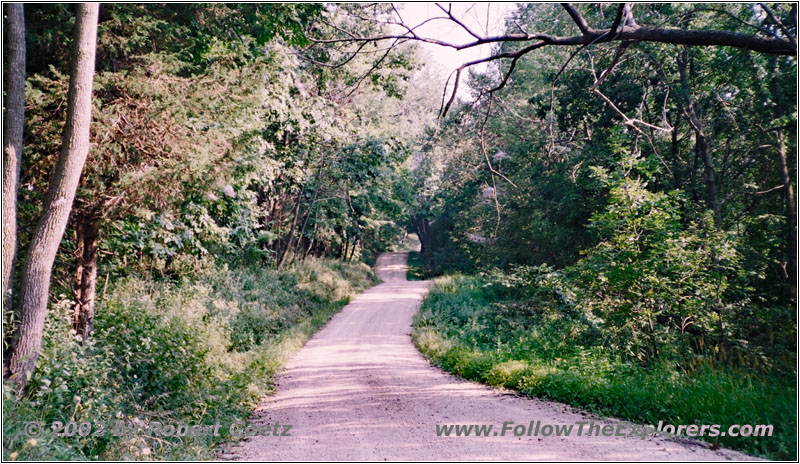 Good-Nuf Hollow Road, WI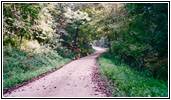 Good-Nuf Hollow Road, WI
When I reach my planned crossing again I have to leave the river banks and drive back into the country. The road is like the river road a gravel road. But at some spots the road runs really steep uphill. There are even two small creeks crossing the road. It is not deep, but it has a small ditch where you have to drive through. I don't know how the guys with their trailer will manage this.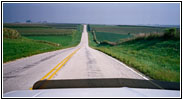 Road VV, WI
But this is a road I really like. It is absolutely fun to drive there. Unfortunately I reach County Road VV much too early. But I only have to stay on pavement for a short distance. Then I take Badger and Duncan Road. Suddenly there is a cow on the road who immediately flees behind the fence when I approach.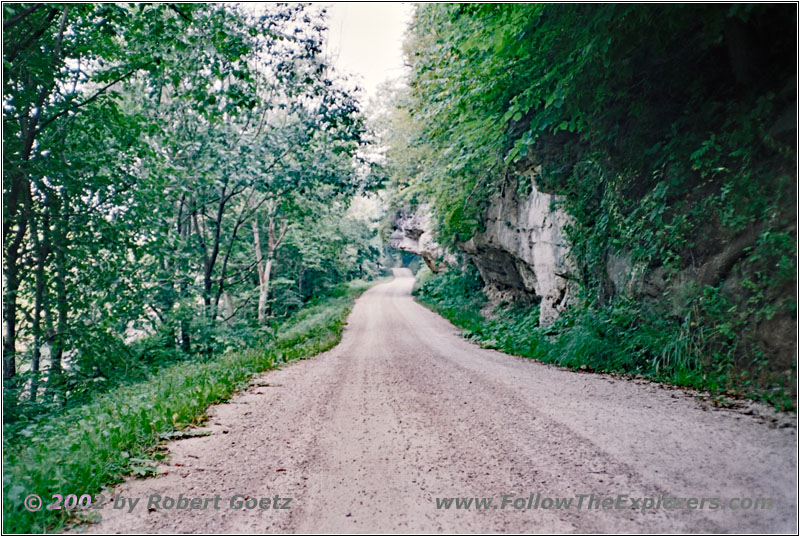 Dugway Road, WI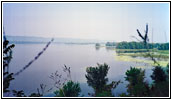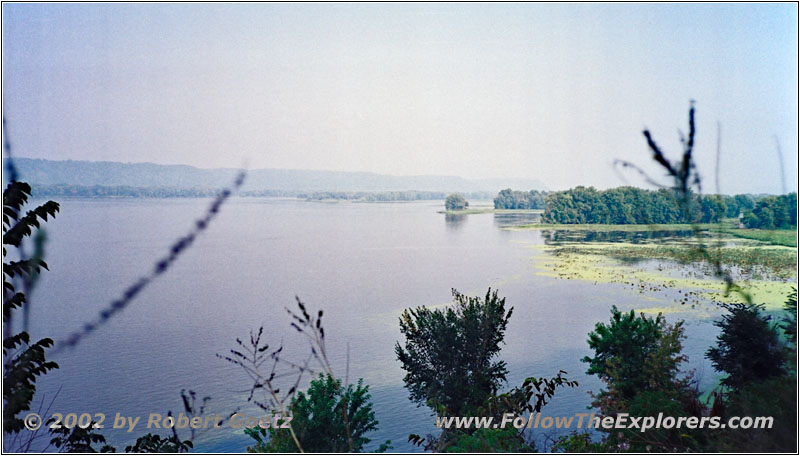 Mississippi River, WI
Then I take Squirrel Road until I reach County Road V. I reach Glen Haven on pavement. Then I follow the river banks again, first on pavement, later on gravel. Also this stretch gives great views of the river.
Much too early I am back on pavement and follow County Road A, then County Road X to the Wyalusing State Park crossing. In the park I drive to the farest end in the hope, it will not yet be crowded too much there. And it works out! There is only one car at the Mississippi River View Picnic Area and they leave a little bit later.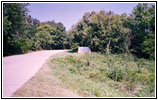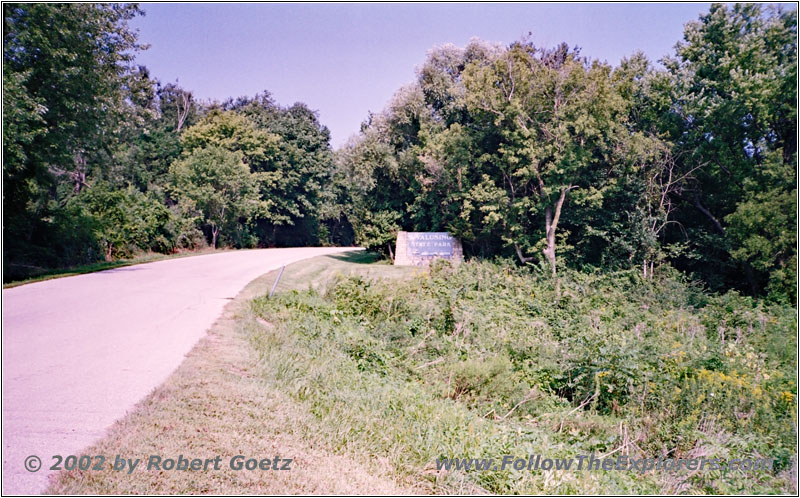 Wyalusing State Park, WI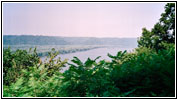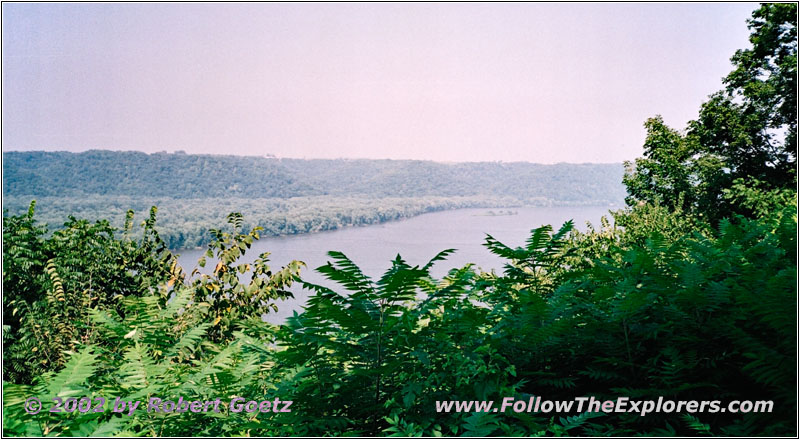 Mississippi River, Wyalusing State Park, WI
While unmounting my camera and mounting it on my tripod a park ranger arrives. We have a nice chat before I start my video taping. The river views are breathtaking. Then I start my hike on the Mississippi Ridge X–C Trail. I was clever enough to put sunscreen on before I started my hike. But the bigger problem shows up after a couple of minutes: The mosquitoes are so aggressive, that I am forced to turn around. I return to my car and put a lot of mosquito protection on my skin. Then I give it another try, this time without any issues.
Sadly the river views are not good from this hiking path. Everything is covered with thick brush and wood and it is almost impossible to see the river. Then I reach the spot where I thought to have another good chance to see the river. Unfortunately this also did not work out and I return to my car.

Pictual Rock Cave, Sugar Maple Nature Trail, Wyalusing State Park, WI

Pictual Rock Cave, Wyalusing State Park, WI

Sugar Maple Nature Trail, Wyalusing State Park, WI
I drive a short distance back to the starting point of the "Sugar Maple Nature Trail". First I hike over to the "Pictured Rock Cave". This rock has a special coloring and a small waterfall runs over the cliff. No one is around here, which gives me perfect opportunities for video taping and taking pictures.


Sugar Maple Nature Trail, Wyalusing State Park, WI
Then I hike on. The path goes down the whole mountain to almost the river banks. Then the path follows a dry river bed which looks like there was a lot of water running down not too long ago. You can see this by looking at the torn down and still green vegetation. Probably this was at the big rain a couple of days ago. Lucky me, I haven't been there at this time.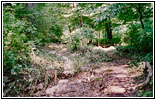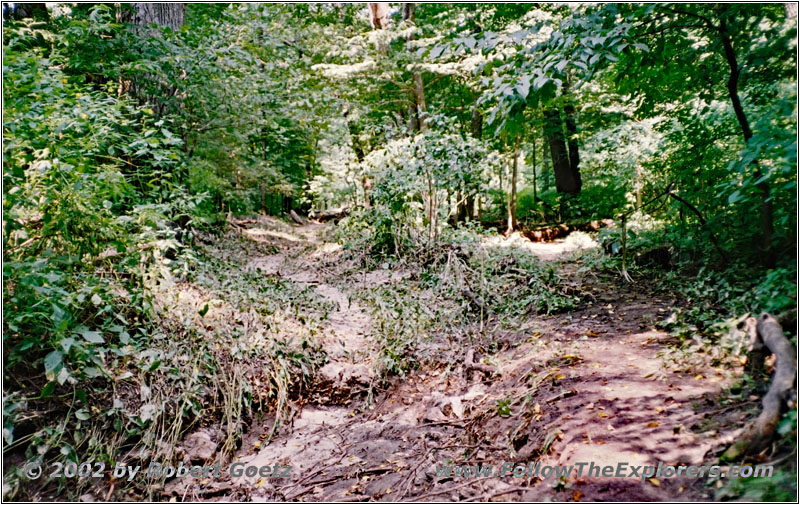 Sugar Maple Nature Trail, Wyalusing State Park, WI
After a while the path goes up the mountain again. After a steep incline I am back at my car. Slowly my mosquito protection gives in and it is not too late, to be back at my car. My next stop is the river landing, where I just hiked to.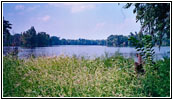 Mississippi River, Wyalusing State Park, WI
I am able to get some nice shots again before I start the "Sentinel Ridge Nature Trail". This path takes me up the mountain again. Then I pass a dropout but with only one exception always too far away from the river to get nice pictures through the wood.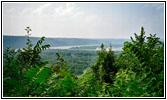 Mississippi River, Sentinel Ridge Trail, Wyalusing State Park, WI
Eventually I have a chance to video tape the river again at the "Passenger Pigeon and Monument Lookout". But I will not hike further, because it is already a long way back to my car. I also don't want to be too late at my destination of today, Prairie Du Chien. I am afraid to start hunting for a room, because it is Labor Day Weekend!
I hike back to my car and leave the State Park. I take County Road C until I reach Highway 18. This highway takes me to Prarie Du Chien and my destination, the local Super 8. There is an elderly couple in front of me, which is just sent away by the reception lady, because everything is booked. She also recommends a motel to me, which is an hour drive away at Boscobel. But she doesn't want to call ahead to help reserve the room. That's great service!
So I try to find something here at the city first. But the reception lady was right, everything is booked! I take a look at my map and motel guides and discover, there is another Super 8 in Boscobel. I am wondering why this lady has not suggested to go there.
Now I am no my way to Boscobel. I arrive around 6pm. But the main street is closed due to a road construction and there is a detour via another road. After a little bit of searching and seeing an Amish wagon for the first time, I find the motel. But it is completely booked due to a wedding. But there should be a hotel at the village entrance which should have rooms. When I arrive there I see that they are also booked!
So I try to find the other motel, which the reception lady in Prairie Du Chien recommended. But it is further away than I expected and I had to search for a while until I am able to find it. I arrive around 7pm and they also tell me, that nothing is available. I should have made a reservation, is their comment. It is Labor Day Weekend — thanks for this valuable information! I wouldn't have noticed it without…
I take another view at my map. Now I need the bigger maps, because I am way out of my copied detailed maps. According to my motel guide, the next Super 8 would be in Richland Center, another hour drive. I have no other choice than to drive there. Around 8pm I eventually make it.
Being realistic, I already know the answer when I enter the motel and have almost no hope. Around that time you usually have trouble finding a motel room at a regular weekend. And yes, also this motel is completely booked. But the lady recommends the Riverview Motel. She calls ahead and reserves the last available room for me. She only had trouble spelling my last name. But we should be able to also manage this. She writes down the way and I hit the road again. But the directions are not clear to me and I start to search around again. Eventually I discover a Parkview Motel, which also signals no rooms left. But maybe they know the motel I am looking for.
I ask at the reception and I am so lucky, because this is the motel I was searching for! The guy at the reception is really nice. This is an old family motel. The rooms are small and clean. No luxury and it also smells a little bit like smoke. But at least I have a room and do not have to sleep in my car!
I ask for a nice dinner place and he recommends the Peaches for steaks. It is a 15 minutes drive. He also calls ahead and asks how long they serve dinner. I am fine until eleven. That is perfect!
I say thank you and put my stuff in my room. This time I don't have time to watch my movies and leave immediately for dinner. It is quite a distance and I am almost afraid that I have missed the restaurant. Then I see it!
The restaurant looks more like fine dining. They also serve coke in cans, which means, there is no free refill. But dinner is great. Also the server is fantastic. She also takes care of my payment. Usually you have to pay at the bar.
Around a quarter past nine I start my way back to my motel. Now I have to go through all my video tapes. Around eleven I am in bed. Let's see when I am able to get up tomorrow…
Sights
Wyalusing State Park (Fee $10)
General
Breakfast: Town Pump, Cassville
Dinner: Peaches, Richland Center
Motel: Parkview Motel, Richland Center
Distance: 161 miles