Zebulon Montgomery Pike Trail to the sources of the Mississippi 1805 — 1806
Day 36: September 15th, 2002 Owen Sound — Detroit
Unfortunately I wake not up as early as I wanted. It's already a quarter past nine when I arrive at the restaurant. As I was already afraid of, the restaurant is pretty full. But I receive the last small table. I order my coffee and on my server next turn I order my breakfast. Then it looks like my server completely forgot me. More than half of my breakfast I have to choke down dry even where I tried to draw her attention. Eventually she finds my table again. I tell her about the coffee and she wants to refill immediately. Sorry Lady, but now I am finished and I don't need it anymore. Therefore I tip extremely low. Usually I give at least 20 percent. But for this kind of service I give only 10 percent.
When checking out I am asked again if everything was alright. As I hesitate to answer she wants to know exactly what happened. I tell her, that, despite from breakfast, everything was fine. She also apologizes. I have the impression that the service in the US is way better than over here. If I sum things up I have been completely forgotten in Wawa, in Sudbury I waited for my breakfast for ages and here I got no refill on my coffee. And this happened on three days in a row!
Around a quarter past ten I drive to the next gas station. This time I find one without service. But I cannot pay at the pump. So I have to enter the shop. At half past ten I am back on the road.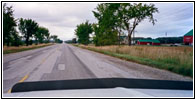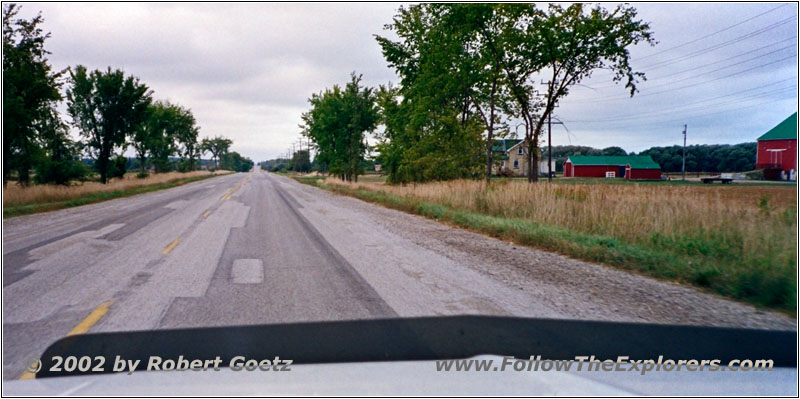 Highway 21, ON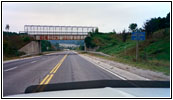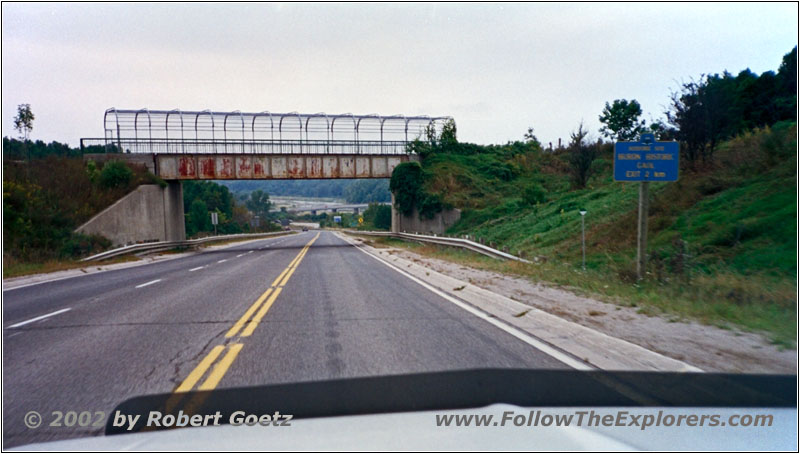 Highway 21, ON
First I take Highway 21. This one follows the shores of Lake Huron. Unfortunately there is no rest area along the whole way to see a restroom. Slowly things are getting urgent. Into the bargain it also starts to rain now.
Eventually I reach Highway 402, which is build like an Interstate. I hope to find a rest area here. But again, nothing! When I arrive in Sarnia I leave the highway and drive to the shopping mall. There I am looking for a restroom in a large store…
Relieved I start my border crossing adventure. Today is Sunday, so I assume there will be a lot of traffic. The bridge only costs $1.75. There is almost no one at the pay station. It only starts to jam at the border itself. But there are a lot of stations, which are open. Therefore it not even takes a quarter of an hour until it's my turn.
The immigration guy is really funny. It starts to be a real nice talk, not comparable to the last border crossing. When I tell him, that the other guy also took my green visa waiver out of my passport, he cannot believe it. Therefore I have to drive over to the building where they also do customs. But I don't have to visit customs but fill out a new visa waiver.
Also the guys over there are really nice. He tells me that he even had been to Munich once. This was once a Europe trip which he made. All in all everything went really smooth and easy. It not even took half an hour and another $6 for a new visa, then everything was settled and I am ready to roll again.
Just past the border I drive to a rest area and call my friends. It's a little bit past one and I now know approximately how long it will take. Then I follow I–94 further to Detroit. I take the turnoff to I–696 and drive on to Highway 24. But I don't see the turnoff. Therefore I assume that I already missed it. So I leave the Interstate to check where I am. To my surprise I have still not reached the turnoff. So I drive on.
Eventually I reach the turnoff and continue on Highway 24. But at the next crossing I turn to the wrong direction. It takes a while until I realize my mistake. Then I turn around and arrive at my destination in Detroit soon.
My friend Matt sees me when I enter his property and welcomes me hearty. Unfortunately his wife caught a cold and lays in bed currently. In the meantime he shows me his progress on the tree house he made. Now there is even a TV connection inside!
While we are visiting the tree house his wife Jean started to prepare dinner. It is absolutely great like the last time. This time even Matt's Mom is able to join us. He told her already a lot about me and my travels. It is really a very nice evening. We go to bed around eleven. Tomorrow I will visit the museum.
General
Breakfast: Best Western Luma Cafe, Owen Sound
Dinner: Matt & Jean, Detroit
Motel: Matt & Jean, Detroit
Distance: 265 miles