Zebulon Montgomery Pike Trail to the sources of the Mississippi 1805 — 1806
Day 40: September 19th, 2002 Pittsburgh (Mine)
The plan is to leave for the mine around 9am. I have just finished breakfast when Helen already arrives. She is in a real hurry, because she has a lot of things to get done today. So I just grab all my stuff I need and leave the house.
While I am still mounting my camera on the car pod, she is almost up on the main street. Looks like she is really in a hurry today. On the road I really have to hammer down my old truck to keep up with her. I have the impression, on this short drive to the mine my truck ages more, than on the 5000 miles I went on my this years trail…
We take numerous backroads from Warrendale to Evans City.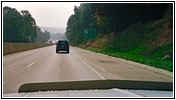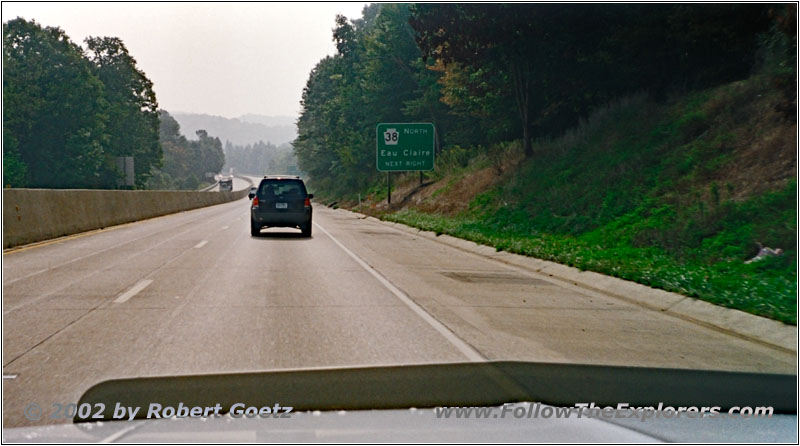 Highway 422, PA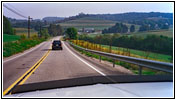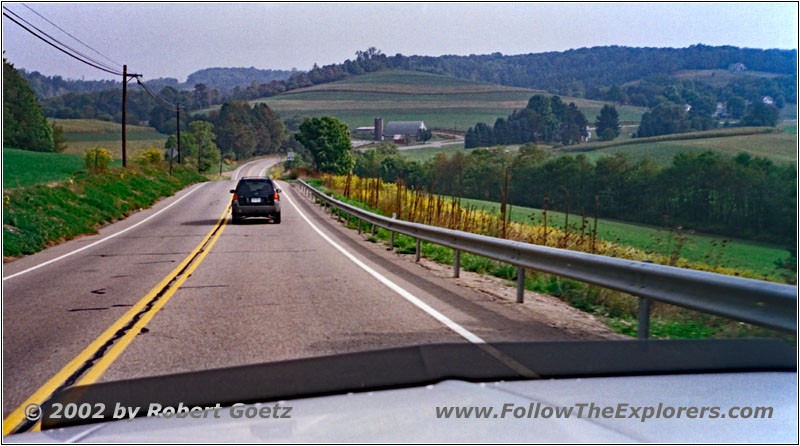 Highway 68, PA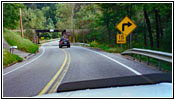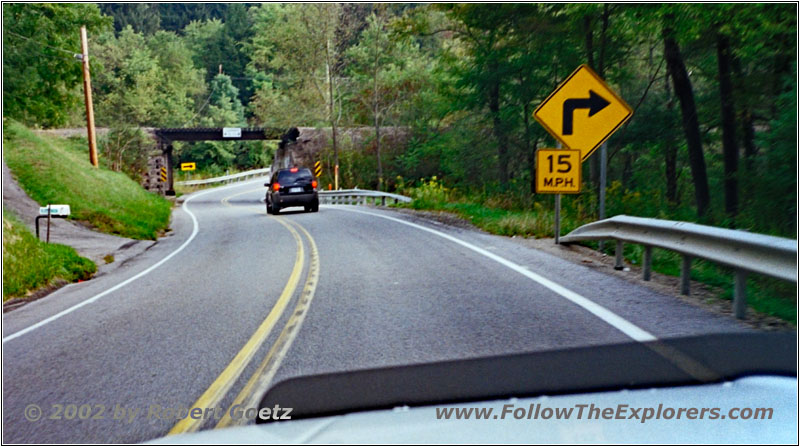 Highway 68, PA
From there we take Highway 422 and Highway 68 to Brady's Bend and the storage at Brady's Bend Underground Storage mine.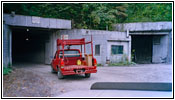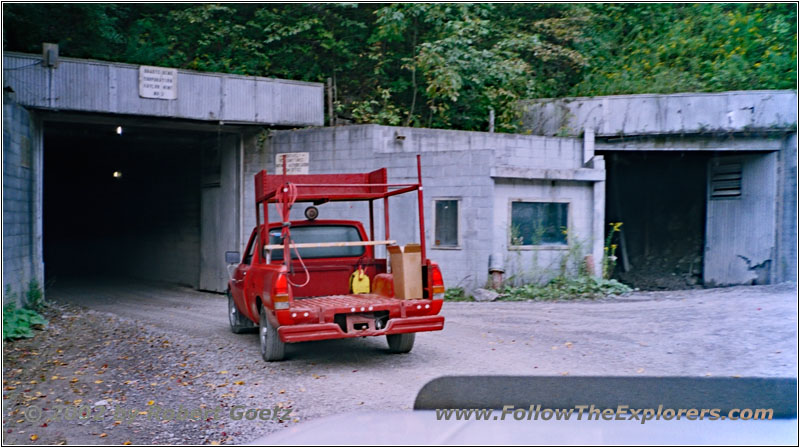 Mine Entrance Brady's Bend, Pennsylvania
When we arrive I do all the paperwork first. In the meantime they call a driver. Then we follow the mine truck into the mine to my new storage location. The free spot is big enough for two cars. The driver promises to keep the other spot free for Helen's car in October.
We disconnect my battery. But after I locked everything I remember, that I have still my backup battery connected. So I open the truck again and disconnect this one, too. As I have a switch installed, this is easy and fast.
Then I jump into Helen's car with all my camera stuff and we are going back to Warrendale in low–level flight. While driving back I remember, that I have left my sun glasses in the truck. Damned, looks like I have to survive this summer without one. When we are almost back home I remember, that I have also left my drivers license in the truck.
Now I am in real trouble. Helen doesn't have the time to drive back. I also have to repack my suitcase today for my flight back. Helen suggests that she can get the stuff, when she puts her car in the mine. But this will not be before end of October. Well, that's probably the best I can do right now. I try to think of the policeman's face who checks me in Germany and I tell him that my drivers license lays in my second car in the US, which is stored in a climatized mine. Just wondering, if he would really believe this story…
Then I have to repack my suitcase in a way, that everything fits in. I never folded my shirts while on the trail. This is the task for now. I am finished around evening time and then watch CMT again. Unfortunately Helen does not have time to join me for dinner tonight. But I can take her old car to drive over to Outback. She is just not sure if there is enough gas in the tank.
When I depart I see, that the tank is almost empty. But I am almost thankful for that. This gives me the chance to do something good as all dinner invitations didn't worked out this year. I fill up the gas tank and drive again to Outback, passing my beloved barrier.
This time I receive a table with another server. It also seems that the manager from yesterday is not around today. What a shame. I really hoped to have another nice chat with him. I pay around a quarter past eight and drive back home. Again I use the opportunity to watch CMT for my last hours around here. Tomorrow I must go back to Germany. I cannot believe how fast six weeks can pass by…
General
Breakfast: Home
Dinner: Outback Steakhouse, Pittsburgh
Motel: Home
Distance: —