John Colter Trail 1807 — 1808
Day 8: August 21st, 2005 Cloverdale — St. Louis
Last night I really slept extremely well. Totally recovered I start the day. As it is Sunday today and I am already ready for departure just past 8am, I ask for a breakfast place, just to be sure. All in all Cloverdale is not this big of a city…
Rick's Steakhouse also has breakfast. But in the last moment they remember, that it will open on Sundays not before 11am. But Karen's Cafe should be open. If everything fails there is still a Truck Stop at the Interstate. I say thank you for all the advises and information. Then I drive over to the cafe — just to realize, that it is also closed. But at least I make a stop at the Marathon in the city — which neither had water to clean the windshield nor paper in the printer for a receipt…
Then I drive back to the Interstate. Next to the Citgo is a small restaurant, which is really comfortable. It is one of these typical American Truck Stop restaurants. I order my usual American breakfast with eggs, bacon and hash browns.
Around nine I pay and hit the road. The weather is absolutely great. The only thing, that really sucks is, that the gas at the Citgo would have been 4 cents cheaper than at the gas station in the city…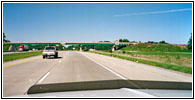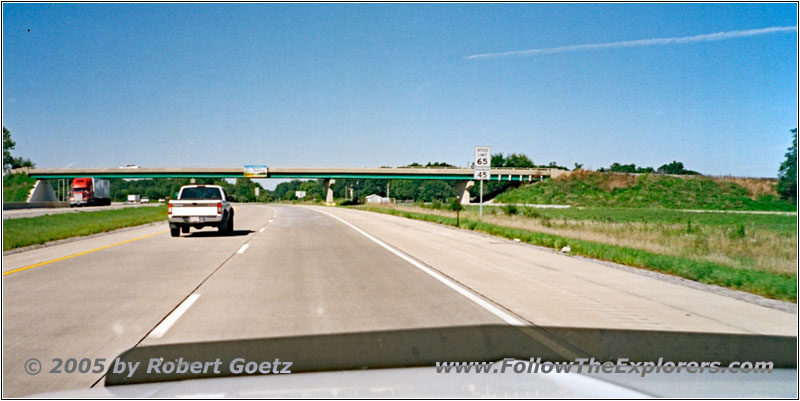 I–70, State Line IN and IL
Only a short distance past my departure I already pass the state line to Illinois.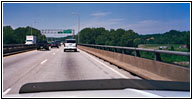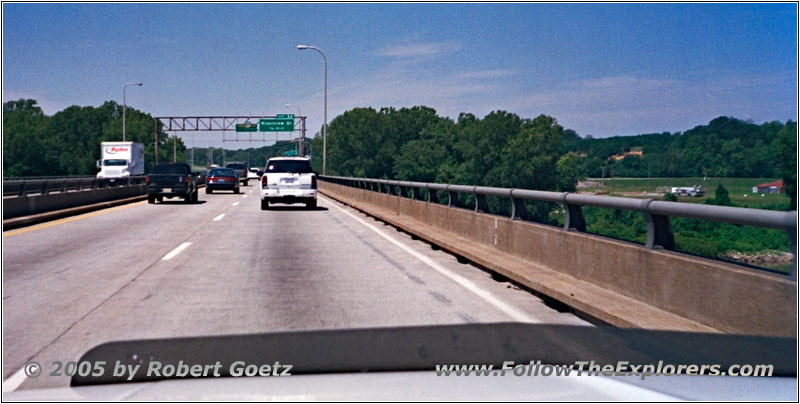 I–70, State Line IL and MO
Finally I reach I–270 and cross the Missouri River and also the state line to Missouri.
With plenty of sunshine I reach St. Louis and only a little bit later my destination of today, the Motel 6 in Bridgeton. As it is just half past twelve I should return in an hour again. Right now they have no rooms available.
So I drive back and try my luck at the Motel 6 in the north of St. Louis. At 1pm I am really able to check in here. Originally I thought that this motel is even closer to the Outback Steakhouse. But unfortunately it is significantly further away — Hazlewood is closer to Bridgeton than St. Louis North.
First I drive now to West Florissant. There is the closest Wal–Mart. Unfortunately I fall into a true spending spree, because they have a lot of CDs on sale. With 14 CDs I walk over to the cashier. However you must pay here 7.575% in taxes! And for the first time I run my credit card through the terminal by myself. I also sign directly at the digital terminal — this is also new!
Around 3pm I return to my motel. At Exit 30 I spot a Cracker Barrel. Hence my breakfast for tomorrow is already safe. Back in my room I start my CD player. Just before 8pm I leave for the Outback Steakhouse.
There I have an absolutely dark black server and a perfect service. Around 9pm I pay and drive back to my motel. Sadly the room is pretty much done: The bathroom door is hanging half out of the wall, because the upper hinge is torn apart. The fan in the bathroom is almost falling out of the wall, the water tap can be turned endless from warm to cold and on to warm again. Into the bargain it is also very noisy from the Interstate. Maybe next time I should be better going back to my "old" motel. Probably that is also the reason why this motel is not really booked…
General
Breakfast: Truck Stop, Cloverdale
Dinner: Outback Steakhouse, St. Louis
Motel: Motel 6, St. Louis
Distance: 213 miles