John Colter Trail 1807 — 1808
Day 16: August 29th, 2005 Dickinson — Sidney
Just across from my motel is a Country Kitchen. There I can just walk over before I check out. The breakfast and my server is quite okay and there is also a 10 percent discount for Super 8 motel guests. After my breakfast I quickly check out and load my truck. Then I drive over to the next gas station.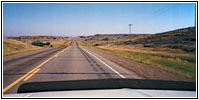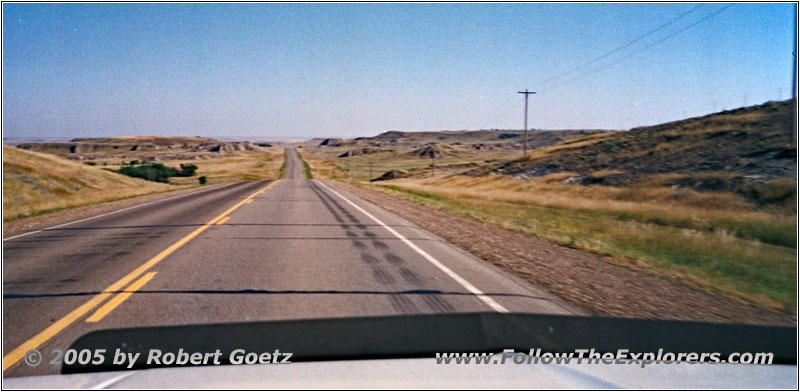 Highway 22, ND
Around 9am I am back on the road and first thing I drive out of Dickinson.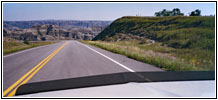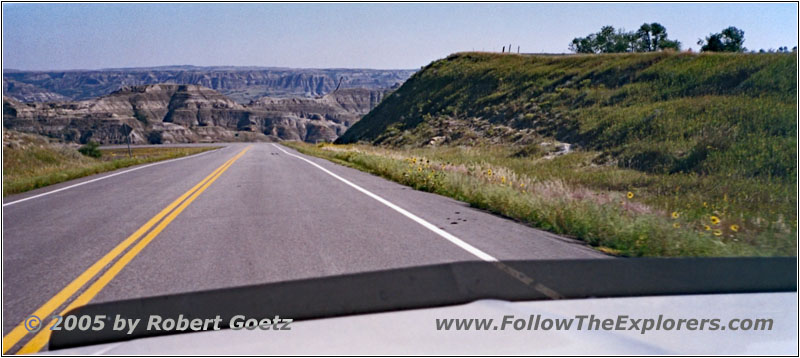 Highway 22, ND
Then I must drive through this endless road construction up to Killdeer. This takes again a lot of time.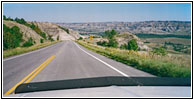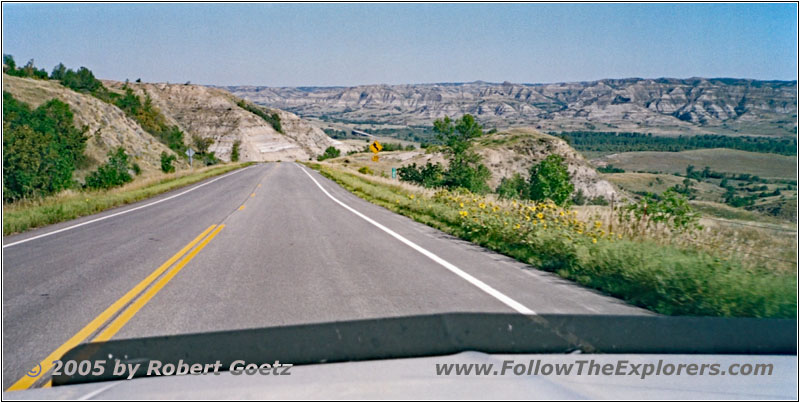 Highway 22, ND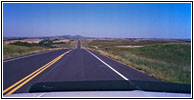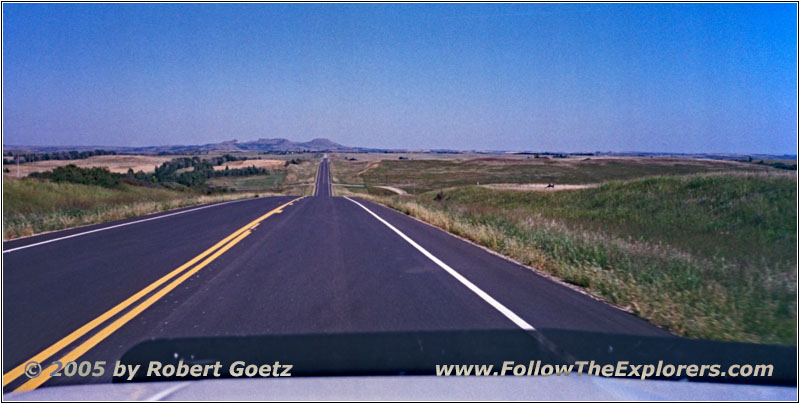 Highway 23, ND
At Killdeer I take Highway 22 North and also into the Ft. Berthold Reservation. There are living the three tribes Hidatsa, Mandan and Arikara. Originally the Arikara were a hostile tribe. But after the small pox, which has almost eliminated all three tribes, the surviving people gathered together and are now well known as the "Three Affiliated Tribes".
So my plan is to visit the museum to the east, after I have reached Highway 23. There they tell you the whole story about the three tribes. I also meet an elderly couple from Germany there, who are on their way to Yellowstone.
The employee at the museum gives me the hint to drive over to the lookout across the Missouri River — which will also give me the last chance to drive over the old bridge. The new one is almost finished and will be opened at the weekend. The old bridge will then be a walkway or completely torn down — which would be really a shame. This is one of these great steel bridges, which always fascinated me when traveling along the Missouri River.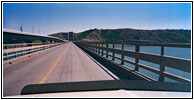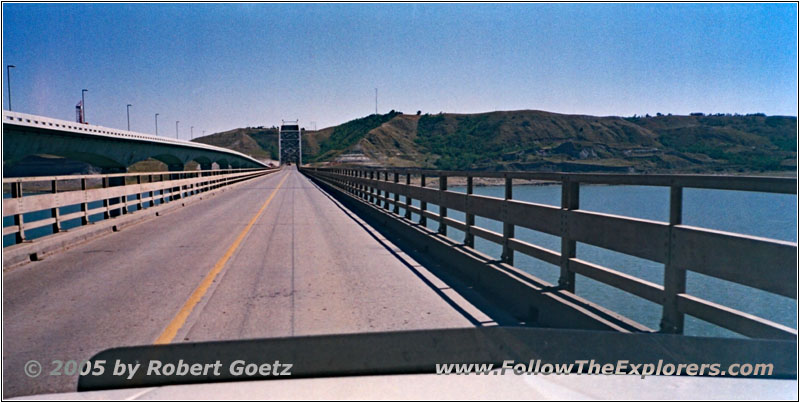 Four Bears Memorial Bridge, Highway 23, ND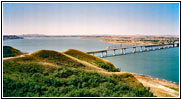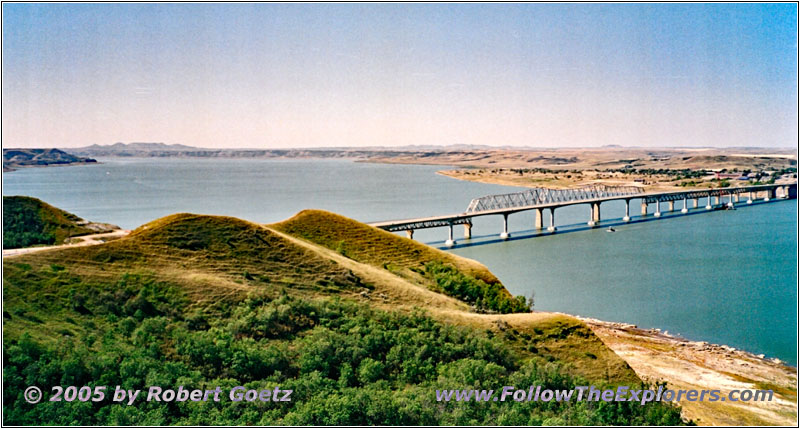 Four Bears Memorial Bridge, Highway 23, ND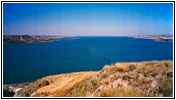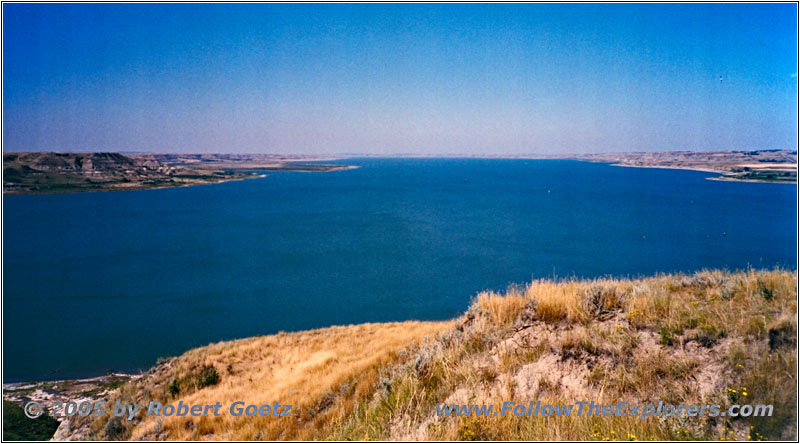 Missouri River, ND
So I enjoy the drive over this old bridge and search for the lookout. And she hasn't promised too much. The views are really great. I take some pictures and videos and because I like this location, I also do a nice lunch break here. All in all it is almost 1pm.
During my lunch break two workers are walking up the hill. They are doing some land measurements via GPS. I try to have a chat with them, but they seem not to be willing…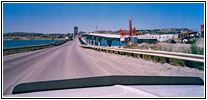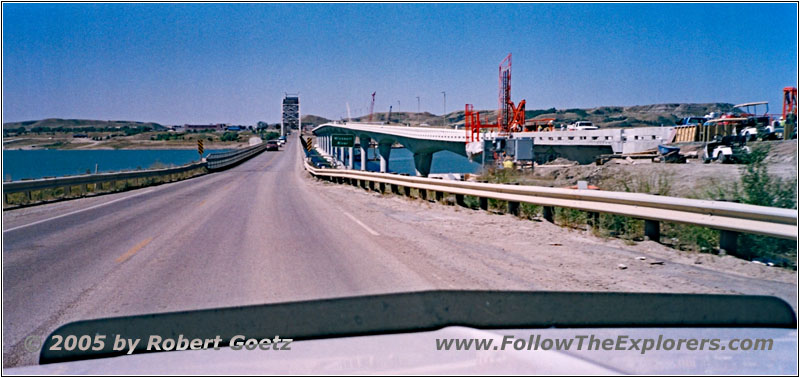 Four Bears Memorial Bridge, Highway 23, ND
I drive again back over the bridge to my next backroad.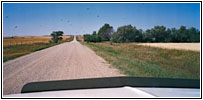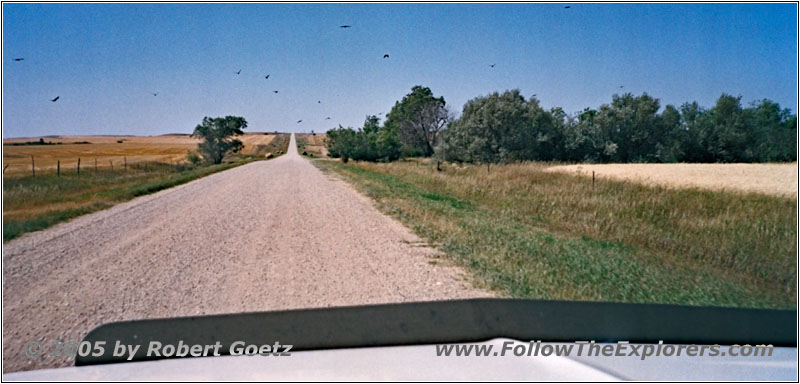 Rte 6, ND
On backroads I follow the dammed up Missouri River, which is still part of Lake Sacagawea around here.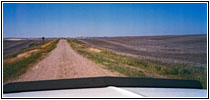 44St NW, ND
For a short distance I follow Highway 1806 until I reach the Little Missouri National Grasslands.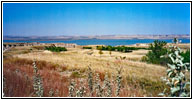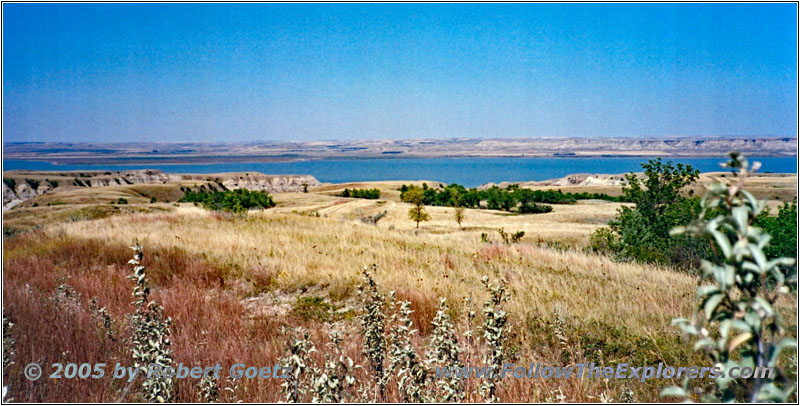 Missouri River, ND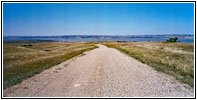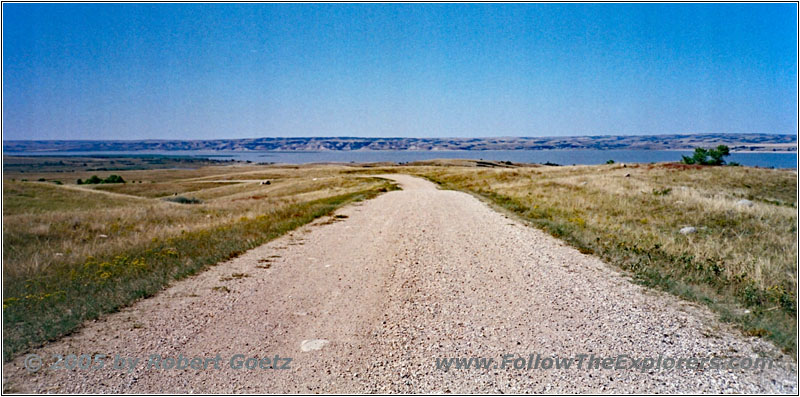 Co Rd 2, Missouri River, ND
Then the road turns again into a gravel road with some real picturesque views of the lake. Unfortunately this wonderful experience is soon blocked by some "Private Property" and "No Trespassing" signs…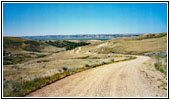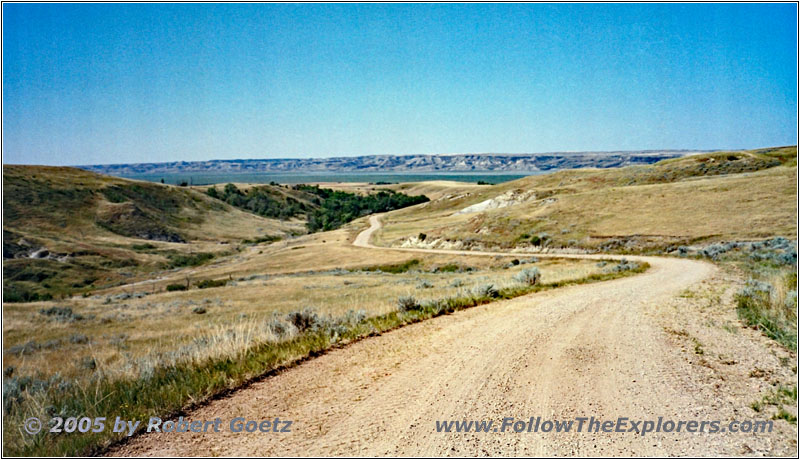 41St NW, ND
Therefore I must turn back to the highway and I continue on some county roads a bit further to the south in westerly direction.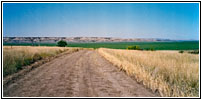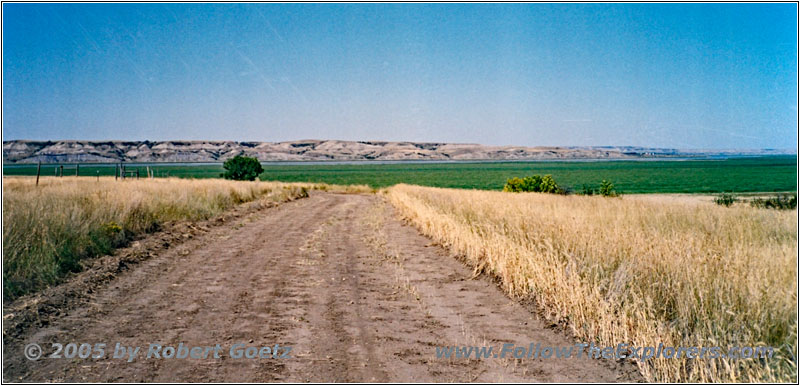 41St NW, ND
To reach my originally planned backroads, I make another attempt. But also this attempt is in vain.
So I must turn again back to my county road…
…and continue on these to Highway 85.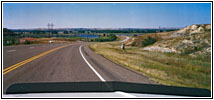 Highway 85, Missouri River, ND
On this highway I cross the Missouri River and continue on Highway 2 West.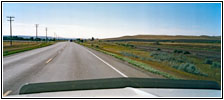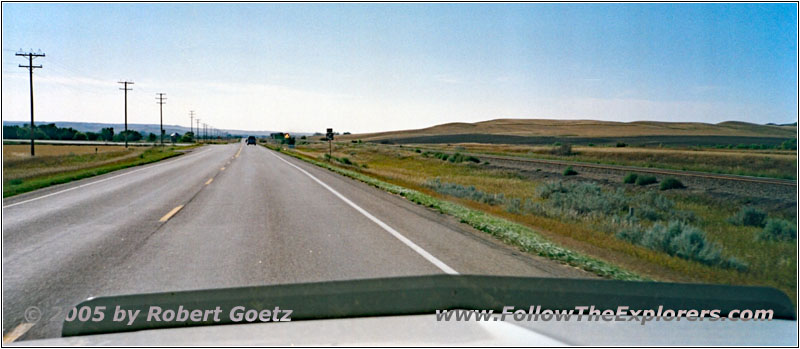 Highway 1804, ND
Highway 1804 takes me finally to the mouth of the Yellowstone River. There has changed a lot in the last six years. The roads are running completely differently. At the spot, where once was a small and almost forgotten parking lot, is now a huge and new Visitor Center.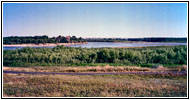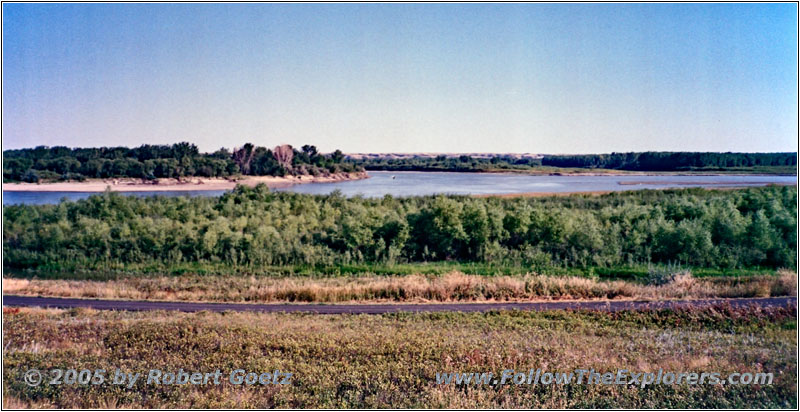 Confluence Yellowstone and Missouri River, ND
I drive on and try to find the location again, where I video taped the Yellowstone and Missouri River confluence in 1999 and 2001. But I am only able to find a similar location.
Anyways, one thing hasn't changed: The flies and mosquitoes are as bad as back then. I hurry up to finish my video taping and drive back to the Visitor Center. Unfortunately they are closing already within 10 minutes, which gives me only the chance for a brief look. At least the entrance is free.
I also receive the hint to look at the old bridge over the Yellowstone River in Fairview. Nowadays it is only allowed to walk over the bridge. Then you also walk through a tunnel. Unfortunately it is already way too late to do this today. But I am sure, I will not be around here for the last time. This is something to remember for one of my next journeys.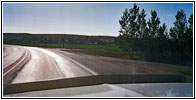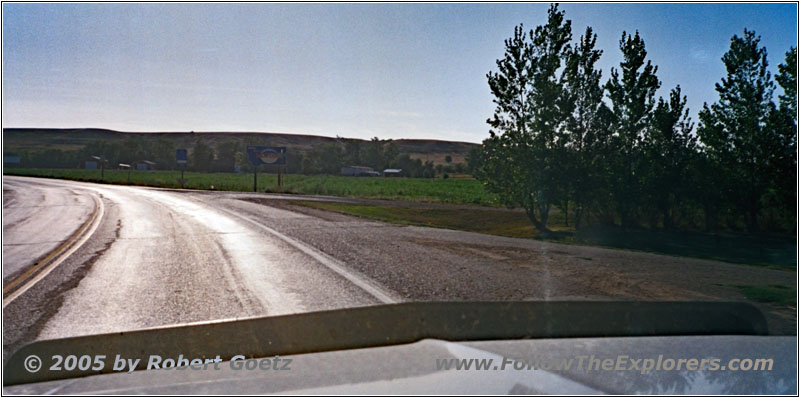 Highway 200, State Line ND and MT
On Highway 58 I reach Fairview and continue on Highway 200 along the west banks of the Yellowstone River. There I cross the state line to Montana just before Fairview, where I almost miss to take a picture of the state line sign to Montana.
Thanks to the new time zone, I do not arrive too late in Sidney. Around half past five I arrive in town and look for the Kings Inn, which I already found on the Internet during my preparation work back home. But I am only able to find the Motor Inn, which is already completely booked. So I try my luck just one motel further at the Lonetree Inn. They indeed still have rooms available.
I am wondering, what is going on around here, that the motels are already booked at this early time. But the Lonetree Inn is also a very nice and comfy motel with real nice rooms. Around a quarter to six I check in and put my stuff into the room.
They recommend the "Cattle–AC" as a good dinner restaurant, which is not too far away in downtown direction. The steak is okay, but my server is really slow. But around 10pm I am eventually able to pay and drive back to my motel. It seems, that this restaurant is more a place to have a drink at night but not to have dinner. Also the setup with a stage looks like that.
Sights
Three Affiliated Tribes Museum
Confluence Yellowstone and Missouri River
General
Breakfast: Country Kitchen, Dickinson
Dinner: Cattle–AC, Sidney
Motel: Lonetree Inn, Sidney
Distance: 264 miles