John Colter Trail 1807 — 1808
Day 17: August 30th, 2005 Sidney — Miles City
The breakfast recommendation is the M&M Restaurant. They have real big breakfasts. This restaurant is definitely worth a recommendation! Then I drive back to town to the next gas station.
Around 9am I am back on Highway 16 South. But after half an hour of driving a gravel truck approaches me, who looses some stones on a bridge. One of these stones almost flies through my windshield! Inside are laying the broken pieces of my windshield on the dashboard!
At the next possibility I stop and take a look at the damage: A small piece of the stone is still sticking in my windshield. I am not sure, if this is still sealed…
Maybe I let Pep Boys or a similar shop in Billings put in a new windshield. But for now I continue my traveling — always keeping an eye on the damage to see, if the cracks may run up.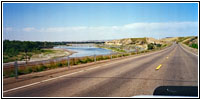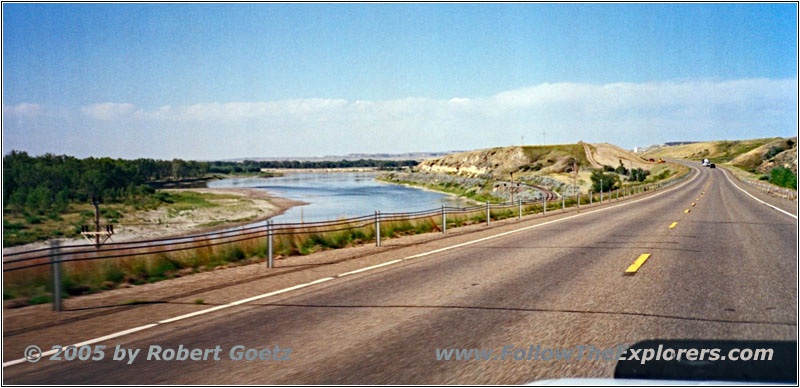 Highway 16, Yellowstone River, MT
At Glendive I turn again onto some gravel roads. Let's see, how the cracks will develop there. But things are looking good: The cracks, which are running up, seem to stay below the wiper blades. The cracks running to the side start turning down. Maybe I keep the windshield for now.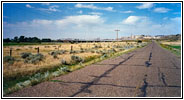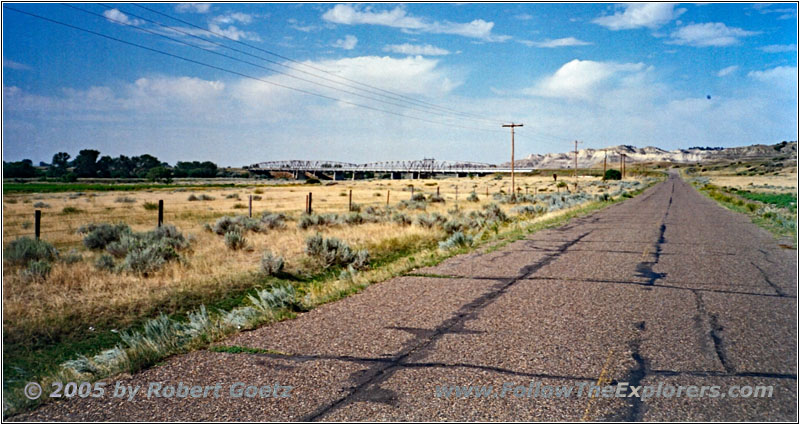 C B Rte Rd, Yellowstone River, MT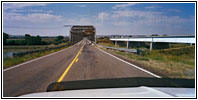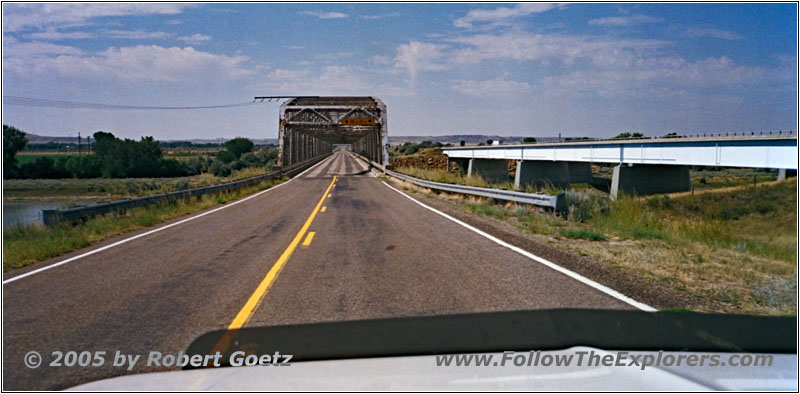 C B Rte Rd, Yellowstone River, MT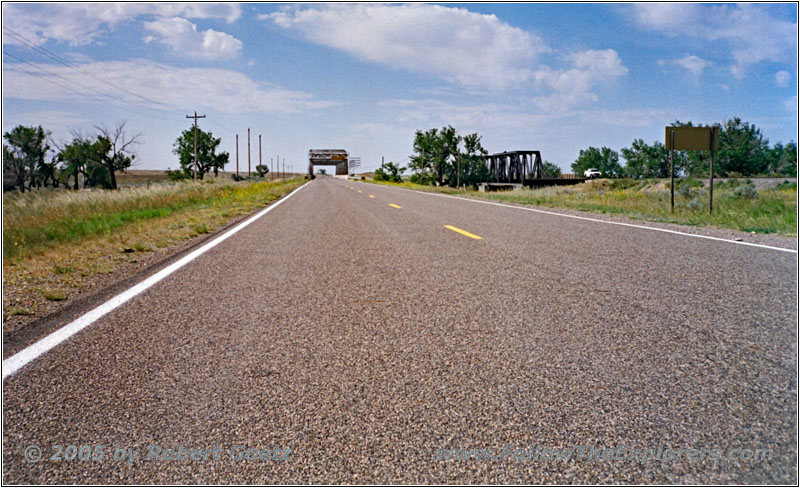 Old Hwy 10, Powder River, MT
At Fallon I reach paved roads again. This is Old Hwy 10, which winds around I–94.
But close to Exit 169 of the Interstate is a "Dead End" sign at this backroad. So I stop and put in reverse to turn around. Then I step on the gas and — there is a smashing sound! Then the engine revs high! Transmission broken! Because I was following the newsgroups for this truck for quite a while, I know exactly, what just broke: It's the sun gear shell, which runs second, overdrive and reverse gears. So I am now left with first and third gear. Now you really start to think on where to drive, if you have no reverse anymore!
The first problem is now, to turn around on this road. I try to get as much room as possible to the right. But I still must drive deep into the weed on the other side of the road. But lucky me I am able to turn around and drive now slowly in Drive on the Interstate and to the next bigger city. This will be Miles City, which is not a big town. But it would be an additional 150 miles to Billings to the current 30 miles to Miles City. So I give it a try at Miles City first.
I leave the Interstate and follow the Business Loop, hoping to find a transmission shop here. And indeed, there is one — unfortunately on sale. This is not really promising! A little bit further is an oil change station, where I am able to ask someone.
There I receive an exact way description to A1 Quality Transmissions. Hopefully the name keeps the promises. I say thank you and drive on. After a brief wandering I am able to find the shop. An employee takes a look at my problem and checks the oil level — well, I already told him, that this is not the problem. Then someone else shows up, who looks like being the owner of this shop. He also takes a look and checks if the transmission is slipping. Then he deadpanned, that I need a new transmission. That's what I expected to hear.
My next question is, if he might be able to rebuild my transmission. Unfortunately not, because he was no longer able to compete against the big companies. And he was forced to fire one of his employees, who was able to do the job, because he started drinking. So I have no other chance than to take an unknown rebuild transmission.
He says, that this is not a problem. Today he orders my transmission and removes the old one. Tomorrow morning he will have the new transmission and will immediately install it in my truck. By noon I would be back on the road. This sounds great. He even gives me a ride to a motel. I also ask him, if he would be fine, when I video tape his team while they are working on my transmission. This is also no problem and he will call me as soon as they start working on my truck.
When I have heard nothing from them by 5pm, I decide to give him a call instead. Unfortunately he had no chance to source a transmission of my type. All in Montana and North Dakota are sold. The only chance is to wait for another day and then take one from his supplier Brown's in Billings.
So I have no other option and I extend my stay at the Motel 6 for another day. Then I walk back to my room and spend the rest of the day with watching TV. All in all I have already checked my video taping of today. Also my GPS is now completely filled with the next GPS coordinates.
Around half past seven I leave and start my walk over to the Stagecoach Station Steakhouse. I already had dinner there in 2001. So I give it again a try this year. As the sun is starting to go low, it is getting windy and really cooling down. I should have taken a jacket with me. But now I am almost there. That's why I don't turn around.
The dinner is great, like last time. Around half past eight I pay and start my way back. In the meantime it has extremely cooled down and I hurry up to get warm. A little bit freezing I arrive at my motel and start watching TV again before I go to bed.
General
Breakfast: M&M, Sidney
Dinner: Stagecoach Station Steakhouse, Miles City
Motel: Motel 6, Miles City
Distance: 162 miles