John Colter Trail 1807 — 1808
Day 22: September 4th, 2005 Worland — Dubois
Hopefully there is a nice place for breakfast in this little village. But I plan to ask when checking out, as usual — that's what I thought to do. Unfortunately there is no one around and you shall just drop your key at the reception. So I am now on my own for this search.
First I drive in direction of Downtown. At the traffic lights are the local fire fighters. My first thought is, that something has happened. But at the second look it looks more like a collection for Labor Day Weekend. I check out some of the streets for a restaurant until I find somewhere in the city center the (apparently) only cafe around here, where you can have breakfast — the Ram's Horn Cafe.
The restaurant is really comfy, again one of these typical American small town restaurants. And as today is Sunday it is completely full. But I am able to find an empty table. Because the restaurant is completely full, the server can barely keep up with the crowd. Despite having an air condition running here, she is sweating heavily. I give her an extra Dollar tip, then I walk back to my car.
On they way to this restaurant I had seen a Shell gas station, where I make a stop. To my surprise it is one of these old gas stations, where you cannot pay at the pump. But that is also okay. On the receipt is also printed out, how much fuel I have put in.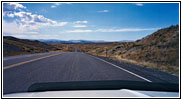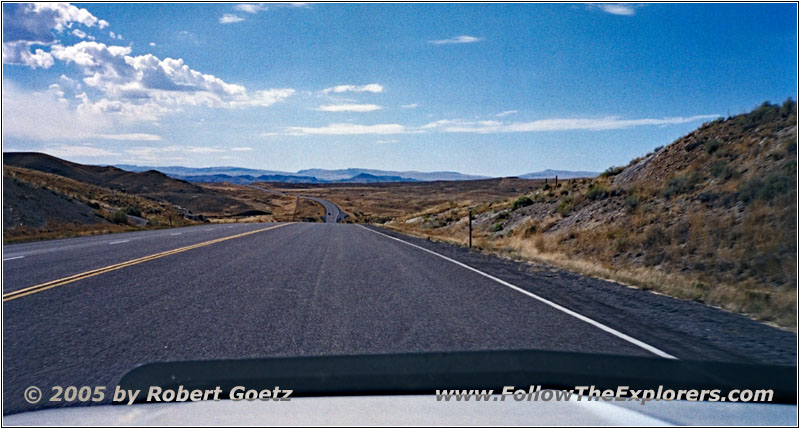 Highway 20, WY
Around a quarter past ten I drive back to Thermopolis.
There I take Highway 120.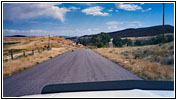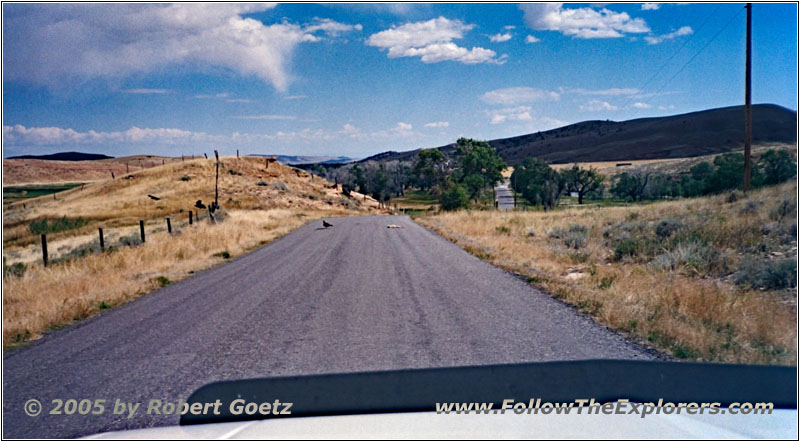 Owl Creek Rd, WY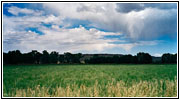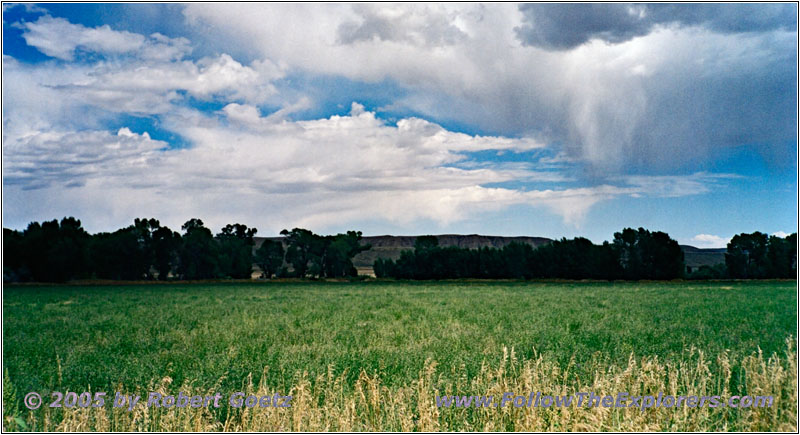 Owl Creek Rd, WY
Then I follow Highway 120 for a short distance to the northwest until I take Highway 170 West. After a bit more than 20 miles I reach the exit to Merritt Pass, also known as Blondie Pass.
This looks again like a real offroad trail and I am getting excited about the views from the pass, which I will most likely have. But after a short travel distance I am stopped by a sign: This road is part of an Indian Reservation. If you want to cross the pass, you need a permit from the Bureau of Indian Affairs — where I think I will receive nothing today. Apart from that, I have absolutely no clue, where this could be.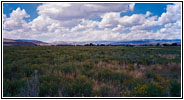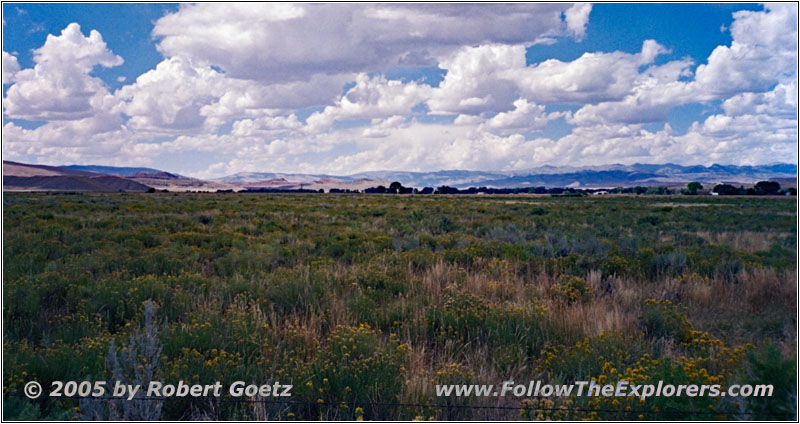 Owl Creek Rd, WY
So I can only turn around and try to find another way over the mountain range more to the west. But Highway 170, which is also the Owl Creek Road here, ends again at Private Property. As it is slowly approaching noon, I make a brief stopover to have one of my apples for lunch. Suddenly a Jeep Wrangler shows up with a whole family. They ask me, if I got lost here. I can say No, I am only looking for a way over the mountain range. But it seems there is no legal way.
They totally agree, because they live in this area. All this area is either Private Property or Indian Reservation. I can only drive up to the water reservoir. The road to get there is also private property, but it is legal to drive up to the lake. This is where they are going right now for a picnic. I say thank you for all this information and they continue their drive. Because I already realize, how my time is starting to slip away again, I skip the trip to this lake. All in all I am facing now a detour of minimum 100 to 150 miles!
So I drive back to Highway 120.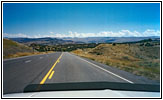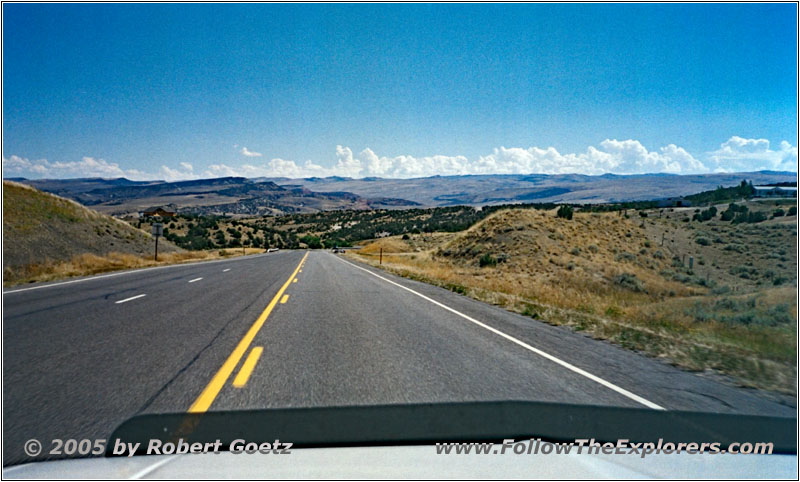 Highway 20, WY
On this highway I reach once again Thermopolis, where I continue on Highway 20.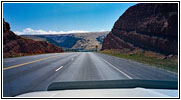 Highway 20, Wind River Canyon, WY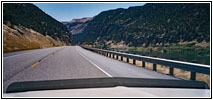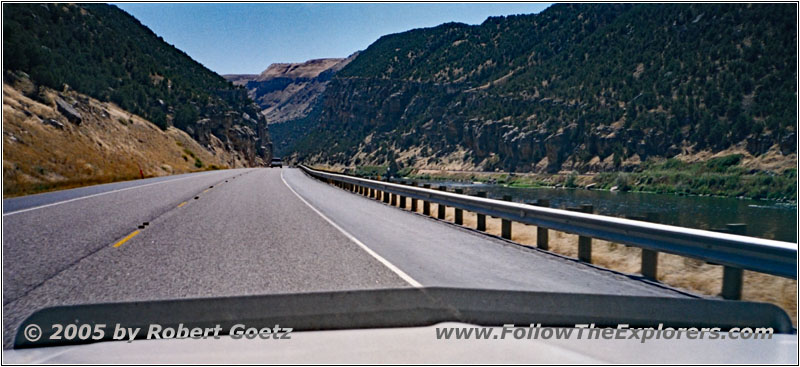 Highway 20, Wind River Canyon, WY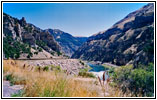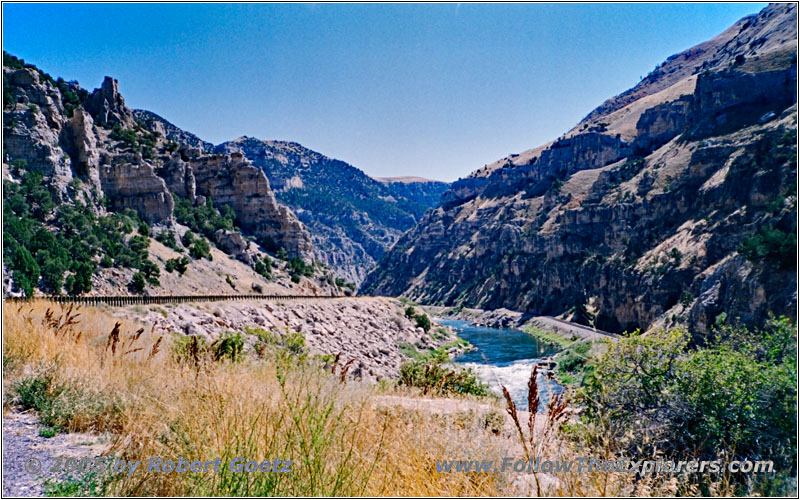 Highway 20, Wind River Canyon, WY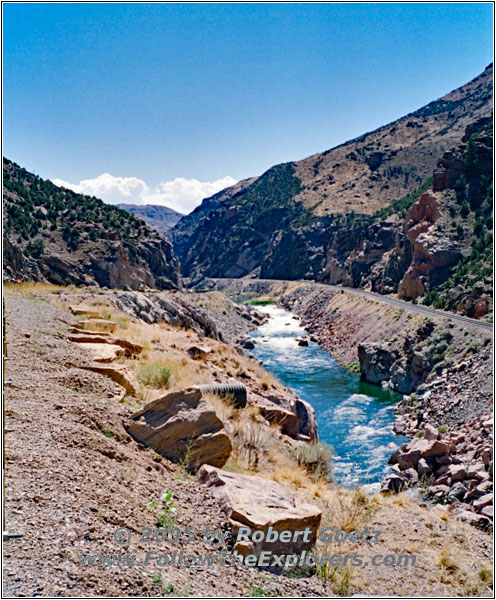 Highway 20, Wind River Canyon, WY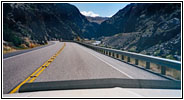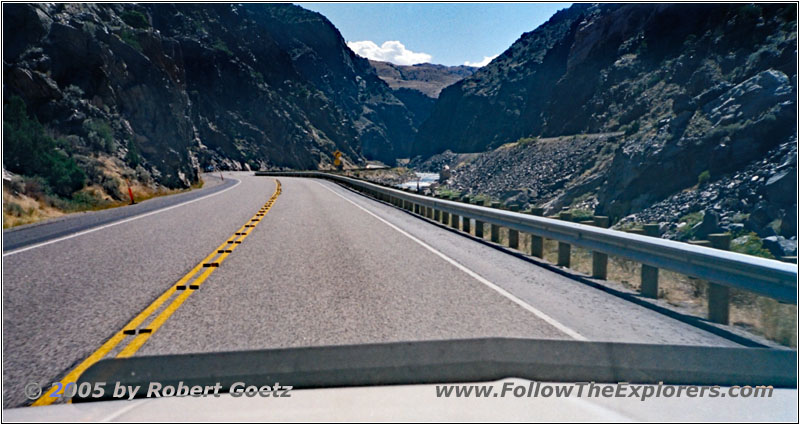 Highway 20, Wind River Canyon, WY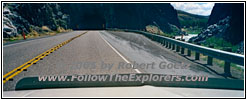 Highway 20, Wind River Canyon, WY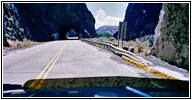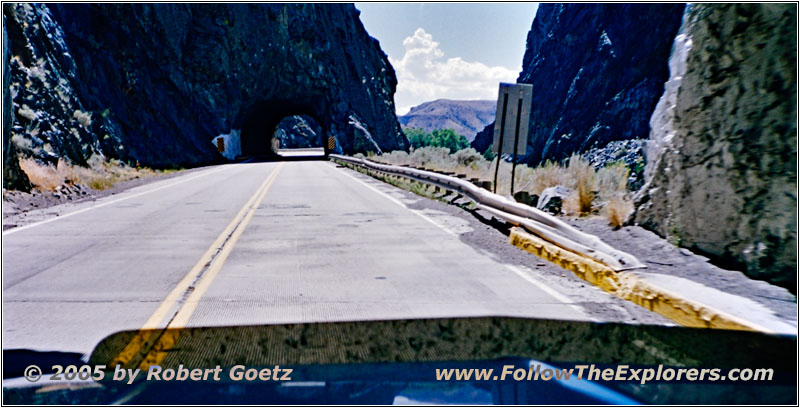 Highway 20, Wind River Canyon, WY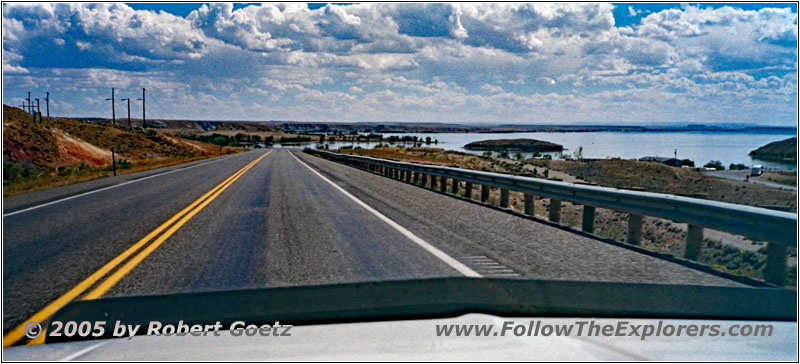 Highway 20, Wind River Canyon, WY
Then I drive on Highway 20 through the picturesque Wind River Canyon. The landscape is absolutely impressive — if it would not be a major highway…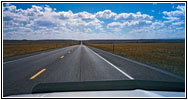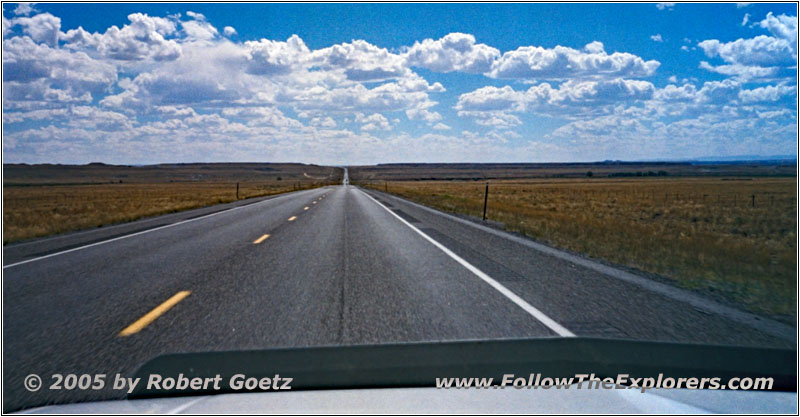 Highway 20, WY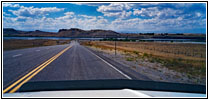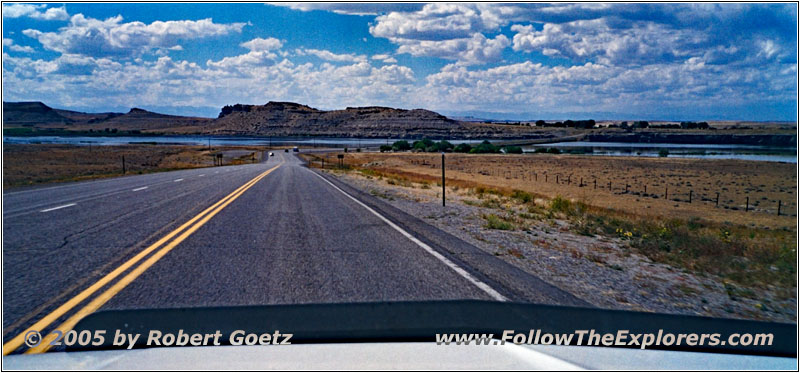 Highway 26, Boysen Reservoir, WY
After plenty of stopovers for video taping and taking pictures I reach the big plane again at Shoshoni. At the Boysen Reservoir I take Highway 26/789 West. Then I continue on Highway 134.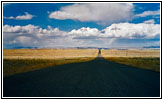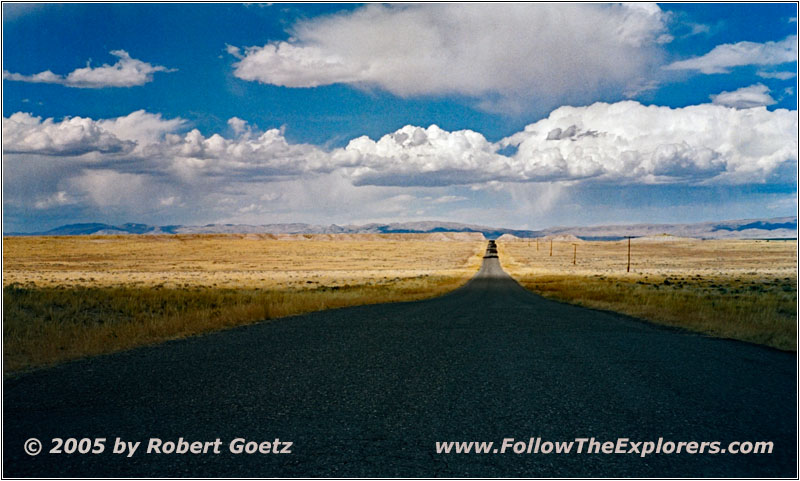 N Portal Rd, WY
At the next possibility I try to get closer to the mountains and follow the N Portal Rd to the N Muddy Rd West. I make pretty good miles on this gravel road, when I am suddenly blocked again by a private property sign. I try to reach my original planned road, the Shotgun Road, on a different road. But I have no luck and I end up again at the N Portal Rd.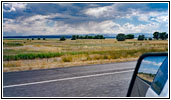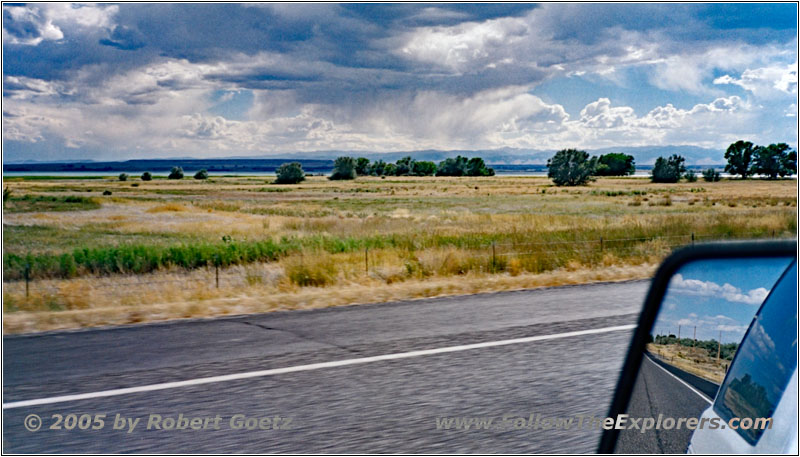 Highway 134, Ocean Lake, WY
Then I try my luck again at the S Muddy Rd. But here I am stopped again by a private property sign after more than 10 miles and I must search for a way back to Highway 134.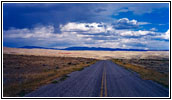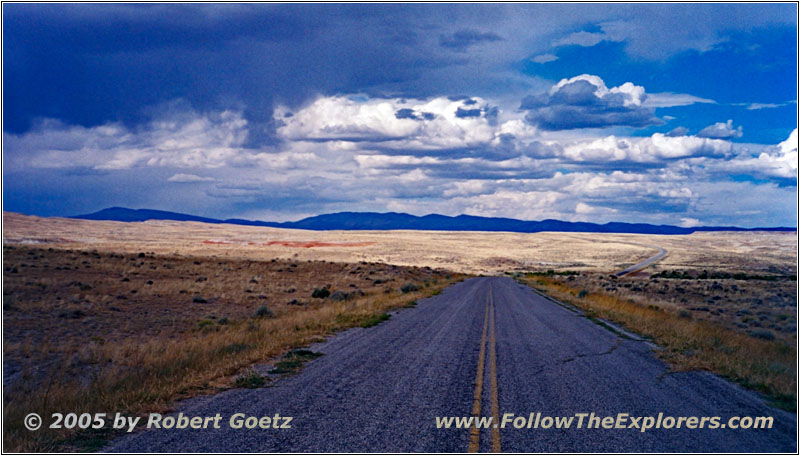 Arapahoe Ranch Rd, WY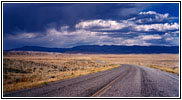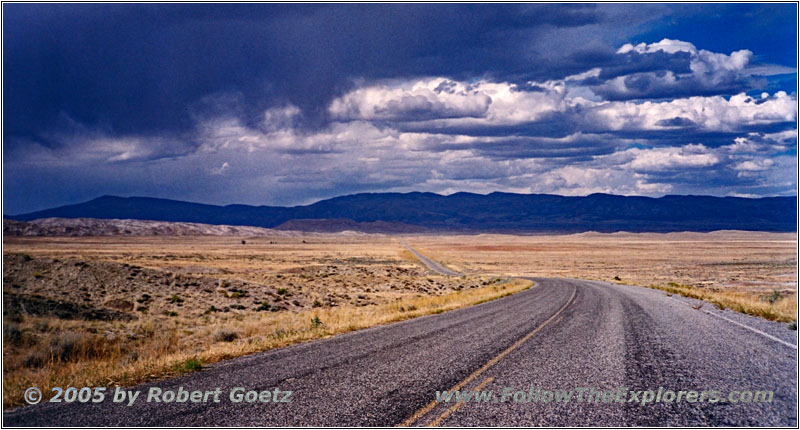 Arapahoe Ranch Rd, WY
The next attempt is at Highway 133 to the north, which continues as Arapahoe Ranch Road. However the weather does not really look trustworthy. In a distance you can even see some lightning out of the dark clouds. Hopefully there is no thunderstorm catching me on the backroads. The roads really look like mud fighting in the rain. Until the end of Arapahoe Road everything is paved. But the change to Shotgun Road is gravel and dried out hard clay.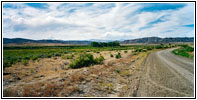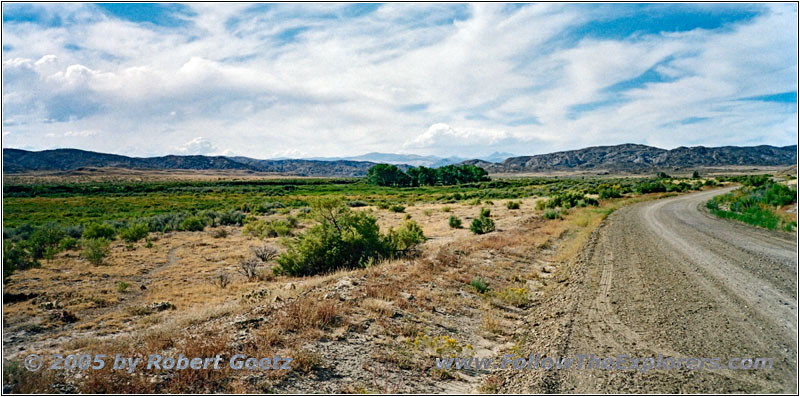 Shotgun Butte Rd, WY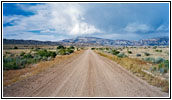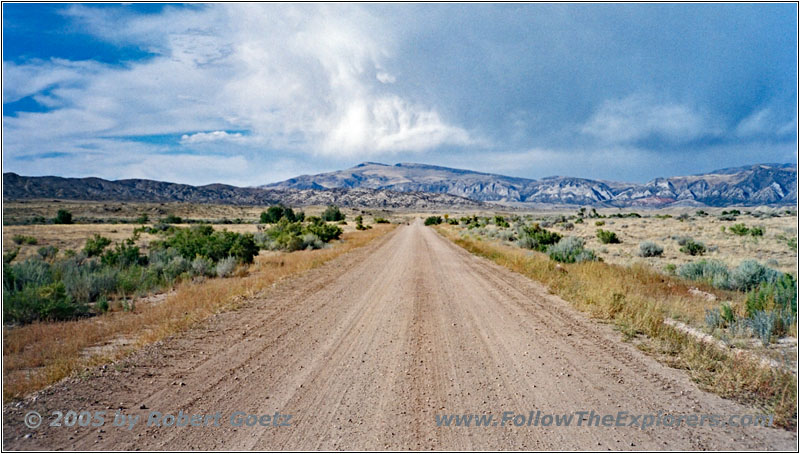 Shotgun Butte Rd, WY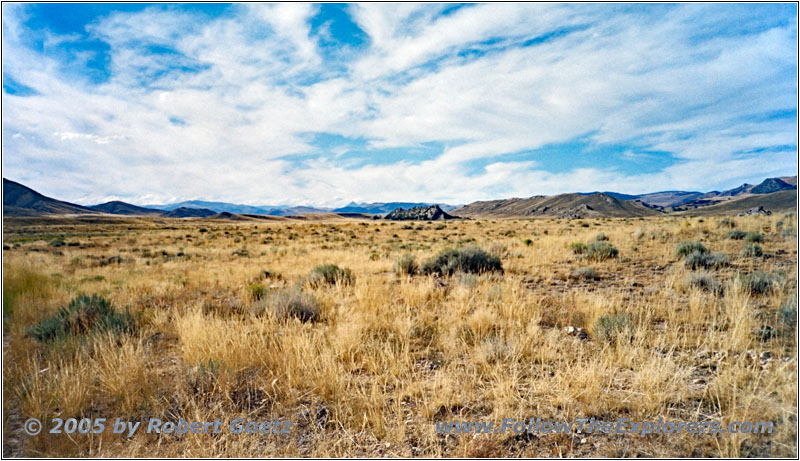 Shotgun Butte Rd, WY
But the landscape is again fantastic — especially with the clouds: The dark clouds over the bright soil show a very special contrast. Finally I hit the road, which originally runs over Merrit Pass or Blondie Pass. I take some video and pictures from the road, which I originally planned to travel. Then I drive back to the highway.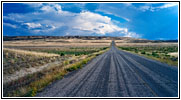 Mail Camp Rd, WY
It is already very late and with the bad weather I do not want to further challenge my luck. On Mail Camp Road I continue to Maverrick Springs Road.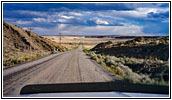 Maverrick_Springs Rd, WY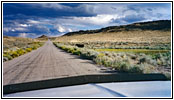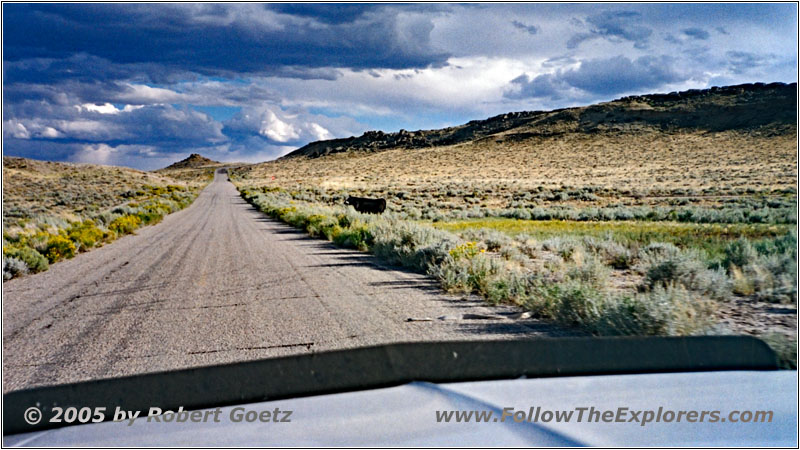 Maverrick_Springs Rd, WY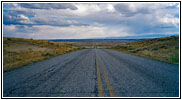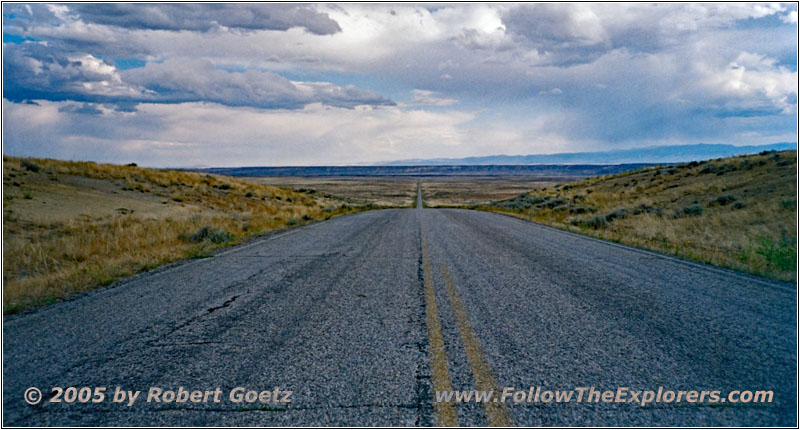 Maverrick_Springs Rd, WY
From there I drive on paved roads to Diversion Dam Road.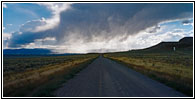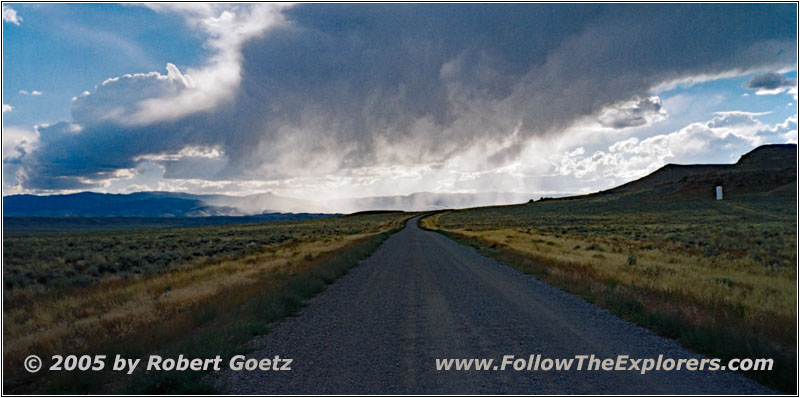 Diversion Dam Rd, WY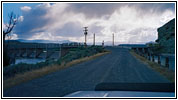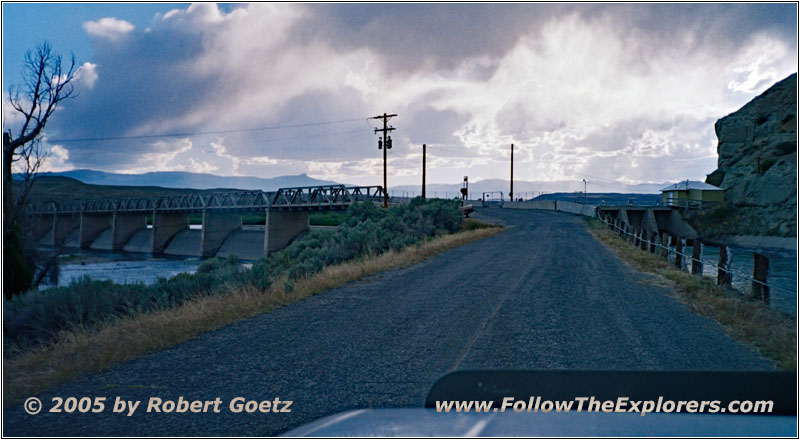 Diversion Dam Rd, WY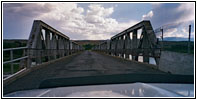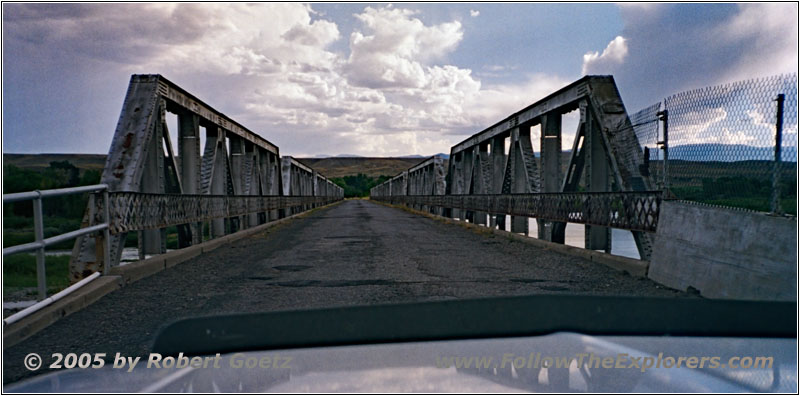 Diversion Dam Rd, WY
I follow this one to the dam and cross Wind River to reach the big Highway 26/287.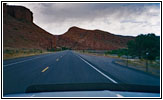 Highway 26, WY
On this highway I am progressing pretty fast to Dubois, my destination of today.
Just before I reach the town, it starts to rain, of course. But when I reach the Super 8, it has already stopped raining. Lucky me, I made a reservation, because the motel is completely booked. To my surprise, they reserved the handicapped room for me. But the reason is probably, because this is the only single bed room.
I also ask for a nice steakhouse and they recommend the Pine Steakhouse in town. Because it is not yet too late (around 7pm) and they suggested to eat late to avoid a long waiting, I first check my video taping of today.
Around half past eight I leave my motel and find the restaurant without any searching around. The restaurant is really comfy, but the prices are a bummer. On top of that, they don't have a sirloin on the menu, only a filet. Accordingly expensive is now this dinner. But therefore it is really great. Only when my server opens the door to cool down the restaurant, it is getting uncomfortably cool. When asking her to shut the door again, she is really surprised. But she closes the door for me. Around half past nine I pay and drive back to my motel.
General
Breakfast: Ram's Horn Cafe, Worland
Dinner: Rustic Pine Steakhouse, Dubois
Motel: Super 8, Dubois
Distance: 299 miles