John Colter Trail 1807 — 1808
Day 21: September 3rd, 2005 Cody — Worland
Breakfast is today at the Sunset House. Though the service is a bit slow, the food is great. Then I start my search for a garage, who would be willing to take care of my transmission problem. First I try my luck at the Chevy dealer. But he is closed today. Also a transmission shop, which I found on the phone book, is closed. Also at the gas station next door I was not able to get any information, who would be able to help me. So I fill up my gas tank first and then start to look for a gas station, who also has an open garage.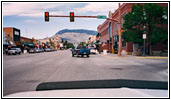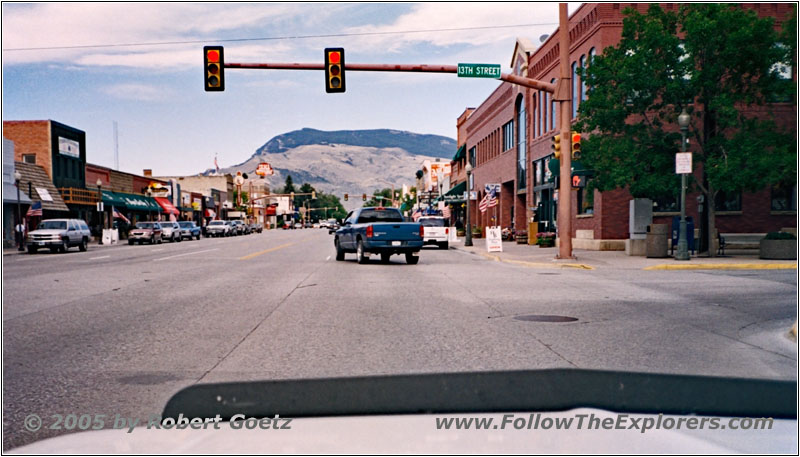 Sheridan Ave, Cody, WY
A little bit down the road is a Conoco, where I see somebody working. Rob listens to my problem. But he is not able to take a look at it before 1pm. Anyways he suggest to check with Bear Co Tire next door. They might be able to help me. After a little bit of waiting there is also someone willing to listen to my problem and looks for a mechanic. This guy walks with me over to my car and retighten again the hose clamps — great, that is something I already did. Now the rubber is most likely squeezed too much and damaged. After a long time of explanation, he eventually understands my problem. He tells me, that I should come back around noon. Seems like I have no other choice…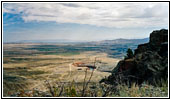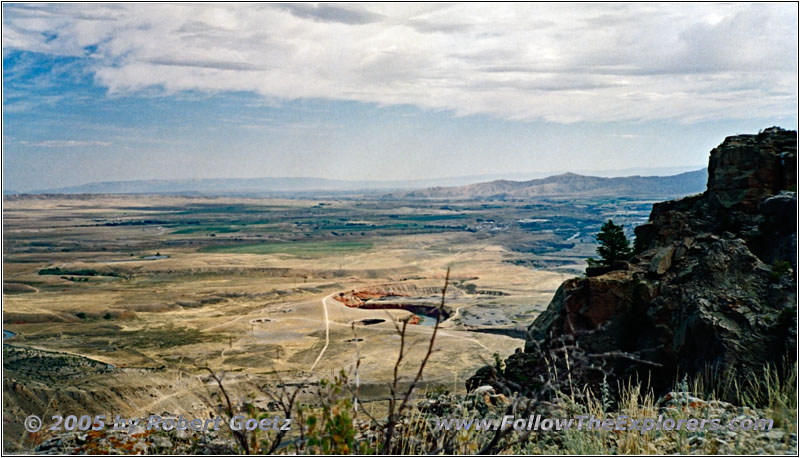 Spirit Mountain Rd, Shoshone Canyon, WY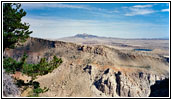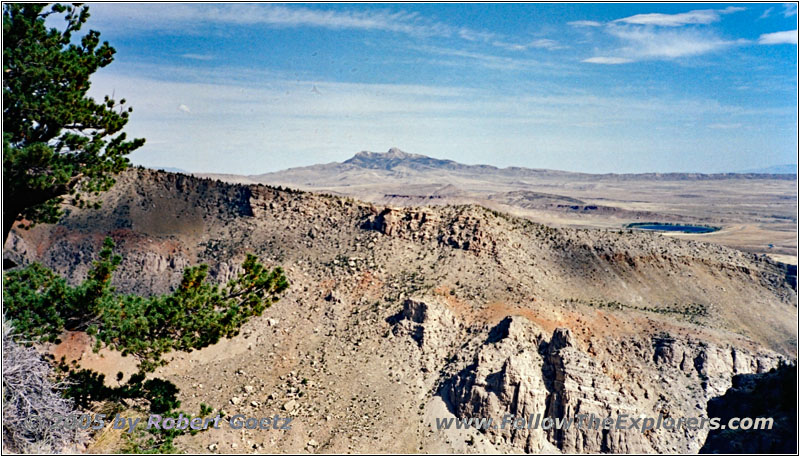 Spirit Mountain Rd, Shoshone Canyon, WY
Therefore I use the opportunity to drive up to the Shoshone Canyon viewpoint, which I had originally planned for yesterday evening. The road is again a forest road. But from up there you have fantastic views of the canyon and the plane around Cody! This is so awesome! There is also a cave up here. But you need a permit to be allowed to enter it. Anyways, I hike a little bit in the entrance direction to have some better views of the canyon.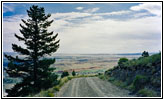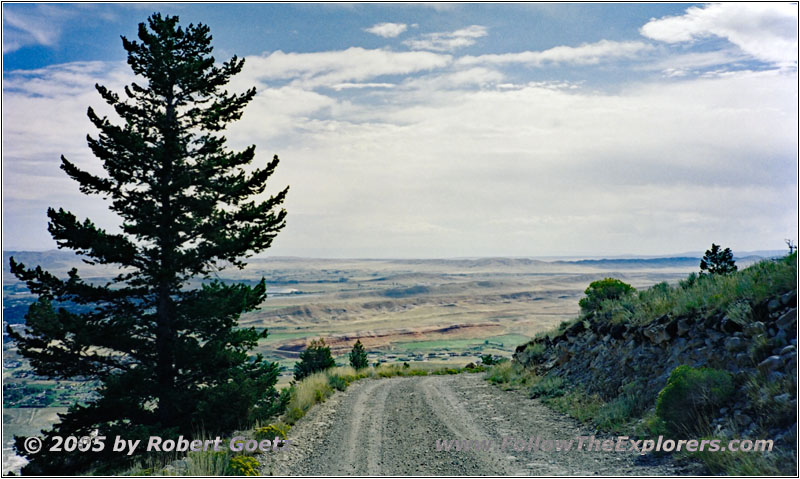 Spirit Mountain Rd, Shoshone Canyon, WY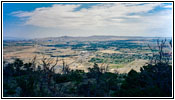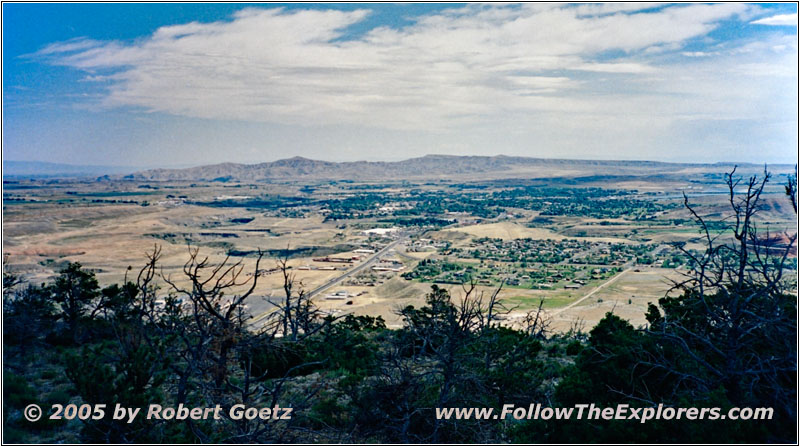 Spirit Mountain Rd, Cody, WY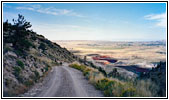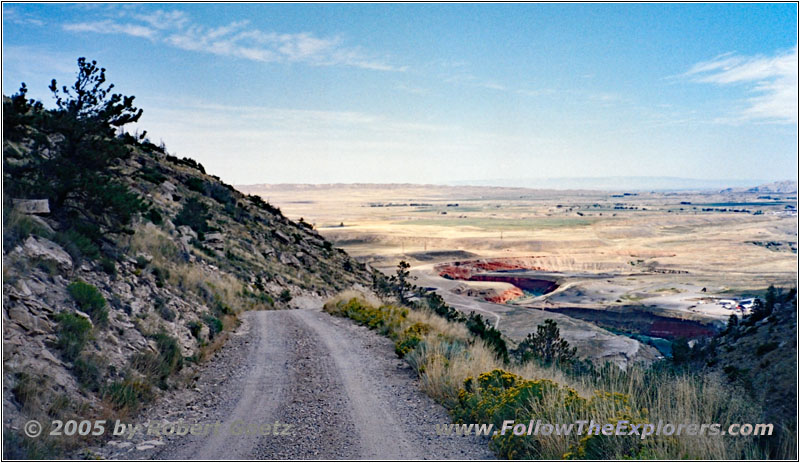 Spirit Mountain Rd, Shoshone Canyon, WY
Then I walk back to my car. The wind is pretty strong up there. On my drive down are again some real great views of the valley.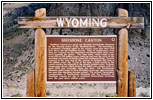 Historical Marker Shoshone Canyon, WY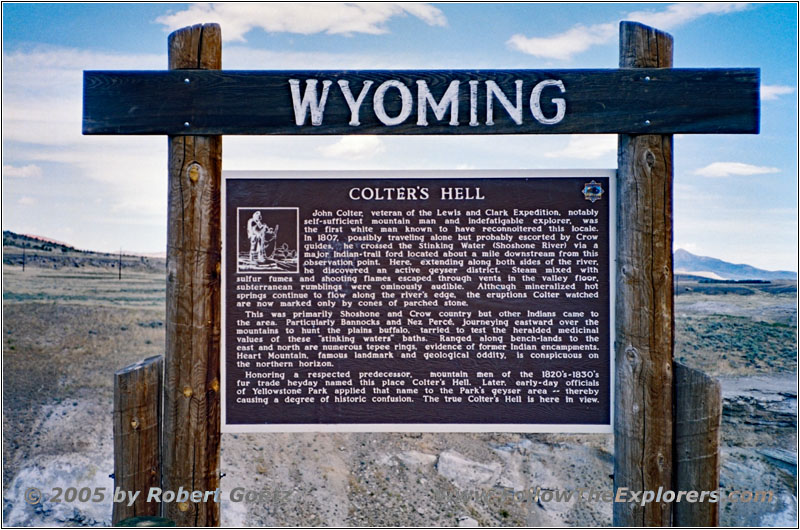 Historical Marker Colter's_Hell, WY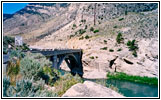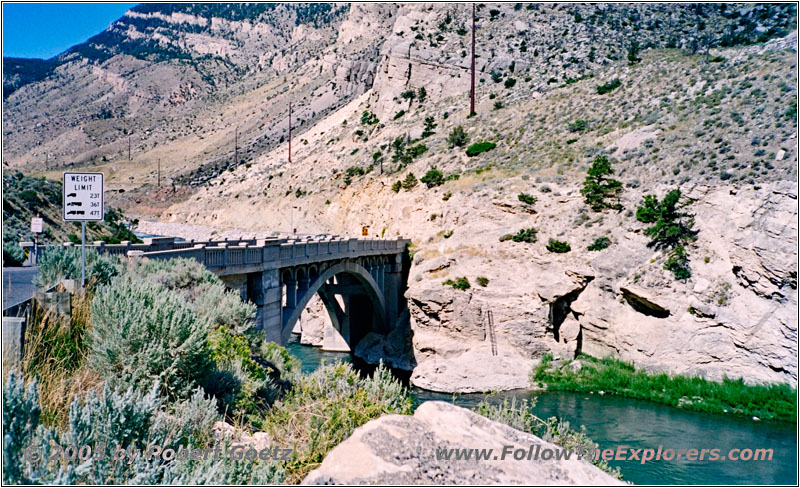 Hayden Arch Rd, Shoshone River, WY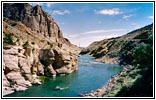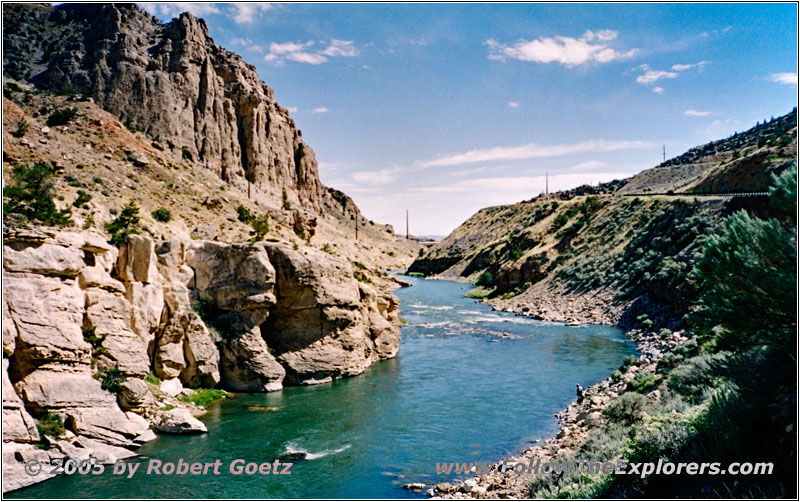 Shoshone River, WY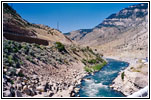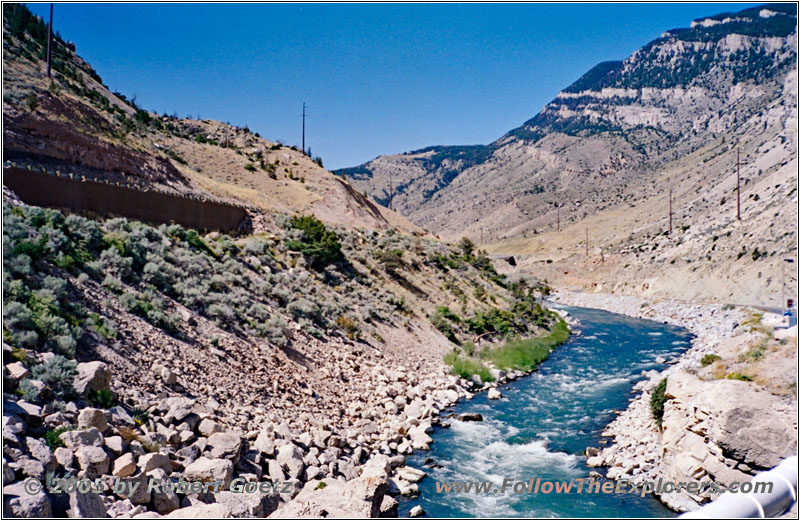 Shoshone River, WY
After my arrival in the valley I take Highway 20 through the canyon to reach the point, where once most likely was an Indian Trail running through the Shoshone River. For sure you can still smell the sulfur, from which this area got the name "Colter's Hell". No one believed Colter's fantastic stories about this area until the first reached this area and gave it this name. Unfortunately also the geyser area in the Yellowstone Park got the same name, which added a lot to the current confusion. But the true roots of this name are here in the Cody area!
On my way back to town I do a brief lunch break. Then I drive on to Bear Co Tires. But despite the other statement in the morning, they now don't have time for me. I should drive over to the gas station next door — what a great service!
So I drive back to the Conoco gas station. But Rob is currently at his lunch break. He should be back around 1pm. Because there is still some time left, I drive over to Wal–Mart to stock up my supply in apples and water. Now Rob should be back from his lunch break and I drive back to the Conoco gas station. After a short waiting he takes a look at my transmission. But before he is able to do anything on the transmission, he must let her cool down.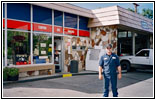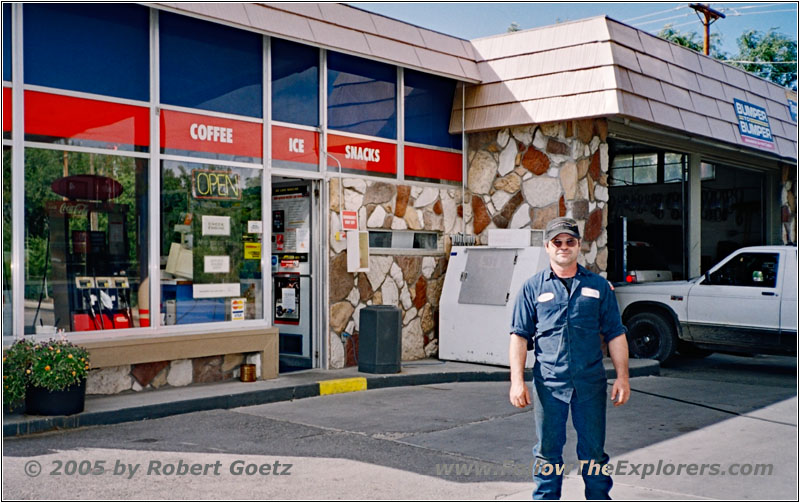 Rob, Conoco Gas Station, Cody, WY
After an hour it is quite okay and he replaces the transmission lines. At least I have now two new lines. Then he does a test drive. But the transmission is still leaking. The only thing he can do now is to get the transmission out! Also it is not shifting right. There is something wrong with this transmission, he tells me. He readjusts my cable a bit, but that is not the root cause, he says. It should shift right in any case. This is really generating hope for me…
He can do the job and get a new transmission over night. But I cannot do this, because I have already reserved everything (including Yellowstone Park). There is no chance for me to rebook everything. So I can only set up an appointment as soon as I am back from Yellowstone Park — which would be September, 13th. He also does not need my warranty papers. He can arrange everything, he can do it. However, he does not have a good opinion on Browns Transmission. He usually only installs Hayden's. They are way better and have 3 years and 30,000 miles warranty — mine has only 1 year and 12,000 miles covering everything and 2 years and 24,000 miles on parts…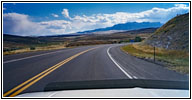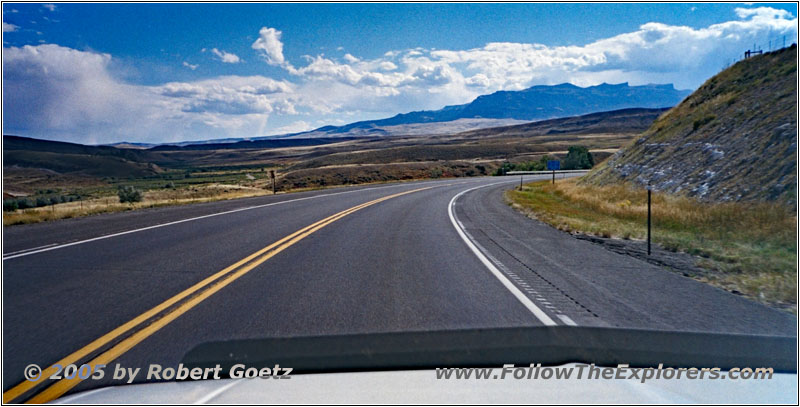 Highway 291, WY
But I had not too many options at that time. So I leave a bit contrite and in the hope, that my spare transmission oil will be enough. In the meantime it is already half past two. Hopefully I will not run out of time for my planned trip of today. First I take Highway 291 to the southwest.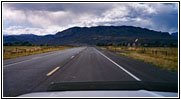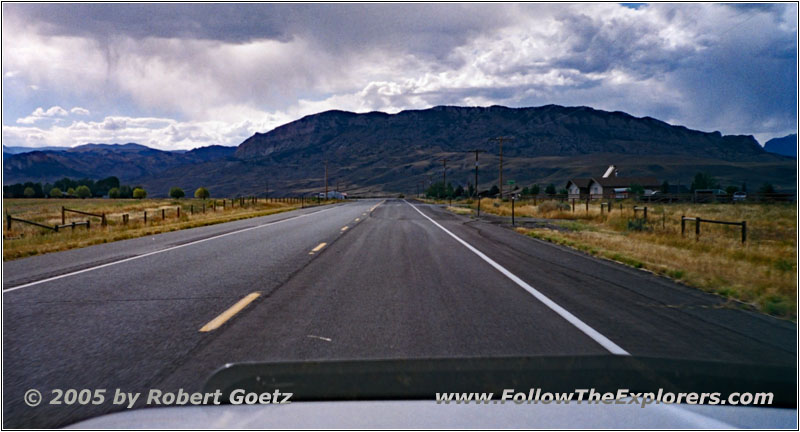 Highway 291, WY
Then I reach a pretty rough backroad, which seems to be used by the locals with their ATVs. Anyways, all the roads run in a crisscross pattern and there is absolutely no chance to map these roads on my map. Also these roads are real offroad trails. As I am also running out of time now, I decide to drive back with a heavy heart and take the paved roads.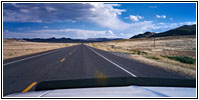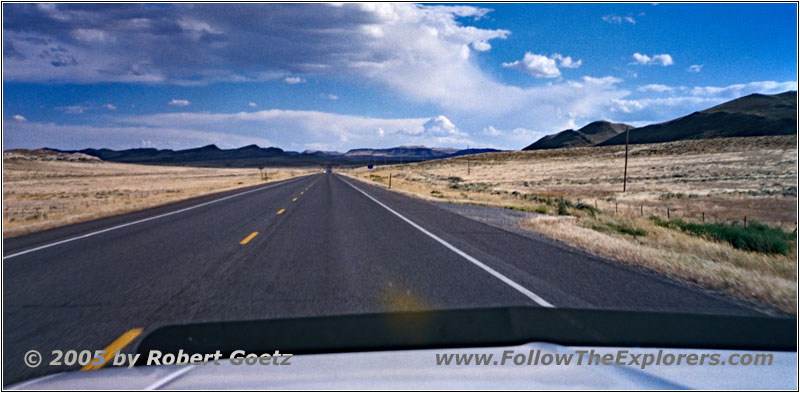 Highway 120, WY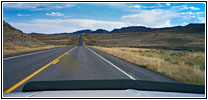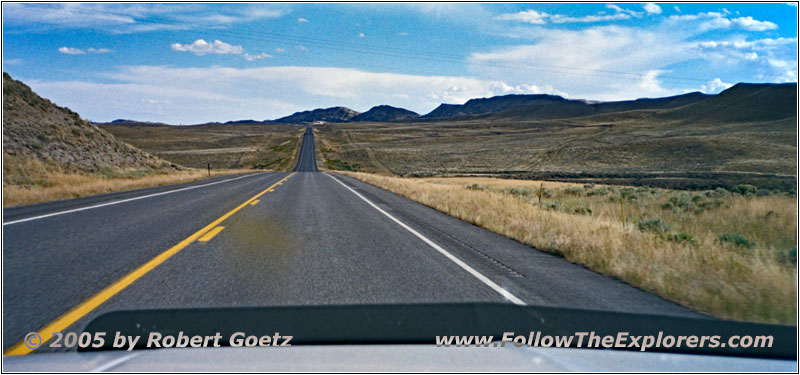 Highway 120, WY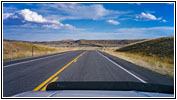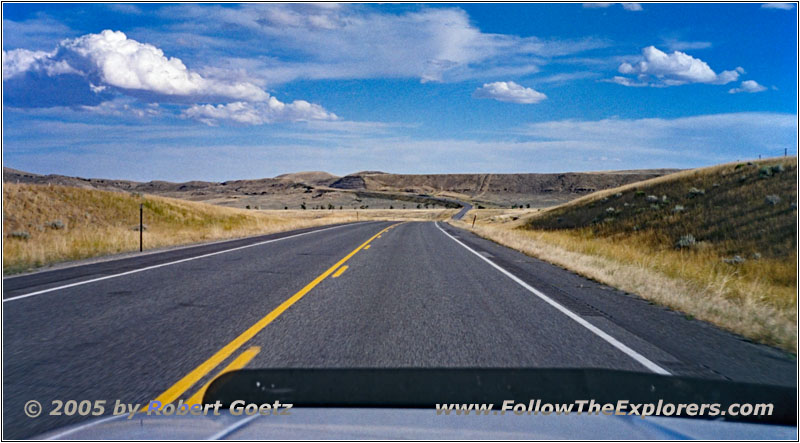 Highway 120, WY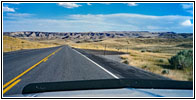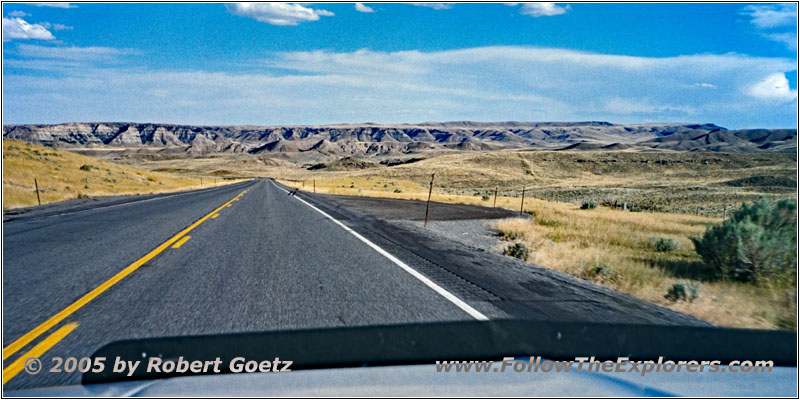 Highway 120, WY
So I reach once again Cody and drive on Highway 120 South. There I really make good miles now.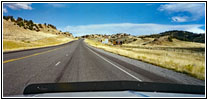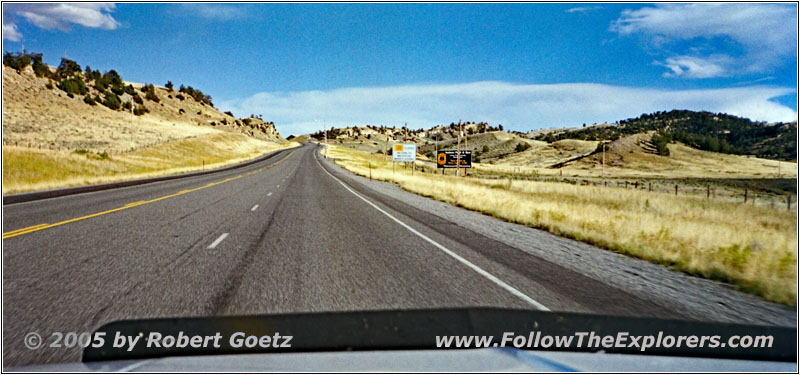 Highway 120, Meeteetse, WY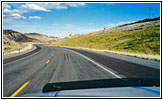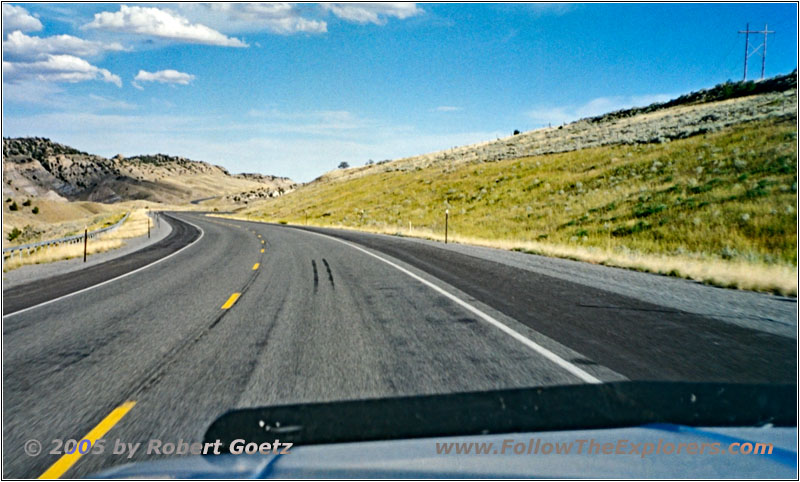 Highway 120, WY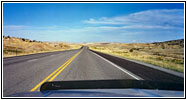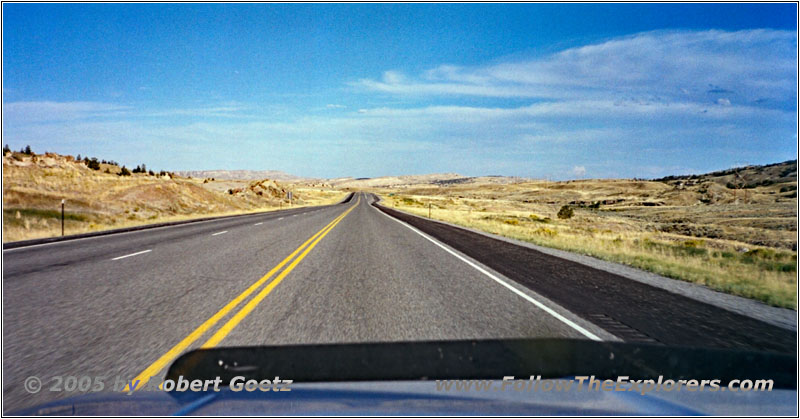 Highway 120, WY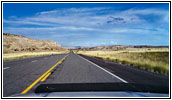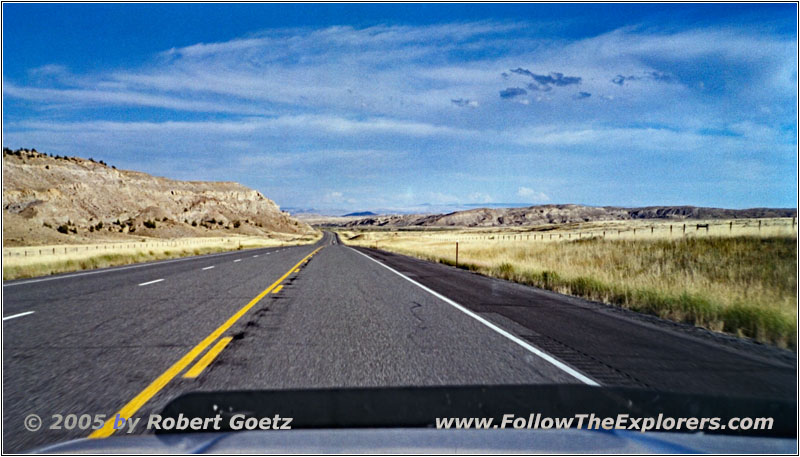 Highway 120, WY
The landscape has almost a desert like touch with naked and dry hills. But it still looks very interesting.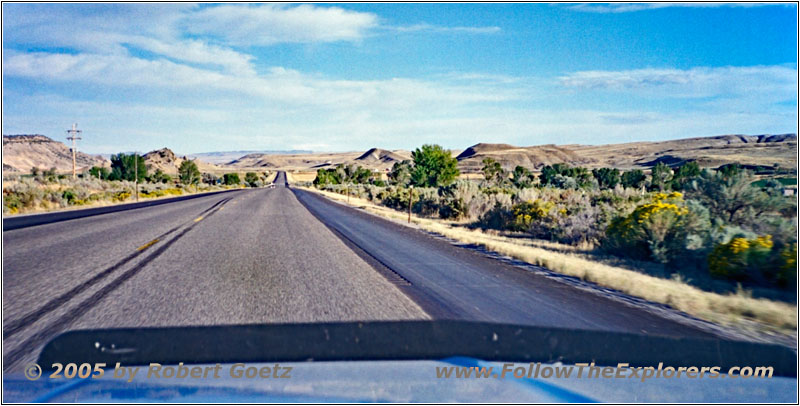 Highway 120, WY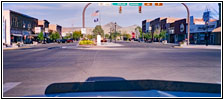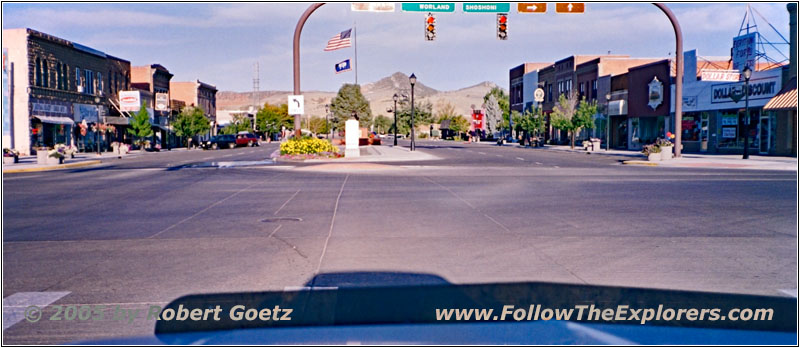 Broadway St, Thermopolis, WY
Around 6pm I arrive in Thermopolis, which was my originally planned destination of today. But because everything was already booked here, I must now drive back in northeastern direction.
On Highway 20 I leave Thermopolis — and run directly in a group of deer. After this excursion into the "wildlife" I arrive pretty fast at Worland. Around 7pm I arrive and check in. They recommend the Buffalo Rose for dinner, which has opened just a week ago. I put my stuff into the room — and must realize that it smells heavily like smoke. Do they have given me a smoking room?
I ask at the reception and they confirm, that it is a non–smoking room. But anyways they give me the only other remaining non–smoking room. This is okay and I return the other key at the reception. Because I am already getting hungry, I directly leave for the restaurant. This one is a bit out of town and has a bar and restaurant.
The restaurant is pretty full and one of the servers is so nice to put me on the waiting list. Unfortunately the hostess has not realized this, because she gives someone else a table, who has arrived after me. When she sees my baffled look, she also immediately offers me a table.
In exchange my server is really nice and very obliging. Unfortunately also here they are out of baked potatoes. Therefore I order some vegetables — and for the first time in my life buffalo meat. The taste is not bad, a bit between cow and game, only a bit strong. Therefore you cannot eat too much of it.
But the food is very clearly arranged — therefore the prices are high. The next surprise comes, when I try to pay, because the credit card terminal is not yet working. But around half past eight I also managed this obstacle by paying cash and drive back to my motel. Now it is time to check a whole bunch of video tapes…
General
Breakfast: Sunset House, Cody
Dinner: Buffalo Rose, Worland
Motel: Super 8, Worland
Distance: 213 miles