Lewis & Clark Trail
Day 18: September 7th, 1999 Blue Springs — St. Joseph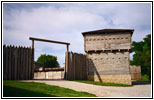 Fort Osage, MO
I didn't slept very well last night. Therefore I am starting earlier than my schedule demands. I have breakfast at Bob Evan 's. After a brief gas up I start around 9am. My first destination is Fort Osage. It has been build in 1808 under the command of William Clark. It was an important trading post with the Indians. Later this Fort was also the starting point of the Santa Fe Trail. Unfortunately the Fort is closed today. But I am lucky and run into a couple of workers. They are so nice to let me take a look at the outside of the buildings within the Fort!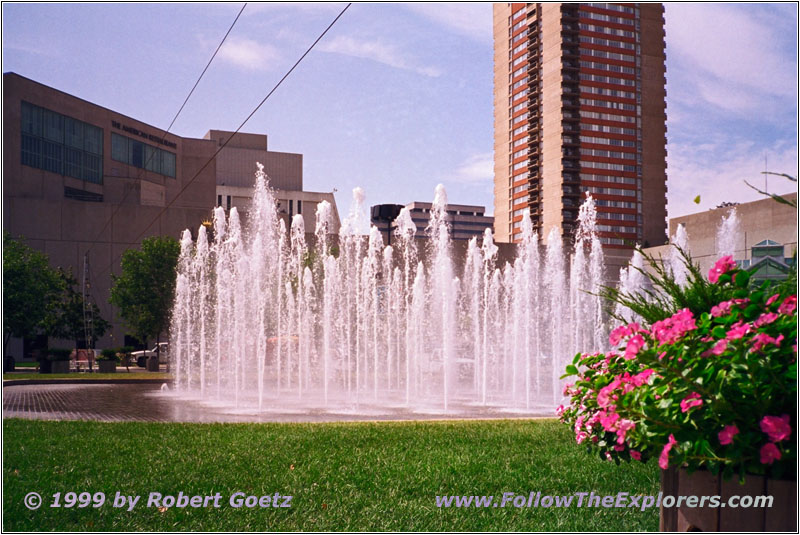 Crown Center, Kansas City
I leave the Fort on small backroads. But soon I run into a "Road Closed" sign. Again I have to search for a different route. But it did not take too long until reach Highway 24 which brings me into Kansas City. My destination is the Crown Center, a big shopping area. The idea for this center came frome Joyce C. Hall and his son Donald J. Hall in 1968. They wanted to make this area more attractive. Originally there have been only abandoned plants and rotted parking lots in this area. But nowadays nothing can be seen of this origin.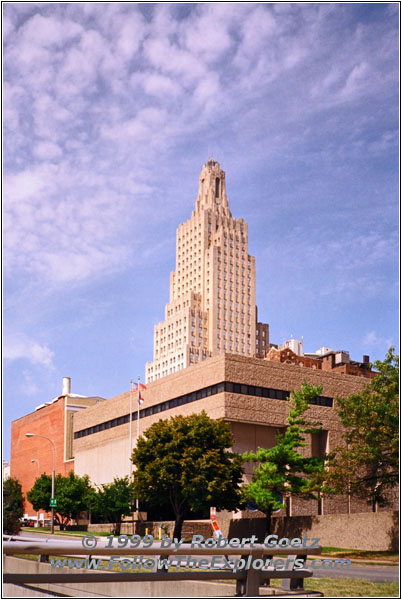 Kansas City, Power & Light Building
I do a brief hike outside the building to see the nice outdoor facilities. Then I am on my way to Downtown. After another brief hike I leave the city on Highway 69. Unfortunately I feel the beginning of a cold. Therefore I will not use the air condition today but leave the window open instead.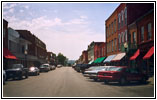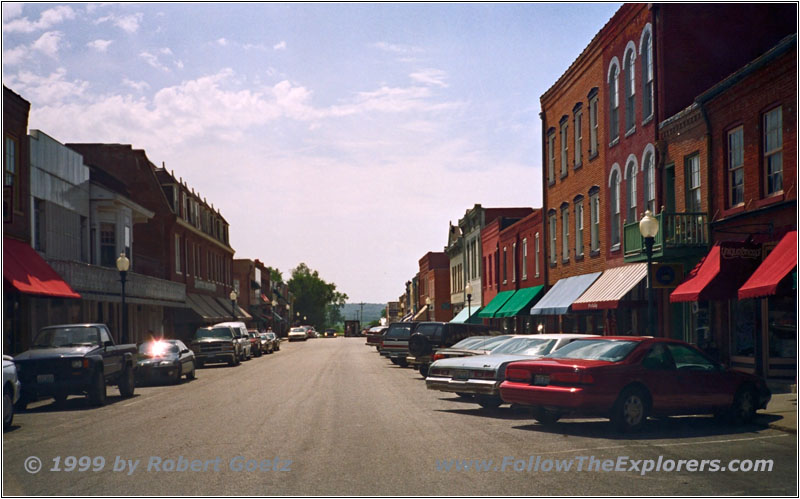 Main St, Weston, MO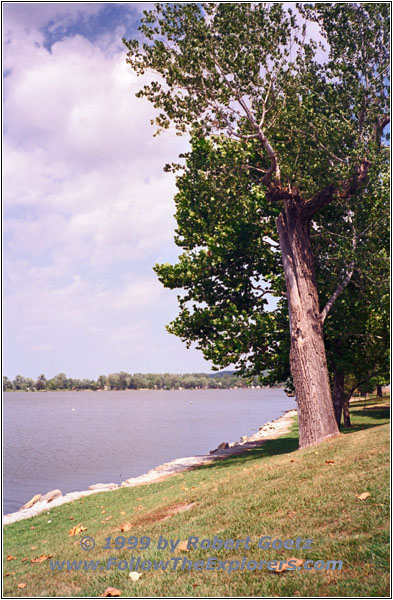 Lewis & Clark State Park, MO
At Parkville I follow the small Road FF, which turns into a gravel road and renames to River Road. Just past Waldron I am back on Highway 45. I follow this Highway to the Lewis & Clark State Park. From there I have a nice view of the Missouri. After a brief stop and still ahead of my schedule I follow Highway 59 to St. Joseph. Then Loop 29 takes me to my Motel 6. I am already checking in at half past three. Dinner will be at the Perkins restaurant which is not far away. In the meantime I can work through my diaries and my movies. Then I am heading out for the Perkins. At 7pm I am back at my Motel. I go to bed early, hoping tomorrow my cold will be gone!
Sights
Fort Osage (closed)
Crown Center (first 3h parking free)
Lewis & Clark State Park
General
Breakfast: Bob Evan's, Blue Springs
Dinner: Perkins, St. Joseph
Motel: Motel 6, St. Joseph
Distance: 131 miles