Lewis & Clark Trail
Day 21: September 10th, 1999 Sergeant Bluff — Yankton
The plan was to start at 9am. But I start a bit later to have a chance to recover from my cold. I drive to Sioux City to have breakfast at a Perkins Restaurant. Just past ten I leave the restaurant and drive on to a gas station. At half past ten I start my trail today — one and a half hour later than planned.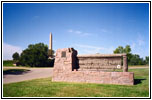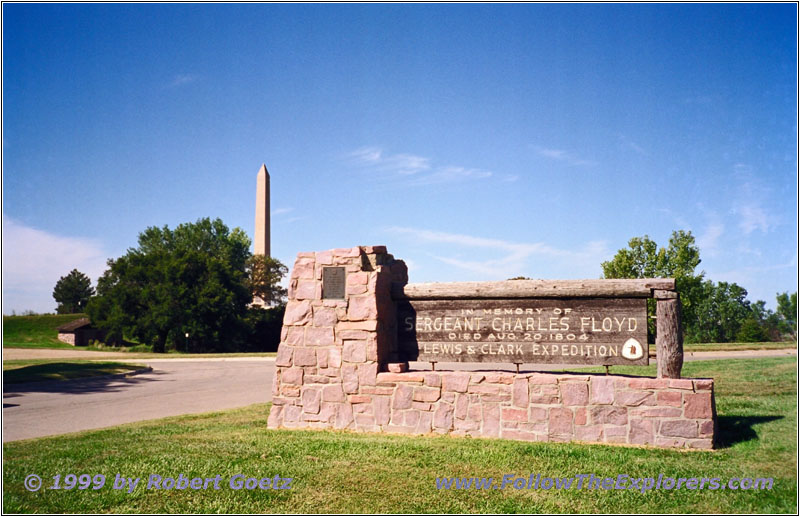 Sergeant Floyd Monument Historical Marker Sign, IA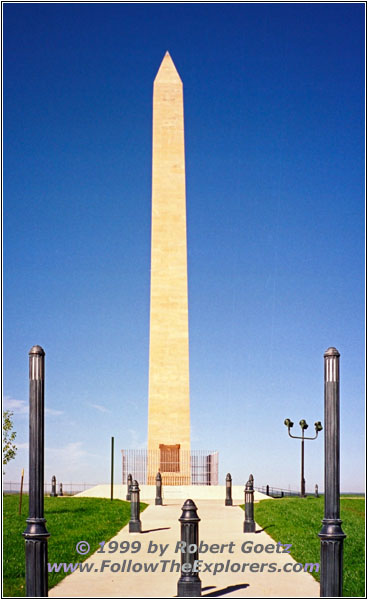 Sergeant Floyd Monument Historical Marker, IA
My first destination is the Sergeant Floyd Monument. Floyd was the only one of the expedition who died. The reason was a burst appendix, which was unknown to medical science at this time. 20 years later people were able to recognize this. But it was 1884 when the first surgery happened — 80 years later. It is amazing that the only loss on this epic and adventurous journey was due to a disease and not in a fight!
I have the chance to talk to an elderly couple. He cannot believe that I do this trail all by myself. He sais, he do not want to be impolite, but he would like to know if I am an alien… — he wouldn't move an inch from his wife!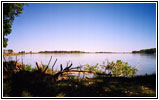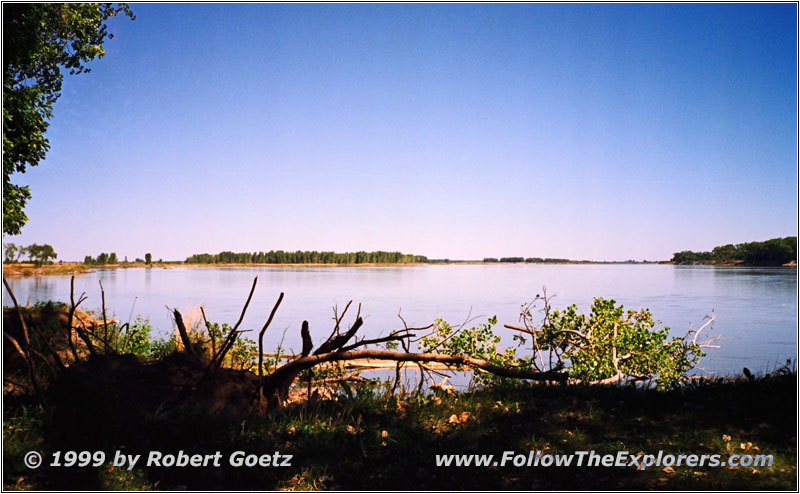 Missouri River, Ponca State Park, NE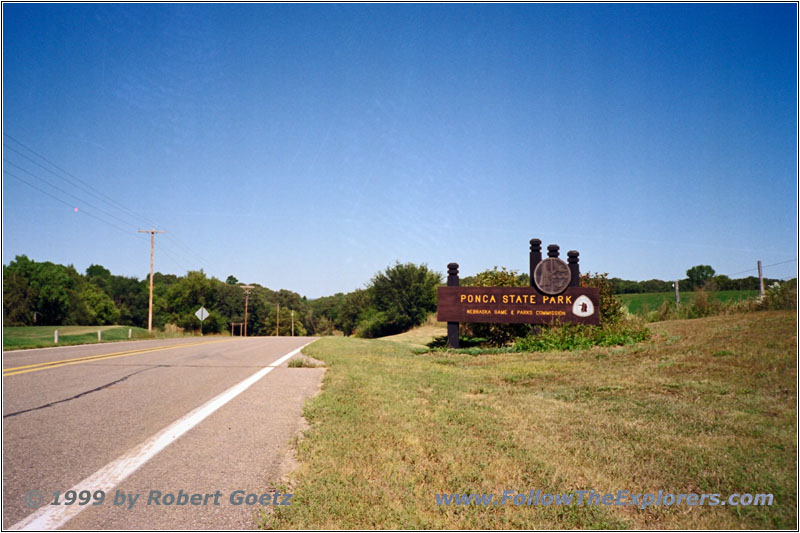 Ponca State Park Sign, NE
I leave the monument and follow Highway 20 up to Willis. There I turn onto Highway 12 to Ponca and on a small road on to Ponca State Park. My first destination is the Three State Overlook. From this spot you have a nice overview of the Missouri and to three States: Nebraska (where I am right now), South Dakota and Iowa. There are also some markers and signs explaining again the Lewis & Clark Trail. Their campsite in 1804 was not far from this spot.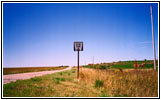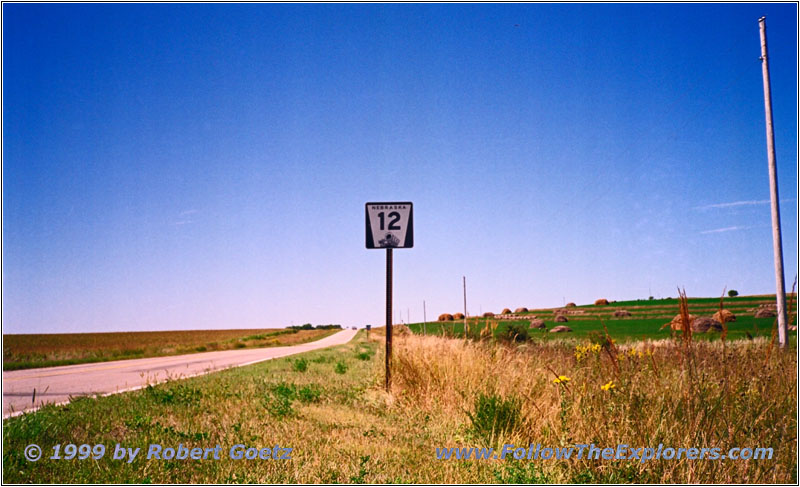 Highway 12 Sign, NE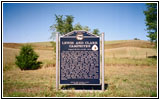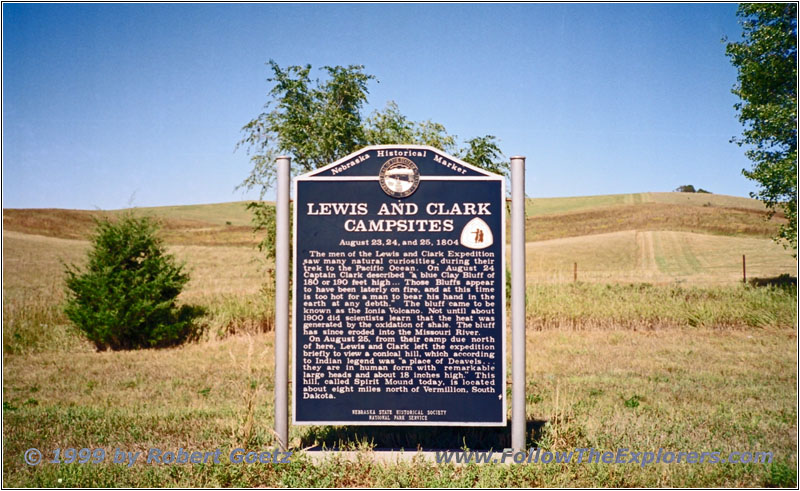 Volcano Hill Marker, NE
Backroads take me now to Volcano Hill — or Ionia Volcano which was the original name. Clark said that the ground was so hot that it was impossible to burry his hand in the earth. For 70 years, scientists believed that this was an old volcano. But later it was proved that the heat came from oxidation of shale. But the big flood in 1870 destroyed the hill almost completely. Therefore nothing can be seen of this today. But you still have a nice view of the Missouri from there. Now I slowly recognize that I am entering the Great Plains and the wide open country…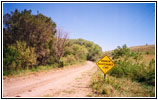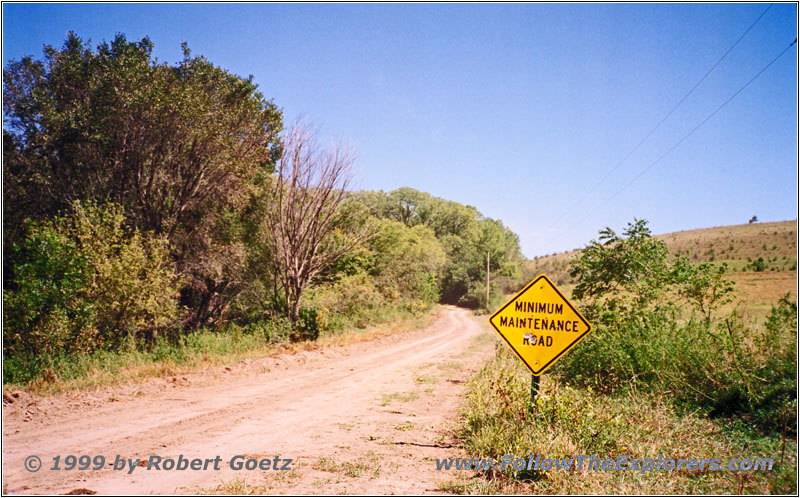 Minimum Maintenance Road, NE
I follow the backroads to Newcastle. Then Highway 12 takes me to Maskell. Now I am on my backroads again until South Yankton. I cross the Missouri on Highway 81 and reach South Dakota. My destination is the Super 8 Motel in Yankton.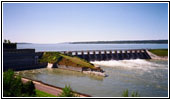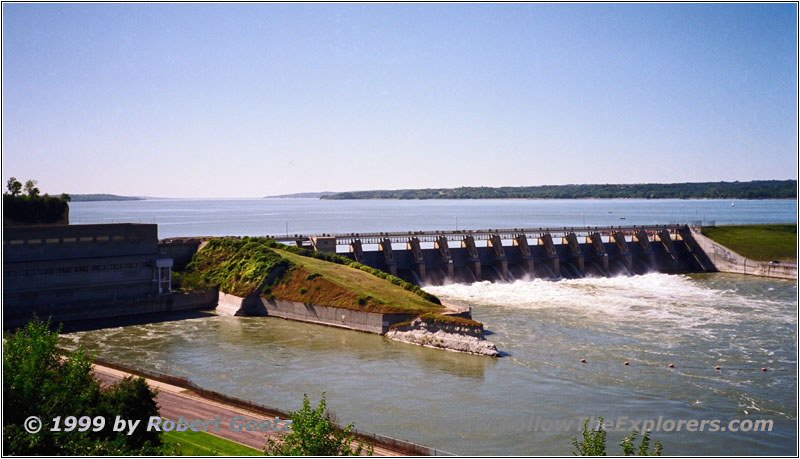 Gavins Point Dam, SD
After checking in I drive on Highway 52 to Gavins Point Dam. His height is 74ft and has a length of 8700ft. He was built in 1957 for 51 Million Dollar. Together with five other dams upriver they take care that the Missouri will do less damage to the country. The lake behind the dam is the Lewis & Clark Lake. Therefore the views in this area have not much in common with the views of 1804. Only the spot at Calumet Bluff close to the Visitor Center remembers of the historical moment when the Lewis & Clark expedition, also known as the Corps of Discovery, met the Sioux Indians for the first time.
I use the opportunity to drive over the dam and enjoy the phantastic views of the Lewis & Clark Lake. Then I follow Highway 52 back to Yankton. I have dinner at the Happy Chef Restaurant. Around 6pm I am already back in the Motel. I hope when I get a lot of sleep now I will be fully recovered tomorrow. Looks like I really had luck!
Sights
Sergeant Floyd Monument
Ponca State Park
Volcano Hill
Gavins Point Dam
General
Breakfast: Perkins, Sioux City
Dinner: Happy Chef, Yankton
Motel: Super 8, Yankton
Distance: 130 miles