Lewis & Clark Trail
Day 20: September 9th, 1999 Omaha — Sergeant Bluff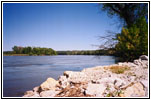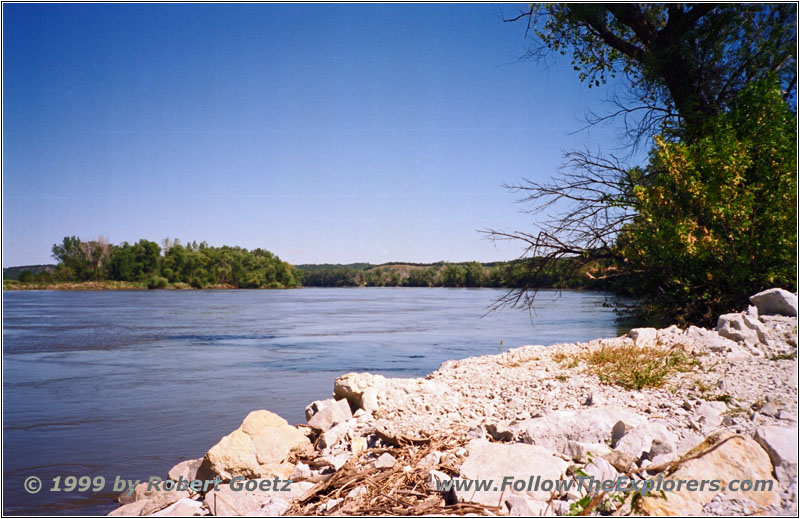 Missouri River, NE
My plan for finishing breakfast was 8am today. But due to my cold I decide to sleep in a little bit — at least as long as possible. I finish my breakfast around half past nine at the Village Inn. But my cold is now progressing towards my lungs. It looks like a chronic coughing starts. I drive to Wal Mart again to find some medicine — and amazingly I find "Ricola Schweizer Kräuterzucker", which is a Swiss product! A Wal Mart employee tells me that these are pretty famous around here, wow!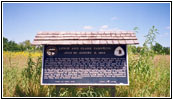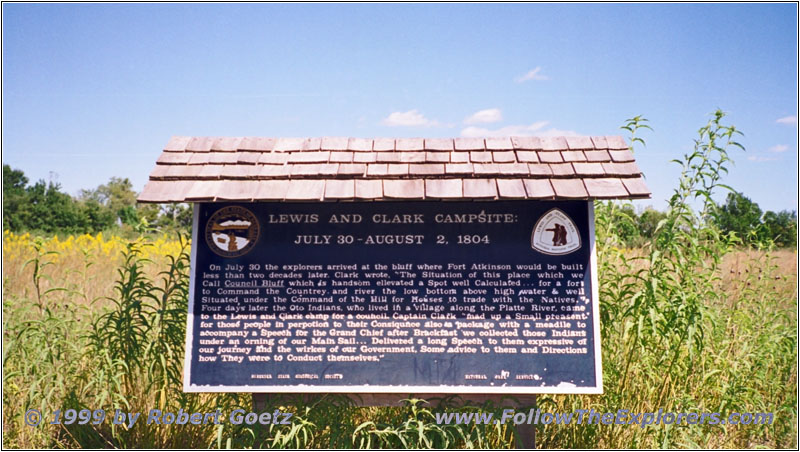 Lewis & Clark Campsite, Fort Atkinson, NE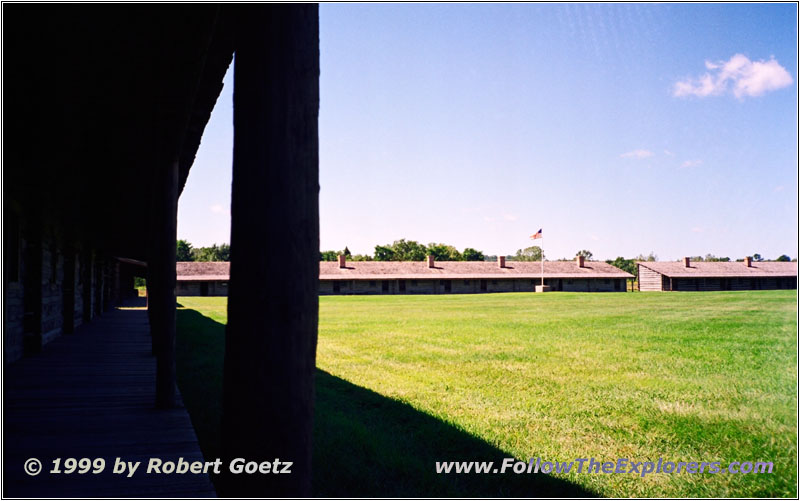 Fort Atkinson, NE
After I got now all my medicine (I already took my Aspirin and the other stuff in the morning) I go to the gas station. At 11am, 3 hours behind my schedule, I start toady. Therefore I have to skip the visit of Downtown Omaha, Ft. Crook and Fontanelle Forest. I only visit the spot where Lewis & Clark met with the Oto Indians close to Council Bluffs. The big meeting happened near their campsite of nowadays Fort Atkinson. I follow the small roads along the banks of the Missouri until I reach Fort Atkinson State Park. Unfortunately the Visitor Center is only open up to Labor Day Weekend. But you can still hike the Grass Trail down to the Fort. When Lewis & Clark were here in 1804 there was no Fort. But their campsite was nearby.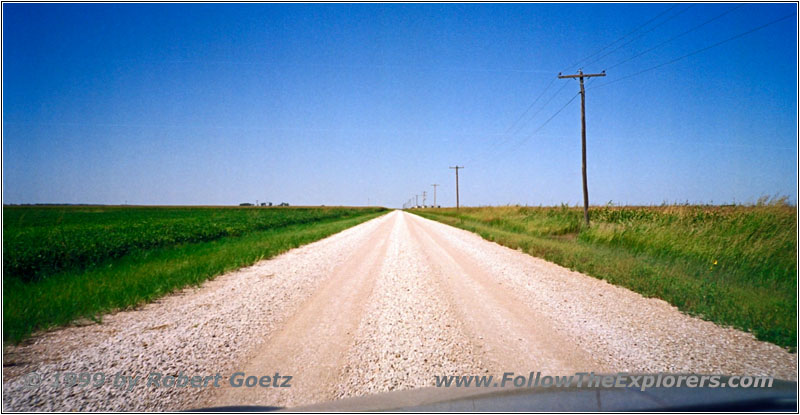 Backroad Nebraska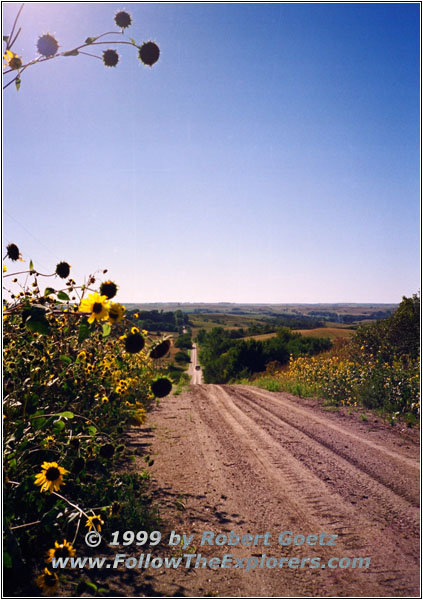 Backroad Nebraska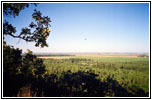 Eagle at Missouri River, NE
I travel on Highway 75 up to Blair. Then I hit the County Roads to Decatur. From there I drive again on 75 to a Scenic Overlook sign. At this spot is a small memory for the Omaha chief Blackbird telling their story.
I meet a real master of the art of living here. He currently travels on his bike back to the east coast. When he has finished his travel he crossed the US for the third time! Every time he wants to travel he skips his job, sells his house, packs his bike and hits the road! When he rans out of money he settles down until he has enough money to hit the road again! After a while of talking we both hit the road again: He travels on to the east while I am going further west. His last advice was to drive down the Rocky Mountains in Utah. This was one of the most beautiful rides he ever did. But it should take many years until I will first see the State of Utah…
After a couple of miles I can leave the big highway again and travel on small backroads along the Missouri. Even a "Minimum Maintenance Road" sign does not scare me away. Let's see what this car can do! But it's not as bad as expected. I am lucky as everything is pretty much dried out. Otherwise I would be really in trouble!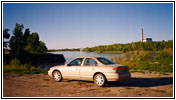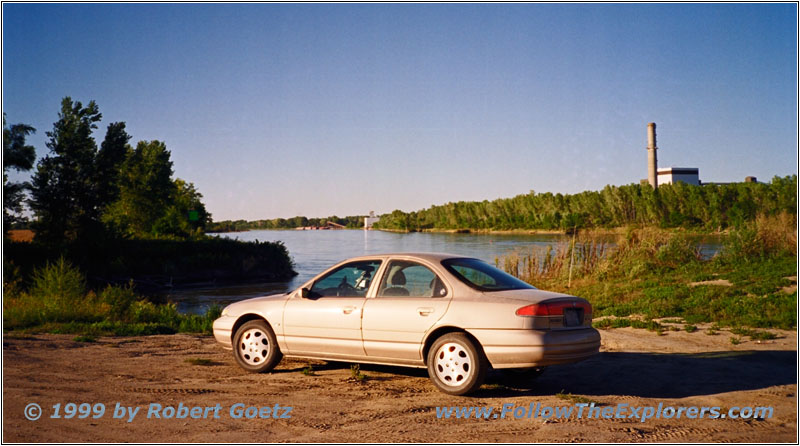 Missouri River, NE
There are some decent spots with nice views of the Missouri. But being this close to the river also has some draw backs: The roads are pretty muddy in some spots. But with enough momentum I also manage this. I follow this road up to Dakota City where I reach Highway 75 again. I cross the Missouri and also the border to Iowa. Then I drive on I–29 South to Sergeant Bluff. There is the destination of today: My Motel 6.
I am checking in around 7pm. Unfortunately I still don't feel healthy and I hope I don't have to search long for a nice dinner place. I drive back to Sioux City but pick the wrong exit. So I am on Highway 20 East. I plan to turn around at the next exit but I see the promising sign of an Outback Steakhouse! This sounds like a plan: A big steak to get healthy again! And really, it tastes great! At nine I am back in the motel and take all the medicine I have. Now it's time for sweating again. And I am already starting to feel better! Let's hope it will stay this way!
Sights
Fort Atkinson State Park
General
Breakfast: Village Inn, Omaha
Dinner: Outback Steakhouse, Sioux City
Motel: Motel 6, Sergeant Bluff
Distance: 178 miles