Lewis and Clark Trail Back Home 1805 — 1806
Day 8: August 19th, 2001 Pittsburgh — Champaign
I pack the rest of my stuff together and start loading the truck. Helen has an appointment so we say goodbye now. I am most likely already on the road when she returns. But it takes me a while until everything is stored in my little truck properly. Maybe I should have looked for a bigger car. But for the backroads I plan to be on the size of my little S10 Blazer is perfect.
After I have finished loading my truck I put the dogs back in the house. They should not roam around when nobody is home. I put my house keys on the table and shut the door. But then I realize that my jacket with all my papers is still in the living room — great, now what Mr. Götz?!?
I decide to drive to the gas station first. Maybe Helen is already back when I return. But unfortunately the door is still locked. I use the time to take another picture of my truck. It only takes half an hour until she returns. I take my jacket and hit the road. There are still 500 miles laying in front of me!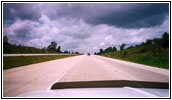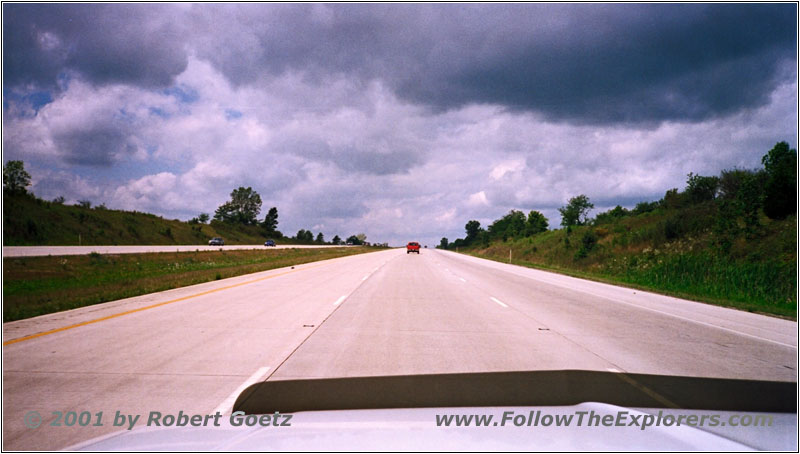 I–70, OH
First I take I-79 South. In Washington (PA) I take the exit to I-70 West. This will be my Interstate for the next 250 miles. Now I have time to get a little bit used to my new CB radioo. But it is really hard to understand the slang of the people. What makes things even worse for me is the additional noise. Therefore I decide to first use the radio only to listen until I understand what is going on…
I make good miles so far. In New Lisbon, Indiana, it is time for my first stop at a gas station. Usually the daily distance is not too far, so I should be able to arrive at my destination with only one stop. After approx. 320 miles it is a good distance for the stopover.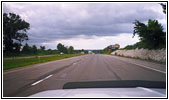 I–74, IN
The traffic increases around Indianapolis. But after I have passed this city and being on I-74 it is getting quiet again. Now it's only 75 miles to the state line of Illinois and around 130 miles to my motel. I am glad that I don't have to drive further because I start to get headaches.
I arrive at my Motel 6 in Champaign around 6pm. I unload my truck and take a look into the phone book: There is an Outback Steakhouse arround! This saves the evening. The first steak this year — as usual my 12 ounce Outback Special. That's the right thing after a long drive. Then I drive back to my motel and go through my footage of the day. I am really glad when I am eventually able to go to bed.
General
Breakfast: Home
Dinner: Outback Steakhouse, Champaign
Motel: Motel 6, Champaign
Distance: 512 miles