Lewis and Clark Trail Back Home 1805 — 1806
Day 14: August 25th, 2001 Lolo Motorway (Day 2)
It's still cold when I wake up again. It costs me quite an effort to crawl out of my warm sleeping back and into my cold cloths. But I don't want to spend the whole morning in my sleeping back…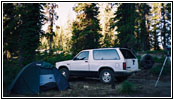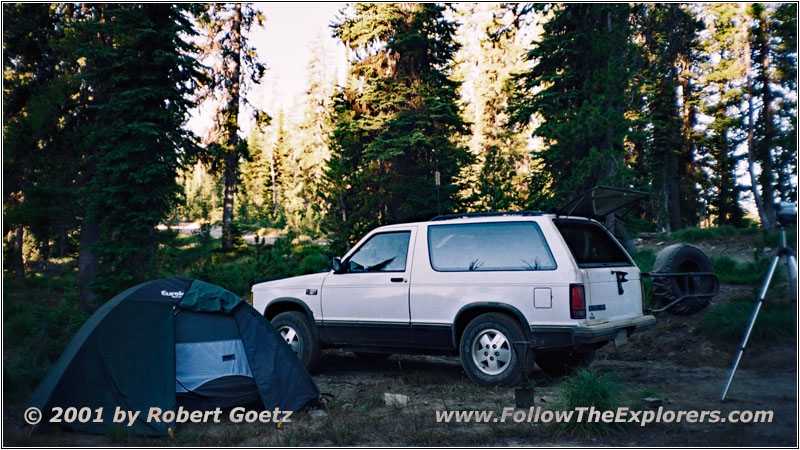 Sunrise at First Campsite, Lolo Motorway, FR500, ID
The sun already has been risen and sends out the first warm beams in my direction. As long as I am in the sunray it is already comfortably warm. I briefly wash myself. Then I prepare breakfast. I warm up the water for my coffee with the camping stove. My breakfast will just be some jelly bread. But the most important thing is my coffee. It's not only warming up from the inside but also my hands who embrace the cup. When looking at the thermometer I know why: The temperature is in the upper 30's. Looks like it was around freezing in the night — now I know why I was feeling so cold in the night.
After breakfast I clean dishes and pack everything together. Finally I tear down my tent. I am thinking of Rex and Mark and how they may have spent their night at this turnout. I will write them an e–mail when I am back in Germany. But now it's time for me to be back on the Lolo Motorway. It's already 9am until I am ready to roll. It takes a while until everything is stored back in the car.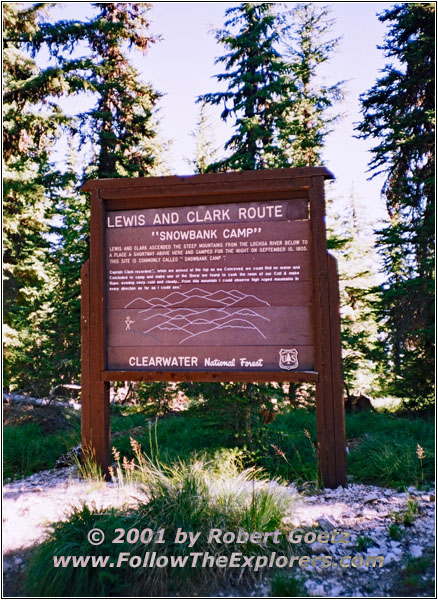 Historical Marker Snowbank Camp, Lolo Motorway, FR500, ID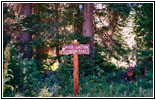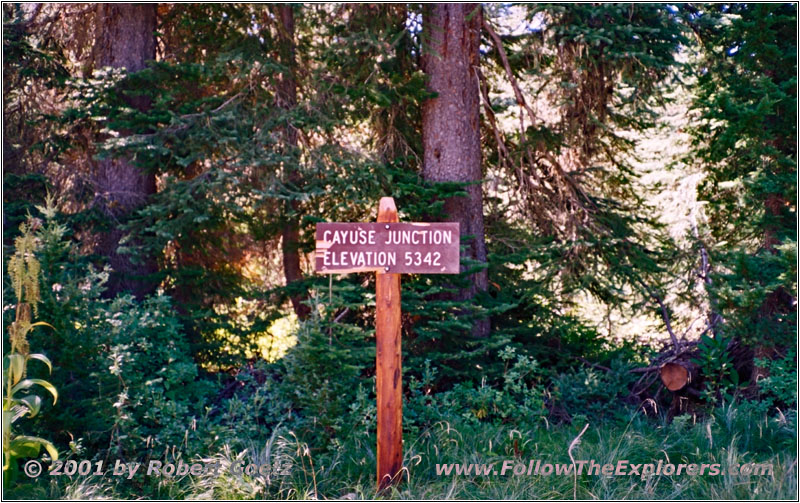 Sign Cayuse Junction, Lolo Motorway, FR500, ID
The landscape is fascinating again. I drive through thick forests which alternates with open spaces, passing wider ridges, then climbing up and down steep hills. It takes a while until I reach Snowbank Camp of the Lewis & Clark Expedition. Originally I planned to camp in this region. But this would have been way too far yesterday. Also I liked my spot from last night more than this place. Lewis & Clark camped here after they finished their strenous climb out of the Lochsa valley. Their guide took the wrong way which brought them into the valley. This climb out of the valley almost wiped out the whole expedition!
I follow Forest Road 500 further, which is also called the Lolo Motorway. Suddenly I hear a weird scratching sound while driving. I expect the worst when I check out my car. I carefully touch the brake drums and the right one is warm while the left one is cold. It looks like the right rear brake does not open completely. I take off the wheel and test if the drum is free. It is still easy to get the drum off, so it looks not really bad. I should be ok if I drive on this way. Nevertheless I check out the parts if something is stuck, but I am not able to find anything broken. It looks like the adjuster is not working properly. But this can be fixed by my mechanic when I am back home.
Eventually I am able to figure out the root cause for the weird noise. It was not the brake drum but my CB antenna. It went lose while driving and it was rocking back and forth. I tighten it up again and now everything should be fine.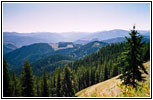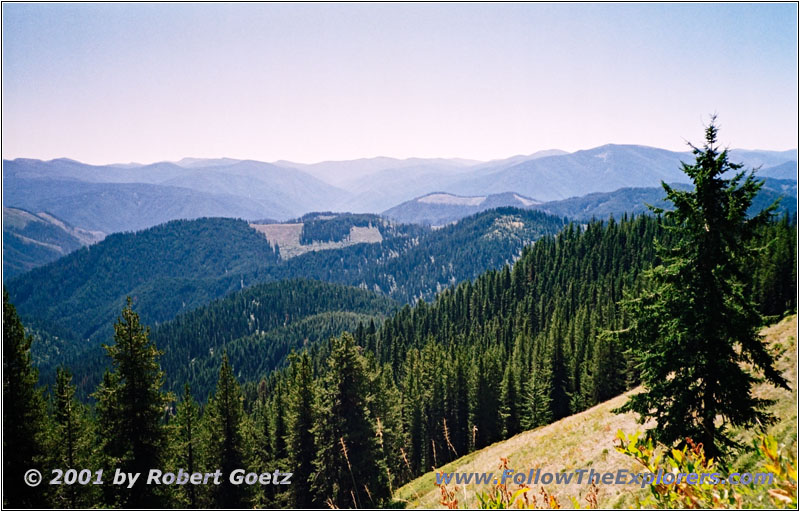 Bitterroots, Lolo Motorway, FR500, ID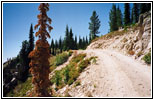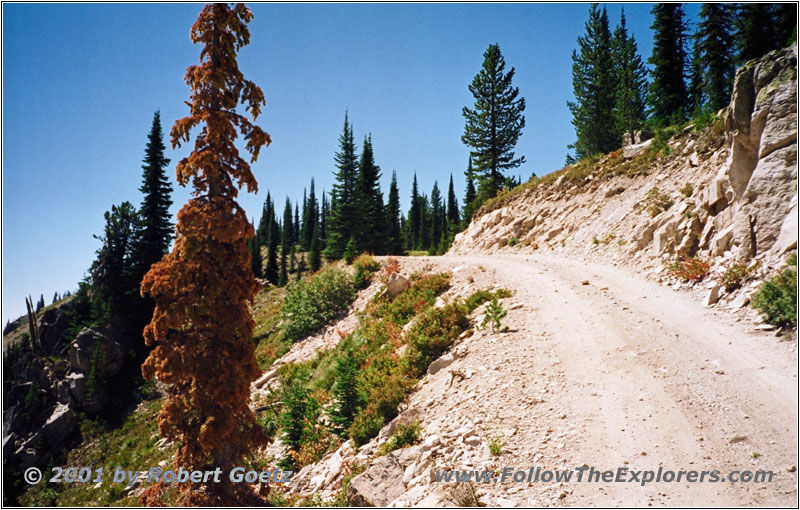 Lolo Motorway, FR500, ID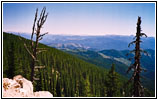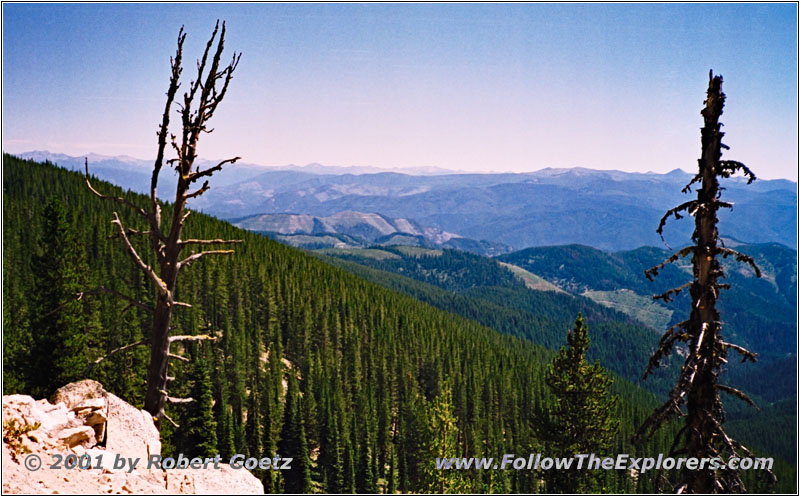 Bitterroots, Lolo Motorway, FR500, ID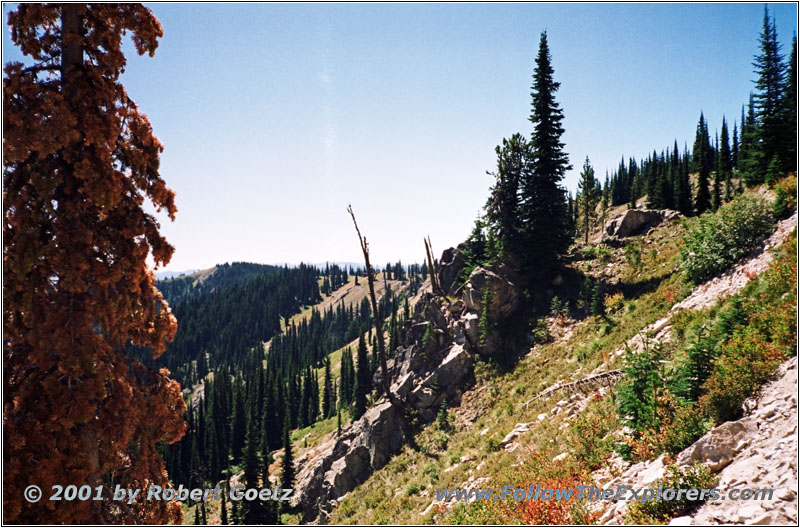 Bitterroots, Lolo Motorway, FR500, ID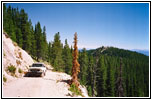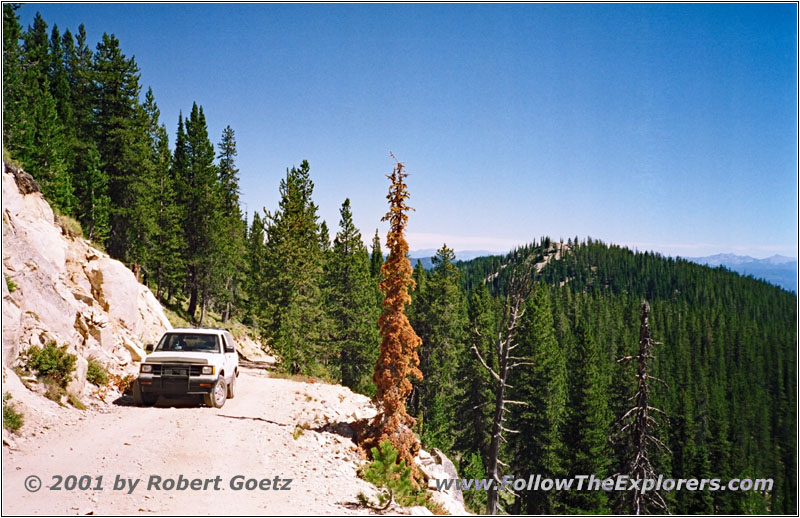 88 S10 Blazer, Lolo Motorway, FR500, ID
The road went more wild since Cayuse Junction. There are more rocks on the road and the inclines are much steeper. But I am still able to drive everything in 2WD. The only issues I have is stopping for taking pictures. The inclines are sometimes so steep that my parking brakes are not holding the truck. I have to park the truck in an angle to the road or let the truck roll on some rocks until the brakes hold my car. But I get used to it after a while.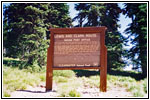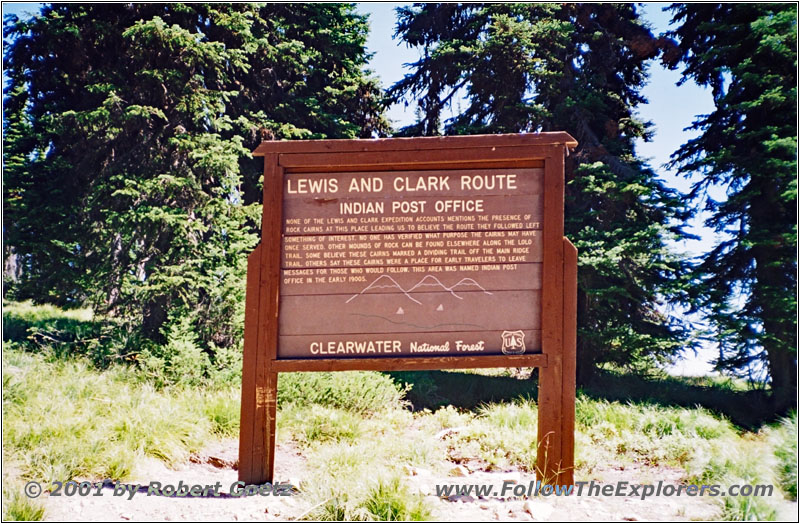 Historical Marker Indian Post Office, Lolo Motorway, FR500, ID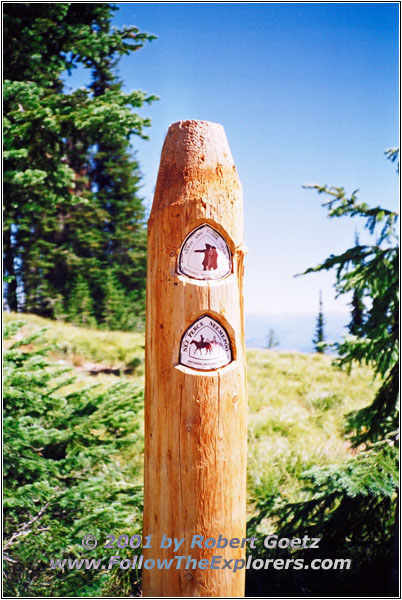 Sign Lewis & Clark and Nez Perce Trail, Lolo Motorway, FR500, ID
My next big stop is at the Indian Post Office. The meaning of this spot is not yet clear. There are some areas with small stone pillars. They were either used as trail marks (the Lolo Motorway follows an old Nez Perce Indian Trail) or, what is most likely, used as mail box for succeeding Indians. In any case you have great views of the Bitterroot mountain range from here.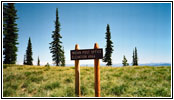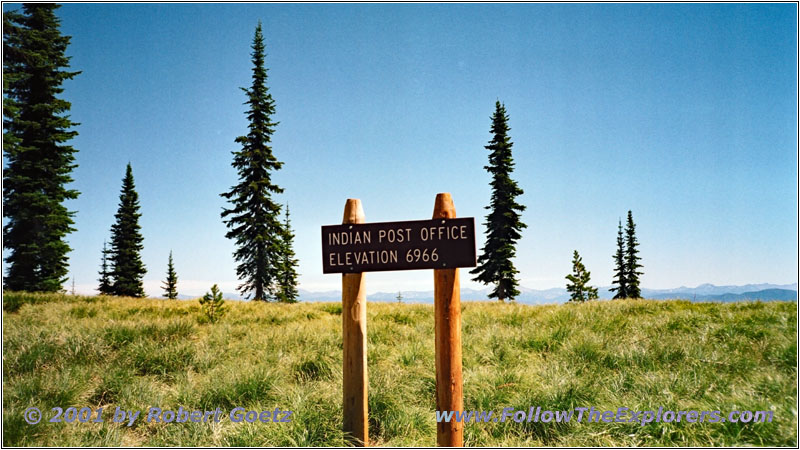 Sign Indian Post Office, Lolo Motorway, FR500, ID
I meet a couple from Lewistown, Idaho, here. They drive this trail because it is unclear if they will need a permit next year due to the Bicentennial of the Lewis & Clark Trail. After they took a couple of pictures they leave again. I am still busy with video taping. This takes much longer than just taking pictures.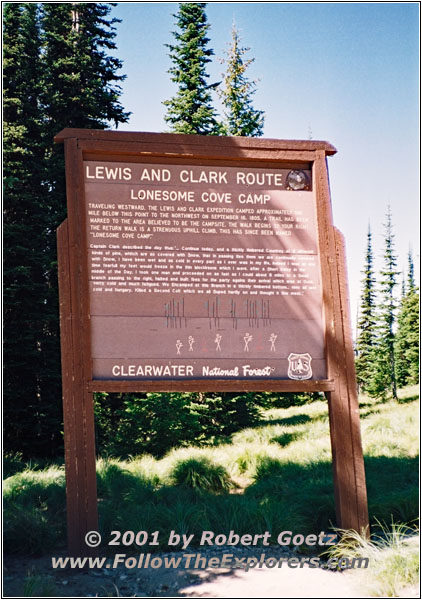 Historical Marker Lonesome Cove Camp, Lolo Motorway, FR500, ID
Then I am back on the Motorway. The sandy parts get more and more. The result can well be seen on my truck. The whole car is dusted in. I hope my video camera will survive this. It's not a professional but a consumer camera. Maybe I have to switch to the professional stuff one day. But for now my budget is limited…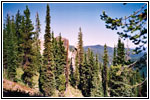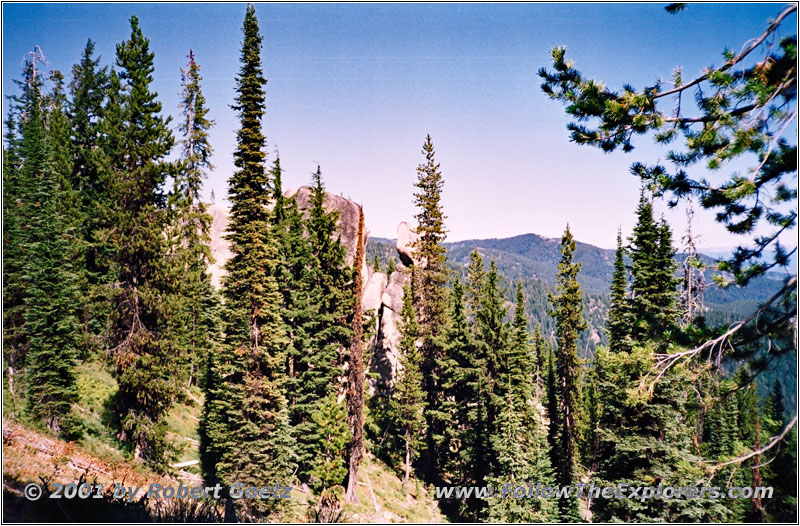 Devil's Chair, Lolo Motorway, FR500, ID
I have again great views of the Bitterroots at Moon Saddle. I decide to do another big stop and take the time to build up my tripod and camera. Then I drive on to my next destination, Devil's Chair. This spot is not directly related to the expedition. But this weird looking rock is worth a brief stop. If you are in the real position it really looks like a giant chair.
When I have everything stored back in my car another car has stopped behind me. I assume they are on a different route. Therefore I don't get out of my car again to say Hi and drive on. Suddenly a bunch of cars approaches me. I have no other choice than backing up for quite a distance. But in the meantime this other car has reached me. But he is clever enough to also back up. We reach a little turnout in a curve which is big enough for both of us to let the other group pass. Then I drive on. The other guy waits a while. I assume he waits until my dust is low again.
After a while I reach the crossing to Forest Road 107. This is the only exit if you plan to exit the Lolo Trail earlier. But there are also a bunch of other roads joining and I have to study my map for a while to find the right road. In the meantime the other guy has reached me again. He is also puzzled about the road to go. But I figured out the right way for me in the meantime. He asks me for directions to the Indian Grave. This is the same way which I will go and I can point him to the right direction. He offers me a beer to thank for the advice, but I decline. When I am traveling I don't drink. He says goodbye and rushes on. I am glad that I have let him drive first. He is way faster than I am. Propably he only has the weekend which forces him to be faster.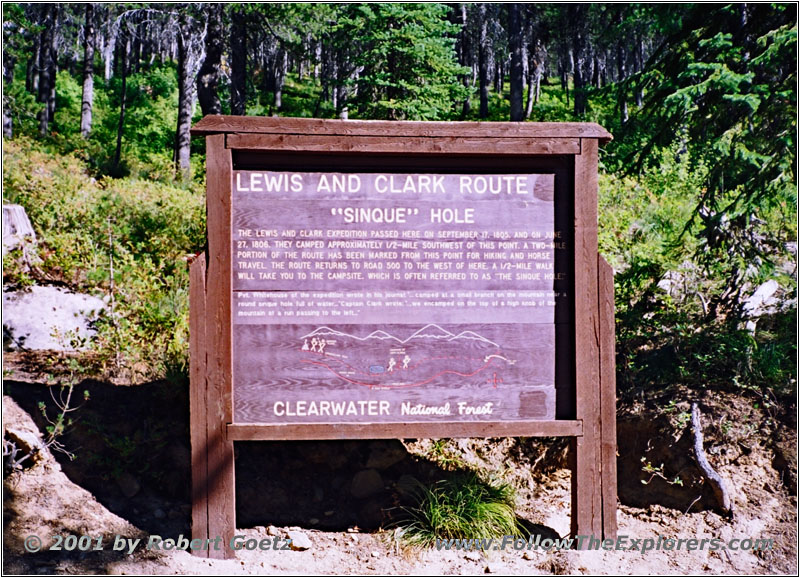 Historical Marker Sinque Hole, Lolo Motorway, FR500, ID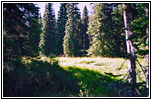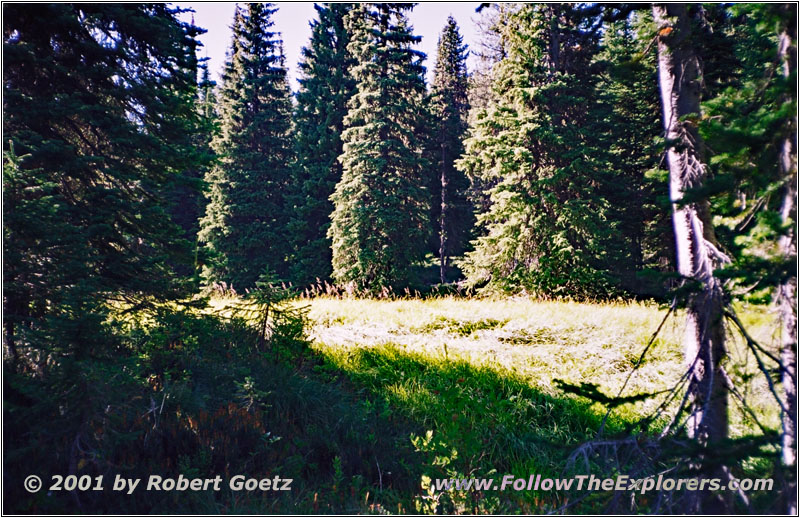 Sinque Hole Camp, Lolo Motorway, FR500, ID
After a while I reach the trailhead to Sinque Hole Camp of Lewis & Clark. I decide to follow this short trail. It should only last ten minutes to reach the actual camp site. I pack my foto and video stuff together and start my little hike. It's already late afternoon and while hiking up the hill I feel that it is getting cold again. But for this short hike I did not take my sweater with me. But I hike almost an hour without being able to find the location. When I reach a small glade I decide that this is the spot and turn around.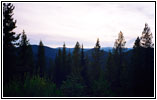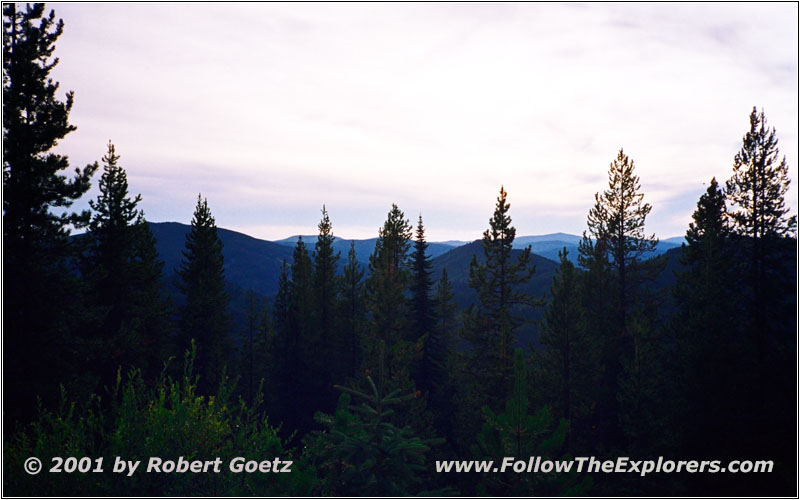 Bitterroots, Lolo Motorway, FR500, ID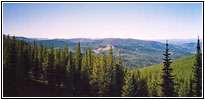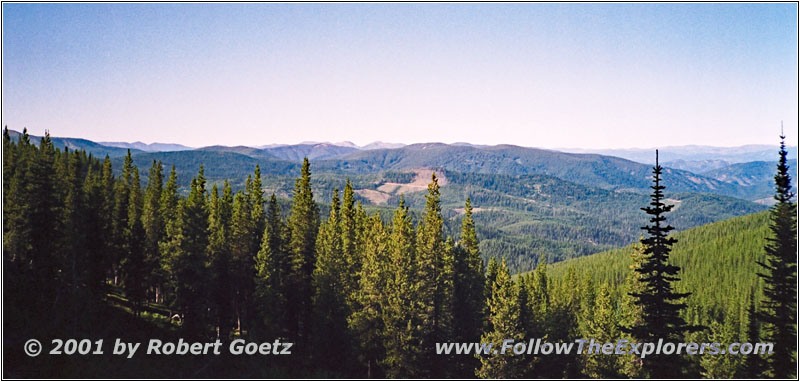 Bitterroots, Lolo Motorway, FR500, ID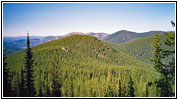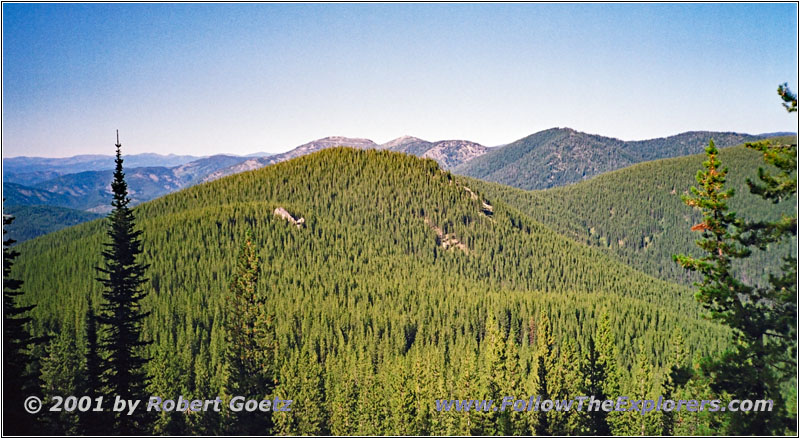 Bitterroots, Lolo Motorway, FR500, ID
It is now getting really cool. Not good for me as I am sweated through from hiking uphill. I don't want to be sick on the trail. It takes me more than half an hour until I am back in my car and drive on. I decide that the next decent spot will be the place for my next camp site.
The next spot would be 12 Mile Saddle. But this place is already crowded with a lot of people and ATVs. Therefore I drive on. Unfortunately I have to drive for quite a while until the next decent spot shows up. I camp directly at the Smoking Place, which was also a camp site of the Lewis & Clark Expedition on their way back from the Pacific. There is also a nice spot to build up my tent and an established fire place.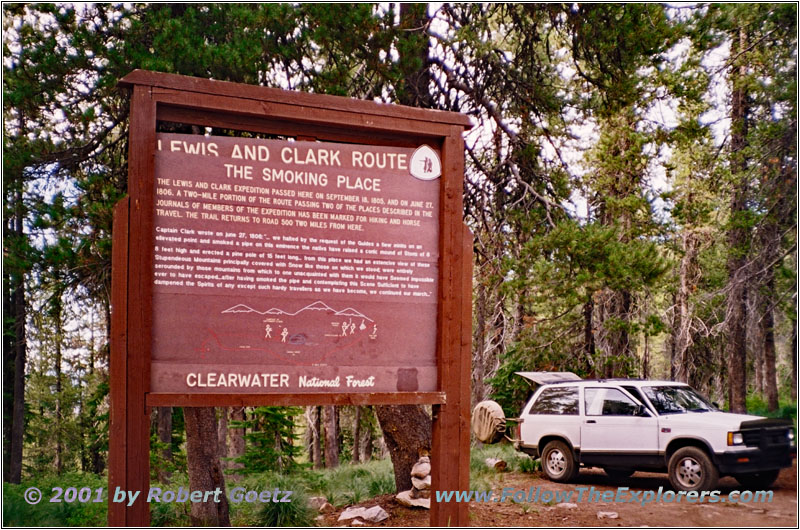 Historical Marker The Smoking Place, Second Campsite, Lolo Motorway, FR500, ID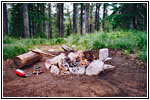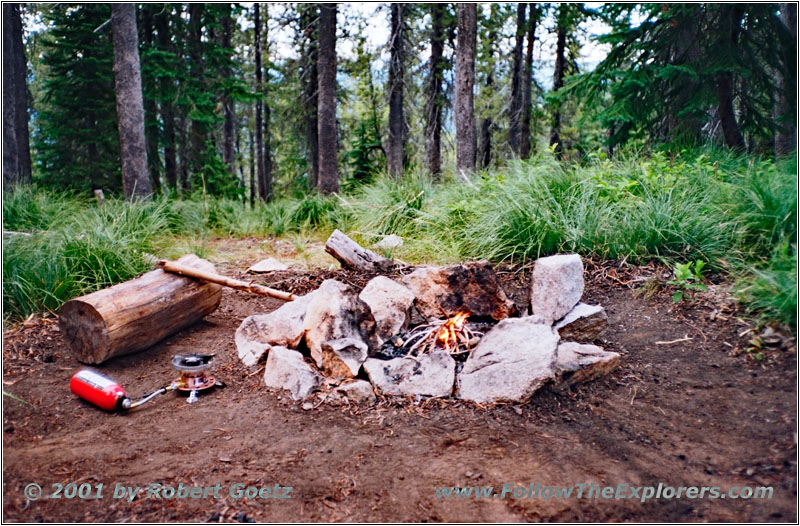 The Smoking Place, Second Campsite, Lolo Motorway, FR500, ID
First I start to build up my tent. This time things already work better. Then I pick up my camping stove and collect some wood for my camp fire. Today I will try one of my soups. I also have a bag with fresh salad which will be my desert for toady.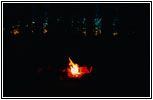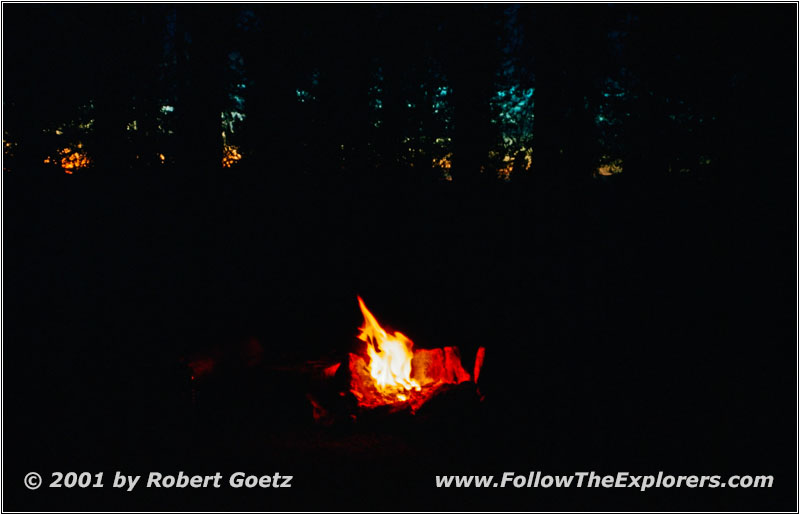 The Smoking Place, Second Campsite, Lolo Motorway, FR500, ID
It is slowly getting really cold again. Unfortuantely I have no chance to see a sunset from here. Beside that this camp site is really idyllic. After dinner I do my dishes as usual. Then I start to write some postcards. But putting wood into my fire really keeps me busy. The small dry branches really burn well but also very fast. And if you need a fire which also gives enough light to write postcards you need a lot of wood. After three postcards I am out of wood. I have to write the last sentences with my flashlight. Then I turn out the rest of my fire and get ready for the night. This time I will keep more cloths on to not wake up again freezing like last night…
Sights
Snowbank Camp
Cayuse Junction
Indian Post Office
Lonesome Cove Camp
Moon Saddle
Devil's Chair
Sinque Hole Camp
The Smoking Place
General
Breakfast: Camping, Lolo Motorway
Dinner: Camping, Lolo Motorway
Motel: Second Campsite, The Smoking Place, Lolo Motorway
Distance: 49 miles