Lewis and Clark Trail Back Home 1805 — 1806
Day 15: August 26th, 2001 Lolo Motorway (Day 3)
This night is not as cold as the last one. But it is still hard for me to climb out of the warm sleeping bag. After a long fight with myself I eventually make it out of the bag. I start to prepare my breakfast. Unfortunately I forgot to put my water can in an upright position last night. The seal of the small outlet is not really well designed and now I am missing half of my water! Hopefully it will still be enough for the rest of my journey. Worst case I have to cut my trip short. But now it's time for my breakfast. The routine is the same as yesterday but with much more comfortable temperatures. We are already in the 60s.
Next step is to pack everything together. I have to drive back for a short distance because I was too late to visit the Indian Grave yesterday. I hope the hike will not be as long as yesterday my hike to the Sinque Hole Camp. But it's only half an hour until I reach the small meadow.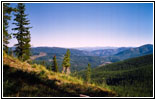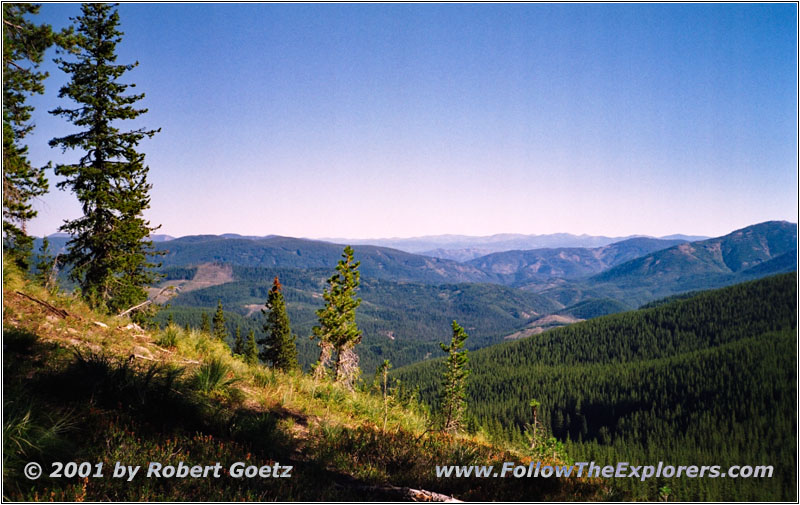 Bitterroot, Hiking Trail to Indian Grave, Lolo Motorway, FR500, ID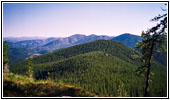 Bitterroot, Hiking Trail to Indian Grave, Lolo Motorway, FR500, ID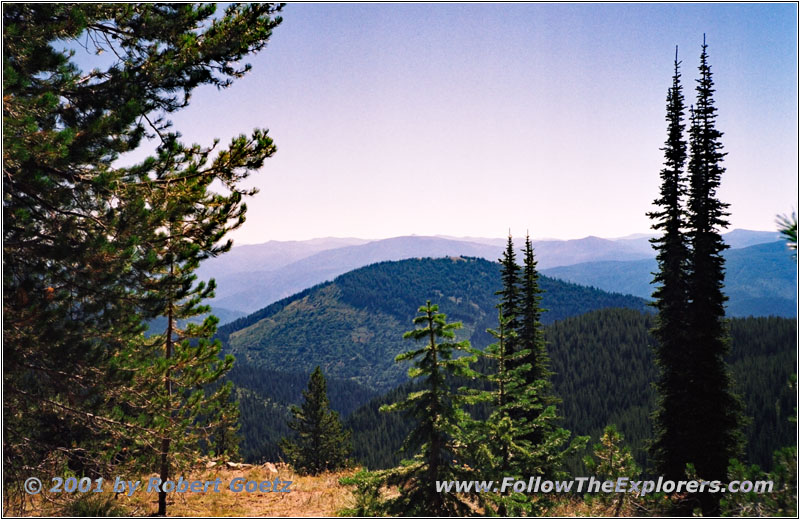 Bitterroot, Hiking Trail to Indian Grave, Lolo Motorway, FR500, ID
There are a bunch of stone pillars which have been used as graves. There are also great views of the Bitterroot mountain range around. As I am up early in the morning I have the chance to see birds and squirrels along my way.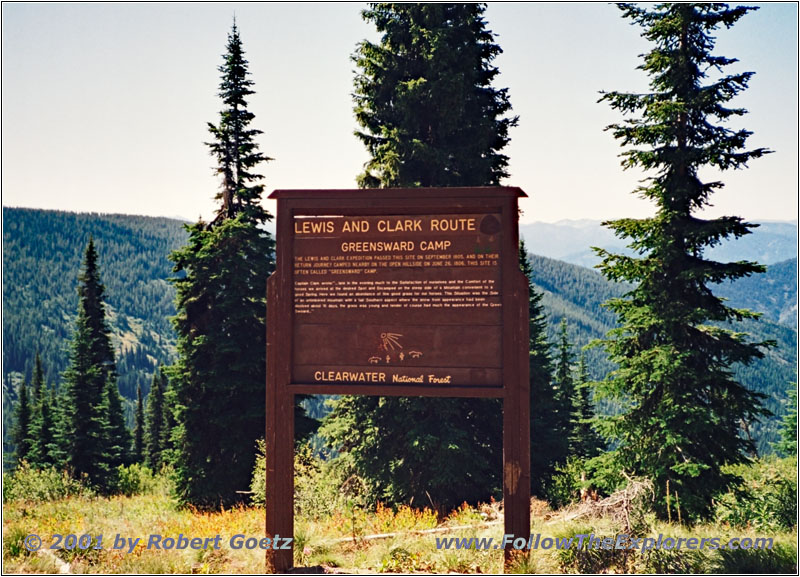 Marker Greensward Camp, Lolo Motorway, FR500, ID
I hike back to my car and continue my journey along the Lolo Motorway. My next stop is Greensward Camp from Lewis & Clark on their way back on June 26th, 1806.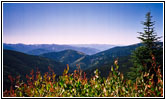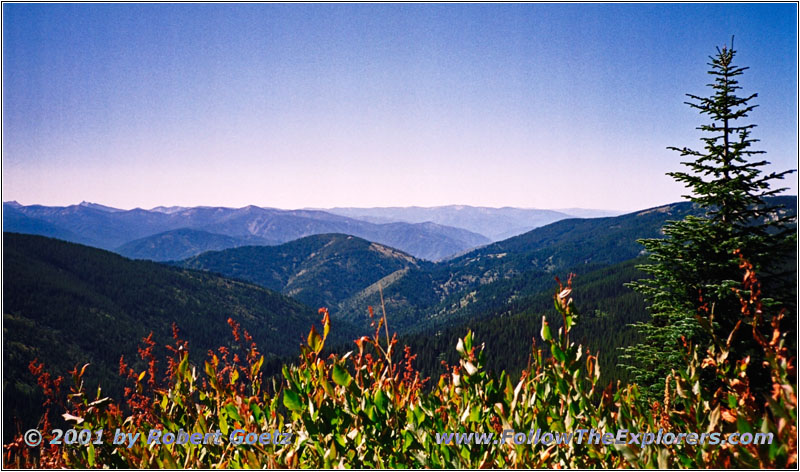 Bitterroot, Lolo Motorway, FR500, ID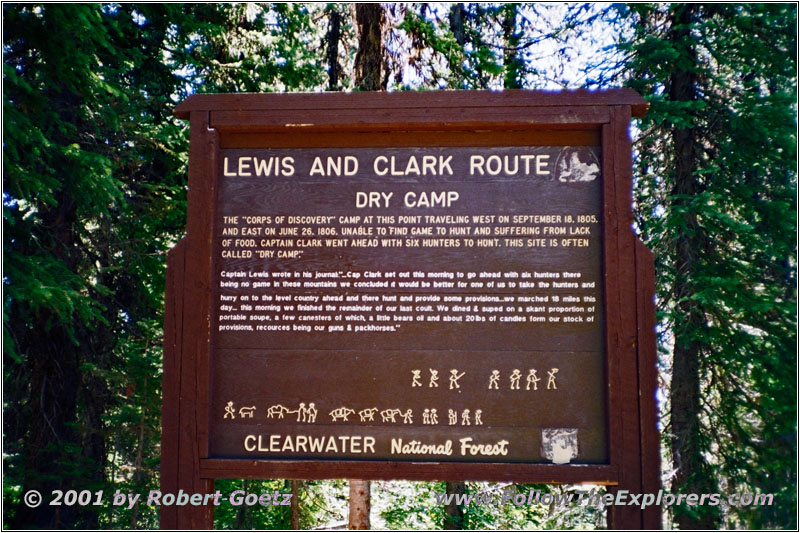 Marker Dry Camp, Lolo Motorway, FR500, ID
Then I am back on the Motorway again. It takes a while until I reach Dry Camp of the expedition on September 18th, 1805. This was my originally planned stop for yesterday.

Lolo Motorway, FR500, ID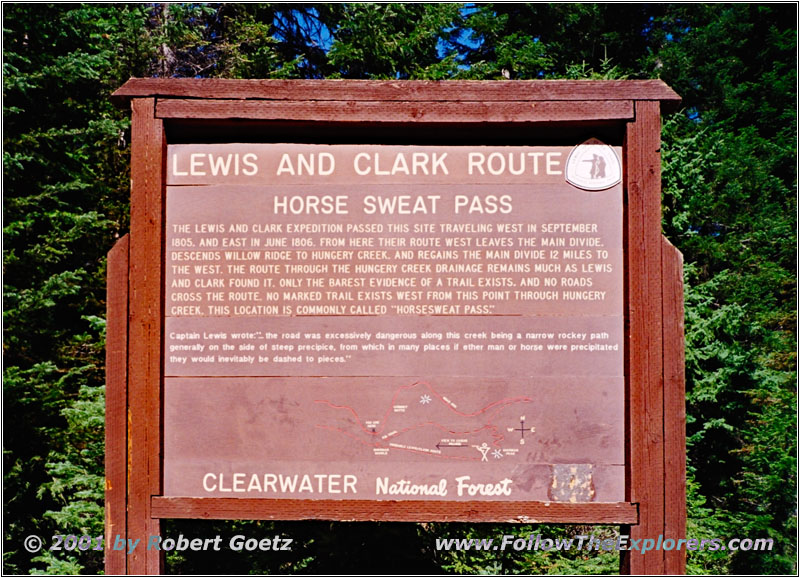 Marker Horse Sweat Pass, Lolo Motorway, FR500, ID
I drive on to Horse Sweat Pass. Originally I planned to follow the Lewis & Clark Trail also in the Hungery Creek area. But the path down from Sherman Saddle is only a hiking path.


88 S10 Blazer, Lolo Motorway, FR500, ID
This forces me to follow the Lolo Motorway further on. Unfortunately this road takes me on a big loop to the north, far away from my original Lewis & Clark Trail.
But this gives me the opportunity to reach a nice view point of Rocky Ridge Lake. Then I am back on the Motorway again.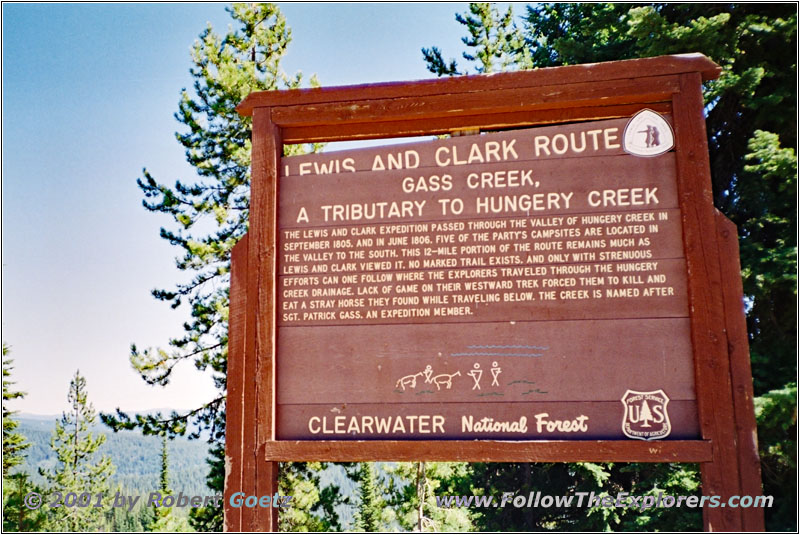 Marker Hungery Creek, Lolo Motorway, FR500, ID
The Motorway reunites with the Lewis & Clark Trail at Petes Fork. This is also the beginning of the spur forest road FR485. This road takes me down into the Hungery Creek area from the west. I plan to follow the road as far as possible. From Windy Saddle I have the opportunity to hike down all the way to the creek. But I don't know how long the hike will be. Therefore I drive on. I also have to search for a nice spot for the night and I don't want to run late. After a while I reach a nice little glade where there is also a fireplace. This will be my spot for tonight. But I still plan to drive to the end of the road.
Just past this glade the road gets more rough. The ruts are getting smaller and are hardly to see. Suddenly I am at another glade in the middle of high gras. This is now the end, way further than shown on my map!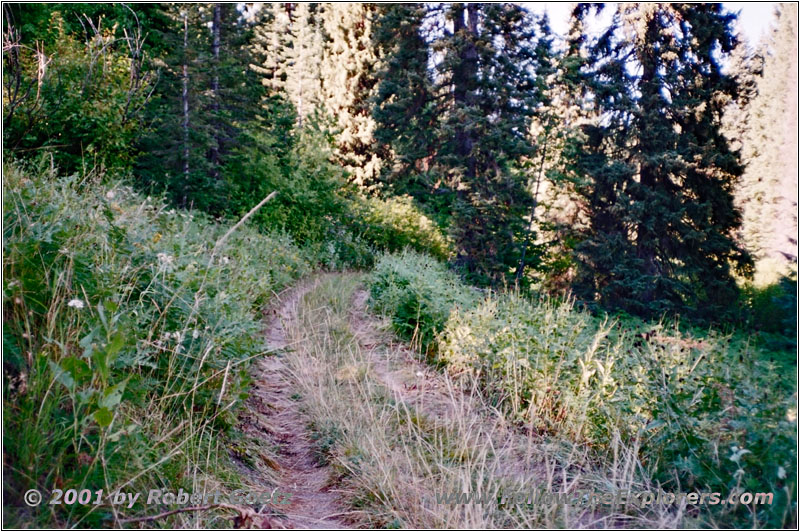 FR485, ID
After a few pictures and videos I drive back to my nice camping spot at the glade before. Unfortunately it doesn't turn out to be as nice as it looked at a first glance. In and around the fireplace is a lot of trash. Someone even had thrown a towel into the fire which is already half burned. I clean the area with a stick before I start to pitch my tent. But I encounter that the spot under the trees on the other side of the road is much nicer. So I drive over and put my tent over there.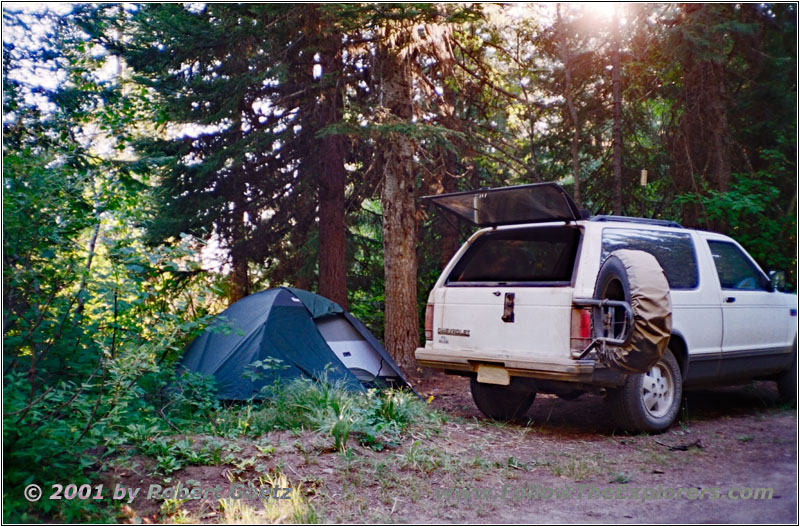 Third Campsite at Lolo Motorway, FR485, ID
Then I prepare dinner again. I have the feeling that I am catching a cold. Maybe it was too cold on my hike yesterday evening. I take an Aspirin and a lot of Vitamin C with my dinner. I also have plenty of fruits which I will have as a desert. Unfortunately I am out of salad. I decide not to start a fire today, but go to bed early due to my oncoming cold.
When the night rolls in I am already in my sleeping bag. Hopefully I will feel better tomorrow. But I think I will leave this area anyway tomorrow. I have already been on the whole Lolo Motorway on my way west I can plan a stopover at this spot on my way back too.
Then I can visit the Hungery Creek area. After that I can drive back to the Highway and reach FR109 via FR569 which also follows Lewis & Clark's return trail. Cutting the Motorway short gains another couple of days. This gives me the chance to throw in some visits and see everything along the trail which I would have to skip otherwise. That's my hope when I fall asleep.
Sights
Indian Grave
Greensward Camp
Dry Camp
Horse Sweat Pass
Rocky Ridge Lake
Hungery Creek
General
Breakfast: Camping, Lolo Motorway
Dinner: Camping, Lolo Motorway
Motel: Third Campsite, FR485, Lolo Motorway
Distance: 53 miles