Lewis and Clark Trail Back Home 1805 — 1806
Day 16: August 27th, 2001 Lolo Motorway (Day 4) — Clarkston
This night was again not so cold as the first one. But instead my body starts to ache. I am not sure if it is because of the beginning of a cold or is it due to sleeping on the hard ground. Anyways I will be in Clarkston tonight and I will spend the night in a real bed. Maybe I have a chance to get rid of this cold there.
But first I have to fight again with myself to get out of the warmn sleeping bag. Then I start my almost usual breakfast procedure. Next I pack everything together and start my way back to FR500, the Lolo Motorway.
When I arrive at Windy Saddle I think again about going down to the creek. But I want to be not too late in Clarkston tonight. Therefore I skip the hike and drive on. I still hope to do the hike on my way back. It still takes me an hour until I reach the Lolo Motorway again to continue my journey.
FR500 leaves the main road at Canyon Junction. I want to stay as close as possible to the original Lewis & Clark Trail. Therefore I follow FR500.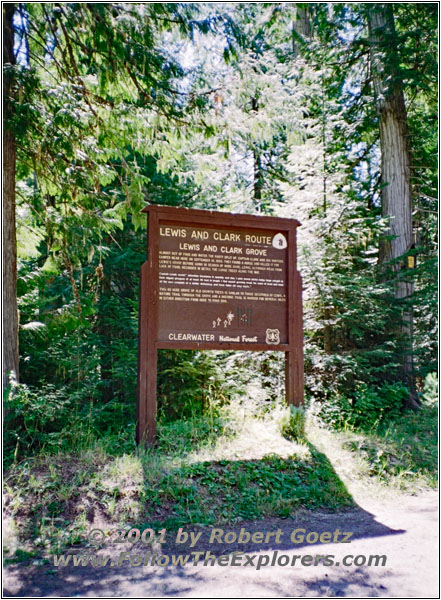 Lewis & Clark Grove Camp, FR500, ID
Then I turn onto FR520. This forest road follows the original trail a bit to the north. But it is still closer than following FR500. It is impossible to follow the exact trail by car. The forest road crosses the original trail at Lewis & Clark Grove Camp.
I continue on FR500 in direction of the Lolo Campground. The road is getting much better and also the oncoming traffic is getting more. I decide it might be better to close the window and turn on the fan on full power — what a huge mistake! The dust of the last couple of days has also been collected in the air vents. When I turn on the fan a huge cloud of dust fills the inside of my truck which suddenly gives me almost zero sight and takes away the chance to breathe. I immediately open my window to get some fresh air und to get rid of all the dust.
It takes a couple of minutes until there is fresh air coming out of the vents and I can close my window again. In the meantime I am on FR101 which turns out to be a paved road. But it's only a short distance for me on pavement until I leave it again and turn onto FR5112.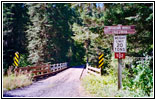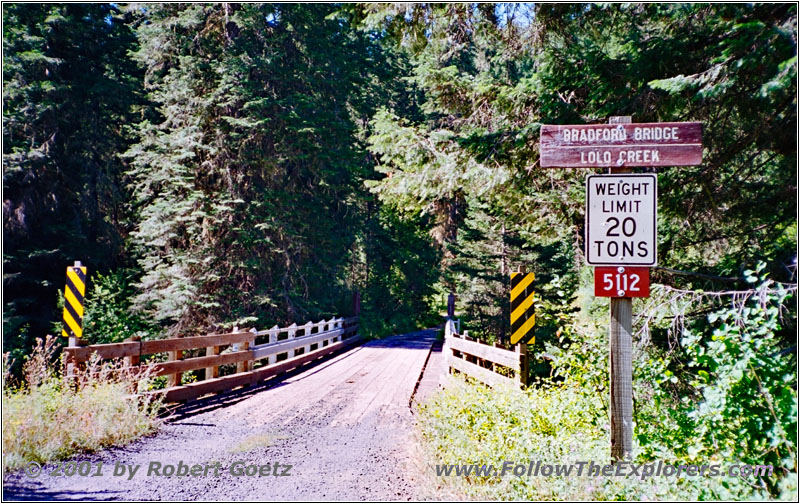 Bradford Bridge, FR5112, ID
First I have to cross a nice wooden bridge. Then I am on forest roads again. They follow the original trail pretty good in this area. But the road deteriorates really fast. I put in 4WD again to avoid getting stuck somewhere.
But even with these bad roads I make good progress. After an hour driving in walking pace the road is slowly getting better. But the better roads also give me the chance to meet three big trucks on this small road…
It still takes a while until I leave the last hills behind. The forest is getting more and more open and suddenly I see the wide open plane. How must have the Lewis & Clark expedition felt when they saw this opening and knew the mountains are now behind!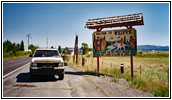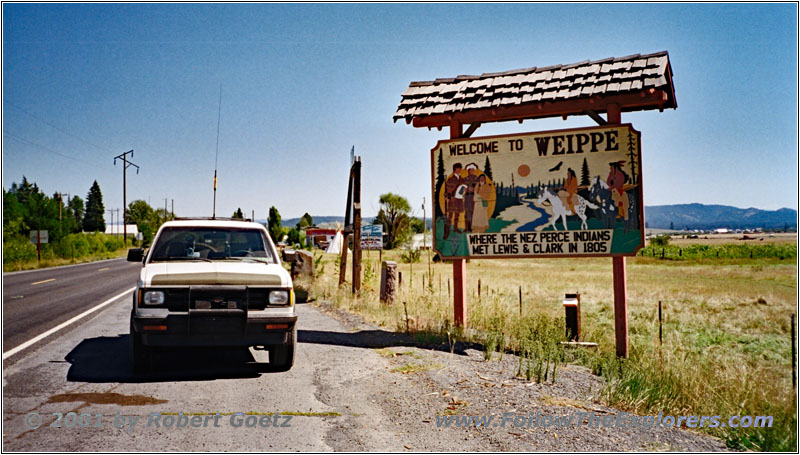 88 S10 Blazer at Weippe Prairie, ID
After a while on backropads I reach Weippe Prairie. This was the place where the expedition met the first Nez Perce Indians. They gave the men food and water. But the almost starved men ate and drunk way too much way too fast. It didn't take long until all of them lay sick on the ground. The Indians discussed if they should kill the defenseless men and take all the things they have. They have a lot of weapons which would be very helpful for fights with their enemies. But an old woman protested. She had lived among white trappers for a long time and has been treated very well. Therefore they did nothing to the expedition — and even more they helped them to get well again. Then they went with them down to the Clearwater River and helped to build the canoes for the rest of the journey at Canoe Camp.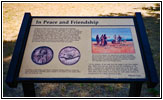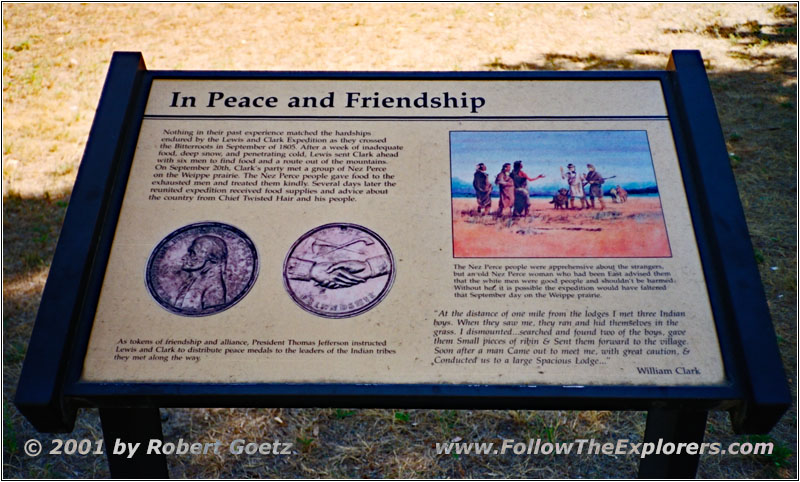 Marker Peace Medal, Canoe Camp, ID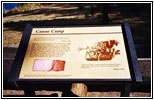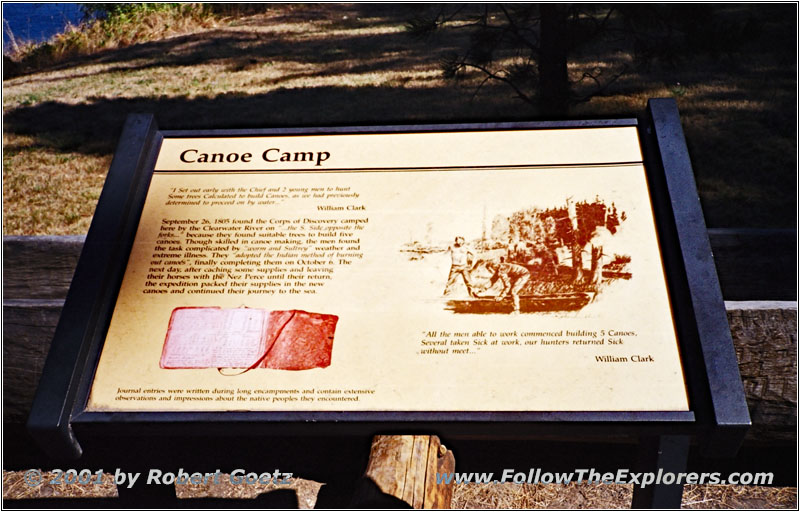 Marker Lewis & Clark Canoe Camp, ID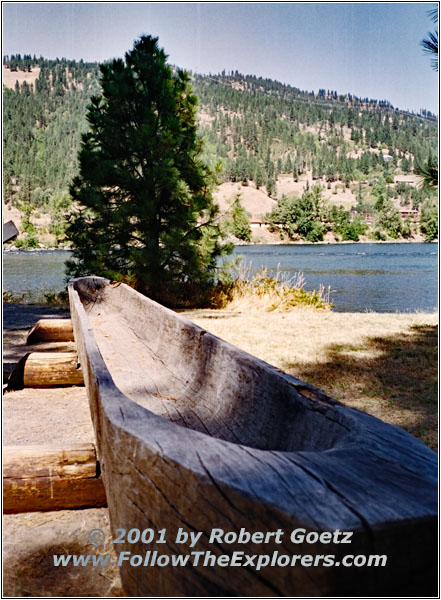 Lewis & Clark Canoe Camp, ID
I follow Highway 11 from Weippe Prairie down to the Clearwater River. From there I follow Highway 12 to Canoe Camp. There is a replica of the canoes to see with some historical markers. When looking at the Clearwater River I get a good impression of the further journey down the river.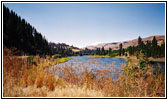 Clearwater River, Highway 12, ID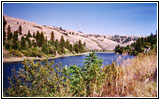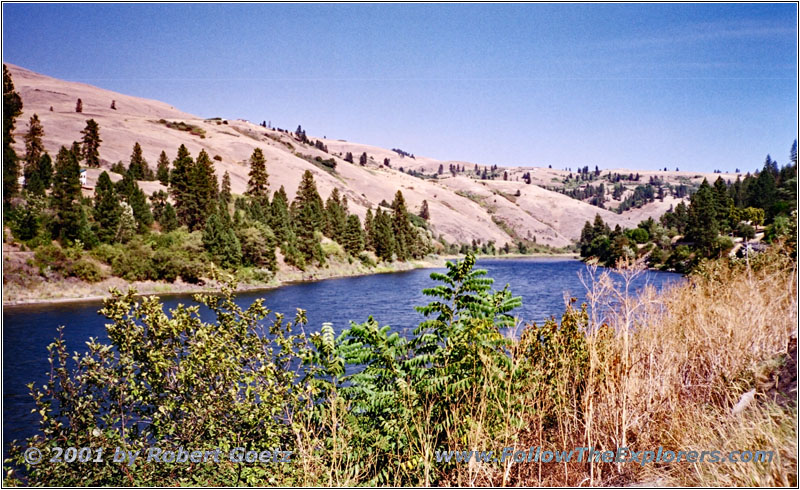 Clearwater River, Highway 12, ID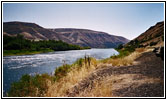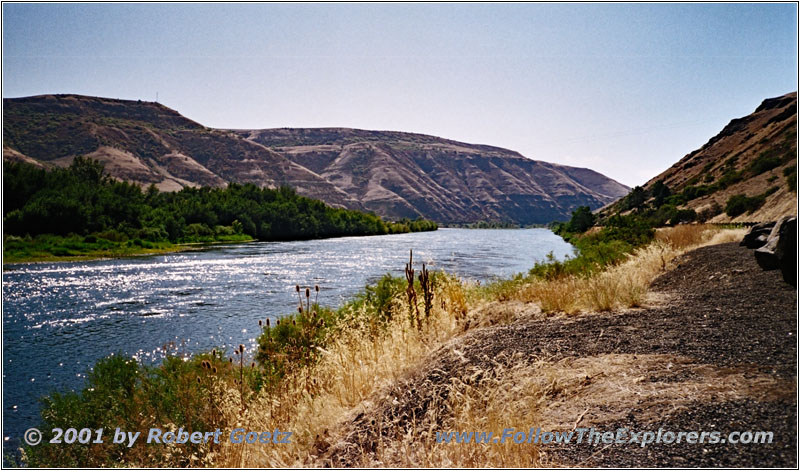 Clearwater River, Highway 12, ID
I follow Highway 12 until I reach my destination of today, Clarkston. I am already checking in at half past three local time at the Motel 6. I have not set my watch to Pacific Time when I have crossed the Lolo Pass. This makes it easier for me to return to Mountain Time Zone later. It's already half past four on my watch. I was not sure when I showed up to check in if they are willing to give me a room due to how I looked after a couple of days in the wilderness. But it seems they are already used to people like that.
After I have moved my stuff into my room (this time on first floor!) I jump into my shower first. This is the first time I see that water running down from my body changed its color. The dust on the road has left traces on me and also on my shirts. Hopefully I have a chance to get them clean again.
After the shower I feel like being born again. Now I don't need my cap from Terlingua to hide my ugly hairs. But I am already thinking of my way back. And I also need a nice restaurant for dinner. I don't want to go to the sports club again, where I have been last year.
But first I drive over to Wal–Mart. I buy something to drink and a new telephone card. There is still enough food in my truck. I bought plenty before I started the trail. I still have food for three days left. This should be enough for just one night in the wilderness.
After shopping I start my search for a restaurant. I end up in a Mexican Restaurant called El Sombrero. There are a few cars in the parking lot, which is usually a good sign. The inside has a real nice mexican decoration. I decide to take something with steak from the menu. And the size of my dinner is really big — like in most of the mexican restaurants. Even after a couple of days without real great food I am not able to eat everything. But I feel much better now than yesterday evening. It looks like I have past this cold with the help of my Aspirin and this real great dinner. Tomorrow I can start aboslutely refreshed for the next part of my journey.
I leave the restaurant a quarter past nine local time. I listen to the radio when driving back to the motel. Hopefully the weather will stay nice for the next days. The weather forecast is talking about rain for tomorrow. We will see…
Sights
Lewis & Clark Grove Camp
Weippe Prairie
Lewis & Clark Canoe Camp
General
Breakfast: Camping, Lolo Motorway
Dinner: El Sombrero, Clarkston
Motel: Motel 6, Clarkston
Distance: 121 miles