Lewis and Clark Trail Back Home 1805 — 1806
Day 18: August 29th, 2001 Lolo Motorway — Missoula
Today will be my last day in the Bitterroots. I start my usual camping routine by heating up my water for the coffee and prepare my jelly bread for breakfast. Today it is again very cool in the morning. And there is frost on my tent!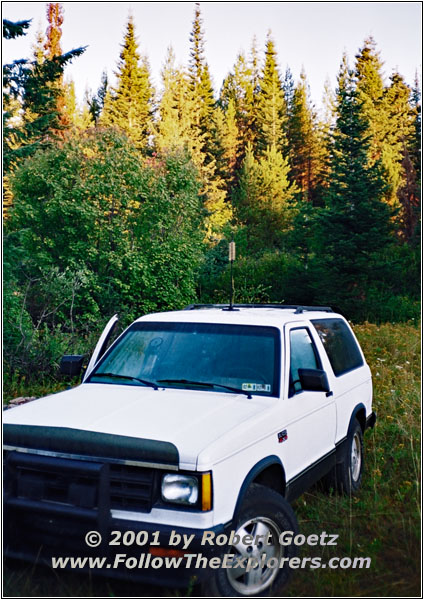 88 S10 Blazer, First Campsite at Lolo Motorway, FR485, ID
This is the tribute to the rain yesterday in the late afternoon. Now the air has condensed during the night. This forces me to dry the tent in the morning sun before I can leave and gives me a huge delay.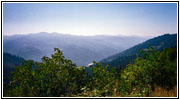 Bitterroot, Lolo Motorway, FR101, ID
First I drive on FR485 back to the Lolo Motorway. Then I follow the Motorway to FR101 which will take me down to Highway 12. This is the fastest route to reach FR109. The Lewis & Clark Trail was different on their way back and FR109 follows the original route closer.
But I have to drive through the mountains on FR101 for quite a while. At least the road is in good condition and wide. Every now and then I have great vies of the Bitterroots around me. Eventually I am back on Highway 12 again.
I follow the highway along the Lochsa Valley until the ascent to the pass starts. Even along this highway are many nice places worth a brief stopover. Just when the ascent has started I have to stop for a huge road construction zone. After 10 minutes of waiting I am able to proceed. And it takles a while until the congested cars start to spread apart. On my way up I encounter a warning sign for a wildfire. Hopefully this fire is not in the area where I plan to go!
I take the exit to the Range Station. I keep my promise to stop by on my way back. But the Ranger Station is extremely busy. Almost the whole parking lot is full of cars and fire trucks. Also within the building is a lot going on. I ask for Roy at the reception and the lady starts to look for him. When she comes back she tells me that I should just go along the aisle to the last room on the left. This is his office. When I enter his office I see that he is really busy, too. He tells me that they have a huge fire on the other side of the mountain. All the time the telephone is ringing. He is really busy and we don't have time for brief chat. But at least I am able to get his email and I promise to write him a message when I am back home.
Then I move on, because I plan to be in Missoula tonight. This time I don't take FR568 to the Motorway but FR569. This is the forest road which is usually suggested as a starting route for the Lolo Motorway. And now I know why: The beginning is almost like a paved road.
Suddenly I see a Semi–Truck in the mirror. I want to go slow to have time for movie and pictures. Therefore I pull over and let the truck pass me. I wait a while until the dust is low again. Then I drive on to the ridge.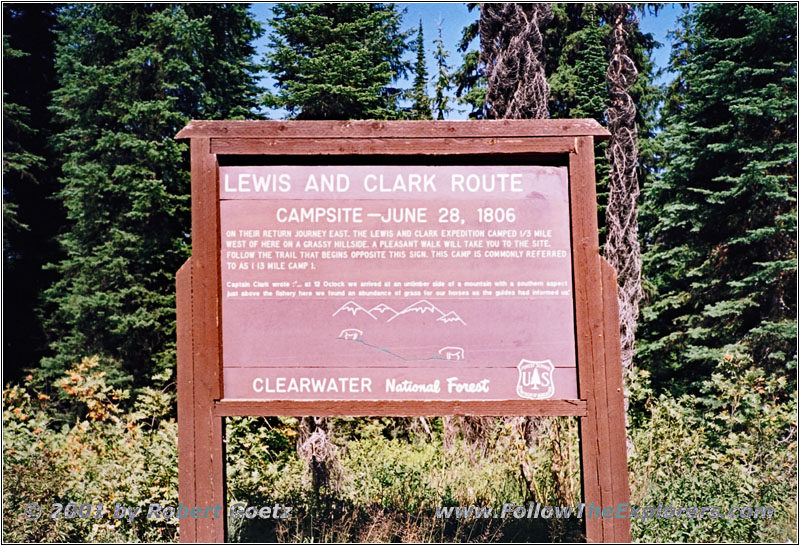 Marker Lewis & Clark 13 Mile Camp, ID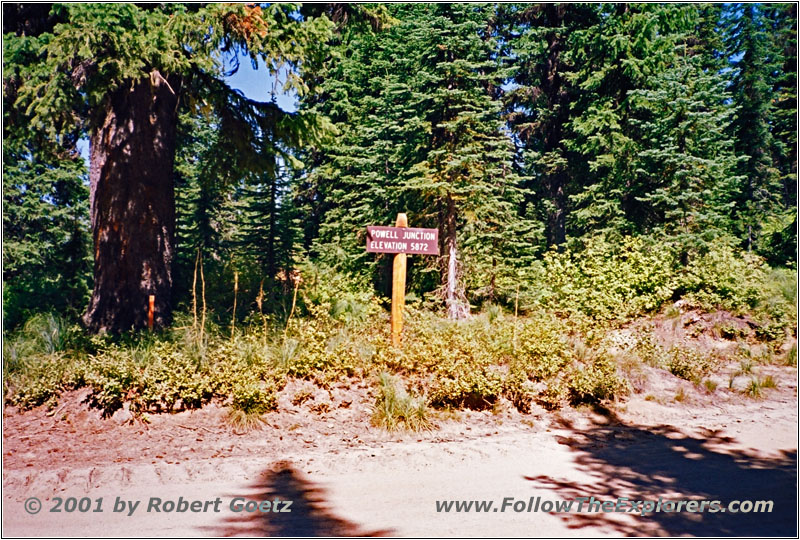 Sign Powell Junction, Lolo Motorway, FR500, ID
There are also great views from this road. I reach 13 Mile Camp of the Lewis & Clark Expedition. They camped here in 1806 on their way from the Pacific. Then I head on to Powell Junction to reach FR500.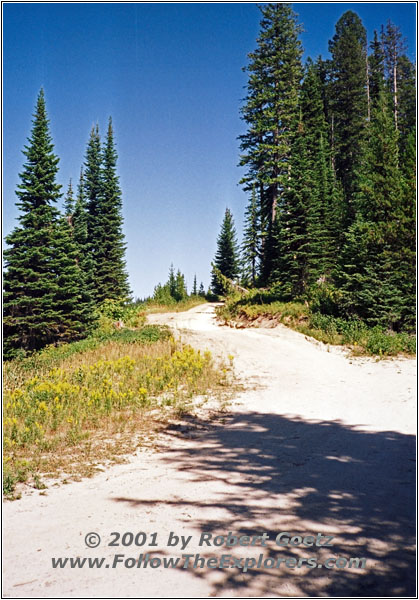 FR500, ID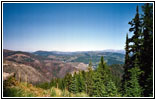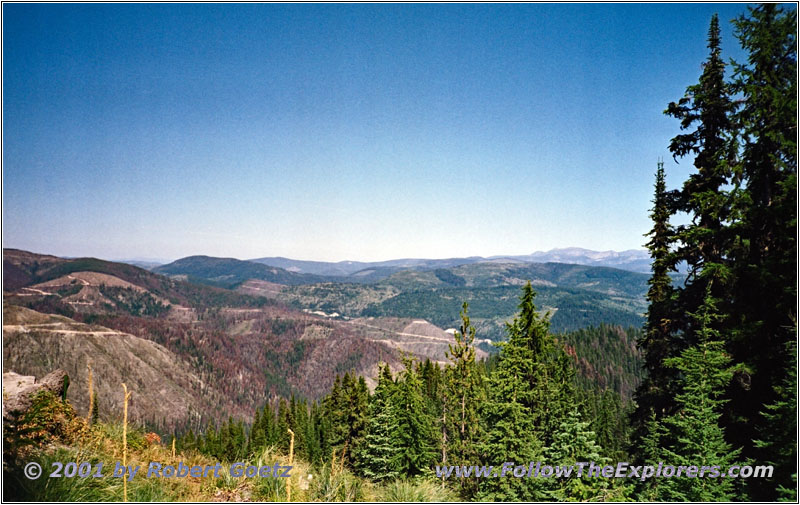 Bitterroot Range, FR500, ID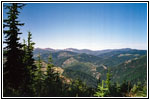 Bitterroot Range, FR500, ID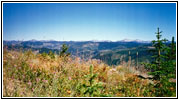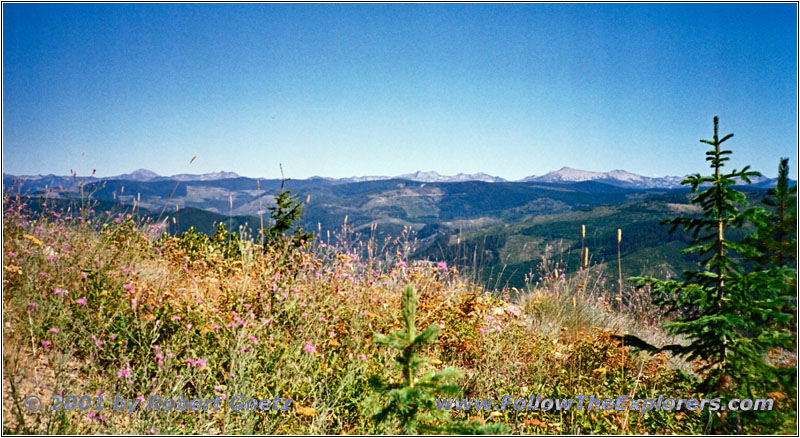 Bitterroot Range, Rocky Ridge Lookout, ID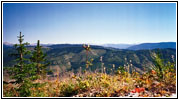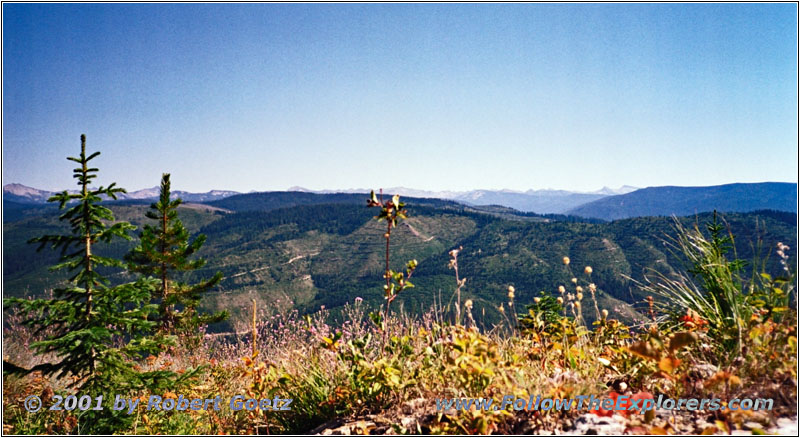 Bitterroot Range, Rocky Ridge Lookout, ID
I follow this forest road to Rocky Ridge Lookout. This is the end of the road. But there are again magnificient views of the Bitterroot Mountain Range. Then I have to drive back.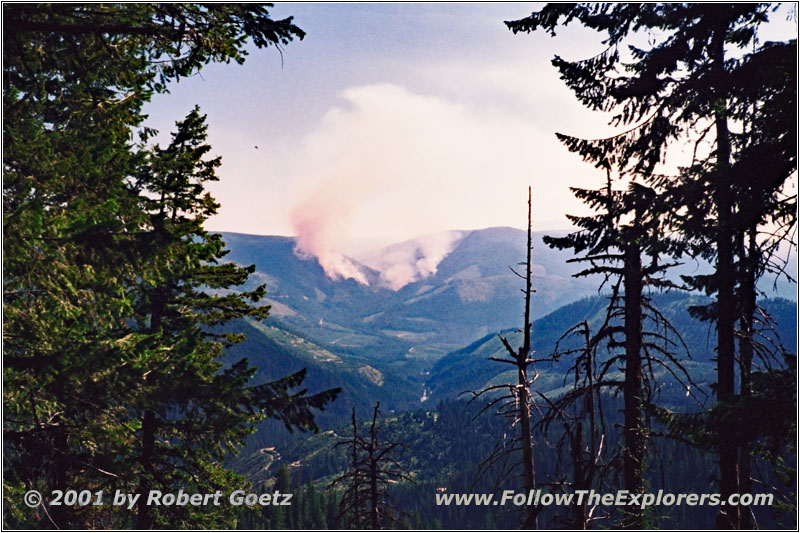 Wildfire, Rocky Ridge Lookout, ID
On my way back I have a good opportunity to see the wildfire on the other side of the mountain range. It has really grown big. Hopefully the firefighters will be able to distinct the fire soon.
I drive a little bit back until I reach a crossing. I try to shortcut a bit even when my map shows this road will end. But the other road I was following was shown that it will go through but has ended at the lookout. Therefore I hope there is a mistake in the maps and this road will take me out. But this was a huge mistake. The road degrades really fast.
Suddenly a big rock is laying in the middle of the road. My truck is small enough to squeeze by. But after a couple of minutes of driving I am at the end. Unfortunately there is no chance to turn around on the whole road. It is simply too narrow. And the slope is extremely steep beside the road. This forces me to back up for a very long distance. Then I reach a curve which looks just big enough to turn my small truck around. But it is still extremely risky. Just to be sure I put in 4WD. In case I will run over the edge I might have a better chance to get back on the road. All in all I don't really feel comfortable and I am extremely happy when the truck is eventually standing in the right direction.
Then I have to squeeze me again beside the rock. I am sure, it would have been almost impossible to do so while backing up. Then I am back on FR500. I also have to drive this road all the way back to Powell Junction. There my third alternative route FR109 starts. I hope this road will take me all the way down to the highway.
There is a warning sign for a past wilfire at the beginning. There might be some fallen trees in this area. But everything looks good. On my way east I have been driven through a much worse burned area. And there was no warning sign — weird.
I make good progress on FR109. The road is in some areas very steep and dusty. But it is still good to drive. Again I am able to enjoy great vies of the Bitterroots. Who knows when I will be able to be back in this area again!
I am back on the highway late afternoon. The gas gauge starts to worry me. There is not much gas left. But I have plenty of spare with me and it will be no issue if I would really run the gas tank dry. Additionally there are no gas stations around. The next is in Lolo! And it takes me another hour until I reach Lolo in Montana.
I arrive in Lolo around 6pm and fill up my gas tank. I am able to put 17 gallons in which shows me, I was almost empty. Then I drive on to Missoula. Hopefully I am able to get a motel room. I know from the past that this Motel 6 books really fast. Originally I planned to call ahead from the Ranger Station and make a reservation. All the booking hotlines are toll free and so I hoped it will not be an issue. But they were so busy due to the wildfire that I didn't wanted to bother them with my personal things. Fire issues have priority!
I arrive in Missoula half an hour later. I am lucky at the motel. They have nothing left on the first floor, but they still have rooms on second floor. This is no problem as this is one of the rare motels with elevator.
I complete my check–in and put my stuff in my room. Then it's time for a shower. I was just one night in the wilderness but I am sure a shower won't hurt. Absolutely refreshed I start my way to Outback Steakhouse. I am glad that they are open longer than the usual restaurants. Usually it is difficult to find something past 9pm in the US if you don't want to end up in the fast food chains…
I have again my 12 ounce Outback Special. I pay my bill around a quarter past nine and drive back to my motel. I try to catch up with all my video taping from the last days in fast forward. I have to start. Otherwise I will not be able to catch up again. I am finished around half past twelve. Let's see when I will wake up tomorrow. At least I don't have to search for breakfast. The Cracker Barrel ist just next to the motel.
Sights
Lewis & Clark 13 Mile Camp
Rocky Ridge Lookout
General
Breakfast: Camping, Lolo Motorway
Dinner: Outback Steakhouse, Missoula
Motel: Motel 6, Missoula
Distance: 148 miles