Lewis and Clark Trail Back Home 1805 — 1806
Day 17: August 28th, 2001 Clarkston — Lolo Motorway
I had a nice breakfast at the Waffle House two years ago. Therefore I want to have breakfast there again. I pack my stuff toghether, check out and drive to Lewistown. I hope that I will find it again. And I almost miss it. I discover it just in time and drive into the parking lot. The interior looks exactly like two years ago. Even the waitresses are short in words like back then. Ok, I have to admit they are really busy right now.
After my big breakfast I head on to the wilderness. But first I need a stop at the gas station. I didn't needed the spare gas cans yet. My car needs less gas than expected. I calculated my gas consumption back home and it looked like I made more than 10mpg while offroading. Not too bad considering the road, the weight of my little truck of almost 2 tons and an old 4.3l engine.
After my stop at the gas station I drive on to Wal–Mart. I haven't seen the drinking water yesterday. When I left the store I saw the shelfs at the exit. There was my water and also ice for my cooling box. I pick these two things and go to the counter.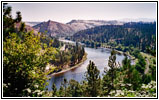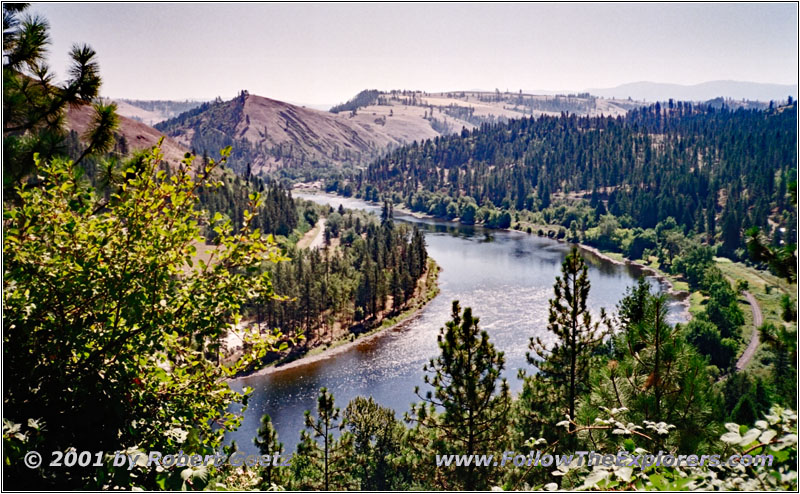 Clearwater River, Highway 12, ID
Then I am back on my way to the Lolo Motorway. First I follow again Highway 12 along the Clearwater River to the east up to Kamiah. There should be the Lewis & Clark Long Camp. They had to wait on their way back at this spot until the snow has melted enough. They did a first approach against the advice of the Indians. But it didn't took long until they got stuck in more than 3 foot of snow and they had to turn around. One month later they were able to proceed under the guidance of the Indians.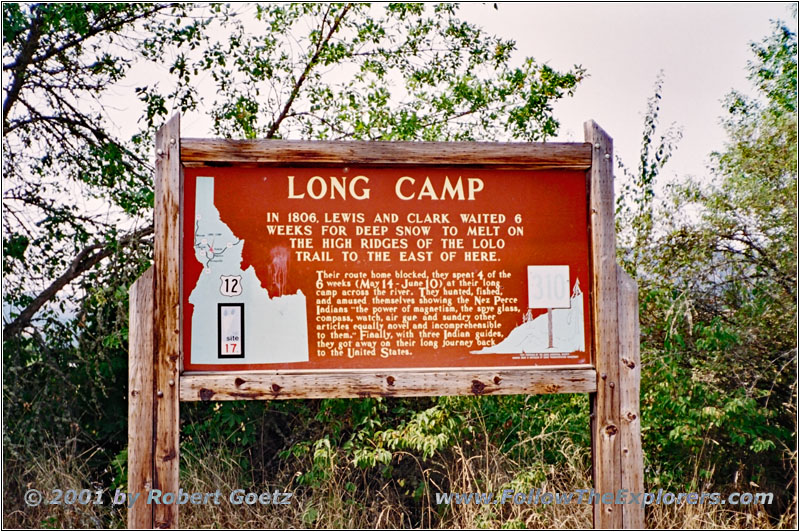 Marker Lewis & Clark Long Camp, ID
Finding the Long Camp is more difficult than expected. There is the wrong place shown on my map which caused me to search on the wrong side of the river. It takes a while and several miles driving around until I eventually discover the spot.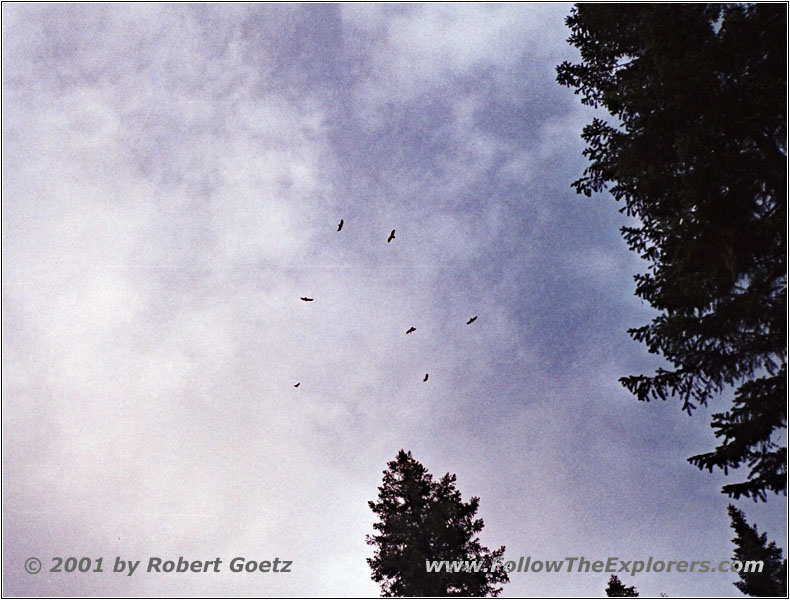 Eagles FR100, ID
Then I drive out of the valley and up the big plane in front of the Bitterroot mountain range. The roads are pretty good. Even when I reach the Clearwater National Forest boundary I still have paved roads. Way up in the sky I see a bunch of eagles circling around.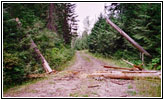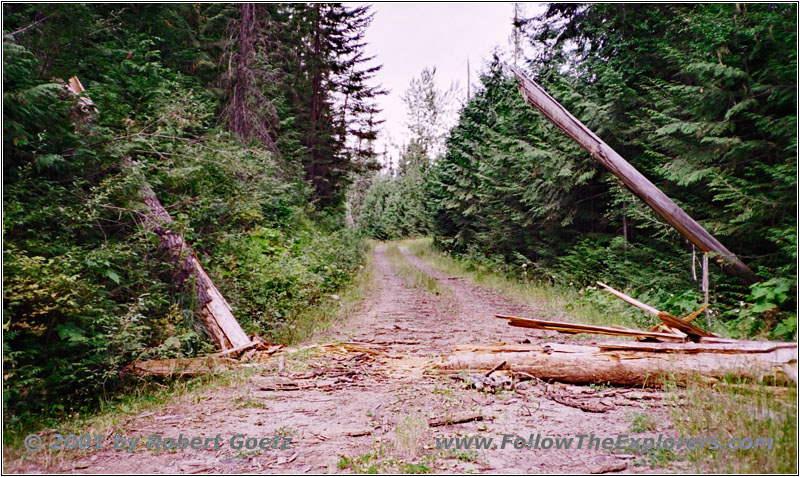 FR5122, ID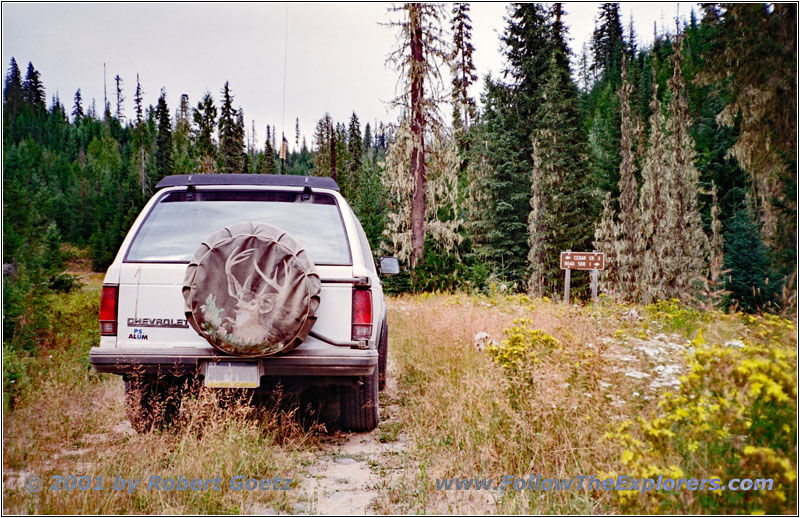 88 S10 Blazer, FR5122, ID
It doesn't take long until I am back on the small forest roads. On my way back I try to follow a different route to the Lolo Motorway. On my way west I stayed north to the original Lewis & Clark Trail where I was not able to follow the exact trail. Now I try to be on a southern route.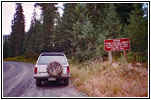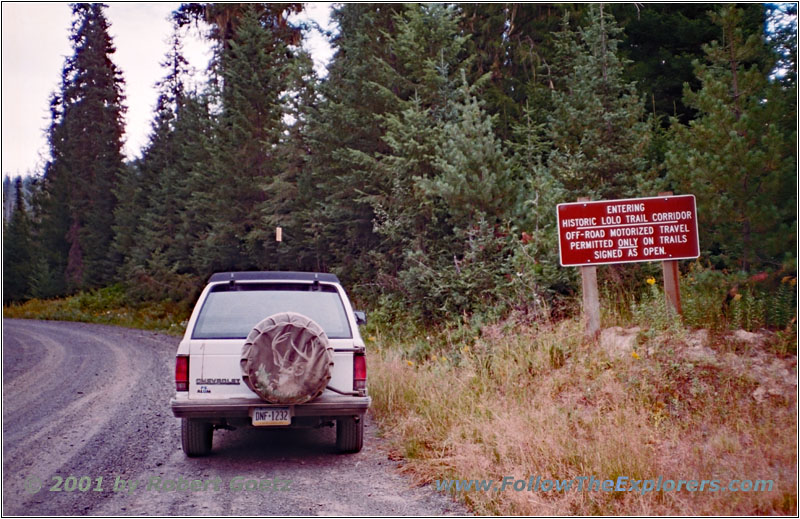 88 S10 Blazer, Lolo Motorway, FR500, ID
When I reach the small wooden bridge on FR500 I see a parked service truck on the bridge blocking the whole way. I check with the workers and they tell me they are almost done. They just have to load the truck. I start a nice conversation with them and they tell me they had to replace some of the boards because they were rotted. Hmm, I have been on this bridge just yesterday…
The nails they use are very impressive — and are way more than "just" nails. They almost look like something used to hold rails in place…
One of the workers has been in Germany in the 60s. He was there with the army. Now his task is to maintain the forest roads and bridges. They have to cover an area of several hundred square miles. They have also been on the Lolo Motorway with their trucks many times. When looking at the size of the truck it looks not like an easy task. Another one tells me that he had been on the Motorway with a trailer full of logs. Another time they had to travel the whole Motorway of 70 miles length within one day! This is pretty amazing.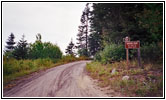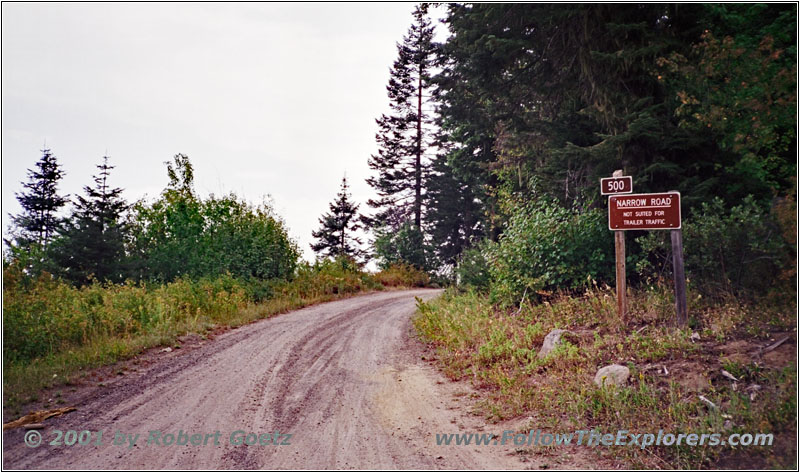 Lolo Motorway, FR500, ID
After a while we say goodbye and hit the road in opposite directions. My destination is the Hungery Creek area. I hope the roads are not too bad today, because there was a little bit of rain in the afternoon. But when I reach the Motorway everything is fine. I don't even need 4WD. But I still need some time to reach the hiking trail to the Hungery Creek area.
Originally I planned to hike down to the creek and drive on to the campsite on my way west. There would also be the chance to hike down tomorrow. While I am thinking about my options I encounter an established fireplace at this location. It is in the middle of the gras. But the gras does not look dry and I think this should work out to camp here tonight.
I decide to hike down to the creek today. If the hike will take too long I still can turn around and do the whole hike tomorrow. I put my camera on the tripod and pick up my photo. Then I start the descent. The hiking path is pretty overgrown. There are probably not too many people hiking down here. At some spots the path is really steep and I have to be careful to not slide down on the wet ground.
It only takes me a quarter of an hour until I am at the bottom and reach Hungery Creek. I take some pictures and do a little bit of video taping. Then I start the ascent. This takes me a bit longer but all in all I needed way less time than expected. Tomorrow I can directly drive back to Highway 12.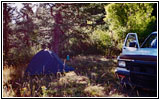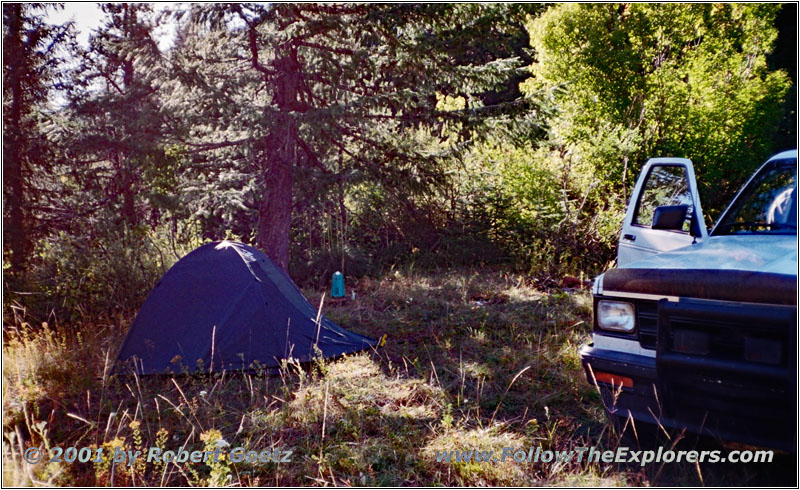 First Campsite Way Back at Lolo Motorway, FR485, ID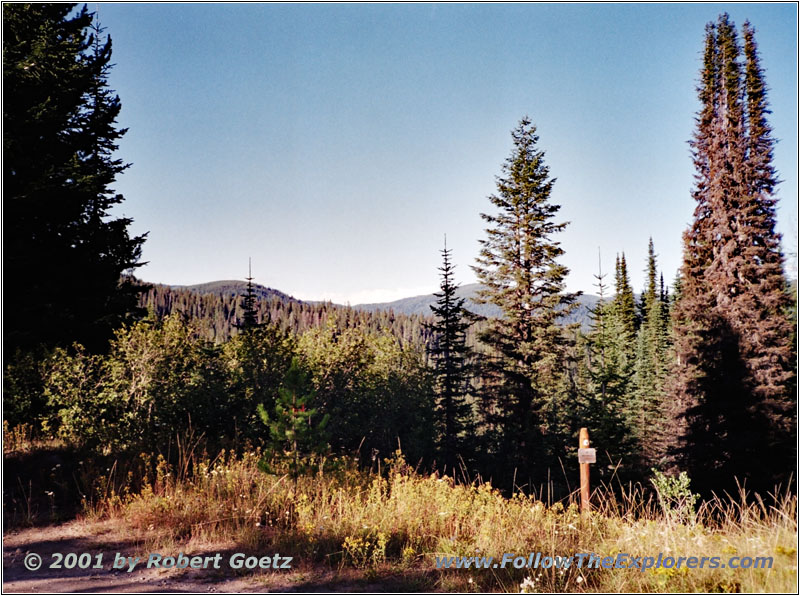 Bitterroot Range, First Campsite Way Back at Lolo Motorway, FR485, ID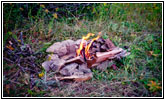 Fireplace First Campsite Way Back at Lolo Motorway, FR485, ID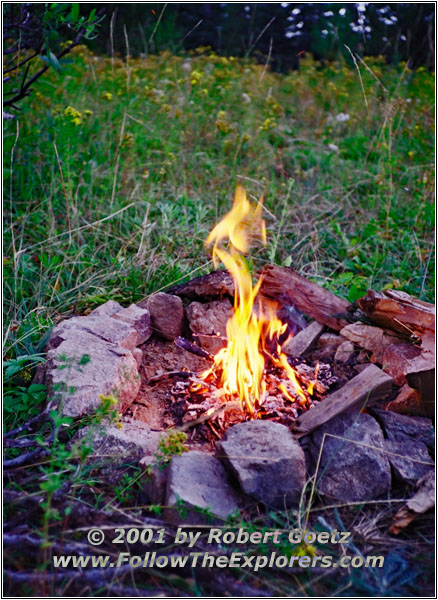 Fireplace First Campsite Way Back at Lolo Motorway, FR485, ID
When I am back at my car I start to pitch up my tent. Then the usual camping routine starts again. Start the stove, prepare dinner, doing dishes. In the meantime taking care of the fire and do video taping and take pictures of the sunset. When it's getting dark I also run out of firewood. This means I have again no chance to write my postcards. I brush my teeth and enter my little tent. Just when I crawl into my sleeping back I hear a car driving by. It passes my side and drives on. I assume they will drive to the spot I have been two days ago.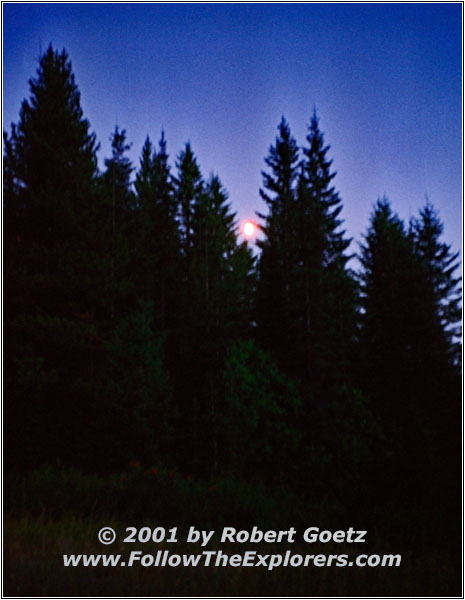 Moon, First Campsite Way Back at Lolo Motorway, FR485, ID
I wake up in the middle of the night because it is getting cold again. First I think the sun is already rising. But it is one o'clock. When I open my tent I see it is full moon. And the moon shines extremely bright. I crawl back into my sleeping back and fall asleep soon. I am glad that I have left on enough clothing this time.
Sights
Lewis & Clark Long Camp
Lewis & Clark Hungery Creek
General
Breakfast: Waffle House, Clarkston
Dinner: Camping, Lolo Motorway
Motel: First Campsite Way Back, FR485, Lolo Motorway
Distance: 142 miles