Lewis and Clark Trail Back Home 1805 — 1806
Day 19: August 30th, 2001 Missoula — Lincoln
I am checking out a little bit late and drive over to the Cracker Barrel. Now it's time for my real big breakfast. I pay at a quarter to nine and start my trail of today. This time I can skip the stop at the gas station, because I have only driven this short distance from Lolo to Missoula yesterday. There should be enough gas left for my todays trip.
I am following now the trail of Lewis' back. Just as a reminder: Lewis and Clark separated at Travellers Rest. Lewis should take the shortcut they have learned from the local Indians. Then he planned to explore the route of Marias River. Clark should go over Gibbons Pass and should cross the Continental Divide on another new shortcut.
I follow Lewis' Trail first along Clark Fork. Highway 200 follows the bank of the river pretty close which was exactly Lewis' route. At Milton the trail follows the Blackfoot River. Eventually I discover two crossings were I can leave the main highway and drive on my smaller gravel roads. Around 2 miles past Twin Creeks Ninemile Prairie Road leaves the highway to the north and follows the river very well. First I miss the branch because there is a construction zone. It takes a while until I realize that I have missed it. But on my second attempt I am on the back road.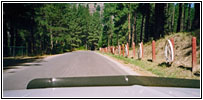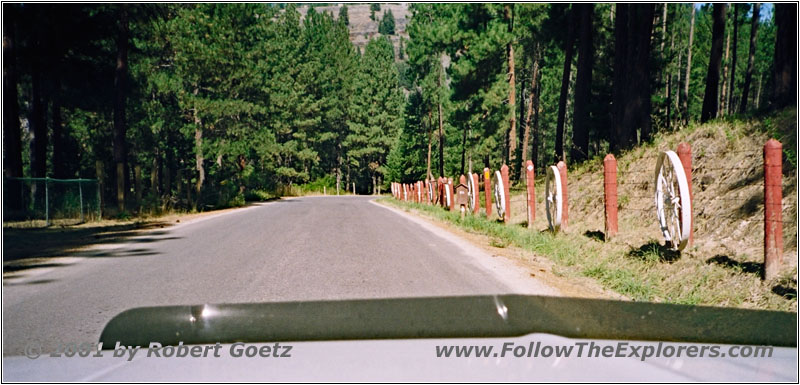 Ninemile Prairie Road, MT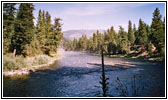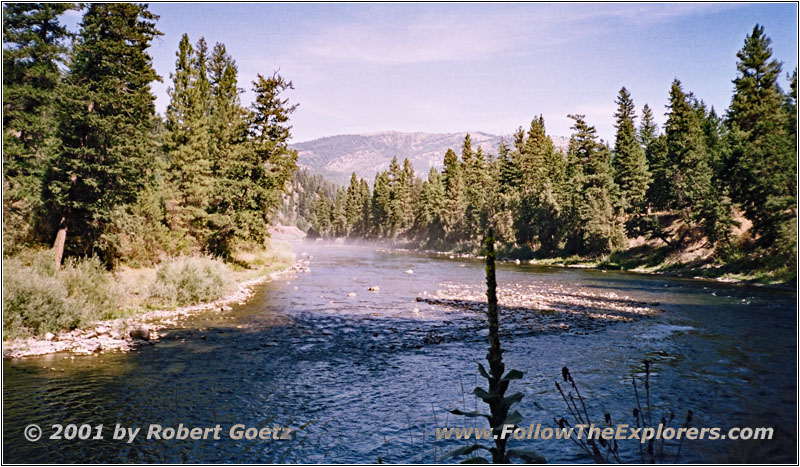 Blackfoot River, Ninemile Prairie Road, MT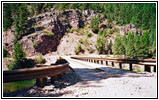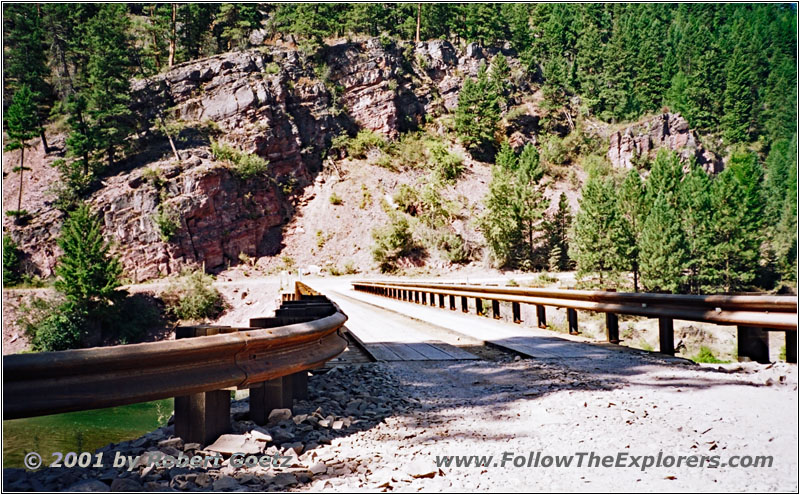 Whitaker Bridge, Ninemile Prairie Road, MT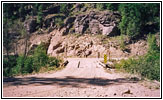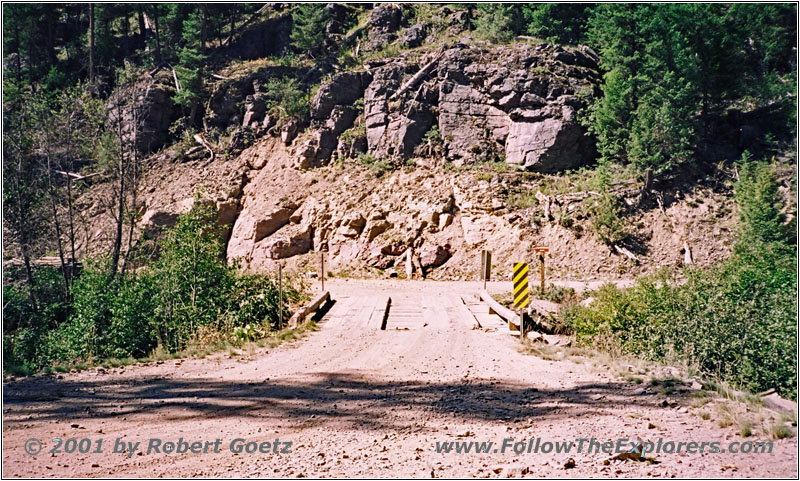 Ninemile Prairie Road, MT
This road runs along the banks of the river and gives great views of the river and the surrounding mountains. There are also some nice bridges over the Blackfoot River and small creeks.
After a longer ride on this road I am back on Highway 200. I follow this highway to the south until I reach the crossing to the Sunset Hill Road just before Greenough.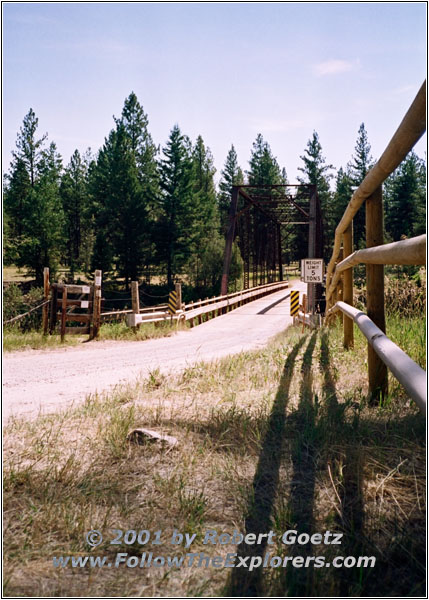 Bridge over Blackfoot River, Sunset Hill Road, MT
I spend the next couple of this miles on this backroad. The bridge designer have been so nice to also place nice bridges along this backroad. I am always impressed by these metal buildings!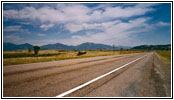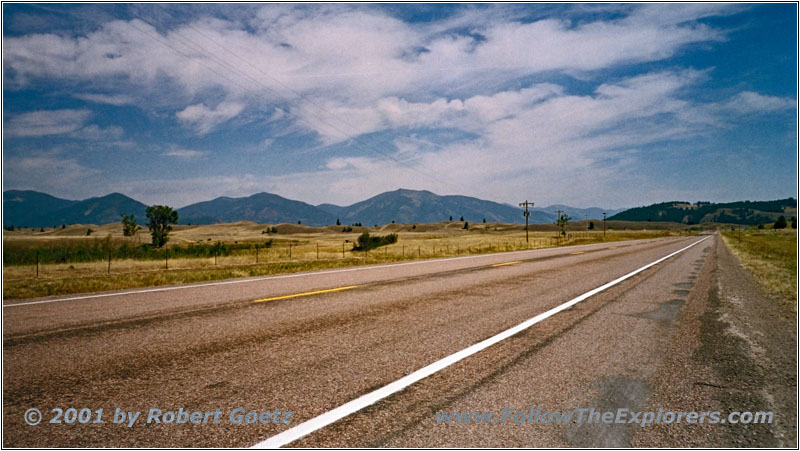 Highway 200, MT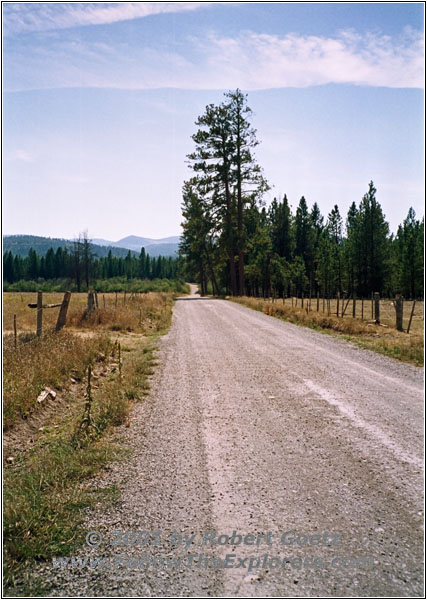 RD110, MT
The next branch from Highway 200 is to RD110. I follow this backroad almost an hour through wide open plains and small hills. But suddenly the road ends with a road closed sign — great, why was there no sign at the beginning of the road?!
Now I have to drive the whole road back, because there is no chance to reach Highway 200 in between. After another hour I am back at the spot I have been two hours ago. I am slowly running out of time. Especially where I don't know if I am allowed to drive over the Lewis & Clark Pass by car.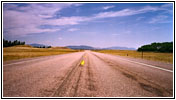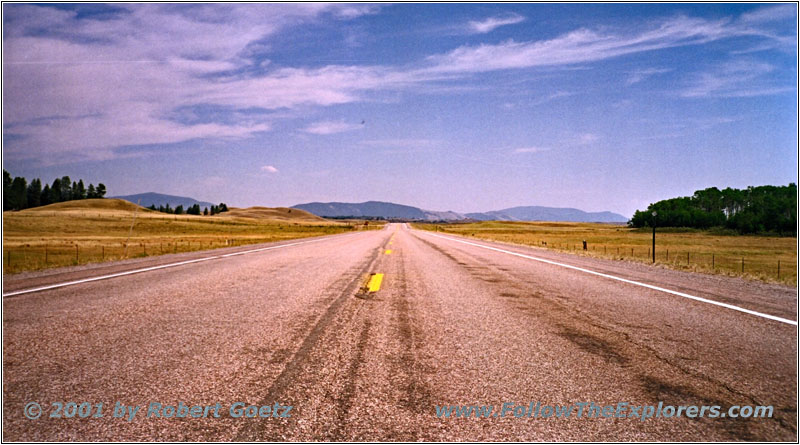 Highway 200, MT
Around 4pm I reach the small town of Lincoln along Highway 200. There is a Ranger Station of the Helena National Forest. I want to buy a map there to check if I can cross the pass by car. Looking at the map is a big disappointment. It is only possible to cross this pass by foot!
Therefore I decide to look for a motel in Lincoln. I hope I will find one there. On my first drive through this little town I saw the Three Bears Motel, which looked really nice. If I don't find something more promising on my way back I will take this one.
When I arrive at town the school is just out. But it is only a small town and the traffic does not really increase much. Eventually I am back at the Three Bears Motel. First I want to take a look at the rooms. They are nice, not fancy but clean. Only the shower is running a little bit. But that is not an issue for me. I take the room and unload my stuff. I ask for a nice place for dinner and they recommend the Stonewall Steakhouse. But before I go there I take a look at my video taping of today.
After checking my video I drive to the Steakhouse. It is located a bit outside of town to the west. I almost think that I have missed the crossing, but then I see the sign on the left. A gravel road takes me to the building. Let's see where I have ended up here. When I arrive there are only two old trucks parked in front. I park beside them and enter the Steakhouse.
The interior surprises me. Everything is set up very nice. The server tells me that this was once the quarters for the loggers. When they have left the building has been remodeled to a steakhouse with bar many years later. I have to admit that this remodeling was a big success. When looking at the prices at the menu I see that this is really one of the better steakhouses.
The steak is really great and worth every dime. Only my server is a bit slow. It looks like she is overstrained by serving just three tables. I am not able to order another beverage (I am lucky that they have put enough free water on the table) nor to get my check. It takes a while until I am able to pay. But it takes another eternity until I get my credit card back. Maybe it would have been better to pay cash. But I am running low on cash and I want to have enough for tips and breakfast.
I leave the steakhouse around half past nine. The dinner was great and so was the ambience. Only the server was really slow. Then I drive back to my motel. There is a long day waiting for me tomorrow and I plan to be up early.
General
Breakfast: Cracker Barrel, Missoula
Dinner: Stonewall Steakhouse, Lincoln
Motel: Three Bears Motel, Lincoln
Distance: 118 miles