Lewis and Clark Trail Back Home 1805 — 1806
Day 22: September 2nd, 2001 Great Falls — Hamilton
Today I will not be really traveling on my trail. I drive back to the starting point where Clark took a different route than on their way to the Pacific. But first I will have another breakfast at JB's before I drive on to the gas station.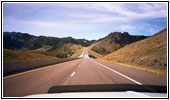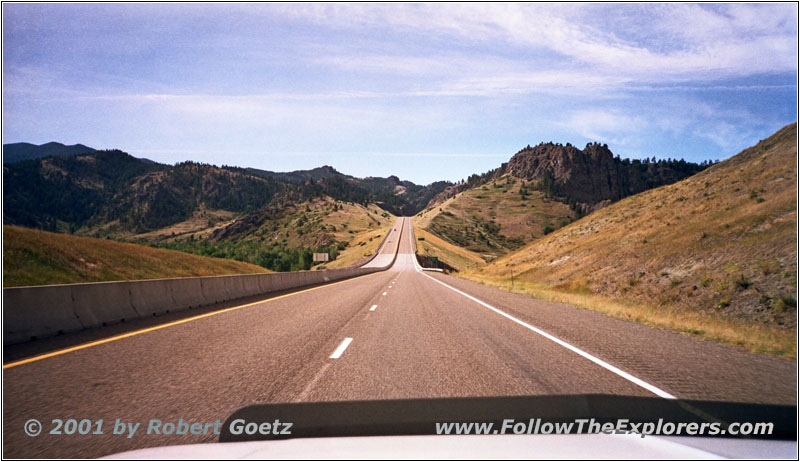 I-15, MT
I am on my way to I–15 at a quarter to ten. I follow this Interstate to the south until I reach Butte. There I–15 unites with I–90. I–15 follows my trail along the Missouri to Three Forks from two years ago. I am also now familiar with I–90 as this was the one I was driving on at the beginning of my trail to Missoula.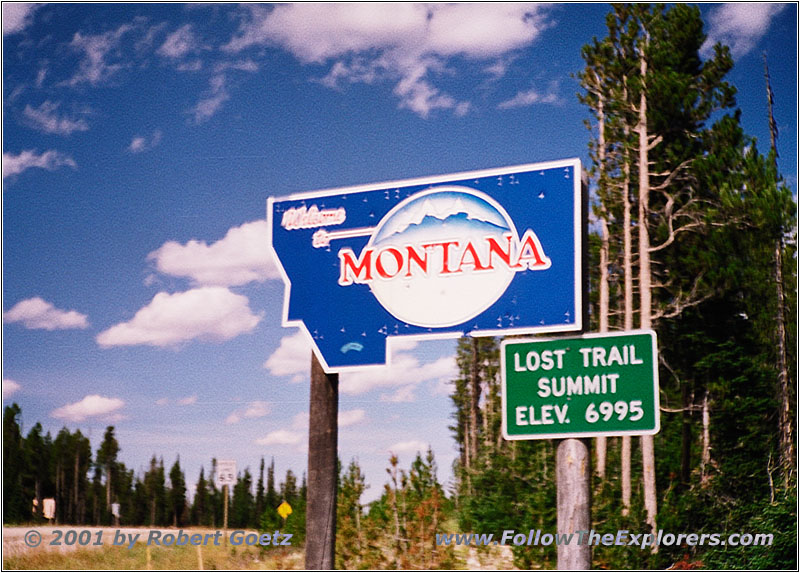 Lost Trail Pass, Highway 93, MT
Just past Butte I–15 turns again to the south. I drive on to the exit of Highway 43. This highway follows the Big Hole River and over Chief Joseph Pass to Highway 93. There is also the summit of Lost Trail Pass, where I have already been two years ago.
I follow Highway 93 down to Sula. My plan is to look there for a nice motel. But there is nothing that catches my eye. I take a look at my motel guide. There is a Super 8 in Hamilton, just half an hour away. That is probably the best place to go.
I arrive around 5pm. But even this early they are already sold with rooms on the first floor. So I have to drag all my luggage up the stairs again. I also asked for a nice restaurant and they recommend the Kennedy's. I leave after I have everything eventually in my room.
The way description is really good and I find the restaurant without searching around. But the parking lot is almost empty. But maybe I am too early. I enter the restaurant and encounter immediately that this is not what I am searching for. It looks more like a night club from the interior. But they also serve dinner. The menu looks more like fast food — and so does the food. But the price is reasonable. After I have finished my dinner I have to wait a long time until my server shows up again. I immediately ask for my check refusing another coke she offered to bring. She cannot believe this as the refills are free. But I don't want to stay here forever. After a while she returns with my check.
I think about paying with my credit card. But this would probably take again forever. Therefore I put my cash on the table and leave. My server is still not available. It looks like this was the worst restaurant on my whole trip.It is definitely not a recommendation for dinner. It is more suitable as a meeting point for the late night guys. But I am still amazed to see a restaurant with that kind of interior in Montana.
I am glad to be back in my motel. First I go through the movies of today. This time it is not this much and I have the chance to be in bed a bit earlier. This is good for tomorrow because I plan to drive over Gibbons Pass, another gravel road pass. And I have no clue how the road conditions are!
General
Breakfast: JB's, Great Falls
Dinner: Kennedy's, Hamilton
Motel: Super 8, Hamilton
Distance: 332 miles