Lewis and Clark Trail Back Home 1805 — 1806
Day 23: September 3rd, 2001 Hamilton — Dillon
I will have breakfast today at JB's next to my motel. The meal size is really enough and it tastes pretty good. I fill up my gas tank at the nearest gas station. A quarter past nine I am ready for the next portion of my trail.
I am following now Clark on his way from Traveler's Rest to Fortunate Camp. He also follows a shortcut from Gibbons Pass to avoid crossing the Lemhi Pass.
Highway 93 takes me back to the south until I reach the crossing of FR106. This forest road will take me all the way up to Gibbons Pass.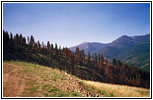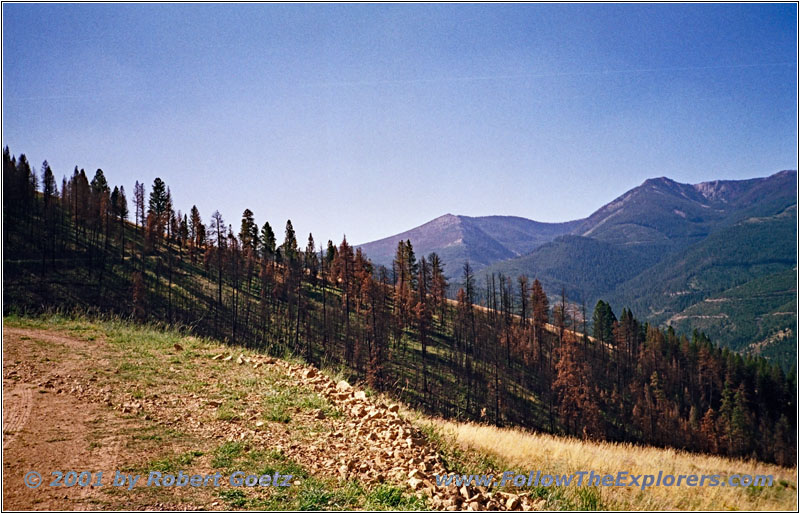 Bitterroot Big Hole Road, FR106, MT
On my way up I drive again through areas which must have been burned within the last couple of years. I made the right decision to not drive on these roads two years ago traveling with my rental car.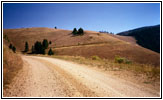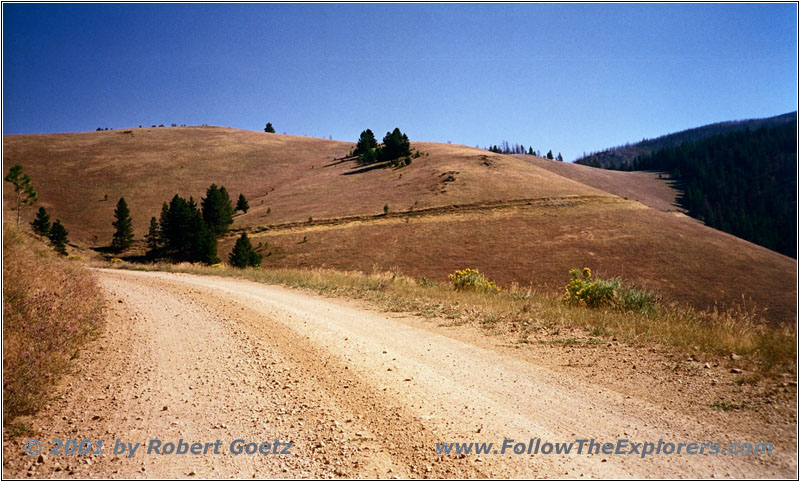 Bitterroot Big Hole Road, FR106, MT
The road is in a really good condition beside two spots. The forest road is narrow but it offers great views of the mountains and the valley below. It is really fun to drive there. From the slope I see Highway 93 way below meandering through the valley. I cannot understand how someone prefers the paved road over this gravel road.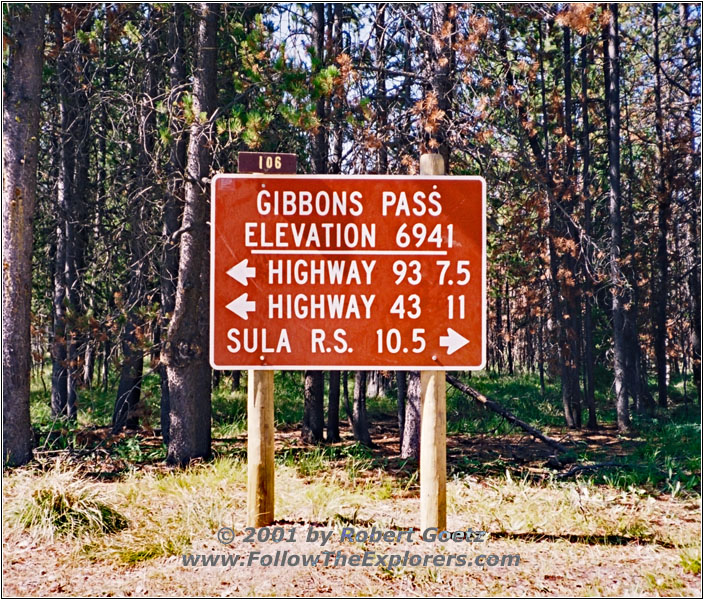 Sign Gibbons Pass, MT
It takes a while until I reach the pass. On the summit I take some nice shots of the pass sign. There is also a historical marker showing the importance of this pass in hiostory. This was once a major route over the Continental Divide. Also the wagon trails went over this pass.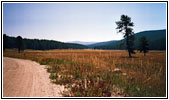 Bitterroot Big Hole Road, FR106, MT
I follow Clark's footsteps further on. The forest road takes me to a high plane which almost reaches the horizon. It is very impressive considering I am at a height of 6500ft. There is also a small creek meandering through the meadow.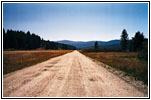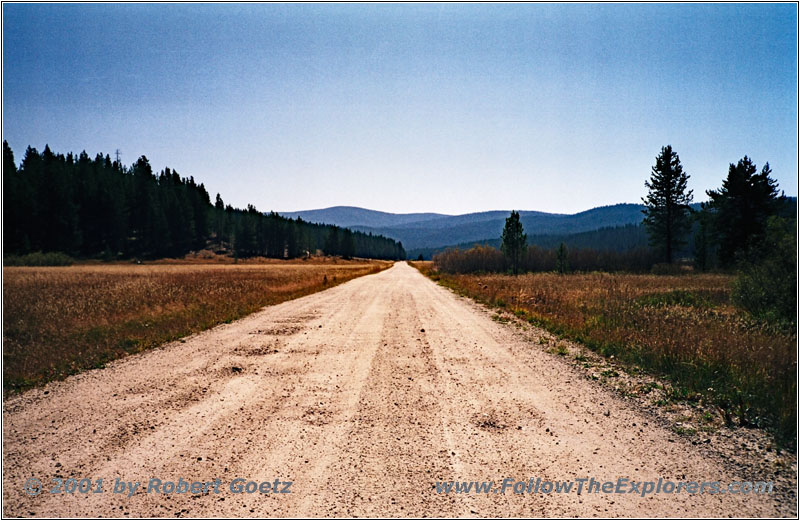 Bitterroot Big Hole Road, FR106, MT
I am able to spot some flyfisher. There are also a lot of campers at the campgrounds. I am sure there will be a lot more of them by this evening, because it is Labor Day weekend. This is one of the rare public holidays in the US.
At the end of my forest road I am back on Highway 43 where I have been yesterday. I am now driving back to Wisdom. There Highway 278 starts which I will follow to the south — still in the footsteps of William Clark.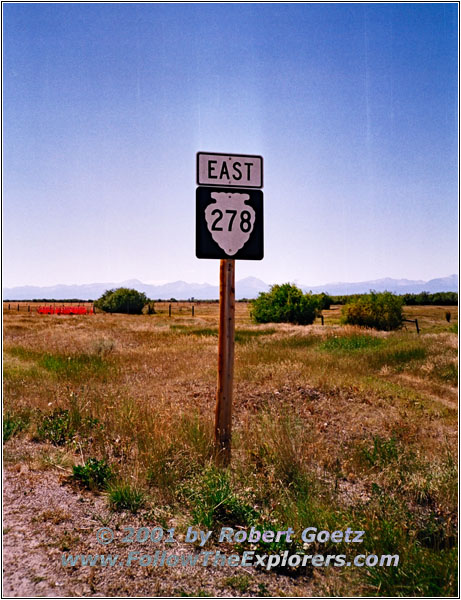 Sign Highway 278, MT
The highway takes me up to Big Hole Pass at 6900ft, also pretty high. Then I follow Highway RD5. This road passes Bannack, an old ghost town. I am pretty good in my schedule. Therefore I decide to make a stop over.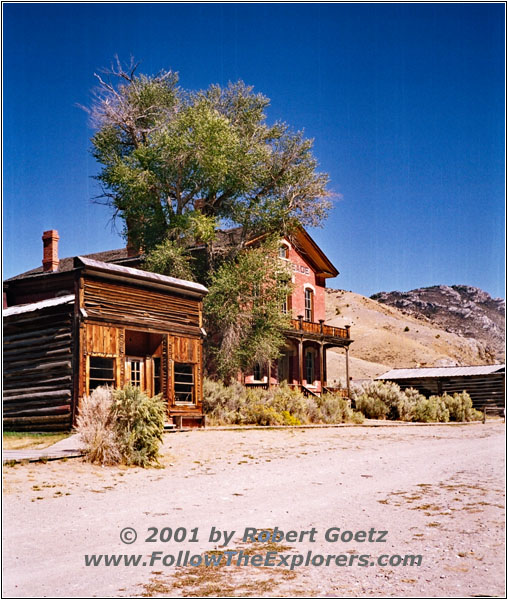 Ghost Town Bannack, MT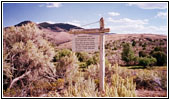 Sign Grasshopper Creek, Ghost Town Bannack, MT
The city originates from 1862 when John White found gold at the banks of Willard Creek — which he named Grasshopper Creek. The news spread around quickly and within a short amount of time the population growed to more than 3,000.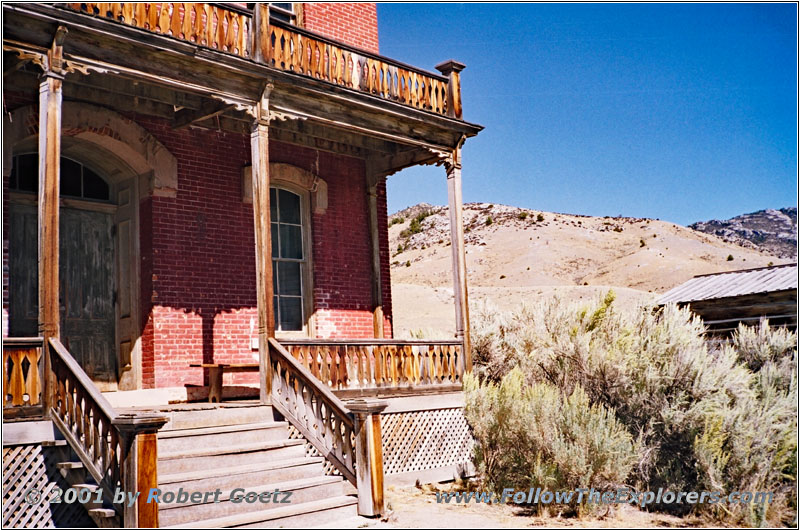 Hotel Meade, Ghost Town Bannack, MT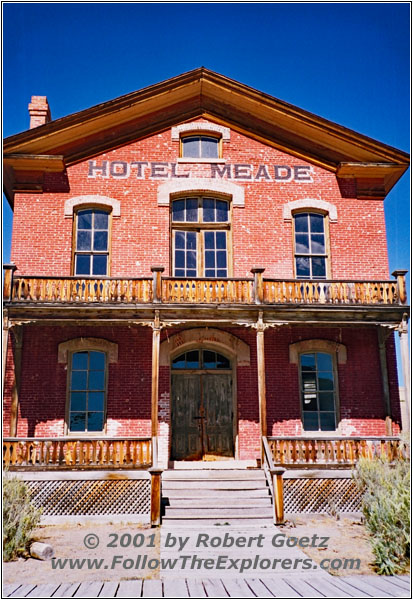 Hotel Meade, Ghost Town Bannack, MT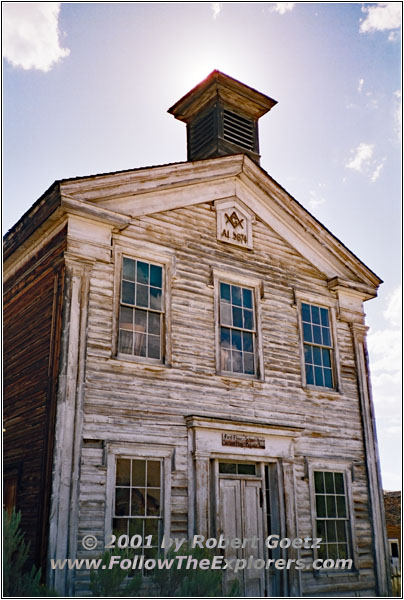 School House & Masonic Lodge, Ghost Town Bannack, MT
This was the foundation of the capitol and the beginning of Montana. In 1874 the school house was erected. Classes had been held for more than 70 years. In the beginning of the 19th century the city also had their own football team.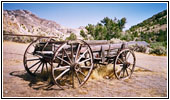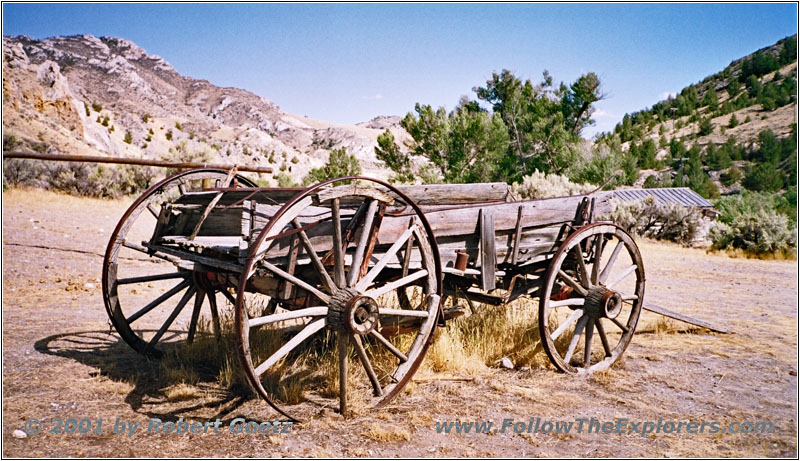 Wagon, Ghost Town Bannack, MT
But when the gold price declined and the mines ran dry, more and more people left the once blooming capitol of Montana. Between 1930 and 1940 the city degraded to a ghost town. But within the next decade citizens of Bannack and Dillon tried to maintain the former capitol. Within the next couple of years the main buildings have been restored.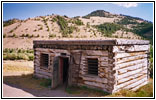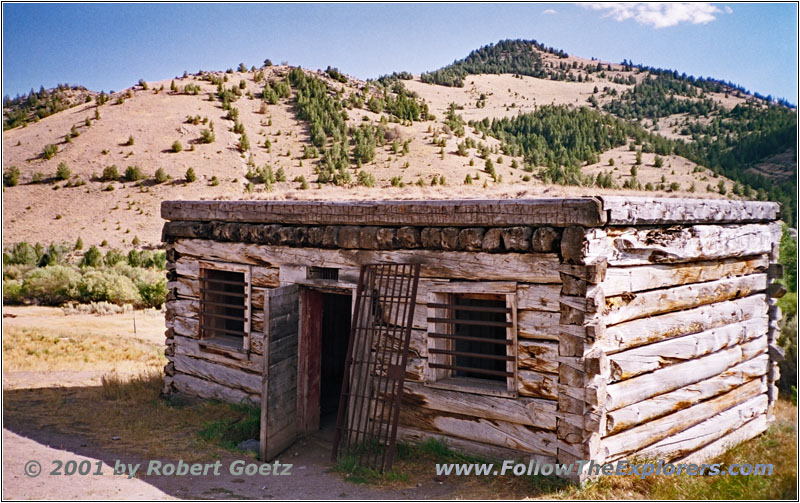 Jail House, Ghost Town Bannack, MT
If you visit the city today it looks like it is in a controlled deterioration. The building are partly decayed, some iron panels move in the wind and the floor in the buildings groan with every step. The wind blows through the rotten timber. If there would not have been so many tourists around you could think you are in a true ghost town.
I am spending way more time here than originally planned. I run out of rolls and tapes for foto and video. I also encounter that I get a sun burn, because I forgot to put some sun screen on. But now, after two hours, it's too late. Back at my car I need something to drink first. Then I put my camera on my car pod and I am back on my William Clark Trail.
Clark has also been at this creek where the history of this city began. But he named the creek Willard Creek despite John Smith who named the creek Grasshopper Creek because of so many grasshoppers around here.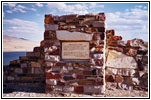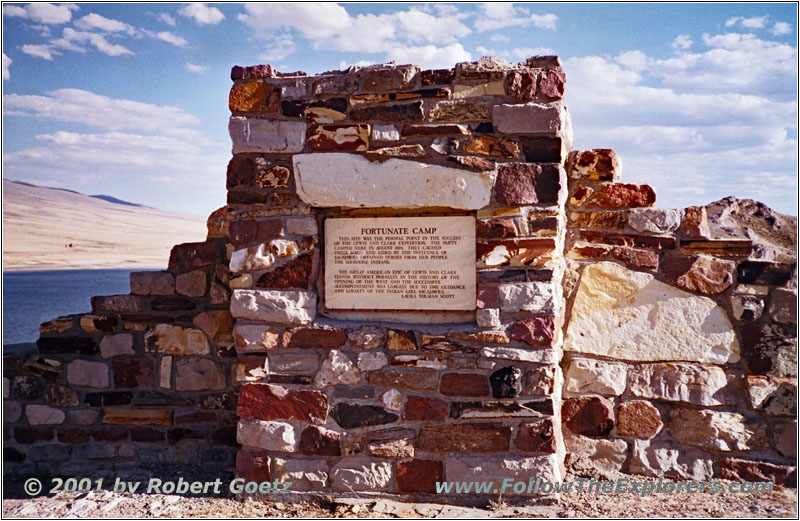 Historical Marker Fortunate Camp, MT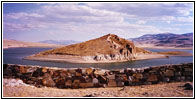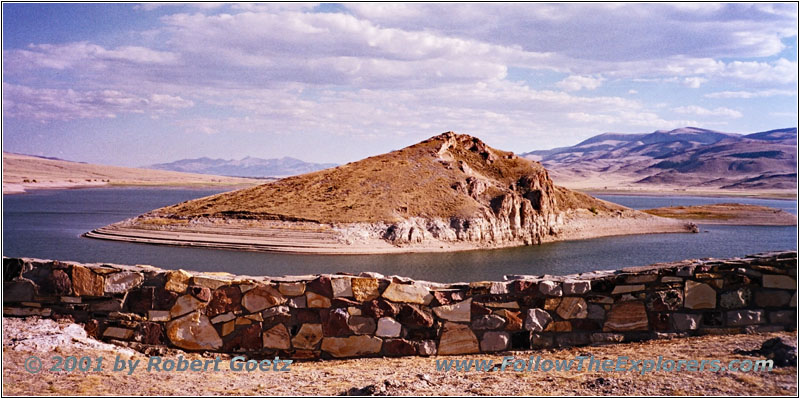 Fortunate Camp, MT
I follow RD5 until I reach Highway 324. This highway takes me to Fortunate Camp. I have also been at this place two years ago. But I have the impression that the water in the reservoir is lower than two years ago. A couple from Dillon also has the same impression. He tells me that even the glaciers of the mountains around at a height of 10,000ft and more are melting. He has been living here all his life, but he has never seen this before.
After I got all my pictures and videos I follow Highway 324 to I– 15. When I am back home I will have to compare the pictures from this year with the pictures from back then. But for now I am driving on I–15 to Dillon. I plan to stay again in the Super 8 motel where I have been two years ago.
Unfortunately the nice lady is not here, where I had such a nice conversation two years ago. I am pretty sure I will not receive another discount like then. But at least I get a room at the first floor. When asking for dinner he recommends the Lion's Den, a very good steakhouse. I drag my stuff in my room and hit the road again.
The restaurant parking lot is already pretty full. Let's see if I am able to get a table. When entering the restaurant I see that I am right. There are already a bunch of people waiting for a table. I let the hostess put my name on the list and wait. But I have the chance for a nice talk with a group of five, who are also waiting for a table. After a while their table is ready and within the next couple of minutes I also get my table.
I immediately order my steak. They also have some vegetables with the steak here beside the usual sides. But my server is really slow. Ok, I have to admit they are extremely full and the servers are all really busy. Especially the chief server and hostess is really overloaded. Whereas my server seems to be on a slower pace.
After a while I receive my check and I am able to go to the cashier. But even there I have to wait for another five minutes until I am able to pay. Then I am back on fresh air. The dinner was good, but the servers were overloaded with so many people. It's already a quarter to nine when I start to drive back to my motel. I take a look at my videos before I go to bed.
Sights
Gibbons Pass
Ghost Town Bannack
Fortunate Camp
General
Breakfast: 4B's, Hamilton
Dinner: Lion's Den, Dillon
Motel: Super 8, Dillon
Distance: 169 miles