Lewis and Clark Trail Back Home 1805 — 1806
Day 21: September 1st, 2001 Great Falls
Originally I planned no extra time in Great Falls. But I am a day early because I was able to cut the Lolo Motorway trip short. Now I have the extra time to visit these locations I was not able to see two years ago.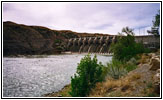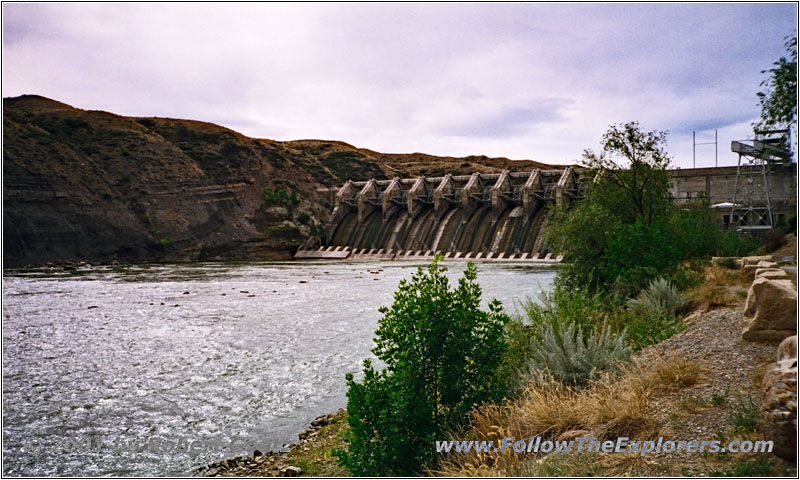 Missouri River, Morony Dam, MT
First I start my day with a breakfast at JB's. It has the same level of quality like my dinner yesterday. Then I drive to the nearest gas station. My trip starts around 10am. My first destination is Morony Dam. I hope there will be more water running down the dam like two years ago. But I am disappointed again.
When driving out of the valley I make again a stop at the turnout like two years ago. But there are no hunters around this time and I park my car alone. The weather is cloudy and stormy. I hope it will not start to rain until I am back in my car. But I am optimistic and start my hike to the spring. Two years ago I had also no time for this hike.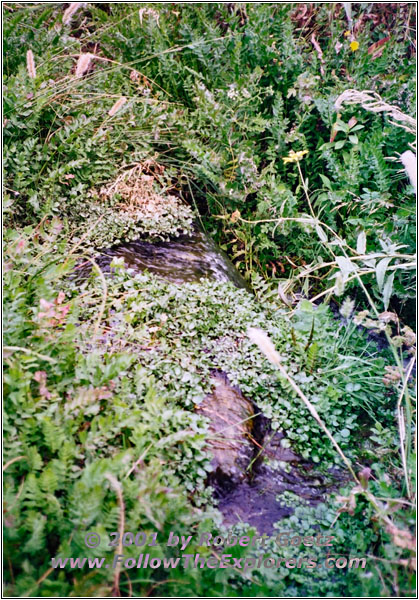 Missouri River, Sacagawea Spring, MT
First I have to hike through a ditch with steep declines and inclines. Lucky me I have put on my tennis shoes! But it is still not easy with tripod, camera and all my equipment. I have to hike through another two ditches before I reach Sacagawea Spring. I almost thought I have missed it because I was already hiking for an hour.
This is a sulphur spring which Lewis used to heal Sacagawea's illness. She was the indian guide and very important for the success of this journey. I take a couple of pictures before I start my way back.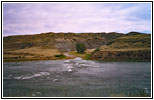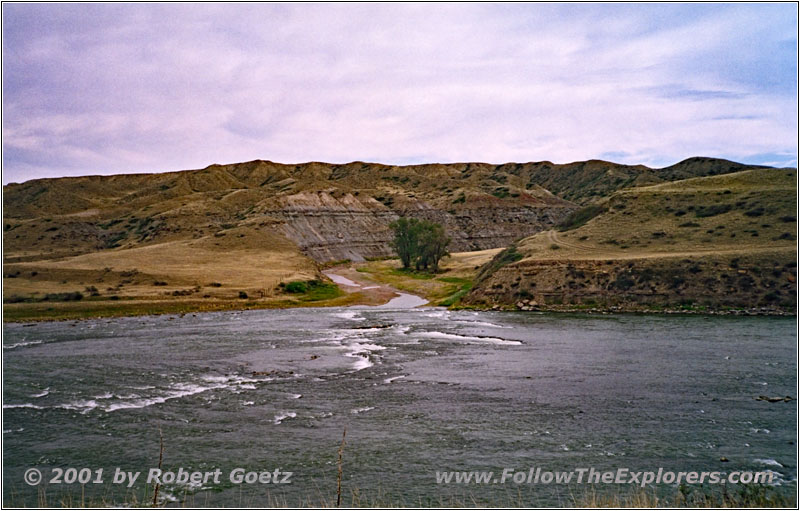 Missouri River, Lewis & Clark Portage Camp, MT


Prickly Pear Cactus, Morony Dam, MT
There is also one spot where I have a good view of Lewis & Clark's Lower Portage Camp. They used this location to pull out their canoes and load and went over the prairie to circle around the Great Falls of the Missouri. You get a very good impression of what the Corps of Discovery went through by pulling the boats out and drag all the loads up the steep ditches. For me the hike with my camera was already strenous!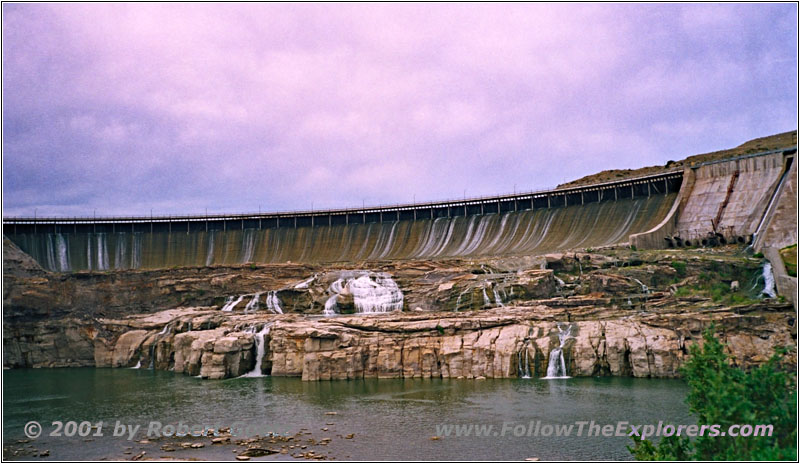 Missouri River, Ryan Dam, MT
It is still not raining when I am back at my car. Looks like I am lucky with the weather. Only the wind has messed me up a bit. My next destination is Ryan Dam. There is a small island in front of the dam where I have better views of the dam than from the river banks. Two years ago the bridge over the Missouri to this little island was already closed. It is only open until Labor Day. This time I am just in time and I am able to visit the island.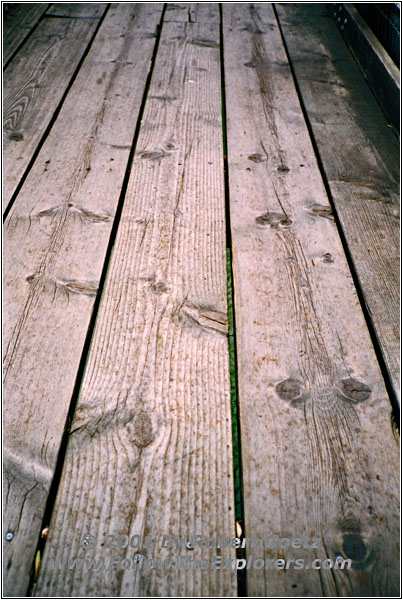 Pedestrian Bridge, Ryan Dam, MT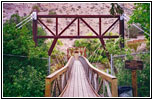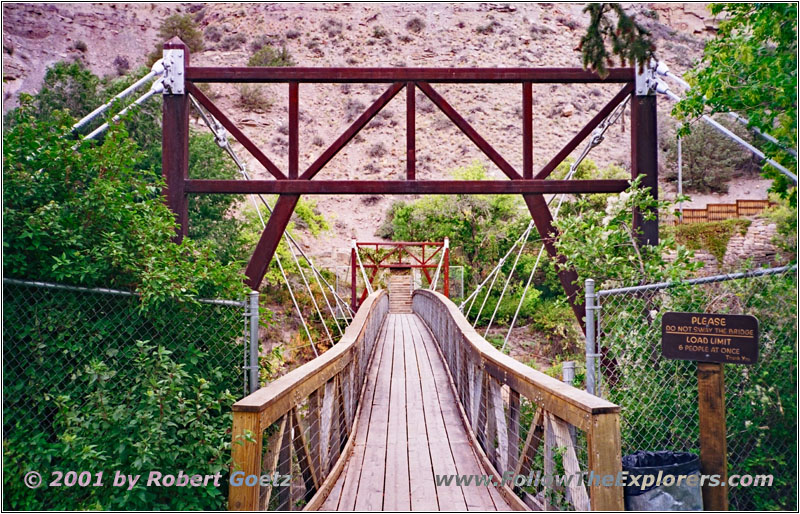 Pedestrian Bridge, Ryan Dam, MT
There is a plank bridge over the Missouri which sways a bit. I am able to see the Missouri way beyond through the gaps in the planks. I take a couple of pictures to capture this impression before I hike all the way to the island. The island is build as recreation area with tables and grill.
There are also nice view points and signs for the Lewis & Clark Trail at the dam side of the island. I take a couple of pictures of the waterfall — or better: What the summer has left from the falls — before I hike back to my car. It is still a bit stormy and I have trouble to keep my camera steady when zooming in, even with my tripod.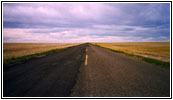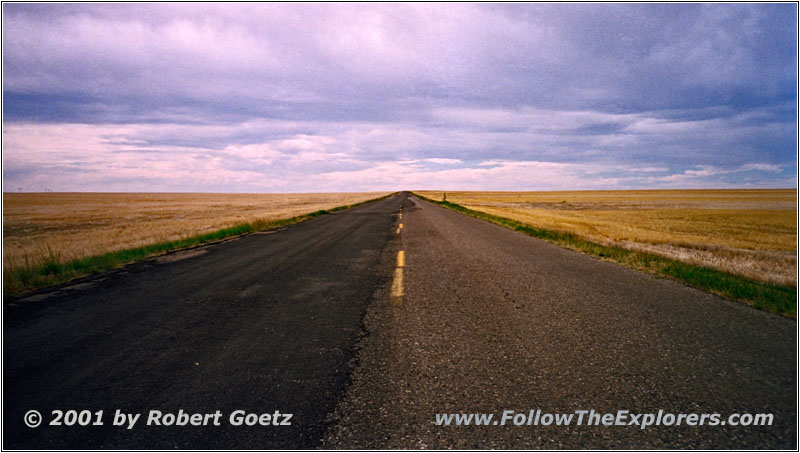 Morony Dam Road, MT
My next destination is Ft. Benton. There should be a statue made by Bob Scriver, who already passed away. He became famous for his bronze statue with a lot of details. He made statues from a lot of important peoples of the US.
I take Highway 87 to Ft. Benton. There I follow the main street along the Missouri. I hope I will find the statue along this way. Indeed there are a bunch of statues, but none of Lewis & Clark.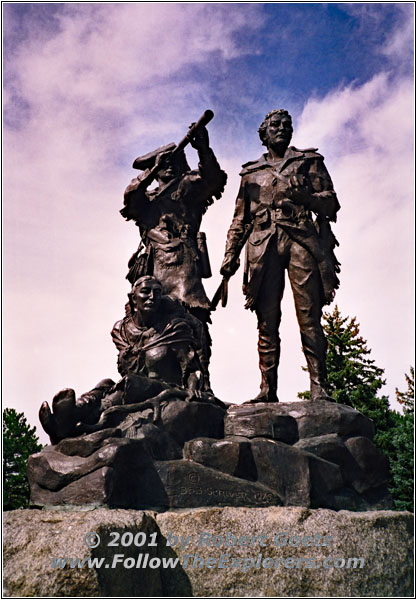 Lewis & Clark Memorial, Ft. Benton, MT
I follow the street further and just before a bridge I see the statue. There is even a parking spot nearby. I take pictures from all sides. This time the other visitors are so kind to keep a little distance to my camera and tripod which gives me the chance for good shots. Half an hour later I have great pictures and drive back to Great Falls.
If it is not too late I want to visit the Lewis & Clark Interpretative Center to finish the day. I have been there two years ago. But now it's a different story after I have been driven the whole trail. It would be also a good freshening up of my trail memories.
I arrive an hour before they close. This should be just enough time. I receive an overview map past the cashier. This gives me the chance to start a nice conversation with the employee. He gets really excited when I tell him that I have been on the whole trail and now I am following their way back. He tells me that he had also been on parts of the trail. He was even riding through the Missouri Breaks with his own canoe. One day I also want to do a canoe tour like that.
He also warns me of the rattlesnakes: One rattlesnake came out of the canoe when they wanted to put it back in the water one morning. The snake went through the feet of his son. They were really lucky. The next doctor would have been probably too far away. This shows me that I am in the wilderness around here…
After this long talk I just have enough time to walk through the Interpretative Center. Then I hear the announcements that the Center will close within 5 minutes. I hoped to see this nice guy and his wife again on my way out. But it looks like they are already gone or they are busy to shut down the Center.
I also make a brief stop at the gift store. Suddenly I get the idea to not only buy some postcards but also some Indian music as soundtrack for my movies. The employee is really great in helping me out and giving good advices for the right music. Also both CDs I have chosen are currently on sale.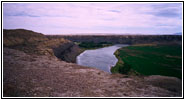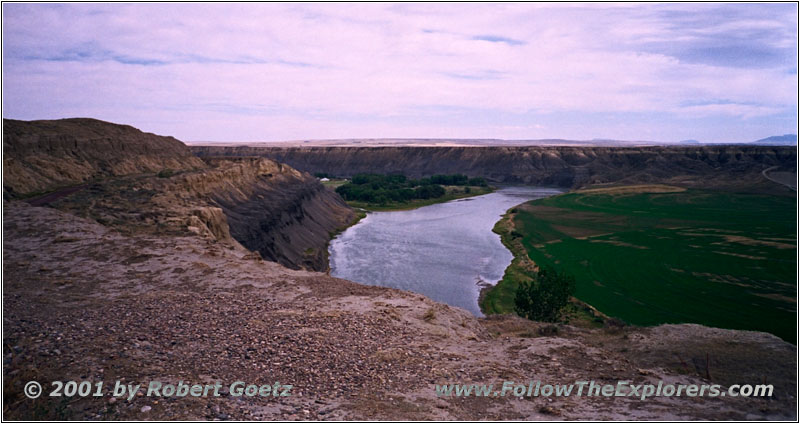 Missouri River, MT
Just when I leave the store I remember that I also want to visit the Lewis & Clark Statue around here which was also built by the same artist like the one in Ft. Benton. The employee is able to help me out again. She describes the way and it sounds not too difficult to find this spot. I say thank you and leave the store around 6pm. Maybe I am lucky and I get a nice views from the statue with the perishing sun.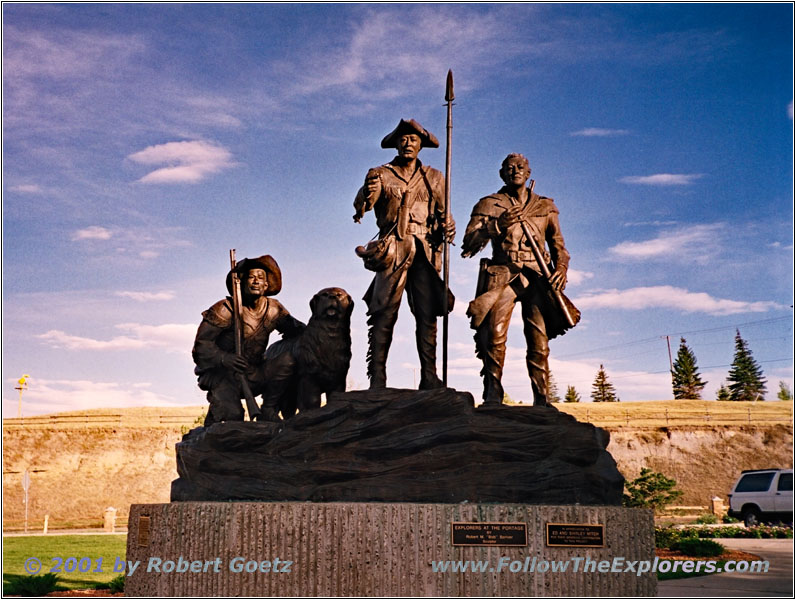 Lewis & Clark Statue, Overlook Park, Great Falls, MT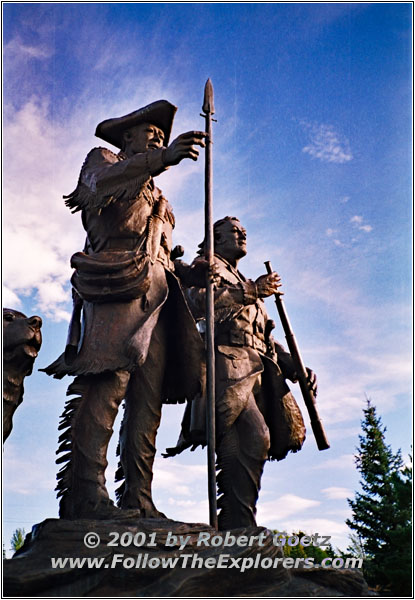 Lewis & Clark Statue, Overlook Park, Great Falls, MT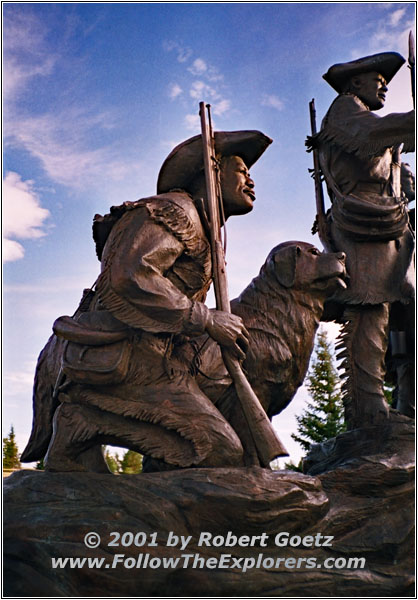 Lewis & Clark Statue, Overlook Park, Great Falls, MT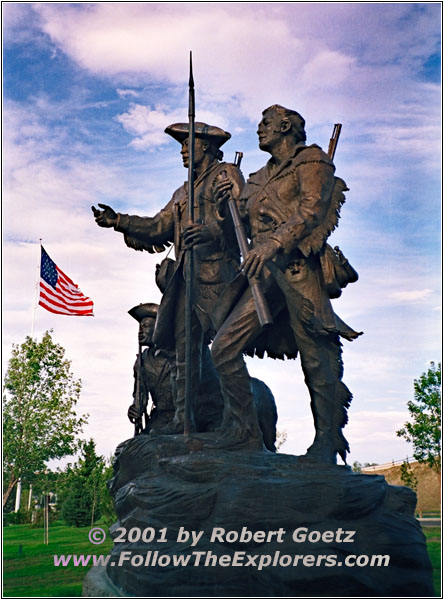 Lewis & Clark Statue, Overlook Park, Great Falls, MT
I drive a couple of miles and surely take one wrong exit. But I realize my mistake pretty fast and return to the correct route. A little bit later I reach the statue on top of a hill in Overlook Park. Unfortunately the sun position is not perfect but I am still able to get some nice shots. The statue in Ft Benton showed Lewis & Clark, Sacagawea and her son Pomp. In Great Falls the statue shows the two explorers together with Lewis' dog and Clark's slave York. But York was not really treated like a slave. He was more a friend and companion.
I leave the park around 7pm to get back to my motel. I am really happy to have my GPS, even when it only shows coordinates. Currently I am not sure where I am in the city and my GPS points me in the right direction. It also states that my motel is really close and I reach it within a couple of minutes driving.
I unload my stuff and drive on to JB's. This time I am not interested in driving all the way through the city to just give up without a nice place for dinner. Also the motel still recommends JB's. Therefore it cannot be too bad. Unfortunately the restaurant is really full. I picked the peak time for dinner. Also today is Saturday and it is Labor Day Weekend. I think I got the worst case now. But to my surprise it only takes 5 minutes until I get my small table. It is at the main way to the cashier, but I don't plan to be here for hours. Also I am very hungry, so it is ok for now.
I drive back to my motel after dinner. Then I start my usual routine to check my videos of today. Now I have finished Lewis' trail back. Tomorrow I drive back to the mountains to follow Clark's way back.
Sights
Morony Dam
Sacagawea Springs
Lewis & Clark Portage Camp
Ryan Dam
Lewis & Clark Memorial, Ft Benton
Lewis & Clark Statue, Overlook Park, Great Falls
General
Breakfast: JB's, Great Falls
Dinner: JB's, Great Falls
Motel: Super 8, Great Falls
Distance: 113 miles