Lewis and Clark Trail Back Home 1805 — 1806
Day 29: September 9th, 2001 Glendive — Sidney
I am awake early, as already expected yesterday. I have breakfast again at Kings Inn. Due to Sunday they have a big breakfast buffet. But I never liked buffet, so I take a choice from the menu.
I finish breakfast around half past eight and drive over to the gas station. The next leg of my journey starts at a quarter to nine. My first destination is Makoshika State Park. It's only a couple of miles away from Glendive. This is the place where you can see the Badlands of Montana.
The park is already open. There is a self service station at the entrance where you put your money in an envelope. Not far away from the entrance is the Visitor Center. I want to get an overview there first and maybe some park maps.
I am the only guest right now. The exhibition shows a lot of history of this area. There are a lot of petrifications. They also found some big dinosaur bones here. It's a very interesting exhibition. I leave the Visitor Center after half an hour and start my journey through the park.
There should be a backroad out of the park at the other end according to my map. But the park map shows a dead end road. Let's see what happens. The sky has some clouds with a little bit of sun shining. But it's very windy, almost stormy. And we only have around 40 degrees in the morning.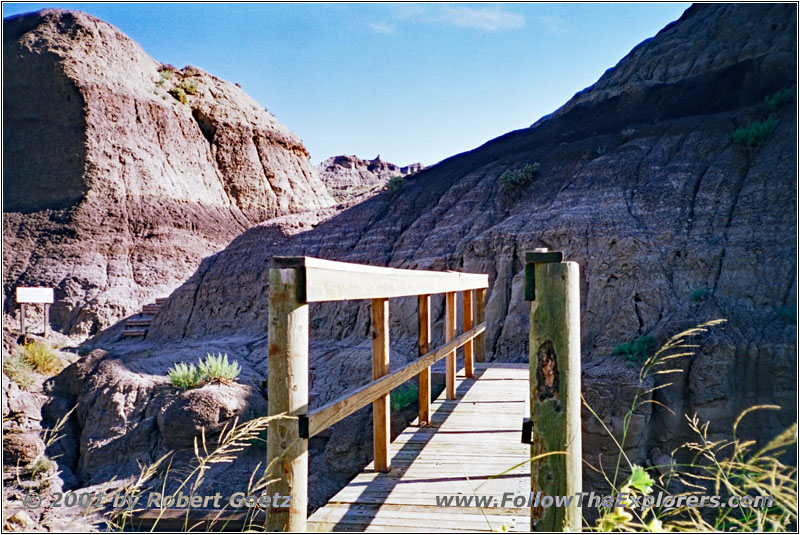 Bridge Diane Gabriel Trail, Makoshika State Park, MT
Unfortunately I forget to take my gloves with me when I start my Diane Gabriel Trail hike. But at least I have a warm sweater with me. The Badlands show how uncomfortable it can be when it starts to rain. It rained yesterday a bit but it looks like the soil has dried out in the meantime. There are only some spots left where you can sink into the mud.
Also the hiking path shows a lot about park history. There is one spot with a lot of wholes. This is where the dinosaur bones have been in before they were destroyed by wind and rain. When looking at the wholes you can imagine how big these bones have been.
After hiking for an hour I arrive almost frozen at my car. I put my stuff together, mount my camera on my car pod and drive on. After a brief drive through the valley a steep incline to the upper level starts. There are even some warning signs for this steep incline.
There are great views over the Badlands from the top. I do a lot of stops at picnic and rest areas to do some video taping and take pictures. When arriving at the Cap Rock Nature Trail I think about doing this hike. But the weather is not really promising. I don't want to hike through the mud with all of my equipment. Therefore I decide to do the rest of my park visit by car.
The pavement ends soon and I am back on gravel roads. My first stop is at Cains Corlee Overlook, where I have again great views of the Badlands. Another car approaches me when I start to leave the spot. There are 4 elderly guys in the passenger car and I am amazed how someone wants to drive these roads in a nice and shiny car.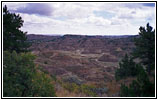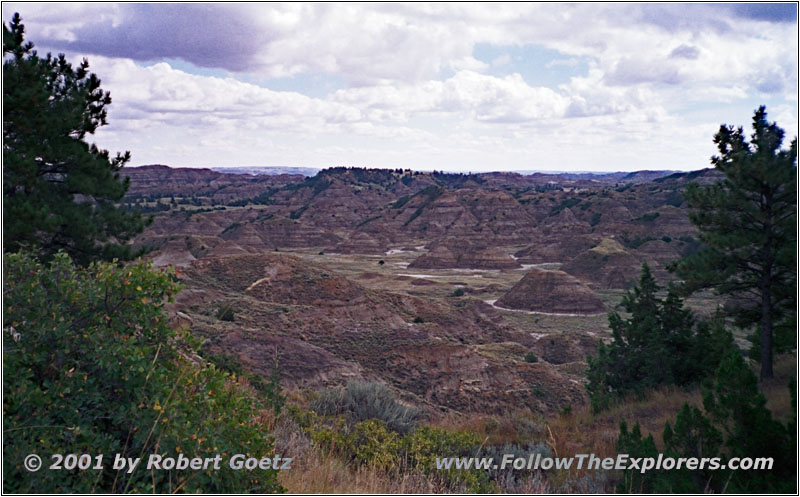 Pine–On–Rocks Vista, Makoshika State Park, MT
I drive back to Pine–On–Rocks Vista. Again I have to pull out my camera to get some nice pictures. Then I drive back to Radio Junction. There is another warning sign that states the road is getting worse now. It is also not recommended to drive when wet.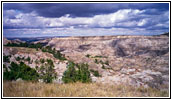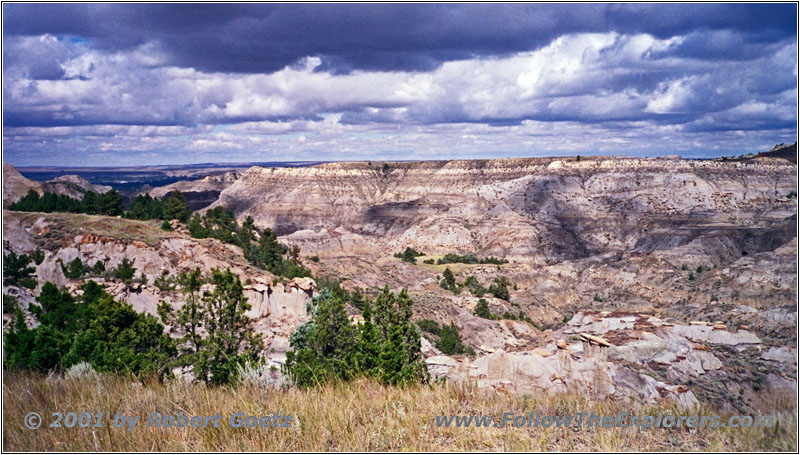 Eyeful, Makoshika State Park, MT
But the road looks ok and I give it a try. After a mile I reach the crossing to Valley Loop Drive. Again I meet the white car from before. The road is getting worse and it looks more like a jeep trail than a road for passenger cars. But I remember the time when I first drove through the States. I have also been on roads like that with a regular passenger car.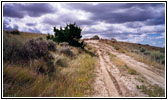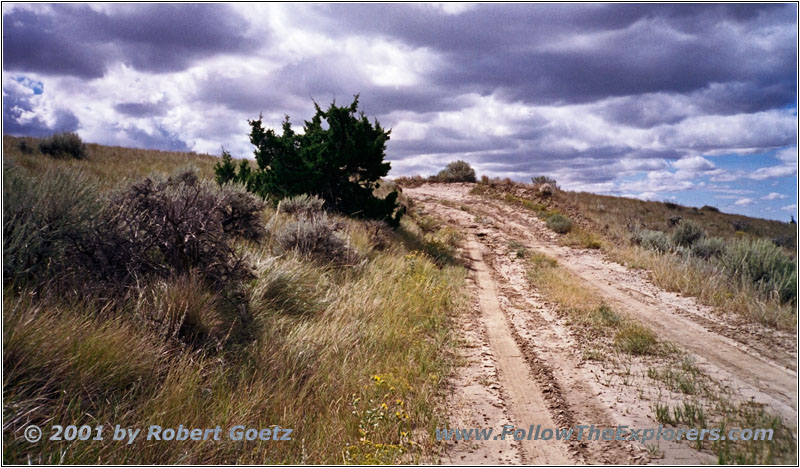 Valley Loop Drive, Makoshika State Park, MT
I drive on and the road still gets worse. At the end is even a very muddy section. I kick in 4WD and have no trouble passing this section. I am sure, this other car went not through that. Maybe they turned around here.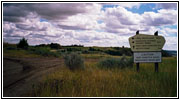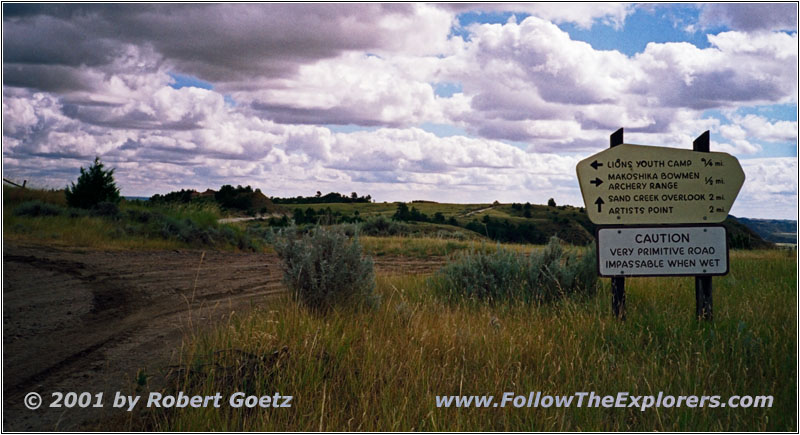 Makoshika State Park Road, MT
I finish the loop and enjoy the beautiful landscape. Back on the main road I drive deeper into the park. At the crossing to Lions Youth Camp is another warning sign. Now they warn the road is now a primitive road and impassable when wet.
When continuing on this road I start to believe the sign. It is a very steep decline into the valley, where I hiked before. You may be able to get down when the road is wet. But I am sure there is no way up. I hope it will not start to rain. Otherwise I am really in trouble. On my way down I cannot believe what I see. The white passenger car with the four gentlemens approaches me again. I would have not expected to see them here again.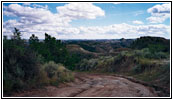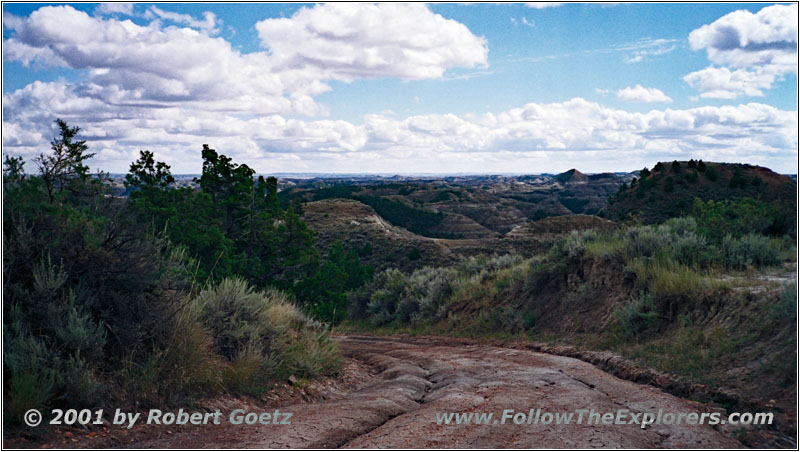 Makoshika State Park Road, MT
I drive to the crossing of Archery Range. The road goes now over rocks and limestone, sometimes without real limits of the road. It also runs straight up the hills with extreme inclines and declines. The road is not fully dried out. Therefore I am not sure on some declines if I am able to get up this hill on my way back…
But first I drive to Archery Range. Also these views are a great compensation for all the trouble I might get into soon. Then I drive back to the main road. I am really amazed how my little Blazer handles these roads in 4WD. I am also amazed by my tires. Even when they are completely mudded in I still get good grip on the road (or what is called road here).
I reach Artists Vista on the main road and Sand Creek Overlook at the end of the park road. The park map does not show a real end of this road and I still hope to exit the park this way. I don't want to go all the way back. But I get disappointed. There are still some remnants of the former road to see (at least the ruds) but there is a road closure sign at this spot.
That's it. Now I have to drive all the way back. Hopefully I am able to get up all the hills. There are also no cars at this end of the park. Seems like no one else is crazy enough to drive these roads in unsure weather beside me. But I still have my camping equipment with me and some food just in case. So I should not be in trouble.
After I enjoyed the view of the wide open prairie I start my way back. But my Blazer still surprises me. The truck runs almost like on rails through these sometimes muddy roads. Also the steep inclines are not an issue. When I reach pavement again I am amazed how easy this little truck handled the roads. But my truck looks now a little bit muddy. I am sure the next rain will take care of that.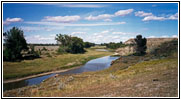 Yellowstone River, RD303, MT
It's already 1pm when I reach the park entrance again. First I follow RD303 along the Yellowstone River. After a couple of miles I see a big bird at the side of this little road. When I get closer I see that it is a raptor, who is working on a dead deer. The smell entering my car tells me that this deer is already dead for several days.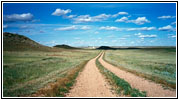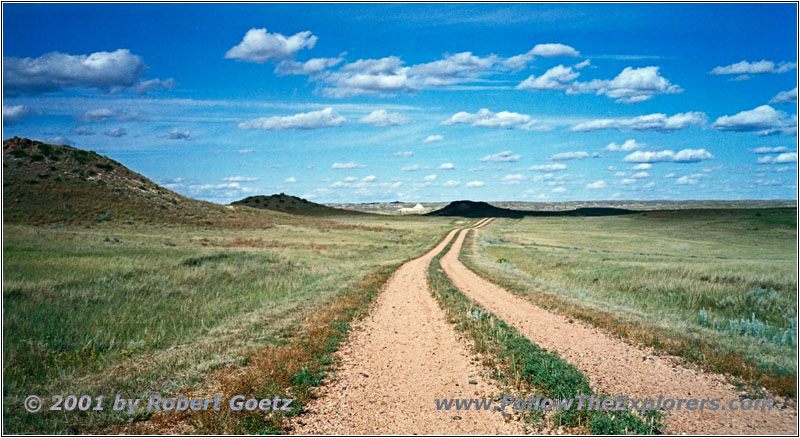 RD303, MT
The road takes me now away from the river and into the backcountry. Originally I planned to stay at Glendive. But I am good in time and therefore I decide to drive on to Sidney, the next bigger city along my trail. I am sure I will find a nice motel there.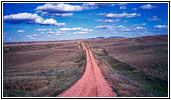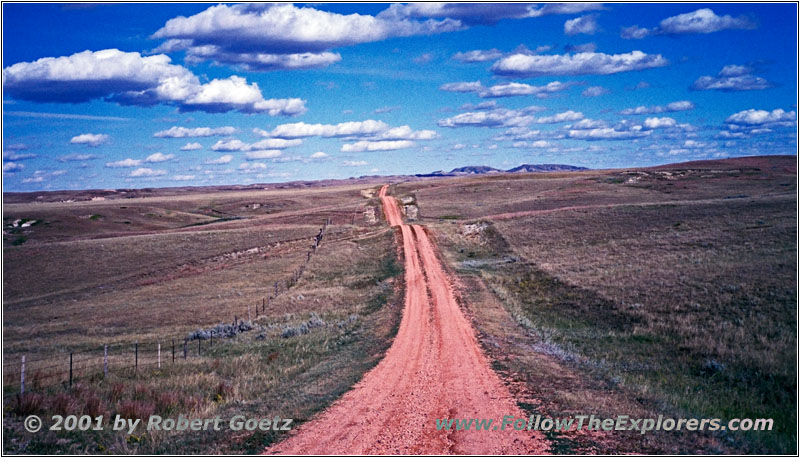 RD303, MT
The crossing I want to get back to the river takes me not too far. I am suddenly at a slope of a hill where the road ends abruptly. So I have to drive back all the way to County Road 261.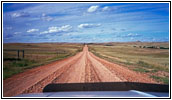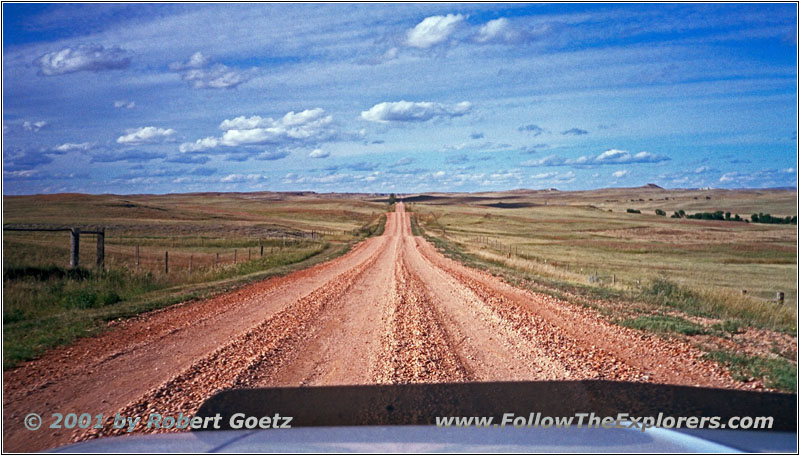 RD303, MT
On my way back I drive through a small valley. After a sharp turn I am suddenly in front of a little lake across the backroad. I am just able to stop in front to throw in 4WD. I doesn't look too deep, so I give it a try. I take a little bit startup and hit the water. It splashes as high as my hood!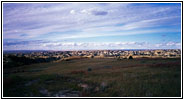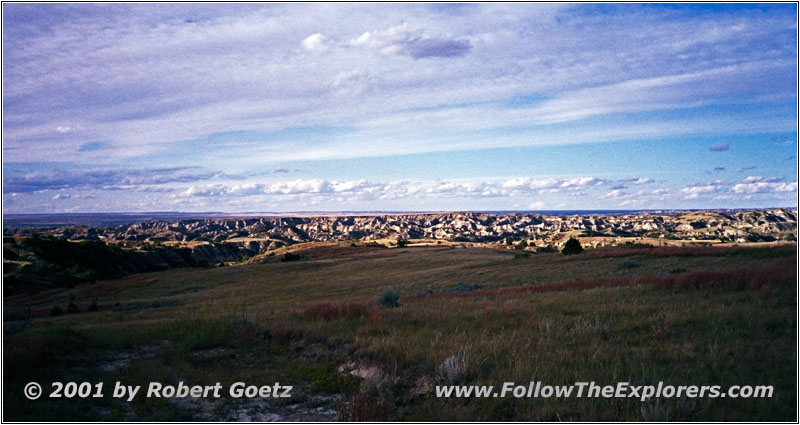 RD261, MT
But it's not difficult to get through. Eventually I reach County Road 261. This is also a gravel road, but still good to drive.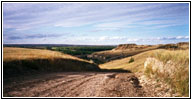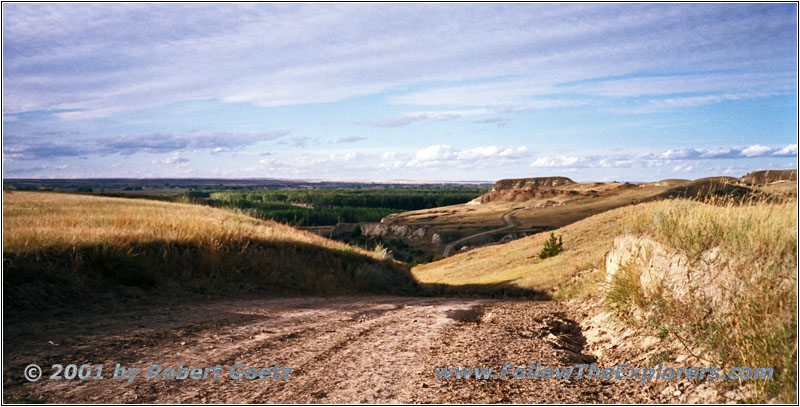 RD350, MT
I have to drive all the way to RD106 until I am able to get closer back to my river. The shadows are getting longer and I start to think if it is a good diea to eneter this road. It's still quite a distance to Sidney and I don't want to drive on these roads in the night.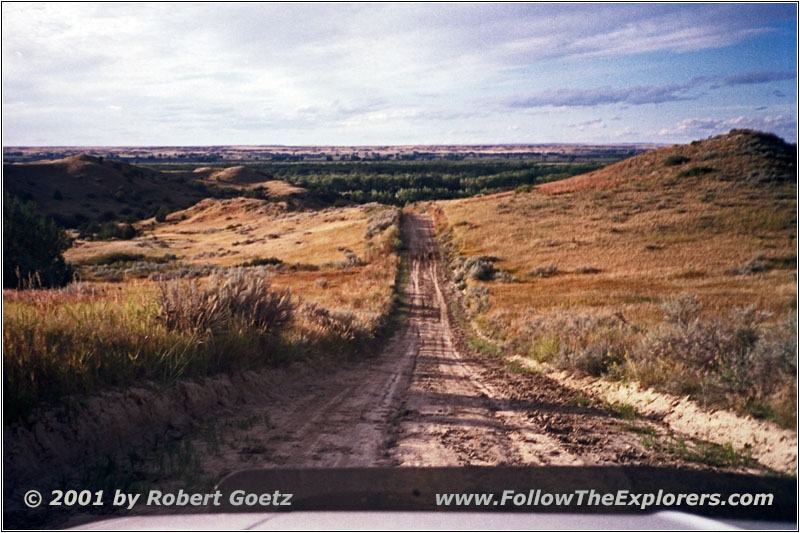 RD350, MT
But I am optimistic as usual and drive on. Lucky me I am allowed to drive RD350 through Elk Island WMA. But to my surprise there are still muddy and slippery sections — unfortunately on steep inclines and declines. So I kick in 4WD again. Amazingly I have again no issues driving these roads!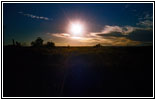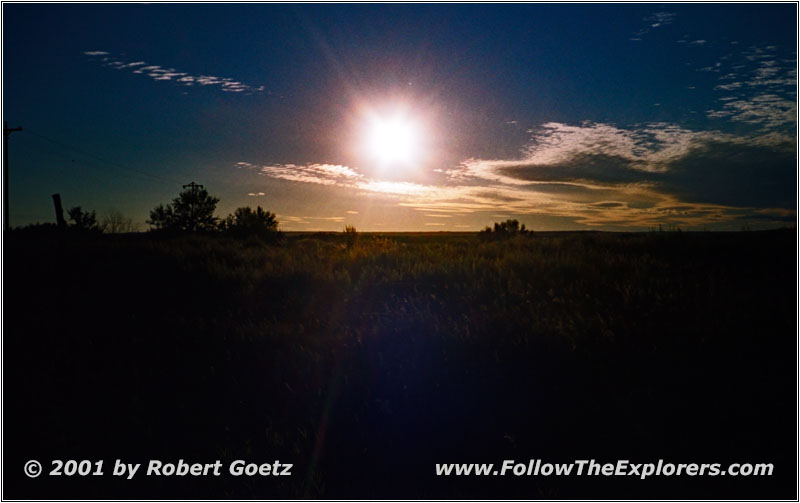 Sunset RD350, MT
After an hour the road gets better and I reach Highway 23 which takes me over the Yellowstone River. Then I follow Highway 16 for a short distance to Sidney. The sunset starts and I am glad that I made it just in time out of the backcountry.
First I drive through the whole city along the main street to see which motels are around. I like the Kings Inn. It looks a bit pricy, but I am not in the mood to search around for different motels. I check in around a quarter past seven. I am lucky and get a room on the first floor, even with my late arrival!
As expected the price is a little bit higher for this motel, but there is at least a AAA discount. And I am not in the mood to check for different motels. I ask for a nice steakhouse in the area and they recommend the South 40. Now I start my usual daily routine. Pack everything together in my car and drag my stuff into my room. Then I drive to my restaurant recommendation.
I don't have to search for a long time due to a perfect way description from my motel. It is not along the main street but on 2nd Ave. I see it on the right hand side. The restaurant is down into the cellar. It has a nice old touch with a lot of wood. I definitely like the warm atmosphere. The only thing I don't like is to have a salad bar. I am not the buffet guy. I like to sit down and have a server. But they have a real big choice of salads, just like the lady at my motel told me. And my steak is awesome! They also serve fresh self made bread. Everything is a bit pricy, but well worth the money. The dinner is really extraordinary!
Then I drive back to my motel and check the videos of today. I took more than 2 hours which will face me with a long working night…
Sights
Makoshika State Park
Elk Island WMA
General
Breakfast: Kings Inn, Glendive
Dinner: South 40, Sidney
Motel: Kings Inn, Sidney
Distance: 112 miles