Lewis and Clark Trail Back Home 1805 — 1806
Day 30: September 10th, 2001 Sidney — Glasgow
Today is the last day on my William Clark Trail. First I will have breakfast at M&M, another recommendation from my motel. The servers look like being around 80. But they are still doing their best. Maybe that's just a side job for them. The breakfast is good, not like in the big chains. It's real good homemade cooking.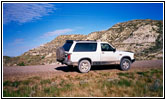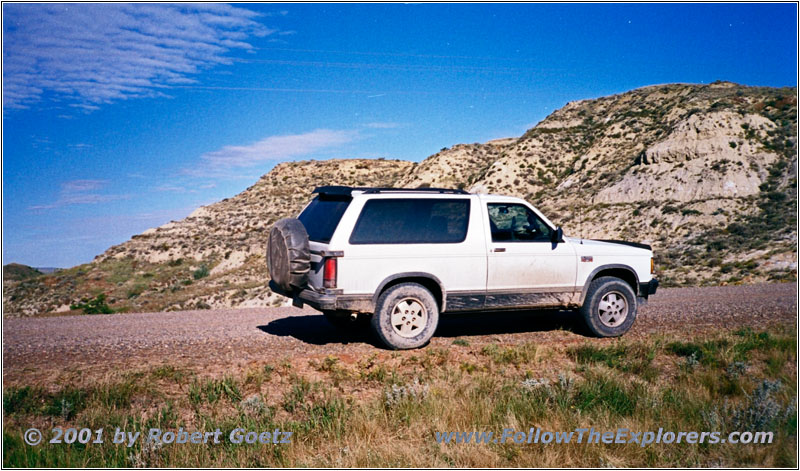 88 S10 Blazer on RD122, MT
Then I drive to the next gas station. I am ready to roll around a quarter to nine. First I drive back to Highway 23 which takes me over the Yellowstone River. Then I turn onto RD122. This road follows the banks of the Yellowstone River to the North Dakota state line.
This is where Cheney Creek Road starts which I follow to RD3 and further on to Highway 200.
I cross the Yellowstone once again and take another small backroad just past the bridge. Unfortunately I have no nice river views from that road.
After a while I reach Highway 58 which takes me now over the Missouri River. I turn onto Highway 1804 to get back to Fort Buford SHS. This is also where the Yellowstone Rivers enters the Missouri.
I have been at exactly the same spot two years ago. And like two years ago the mosquitos are killing me. I have to give up the first try to video tape the Yellowstone and Missouri confluence. First I have to get some repellent on my face and my hands to survive the next couple of minutes.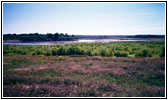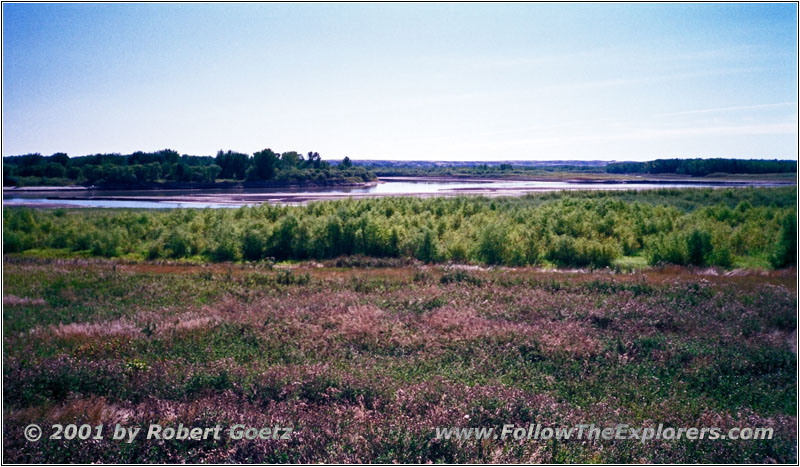 Confluence Yellowstone and Missouri River, Ft Buford, MT
First I try to video tape a prairie dog. But even with maximum tele it is hard to get nice shots of this little fellow. Eventually I am able to get some nice pictures. Then I hurry up to get the final pictures of the confluence before these little flies are driving me crazy.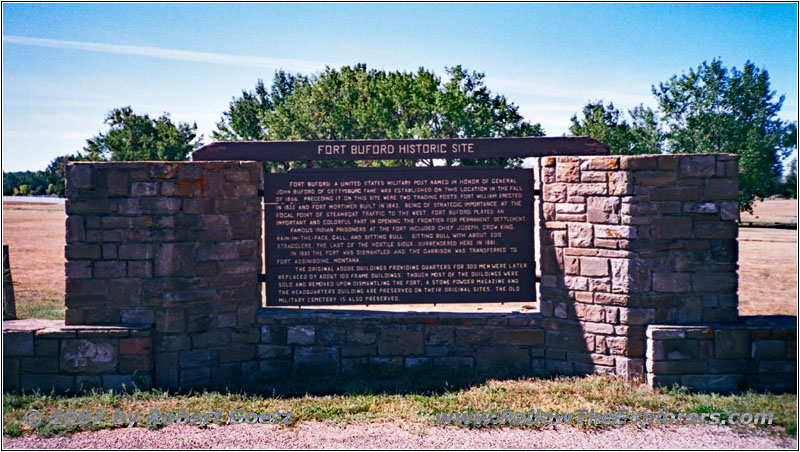 Historical Marker Ft Buford, MT
Next I plan to visit Fort Buford. Two years ago I have been the last visitor before they closed for renovation. Now I am curious to see how things look like after the big renovation. To my surprise they are still busy renovating. So I can only take a picture of the historical marker.
This is now the end of this journey and I think about how to arrange my return trip. I gained a couple of days during the past weeks. Now I am close to the Missouri Breaks and also to the road where I have been in such trouble with my rental car due to the muddy roads. At that time I swore to myself that I will only travel with an offroad vehicle on these kind of roads. The other option would be to return to the east and visit the city of New York, where I have been at as a teenager on a student exchange program. I still remember the express elevator in the World Trade Center and I would like to be there again.
After thinking about the options for a while and looking in my map I decide to see the Missouri Breaks and to go west. I like to be in the nature much more than being in a city. I should have enough time for this visit. The roads to go are not mapped out, but I am able to figure out my way by checking the offroad maps. Unfortunately I am not able to drive by GPS from now on but I have to check the maps. Let's see how that works out.
I drive back to Highway 1804 and pass Fort Union Trading Post without a visit this time. Then I take Highway 2 West. I am good in time on this Highway. But at a curve a gravel truck approaches me. And when I am exactly beside this truck the wind blows a bunch of sharp stones on my truck and my windshield. It sounds like the stones are going right through my windshield! But on a first glance I only see some small scratches, nothing big. Seems like I had luck. Unfortunately not for long because after a couple of miles I see a crack starting at the top on the drivers side. Looks like a new windshield…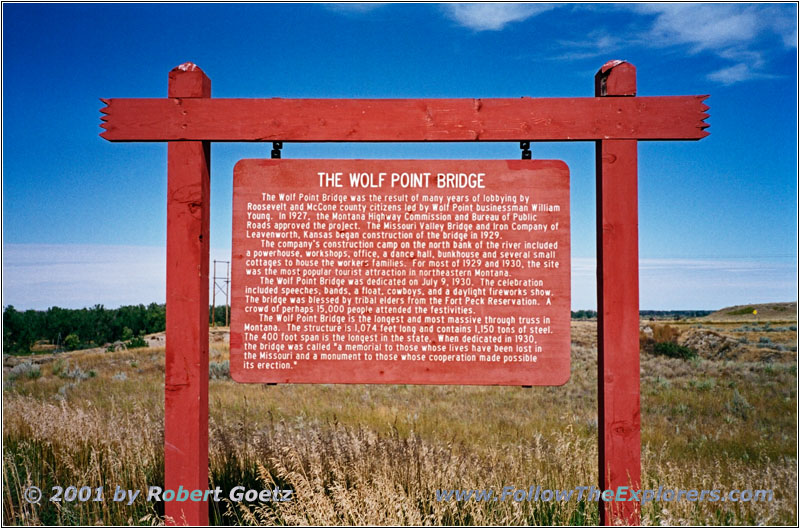 Historical Marker Wolf Point Bridge, MT
I drive to Highway 13 and cross the Missouri another time. The bridge is a regular concrete bridge, which is in parallel to the old Wolf Point Bridge. This bridge was very important in the fifties. It was also one of the biggest bridges in this area and build on Indian country. Today the bridge is completely ran–down. There is grass and weed growing all over and closure signs prohibit from entering the bridge. Just a historical marker remembers of the glory times.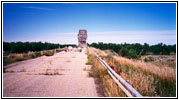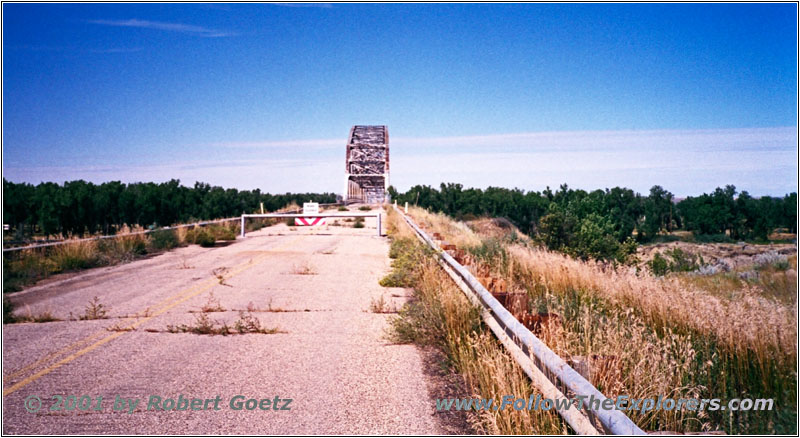 Wolf Point Bridge, MT
I take another look at my windshield where the stones have hit. It doesn't really looks good. The crack is now working its way down from the top on the drivers side. But it seems the crack is now turning to the passenger side. Hopefully the windshield will not crack completely.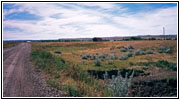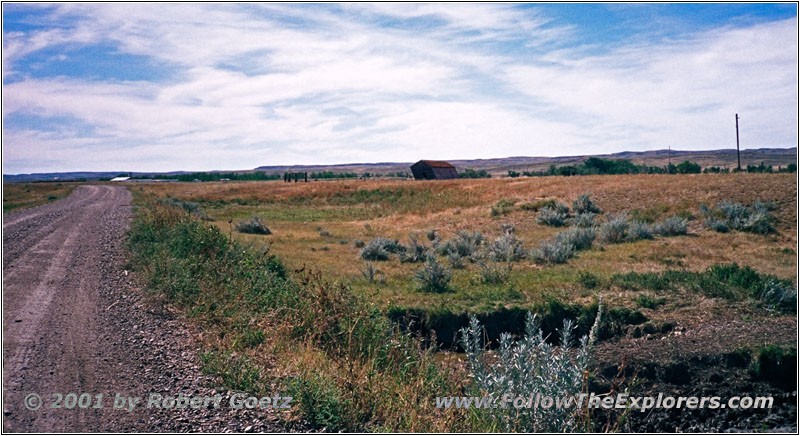 Highway 528, MT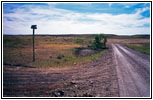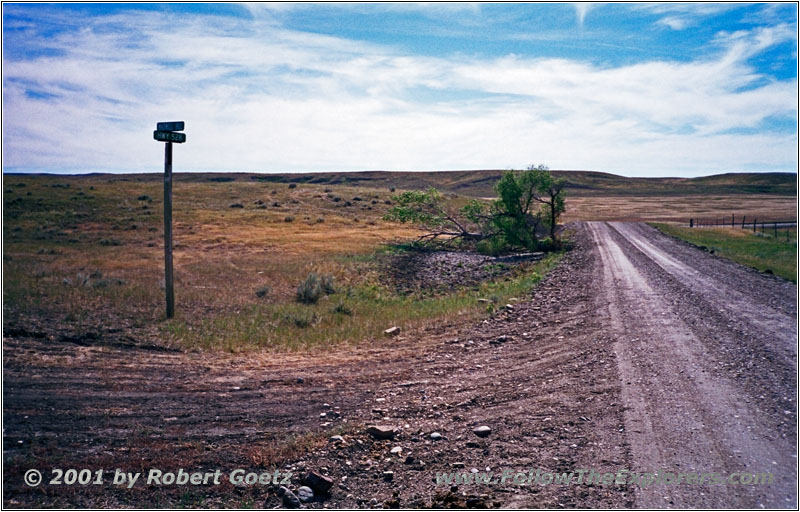 Highway 528, MT
I continue my journey along Highway 528. I have been on the very same road two years ago with great Missouri River views. The weather is nice and I want to have these great views again. The landscape is still as beautiful as two years ago. Again I have the chance to get some nice pictures.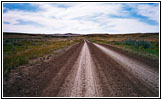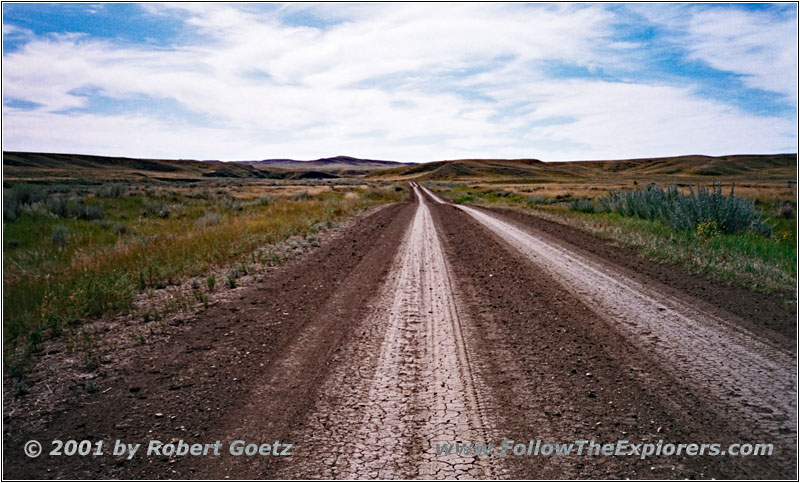 Highway 528, MT
Finally I arrive at Highway 24 which I follow to Fort Peck Lake and Dam. I do some video taping — this time with the assistance of my tripod, which I haven't two years ago. Slowly I remember my horrible drive from then. But now I have my SUV with 4WD. This time I should be fine, even in the rain.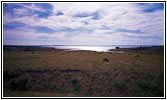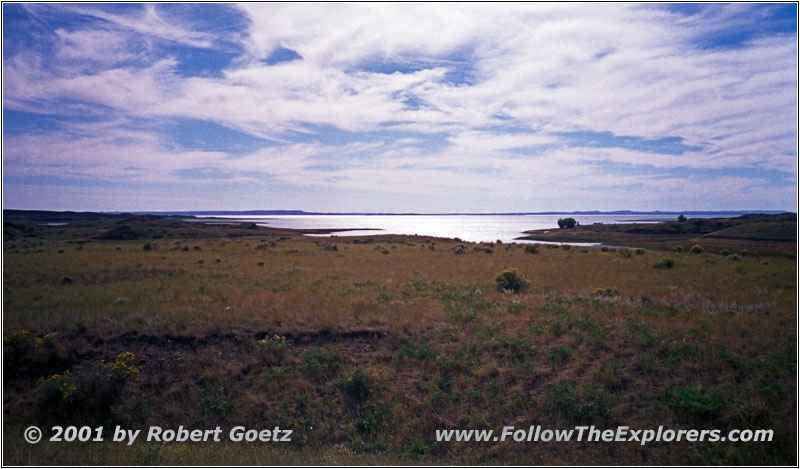 Fort Peck Lake, MT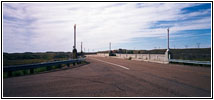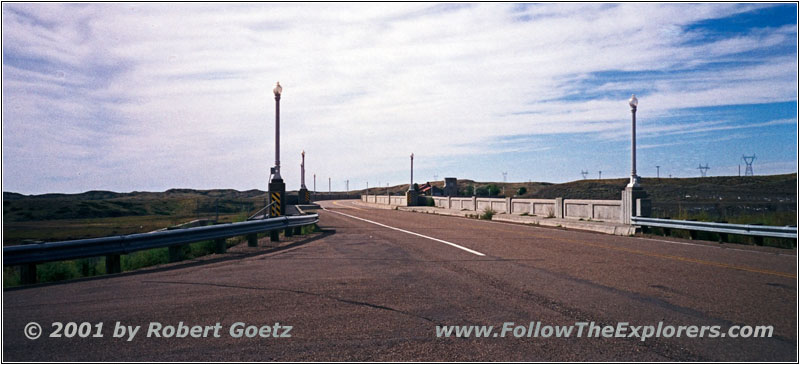 Fort Peck Dam, MT
I meet an elderly guy at the dam, who is visitng this place for the first time. He doesn't live too far away, but he never made it to the dam until today. He shows me proudly his hat with solar cell and a little fan: "This keeps your head cool"
Then I drive on to Glasgow. I have to search again for a motel, like two years ago. But I don't want to try the same motel again. At the east end of town is a newer motel, which seems to have been opened shortly. It looks a bit pricy, but I don't want to search around. It's already late and I want to have a place for tonight soon. Unfortunately the motel is already completely booked — the first and only time on my trail!
But the lady at the reception recommends the Campbell Lodge and is so nice to call ahead for me. There are two rooms available and she places a reservation, just to be sure. I arrive at this motel a couple of minutes later and almost cannot believe it: The other room is already gone! If the lady would not have made this reservation, my room might have also been gone!
The rooms are propably cheaper than in the other motel. But they are still comfy and clean, just not fancy. I also get a dinner recommendation. I have finished everything around 6pm and drag my stuff into my room. Then I check the video tapes of today. I leave the motel around half past seven to look for the restaurant. I don't have to search for long, but the parking lot is almost full. When I enter the restaurant I got my fears confirmed: Full! And there is also no space to sit down and wait. I would have to stand in the middle of the room and wait until a table is available. There is also no hostess to give you a table. That's not the right place for me.
A young couple enters the restaurant and they have the same idea: They leave the restaurant immediately. I ask them, where I might can get something to eat and they recommend Johnnie's Cafe. I remember this name from two years ago, when I had breakfast there. There is also no big search, because I still remember the place. But the restaurant is almost empty, which is no good sign. When I was there for breakfast, the restaurant was almost full. I order something anyway, this time pork. The dinner is ok, just simple cooking. At least everything tastes fresh.
I pay around 9pm and drive back to my motel. Hopefully I am able to sleep, because my room is close to the road. But I am extremely tired. Let's see what tomorrow will bring. I will drive the very same road as two years ago, where I had so much trouble in the rain…
Sights
Fort Buford SHS
Fort Peck Lake and Dam
General
Breakfast: M&M, Sidney
Dinner: Johnnie's Cafe, Glasgow
Motel: Campbell Lodge, Glasgow
Distance: 191 miles