Lewis and Clark Trail Back Home 1805 — 1806
Day 32: September 12th, 2001 Malta — Billings
The night was really refreshing. I pack my stuff together and leave my motel. I don't have to check out, just leave the keys in room — that's it. Then I give the Westside Restaurant next door again a try. Hopefully they will have breakfast.
The number of cars in front look promising. Lucky me I am able to get a table without waiting. It's already past nine and even this late the restaurant is almost full. I order my usual fried eggs. While having breakfast I overhear another conversation next to me about what has happened yesterday. Everyone is talking about solidarity.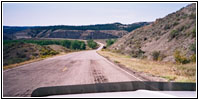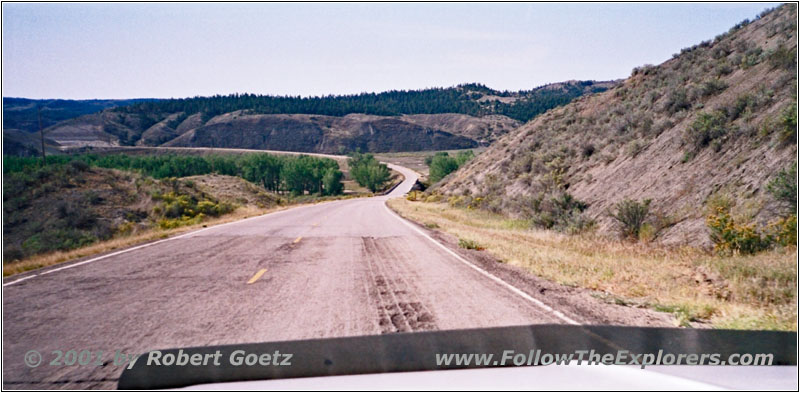 Missouri Breaks, Highway 191, MT
I leave the restaurant around half past nine and drive to the next door gas station. Around a quarter to ten I start the very last leg of my Lewis & Clark Trail. First I follow Highway 191 to the south. This is the same road I took two years ago after my unsuccessfull try to drive the backroads. But this time I leave the highway just past crossing the Missouri River to follow the river banks to the west.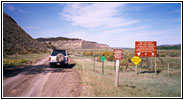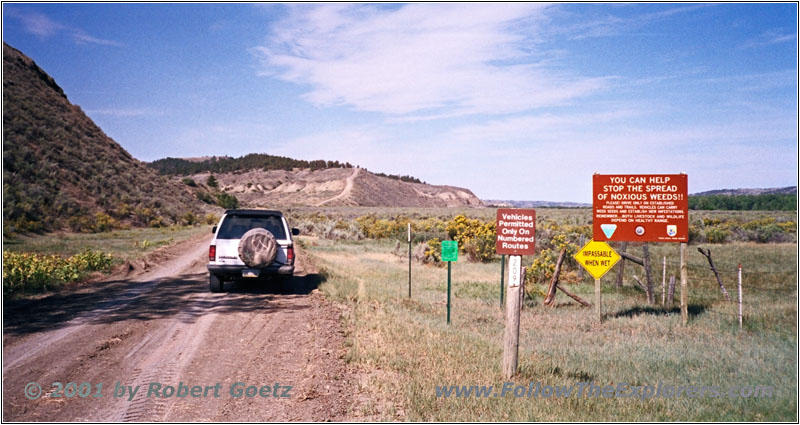 88 S10 Blazer on NWR209, MT
This is the beginning of NWR209. A warning sign states that this road is impassable when wet. I really believe this from what I have learned two years ago with my rental car. I drive on the same type of roads up and down very steep hills. If the soil is just a little bit wet there would be no chance to get up and down these hills, even with 4WD.
But the views of the Missouri Breaks, how that area is called, is absolutely gorgeous. I am stopping more than driving. When I have just finished taking pictures at one of these stops another car approaches me. As I haven't expected someone on this road I have not parked at the side of the road. I apologize to the older couple in the SUV. We start a nice conversation and he recommends to drive the whole road to the end. This is exactly what I have planned. And now I even get a complete and precise way description which turns to take. I am sure I can't drive the wrong way now.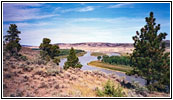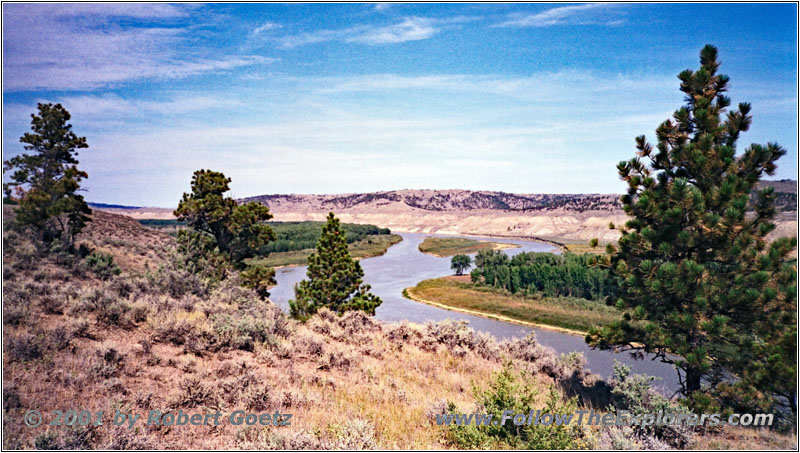 Missouri River, NWR307, MT
We continue our journey after a couple of minutes, everyone in the opposite direction. After a short distance I reach the crossing they mentioned. Now the road is getting rougher. It is not as bad as yesterday, but I have to drive up and down steep hills with deep washouts. I definitely don't want to drive these roads when it's rainy. But now, on dry soil and nice weather, it is really fun to drive there.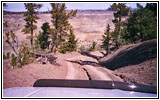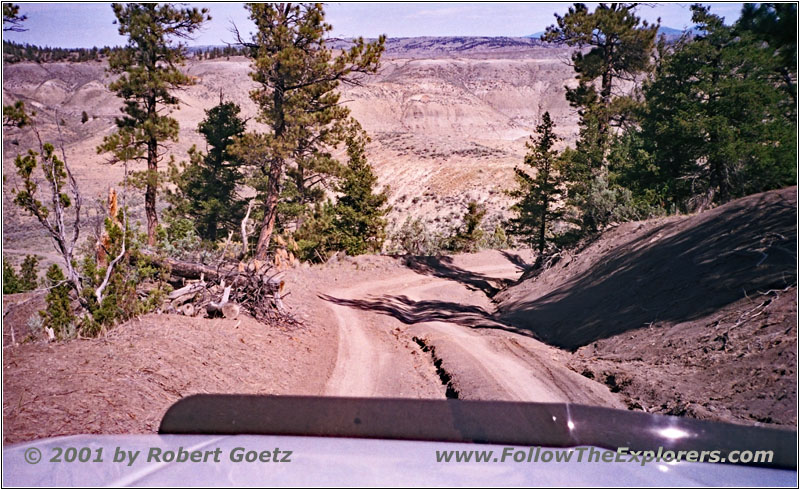 Backroad NWR307, MT
I continue for several miles on NWR307, more or less close to the Missouri south banks. Sometimes I am driving on top of these small hills, sometimes at the bottom in the flats. All in all it is a fascinating landscape.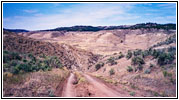 Backroad NWR307, MT
After an hour I meet two guys in a huge Ford Pickup Truck. They are ranchers, father and son, who are planning to drive their cattles. First they drive around with their truck to search for them. Then they drive back to get their horses which they left a couple of miles back on the road. The family is living around here for a very long time. Their name has a french sounding. Their grandfather even came from Germany, but they didn't remember the exact town.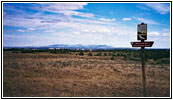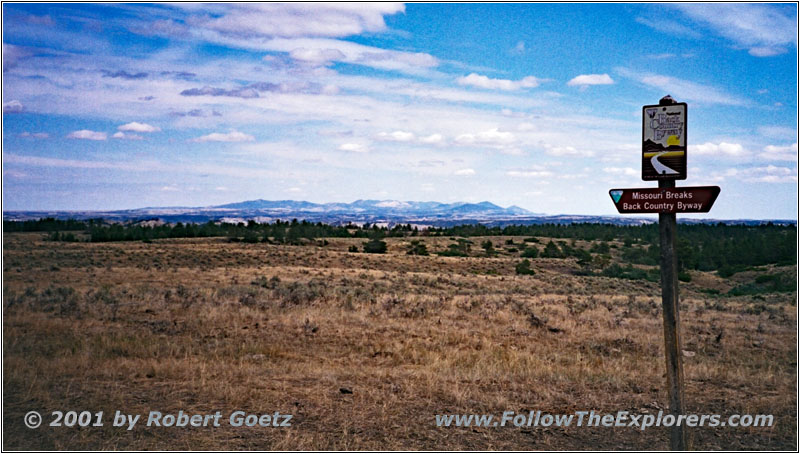 Missouri Breaks, NWR307, MT
After this nice conversation we say goodbye and I continue my backroad drive. It doesn't take long until I reach the spot where they have left their two horses and their trailer.
I continue my journey, now slowly leaving the Missouri River banks and driving into the backcountry. This is also the area of the Missouri Breaks where no roads go through. This last leg can only be visited by canoe on the river. Maybe I will do that some day, like the guy at the Lewis & Clark Interpretative Center in Great Falls recommended.
But now I am on my way back to civilization. The first village I reach is Winifred. From there I drive on Highway 236 to Hilger, where I reach Highway 191 again. I follow this highway now all the way to Lewistown.
There is the beginning of Highway 238 which will take me all the way through the Lewis & Clark National Forest. It looks like this will be a nice ending for my trail. But to my surprise this highway is only a gravel road — and a pretty bad one. My car will be shaked through really heavily and I am getting worried about my camera.
So I slow down. But after a while I realize that I will not make it all the way to Billings by maintaining this speed. So I am forced to drive faster. At least the landscape is very beautiful. I am driving through a small mountain range.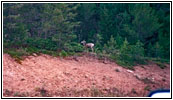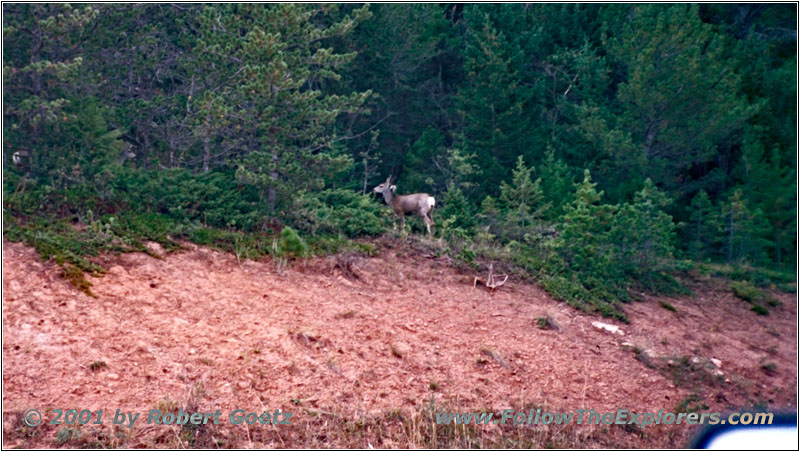 Deer on Highway 238, MT
Slowly the shadows are getting longer and now is the time of day where I usually see wildlife along the road. And I have the luck to see a bunch of deers at the side of the road. The hills are pretty steep and they don't have the chance to flee as fast as they want to. This gives me the chance to have a nice shot — of course with my camera!
I continue my journey and my small truck will be completely shakened through. I am really worried about my new axle ball joints. But I have no other choice. After an endless drive I reach pavement again. When reaching the little village of Ryegate I encounter that the steering feels a bit weird. It feels like being in 4WD. I look down and see that the 4WD control light is on while the lever is still in 2WD. Maybe something got stuck on this rattle road. I put in 4WD and take it immediately out. The light goes off and I am able to continue my journey — great.
Then I reach the crossing to Highway 12. When making the turn I have the same weird feeling in my steering. And the 4WD control light is on again. I drive to the side and try again putting in and out 4WD. But every effort was in vain. Eventually, after 5 long minutes, the light is off.
I continue keeping always an eye on this control light. Currently things look good. I have the impression that the 4WD always kicks in when I have strong acceleration. After a while I reach Lavina and the crossing to Highway 3 to Billings.
It's slowly getting dark and I am glad that I am no longer on a gravel road. But I cannot be happy for a long time. Suddenly the control light intermittently turns on again. I stop and try again to get it permanently off. After a brief fight I am successfull but at the next incline the light turns on again. Now I have no chance to get the light off. I have no other choice than to drive this way slowly to Billings. Hopefully nothing breaks by doing that. The manual explicitely warns to not drive on dry pavement in 4WD because of high torsion forces in the drivetrain.
I arrive at the Motel 6 half past eight. Unfortunately the control light is still on. Looks like I have to search for a mechanic tomorrow. I am not very optimistic because of my bad experiences in Pittsburgh. But first I need a room for tonight. Unfortunately they only have smoking rooms left. But the lady at the reception recommends the Red Roofs Inn which runs under the same brand and has the same prices. I say thank you and drive over to the other motel.
It looks like all guests have met here at the same time. There are three people in front of me. Then it is eventually my turn. I am able to get a non smoking room, but on second floor. This is something I already expected around this time. I take my keys and drive to the stairway. Now the control light is off and the car drives absolutely normal — are you kidding me?
I put my stuff in my room and drive over to the Outback Steakhouse for dinner. It's not a problem to get a table around this time of day. It's almost half past nine. Here in the US it's more a problem that the restaurants have already closed and the only option is fast food. But the Outback is usually open until eleven, a lot of them even longer.
As usual I order my 12 ounce Outback Special. Strengthened by a great steak I drive back to my motel. During my drive the control light turns on again intermittently. Looks like I have to go to a mechanic tomorrow.
Back in my motel I check the phone book and find three mechanics which look promising by their advertise. I am curious to see what happens tomorrow. But for now I fall in my bed extremly tired. This is not the ending I expected for my Lewis & Clark Trail…
General
Breakfast: Westside Restaurant, Malta
Dinner: Outback Steakhouse, Billings
Motel: Red Roofs Inn, Billings
Distance: 297 miles