Lewis and Clark Trail Back Home 1805 — 1806
Day 33: September 13th, 2001 Billings — Miles City
I am up early today. I plan to be as early as possible at the mechanic. I have again breakfast at Cracker Barrel. Then I hit the road to search for the mechanic. The overview map in the phone book gave me an idea where the road should be. Unfortunately there are no numbers in the book map to see. So I have to guess where it might be.
I find the mechanic without searching around — Willard's Garage will be my first try. The shop is a bit set back from the road. It doesn't look like a big shop. But I have the impression there are people who know what they do. I enter the office and tell the guy at the desk my problem. Later I see that it is the owner himself.
He thinks it is most likely the vacuum solenoid. They start to leak when they get old and then the 4WD might jump in. He asks one of his mechanics to check this out. I also remember that it might be a good idea to check the back differential fluid.
After a while they tell me that they ordered the spare part. It should arrive shortly. But it takes a long time. Looks like something went wrong with the order.
Eventually they put in the part and do a test drive. This should work now. The bill also looks very reasonably. Compared to the mechanic in Pittsburgh I am positively surprised. Looks like here in Montana are the better mechanics because people have to rely on their cars here more than in the East.
I pay around noon and hit the road. But after a short drive the control light turns on again. I turn around and show the mechanics my problem. Unfortunately everyone is now off for lunch. They will return a quarter to one. So I have no other choice than to wait.
As soon as the mechanic arrives he takes a look at my little truck. Sure the light doesn't show the issue after this long waiting time. So they ask me to drive around until I can reproduce the problem again.
After approximately the same distance the light starts to flicker again. I turn around and show them my issue. Now they can start to figure out the problem. At least he can dissipate my concerns that 4WD is partly in. The connection is solid at this vehicle. Either I am in 4WD or I am not. It cannot be half activated.
Just to be sure he disconnects everything that might be responsible that 4WD kicks in. But the lights still turns on. Now it can only be the control switch. He tries to get one of these, but he cannot make promises. After a couple of phone calls he returns to me and tells me that he was able to find a dealer who has the switch in stock. It should arrive here shortly!
This time the waiting is not this long. The switch arrives soon and the mechanic installs the part. Also this bill is very reasonably. Maybe it would be better to have my base station here in Montana than in Pittsburgh…
I leave the mechanic, hoping that everything will work out this time. And this time I am able to drive much further. First I drive to a gas station to fill up. Then I drive to Wal Mart because I run out again of film rolls.
At the parking lot I think about how far I am able to drive today. It's already a quarter past three. I decide to only drive to Miles City. There is a cheap Motel 6 and the distance is still ok for today.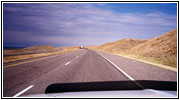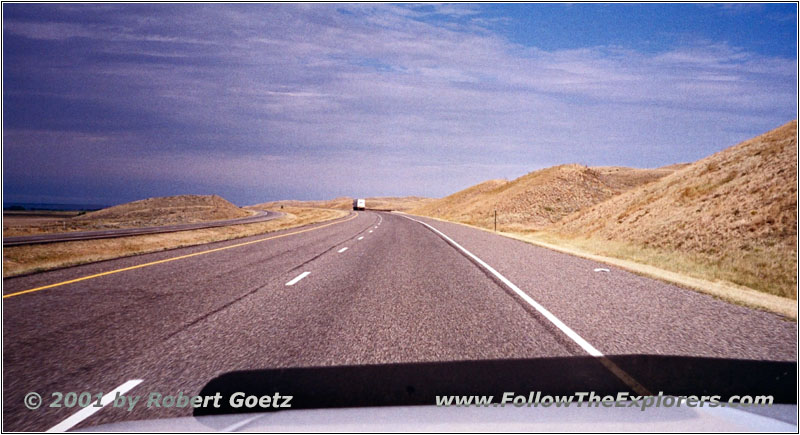 I–94, MT
I leave Billings to reach I–90 to the east. Then I turn onto I–94 to follow again the Yellowstone River — this time on the Interstate. I have no further problems with my 4WD. It looks like the problem is finally solved. The guys were really good. If I should have ever issues in this area, I know where to go.
But for now I drive to my Motel 6. I check in around 6pm, again on second floor. Adding to my bad luck it starts to rain now. But I make it just in time to get my stuff dry into my room. I check the short video recording of today before I make another trip to Wal Mart. Next to the store is a nice western restaurant, which I had to skip last time because it was completely full. But today is Thursday and therefore I am positive that I am able to get a table.
There is a talking statue at the entrance. The interior has an old western style with a lot of wood. Also the servers are running around in jeans shirts. They also have a big menue of steaks. I order as usual a 12 oz steak, Western Style grilled. They say you should almost taste the campfire.
They also serve selfmade bread and salad as entree. Then they serve my steak. It tastes absolutely great and different from the Outback Special I always have. Strengthened by a great dinner I put my tip on the table and go to the cashier to pay my bill. My server is currently the cashier and she asks me what I do in this little town. When I tell her that I am here for vacation, she only says "in Montana?"
I leave the stagecoach half past seven and return to my motel. Tomorrow my 2000 mile trip back to Pittsburgh starts…
General
Breakfast: Cracker Barrel, Billings
Dinner: Stagecoach, Miles City
Motel: Motel 6, Miles City
Distance: 148 miles