Lewis and Clark Trail Back Home 1805 — 1806
Day 40: September 20th, 2001 Pittsburgh (Mine)
Originally Helen und I planned to leave early in the morning. But I totally sleep in. I call her and ask if it is ok if I show up around 11am. That's not a problem and gives me the chance to switch batteries. I also remove my spare cans which David will keep for me in his garage. Finally I put in some fuel stabilizer before I drive over to Helen.
My gas gauge is already half down. I know I can store with a maximum of half full in the mine so I drive over to the next gas station. I get some gas with higher octane rating, because I read that gas will loose some octanes while getting older.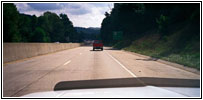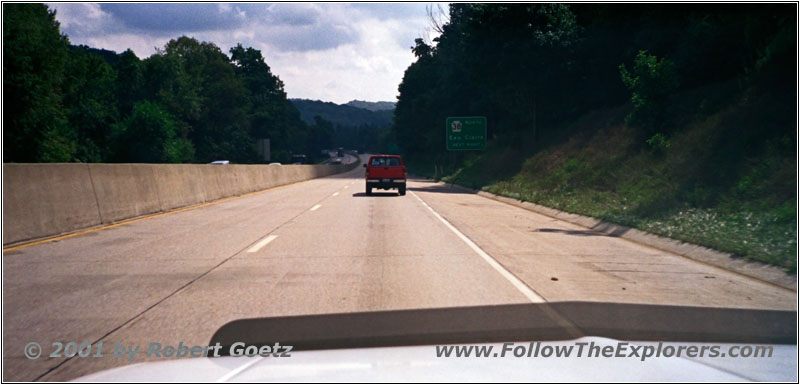 Highway 422, PA
Now I am ready for the mine and meet Helen. We drive almost an hour along small backroads and highways. I assume, I will not be able to find my way to the mine alone without GPS. There are too many turns and small roads.
We arrive around noon at the mine. This time we don't have to wait too long for someone to guide us in.
We drive again through numerous small tunnels until we reach the gate of the climated section. Our "Pacecar" opens the gate and shows me my spot. I remove my car pod and store it away. Then I disconnect the battery — that's it. The other truck guides us out. Then we drive the same way back. We talk about my trail, Country Music and and and…
We agree on meeting for a good–bye dinner. Then I start to pack my suitcase. Unfortunately I forgot to put some stuff in my car. I hope David will be able to store my little bag until next year. My suitcase is completely stuffed and I am barely able to close it. All in all packing everything together keeps me busy until the evening.
We are three of us for dinner. It amazes me that Helen takes a different route than David used to take when driving to the Outback Steakhouse. But then I realize why: We are not driving to the Outback but to Lonestar. This is also a steakhouse like Outback. Only the interior is different, more Country. But it is very nice, too. I have a 12 ounce steak for the last time this year. Then I pay the bill. This time I invite to say a little bit thank you for all they do for me.
We are back around 8pm. We talk for a while until I go to bed for the last time this year in the US.
General
Breakfast: David, Pittsburgh
Dinner: Lonestar, Cranberry
Motel: David, Pittsburgh
Distance: —