Lewis and Clark Trail Back Home 1805 — 1806
Day 41: September 21st, 2001 Pittsburgh — Munich
This was my last night. I wake up in time to be able to say goodbye to David. It hurts to leave because I almost felt like home around here. He promises that I can stay in his house next year again if the apartment is still free. Otherwise I am always welcome to use his garage to work on my car. This really helps a lot! I have a lot of ideas what I want to change on my little truck. The only thing limiting my ideas is my financial situation…
David leaves for work and I have half an hour left before Helen arrives to pick me up. I get all my stuff downstairs. Then I take a last look into the tool magazines laying around. It doesn't take long until she arrives. We load my stuff in her car and leave for the airport. I am slowly getting nervous, because I don't know what to expect at the airport. They are also renovating the airport and I have to enter at a completely different place than usual.
We say goodbye and I start to search for the counter. But it is easy to find. They check in my luggage, then I go over to Security. There is a warning sign prohibiting scissors and knifes. Below is a small box for valuables — this is new. And a lot of people just want to walk by as usual.
I take one of these boxes and put everything metal together with my buckle in it. Then I walk through the control machine. As usual my bag receives a more precise look, mainly because of my film safe bags. I didn't expected that they are so X–Ray tight that they are not able to see what is inside. But what is new is that they open every film can to see if a roll is inside.
I start a nice chat with the security guy. He tells me that people now have more understanding for the security checks. We also talk about my trip and encounter that he also has ancestors from Germany. Unfortunately he don't know from where they came. But he promised to find that out and he will be able to tell me next year.
All in all Security is much faster than expected. So I am way too early at the gate. I can only take out my book about the Lewis & Clark Trail and to read it again. Originally I hoped I will be able to already read something about my trail for next year. But that didn't worked out.


Flight Pittsburgh to Chicago
I have to wait more than two hours until boarding starts — first time for me with real mixed feelings. But I get more relaxed soon and I am back to my usual almost daily flight routine. The landing in Chicago is without any issues. The plane even parks at the same terminal where my transatlantic flight to Munich leaves. This saves me from going through security once again. I was really afraid to have to go through security again and will miss my transatlantic flight. But now I have plenty of time.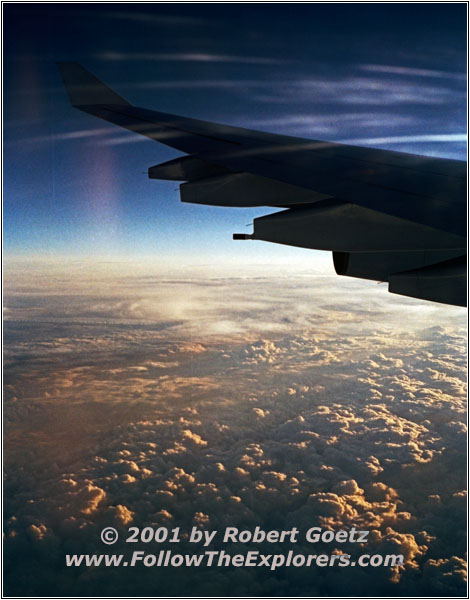 Flight Chicago to Munich
The plane is completely booked. There are only a few seats empty when boarding finishes. Next to me is an older lady who plans to visit Athen with friends. Her husband also came from Germany. But he died several years ago because of cancer. They have really seen a lot: He had a Jeep Wrangler, THE offroad vehicle. So for her are my trails like daily driving. We have a real nice conversation about almost everything, a real nice neighbour for a long flight.
The plane arrives on time in Munich. I am able to leave early because my seat is close to the business class. Then I have to go through immigration and then on to the baggage claim. Surprisingly my suitcase is one of the first who arrives. When I pick it up I see why: The guys in Pittsburgh were so nice to attach a priority luggage sticker. I always thought you have to have senator status to get these stickers. But maybe they are more easy in Pittsburgh. Next I have to walk through customs. Outside my parents await me who take me home — with Bavarian "Weißwürste" and Brezel.
After six weeks and around 7700 miles I am back home. I am happy that everything went well but I am already looking forward to my next trail. Let's see how that trip will work out. And if I am able to get again six weeks off from work. But we will see…