Sullivan, Clinton and Broadhead Trail 1779
Day 1: September 3rd, 2000 Munich — Pittsburgh
The flight this year will be a tough one. Most of the planes were already booked because I had to book a couple of days ago. There was only one flight left. This one goes from Munich to Frankfurt, from there to Chicago and back to Pittsburgh. Again via Chicago! It wouldn't be the first time to loose my suitcase there! But I have no other choices.
My flight to Frankfurt departs at 11am. There is still half an hour left after check–in. This is probably the last time I can spend the waiting time in the Lufthansa Lounge. I will most likely loose my silver status by the end of October, because I am not traveling this much for my company anymore — unfortunately.
The plane departs on time at 11 am and also arrives on time in Frankfurt. Now I have to hike once again to the other end of the airport. I also have to go again through security. They almost completely emptied out my carry on in Munich, so I expect the worst here again. But they only took a brief look and did a testing for explosives — that's it! I can hike on to my departure gate, which is again at the other end of the terminal.
After answering all security questions I can go on board. Unfortunately I was not able to reserve a window seat for my transatlantic flight. But at least I am sitting at an aisle seat and I am not squeezed in somewhere in the middle. At a quarter to two the plane departs with destination USA on time. I am pretty excited about what will happen on this journey!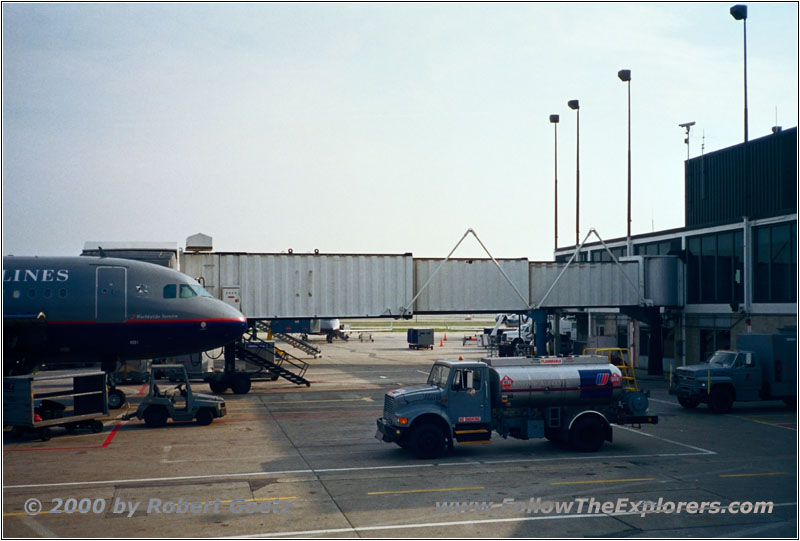 Chicago Airport
The plane arrives in Chicago a bit ahead of time. This saves me from running to the connecting flight as usual. Also immigration is pretty fast. Then I have to pick up my suitcase and carry it through customs. Past customs the suitcase can be dropped again for the connecting flight. The screens show me that my connecting flight leaves at Terminal 2, which is not the usual Terminal for United Airlines. Chances are good I will not see my suitcase again today. Everytime I depart from Terminal 2 my suitcase got lost. But we will see.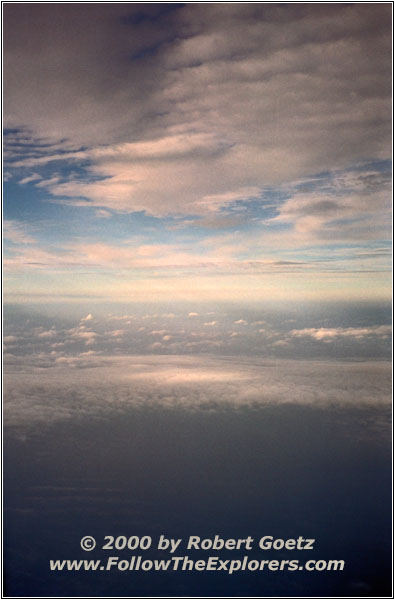 Flight from Chicago to Pittsburgh
The train takes me to the terminal and a bus to the gate. The flight to Pittsburgh is not really booked and I eventually get a window seat. This gives me the chance to watch the game of clouds and colors in the sky painted by the sinking sun.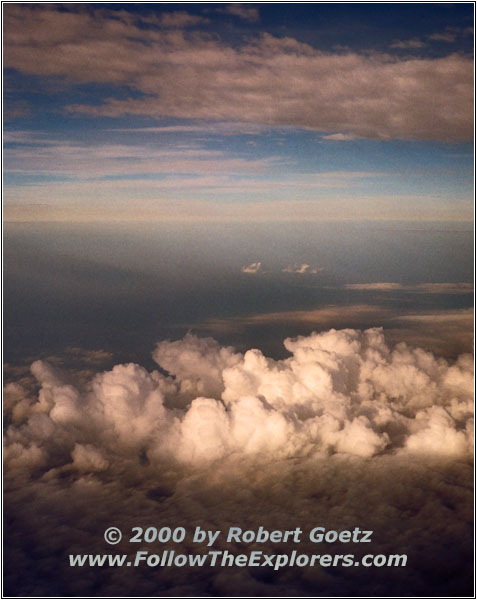 Flight from Chicago to Pittsburgh
The plane arrives on time in Pittsburgh around a quarter to eight. Next the train takes me from the Terminal to the central area. I walk to the baggage carousal and wait until the last suitacse has arrived. Now I have to face the fact that my suitcase is still allowed to enjoy Chicago airport for a while. I walk to the lost and found counter and give the lady all details about my lost suitcase. I am getting used to that. The next plain arrives around midnight. She offers me to send the suitcase to my Motel which I happily accept! When I tell her the address of my Motel (about an hour drive form the airport) she looks at me with big eyes! Usually tourists take a Motel at the airport and hit the road on the following day.
After managing this obstacle I walk over to the rental car station. I already had trouble with them last year when they forced me to take an insurance which I didn't needed. Let's see what they say if I show up without any Voucher. My travel agency was not able to fax me the document in time. As expected they declined everything. Even when I offer to fax the Voucher and stop by tomorrow they insist that I have to rent a car for the regular rate — Thanks, that's almost double what I should pay!
But a cab would be probably way more expensive than the overpriced rental car. The only thing I can do is to take the smallest available car for one day. After getting this solved I drive to my Motel. Hopefully this reservation went through. I am not in the mood to hunt for a Motel room at Labor Day Weekend around 10pm. But at least this works out! Everything is already set up and I only have to sign. I tell them that my suitcase will arrive somewhere in the night. Then I am finally able to go to bed. Due to my long time experiance in flying around I have all my toiletries in my carry on.