Sullivan, Clinton and Broadhead Trail 1779
Day 11: September 13th, 2000 Canandaigua — Batavia
Today I plan to visit the Letchworth Sate Park. Depending on how long I will hike in the park I have also planned to spend tomorrow in the park. But first I will have breakfast at Dennys. Whereas it seems to me that they are not as good as they used to. I think breakfast was better there last year. But maybe I was not as demanding as now…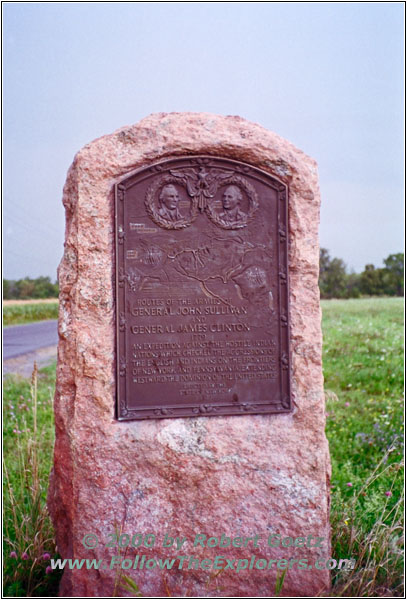 John Sullivan Memorial, NY
I leave the restaurant around half past nine. I follow John Sullivan's destruction campaign. His path takes me from Canandaigua to Honeoye. Sullivan arrived there on September 11th, 1779. They surprised some Indians who fled immediately. There were still the potatoes in the fire.
The next destination was Genesee Castle, which was the biggest city in the area at this time. John Sullivan sent out an advance party which should be Lieutenant Thomas Boyd and two or three men. But Boyd insisted to have 26 men. The little army went to Genesee Castle. But they got lost and arrived north of Genesee Castle. They attacked a small village and scalped two Indians. Eventually they reached their destination. Boyd sent a messanger to Sullivan to tell him that they found the city and are waiting for him. But Boyd changed his plan and marched off.
He discovered an ambush with 400 men, who were waiting on Sullivan's way. It was a tough fight. Boyd's men had a good position in the woods. But they were completely inferior to the superiority. Sullivan was able to hear the shooting and they forced their march. But when they arrived at the battlefield Boyd's men were gone. It looks like the whole command has been wiped out. But by detecting this ambush they saved the life of the main force!
John Sullivan hurried up to reach Genesee Castle. He crossed the Genesee River on September 14th and reached the city. Genesee was already completely devastated. But in the center of the city he found the mutilated bodies of Boyd and his men. It looks like they have been excruciated to death. Then the Indians and the Whites most likely fled to Fort Niagara fearing being killed by Sullivan. But Sullivan has reached the aim of his command: He demoralized the Indians and is now preparing for his march back home.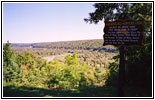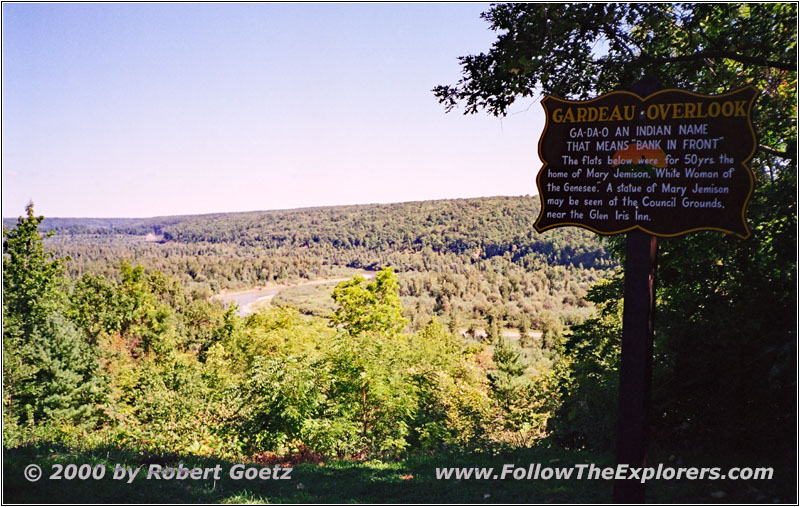 Gardeau Overlook, Letchworth State Park, NY
I follow his path from Honeoye to Cuylerville where he found the bodies of Boyd and his men. There I leave his trail and follow the Genesee River to the south until I reach the Letchworth State Park. I am pretty good in time. Therefore I decide to skip driving to all lookouts and start immediately my hike which includes all viewpoints.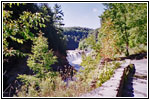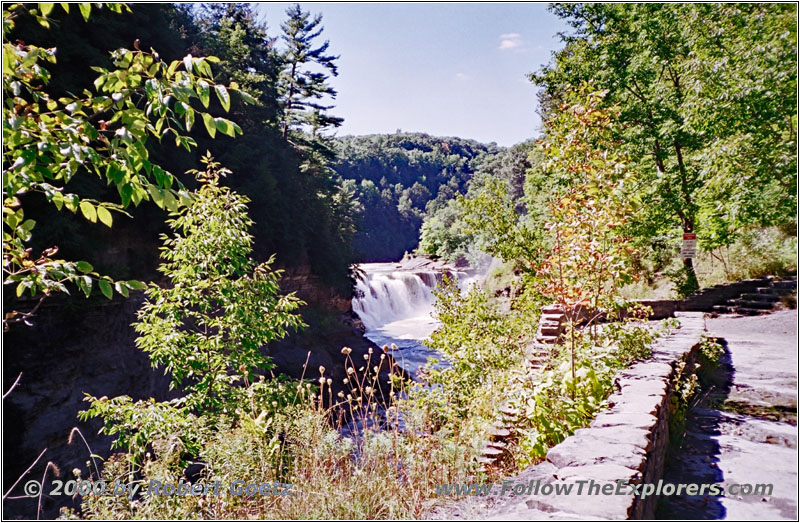 Lower Falls, Letchworth State Park, NY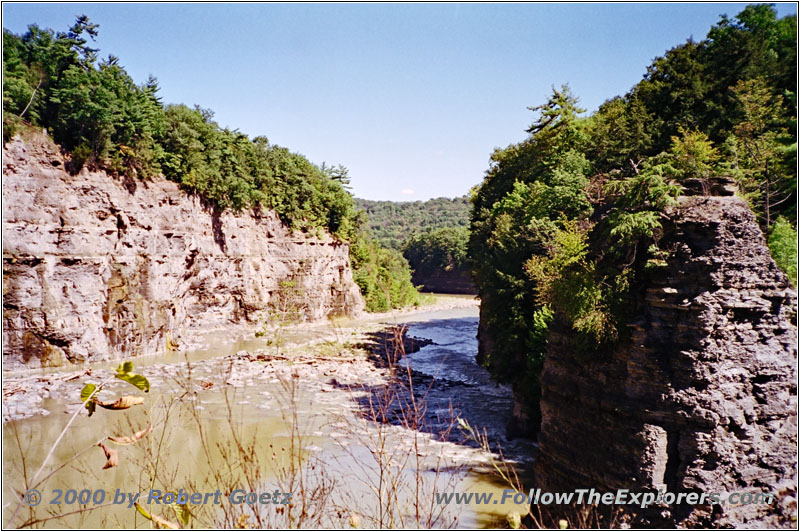 Genesee River, Letchworth State Park, NY

Genesee River, Letchworth State Park, NY
My hike starts at the south end of the park. There are the Lower Falls and the Genesee River has cut a deep gorge in the rocks. That's why this area is also called the "Grand Canyon of the East". The canyon is not as deep as the original Grand Canyon but already very impressive.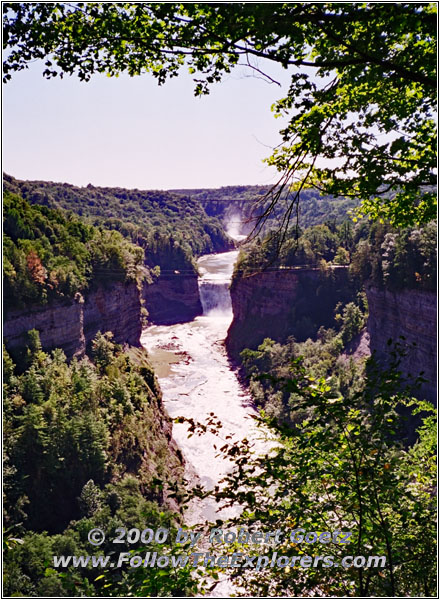 Middle Falls, Letchworth State Park, NY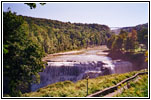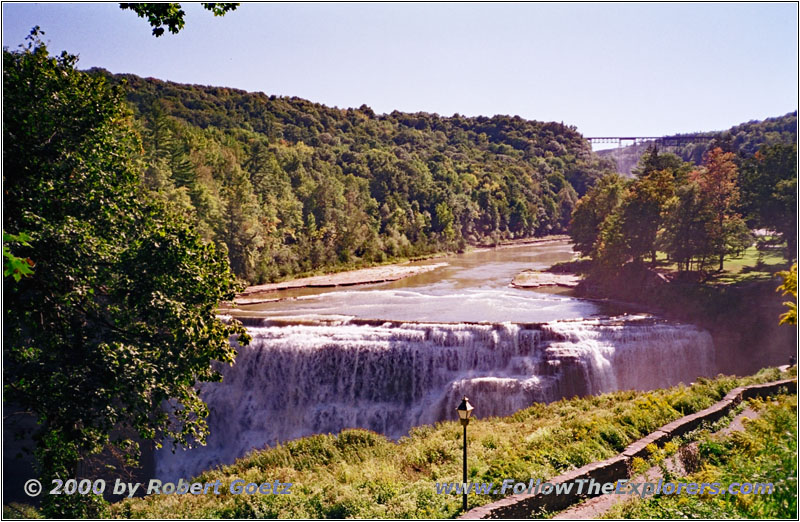 Middle Falls, Letchworth State Park, NY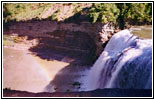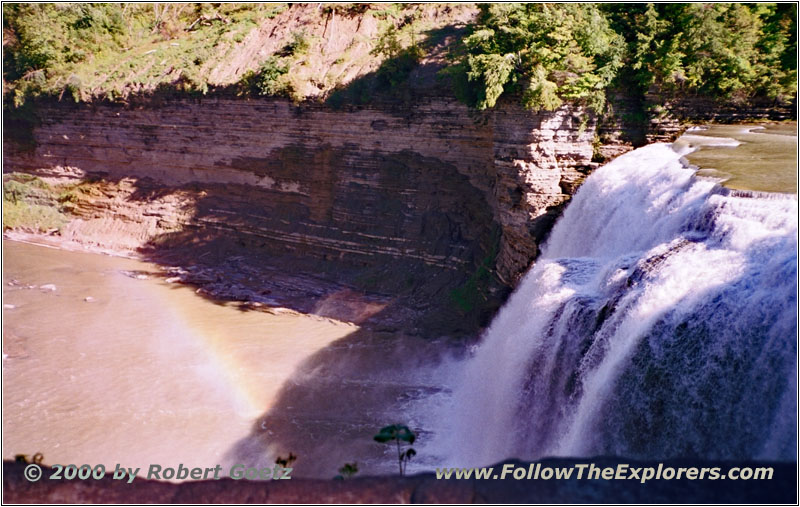 Middle Falls, Letchworth State Park, NY
The hiking path follows the river along the rim. After an hour hiking I reach the Middle Falls. These are more impressive because the river falls down on its whole width. I can also see a nice rainbow.
Now the Upper Falls are not far. There I meet a nice elderly couple. He is also a hobby photographer and we chat a long time about views and landscapes of the different States. It seems like they have already visited most of the States and not only on the main paved roads. At least he has a pretty good idea of what I went through last year being on the backroads in Montana on a rainy day.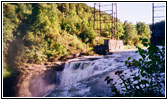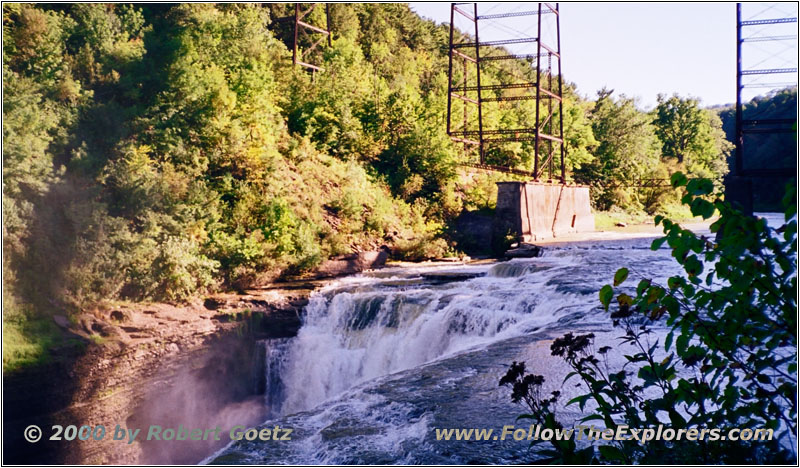 Upper Falls, Letchworth State Park, NY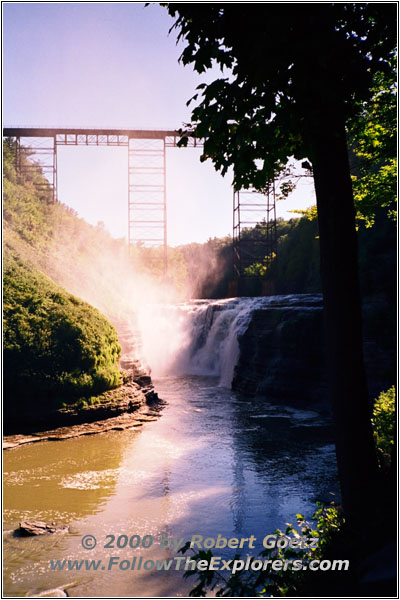 Upper Falls, Letchworth State Park, NY
I completely forget about the time due to our nice talking. The Upper Falls are now already in shadows. But I still hike the short distance to be above the Upper Falls. I take a few shots, also from the railroad bridge which crosses the falls. The first version was completely made from wood but has been replaced by steel in the meantime.
My watch already shows half past five. Now I have to hurry up. It's at least an hour hiking back to the car and another hour driving to the Motel. So I hurry up on my hike back. It 's also getting pretty chilly as soon as the sun goes down. I make my way back within 45 minutes. On my way to the Upper Falls I needed more than two hours. Now I can see how time consuming video taping is. But I was able to reduce my two days trip through the Letchwork State Park to one day. This way I am able to gain back a bit of my lost time and may give me more time for other things.
My next destination is Batavia. I plan to visit the Niagara Falls from there tomorrow. But first I have to leave the park. I follow Highway 39 to Perry and from there on Highway 246 to the north up to Highway 63. This Highway takes me now all the way to Batavia. I check in at a quarter past seven at the Super 8. Unfortunately I run into the Comfort Inn because they reside together with the Super 8 under one roof. But when I show my VIP card the lady at the reception explains me the mistake — oops.
Just across the Motel is a Bob Evans in walking distance. But it looks completely different. If there would have not been a Bob Evans sign I would have never expected that this is one. It is completely crowded when I arrive there. The first time on my trip I have to wait for a table. But it takes only 10 minutes until I get my table. The dinner is really as good as it was last year.
I hike back to the Motel around half past eight. I am watching the weather forecast on TV and it doesn't really look good. There is a rainfront arriving tomorrow at Niagara Falls and will continue to the east. Tomorrow is also Saturday which probably means that it will be very crowded at the Falls. I check my trip plan and it looks like I can do Niagara Falls at the end of my journey too without losing any time. So I decide to change my plan and continue on the John Sullivan Trail tomorrow.
Sights
Letchworth State Park
General
Breakfast: Dennys, Canandaigua
Dinner: Bob Evans, Batavia
Motel: Super 8, Batavia
Distance: 131 miles