Zebulon Montgomery Pike Trail to Red River, Arkansas Journey 1806 — 1807
Day 20: September 3rd, 2004 Great Bend (Fort Larned)
Somehow I was not able to find something nice for breakfast yesterday. Therefore I take the risk to try once again a Perkins. But I am surprised here in a very positive way: The service is perfect and also the breakfast is really good. Seems like I will be there tomorrow, too…
I pay around nine and drive over to the next gas station. Then I first take Highway 281 South until I reach the branch to my backroad to the west. Now I am following on gravel roads more or less close the Arkansas River.
Finally I reach the entry to a gravel road, where two ATVs are driving out. First I have no worries, when seeing this. But suddenly the road is getting more and more tight and with unpleasant little hills. No wonder, that there were ATVs driving here. I reach a branch, where the left road looks pretty grown over. Therefore I take the one more to the right.
Now it is really getting wild with tight turns and huge hills in the road. Suddenly the bushes disappear and I end up on sandy soil. It almost looks like the road would run directly through the river. Now I am forced not to slow down, otherwise I will get stuck…
I realize how my transmission and motor is starting to run hot. Eventually I am able to locate an escape path to the side — especially good, as there is a dam suddenly in front of me and I can only go to the side. It goes extremely steep uphill, but I am able to get on top and have now concrete under my wheels. But the views from there are not really promising. There is no way to proceed on this side. And from the other side separates me the dam with a bunch of concrete pillars in the way. Other option would be to drive past the dam back into the dry and sandy river bed and try to find an escape path on the other side. I have no other choice than to try the latter one — I don't want to drive back the way, I just came from…
I drive down the steep ramp, cross the sandy river bed and exit on the other side. But there I am just reaching a small platform. From there is only a narrow and extreme steep little hill in front of me, which I take a closer look at first. That doesn't really look good, but I definitely see no other exit path: So I try to take a bit of momentum and drive up!
I make my way up but then I hear a smashing sound and all four wheels are starting to spin. When exiting my car I realize the trouble I am in: The truck got stuck and lays on its frame and transmission skid plate on top of this hill. My tires to the rear and the front are barely touching the ground — great, now I am in real trouble!
First I try to get my High–Lift Jack. This is difficult, because I am not able to get in my car from the rear, when it is open due to the steep hill. Therefore I have to reach everything from the inside. But after a while I manage to get the jack out. I try my luck to lift the truck a bit to maybe slide over the hill. But I am captured with my spare tire carrier on the right rear side in a tree. As soon as I try to lift my car, the metal sheet, where the carrier is mounted to, is starting to bend — seems like that is not the way to go…
At this moment the two people with their ATVs are passing by — Jerry, who is manager of a farmers equipment store in the east of town, and his wife. They immediately offer to help. First we try to put stones under the rear tires. To do this, I first have to get my car jack out — all in all I am not able to enter my car from the rear to reach the rear storage area!
Eventually I make it and we try to lift the rear axle to make room for some stones. Then I try to start driving off. But there is absolutely no chance. Jerry suggests, that he can try to pull me over the hill with his ATV, while I also try to drive off. But we have also no chance. He is not able to move an inch and my rear tires already start to smoke. Also the try to pull me with his ATV winch a bit to the side to be freed from the tree was not successful. Also the winch is not moving an inch.
The next try is to use my griphoist winch. Unfortunately I am not able to open my passenger door, because the tree with his massive branch is blocking my door. So I have to try to get everything out via the driver side. Regarding the weight of this winch, this is a real problem. When I have the winch eventually out, I see, that there is oil on the winch. First I think to myself, that the winch was not greased originally. Then I realize that I have damaged one of my spare ATF canisters while trying to get the winch out. The rest of the oil is currently soaking into the carpet.
I hurry up to safe, what I can. The worst is picked up by some kitchen towels. Then I carry my winch with rope out. Unfortunately we are not able to get the winch in "Pull"–Mode. The lever is not willing to move an inch and we have to give up very disappointed. He finally suggests to find a way to this spot with his pickup and then he can pull me down with his truck.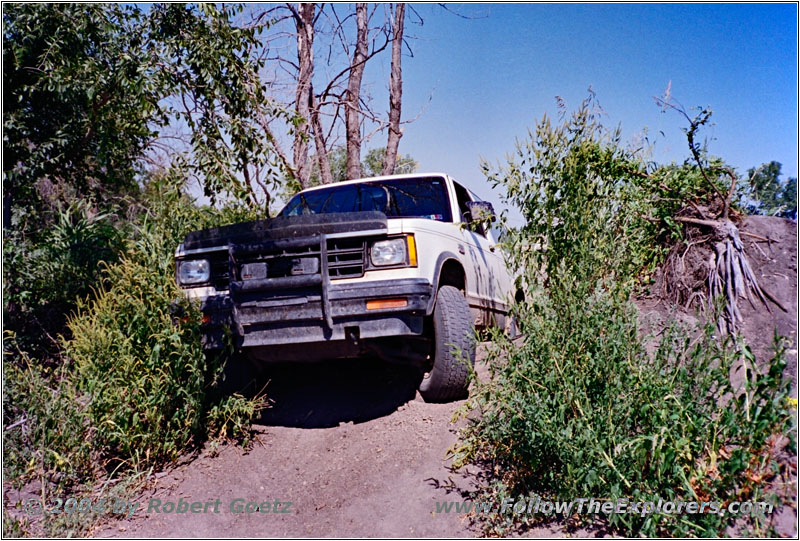 88 S10 Blazer stuck at Arkansas River, KS
This will take a while. Therefore I give the winch another try to get it somehow running. But I have no luck again. Eventually I give up pretty frustrated and pack everything together. Then I take a picture of my car in this position for memories. As my helper is not yet in sight, I try to set something up with my Hi–Lift Jack as winch.
While I am still working on it, Jerry already arrives with his truck. I suggest to use his truck as an anchor point. Unfortunately he misunderstood me and starts with speed into the setup, while my intention was to slowly put tension on it and I will do the rest with my High–Lift Jack as winch. The result is, that the mount broke, where I attached the High–Lift Jack to and my left rear tow hook is almost torn apart from the frame — anyways, it is now bend in an angle of 90 degrees…
Then I decide to give the approach of just pulling me over the hill a try. We attach my rope at the front tow hook and he again runs into the rope with a lot of momentum. But that really pulled my over. After I make it down this hill, I immediately check, if I might have lost my muffler or my rear axle differential is damaged. But everything is still fine. The soil on this hill was relatively soft, so the truck was easily sliding over the top.
I say thank you to both of them and ask, if they have already plans for tonight. Unfortunately they are already invited to a birthday party and they have to hurry up. Due to rescuing me, they are almost running late now. This gives me no chance to really thank them. At least I have their names and I am able to honor them on my web page for their help.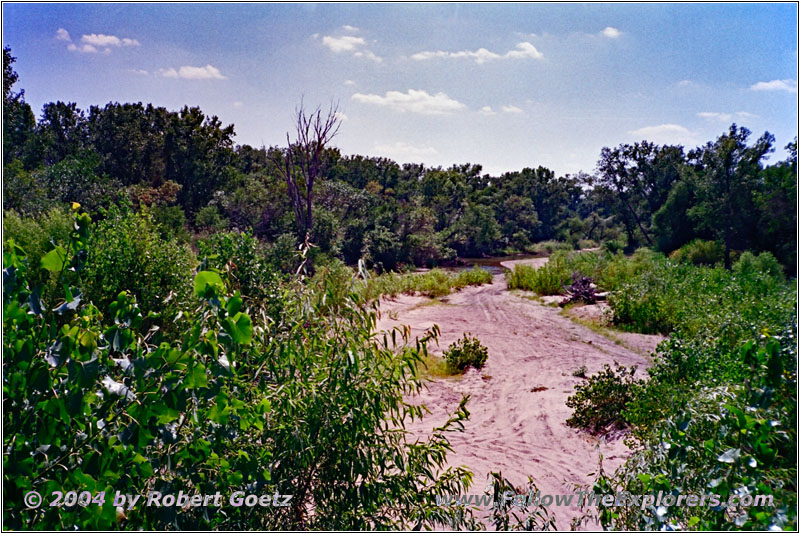 Arkansas River, KS
We say good–bye and they depart. Now it's time for me to collect everything together and see how I can store things back in my car. I am also fighting to get the spilled oil out of my carpet. After half an hour collecting and fighting I am finally ready to depart again–— after more than three hours!
As it is already past noon, I decide to have lunch break here and to eat one of my apples–— and to also put some sun screen on. There was no time earlier…
Around 1pm I depart and drive on backroads to the branch over the Arkansas River to reach Pawnee Rock.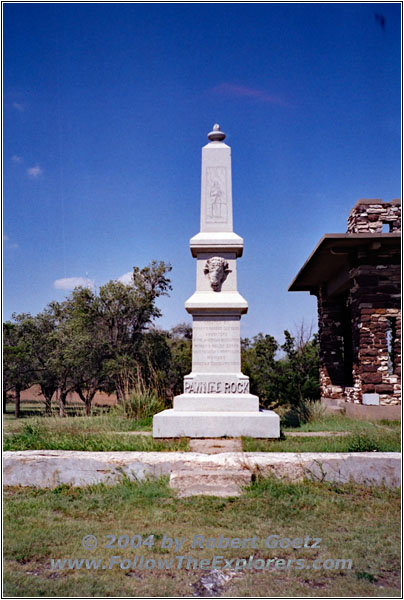 Pawnee Rock SHS, KS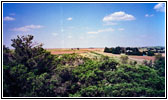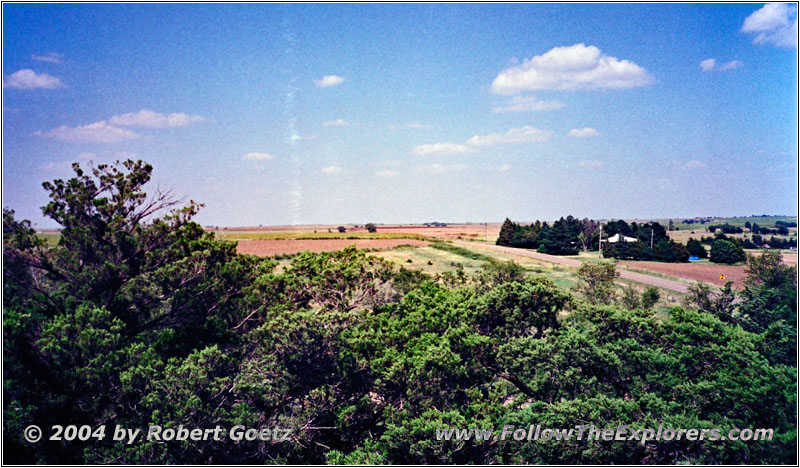 Pawnee Rock SHS, KS
Also this rock was a landmark in the old days. Today you can drive up this hill and on top is a viewing platform mounted, which you can reach on spiral stairs. From up there you have great views of the surrounding plain.
Then I drive back over the Arkansas River and on backroads to Larned.
There I am back on pavement and I drive on Highway 156 to Fort Larned. I arrive there around a quarter past four.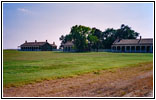 Fort Larned NHS, KS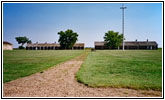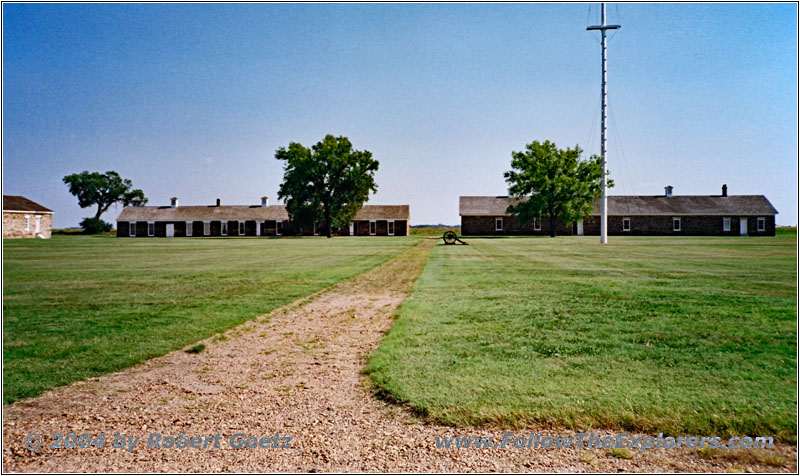 Fort Larned NHS, KS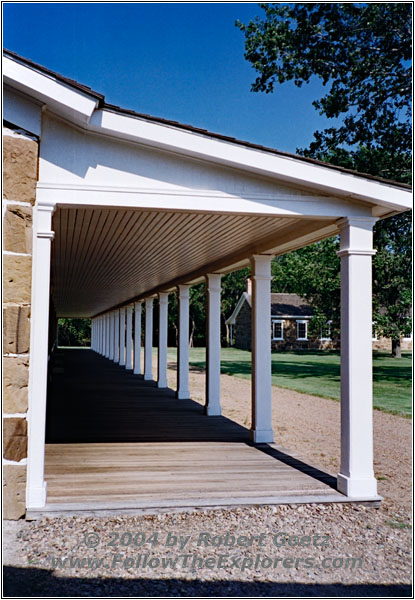 Fort Larned NHS, KS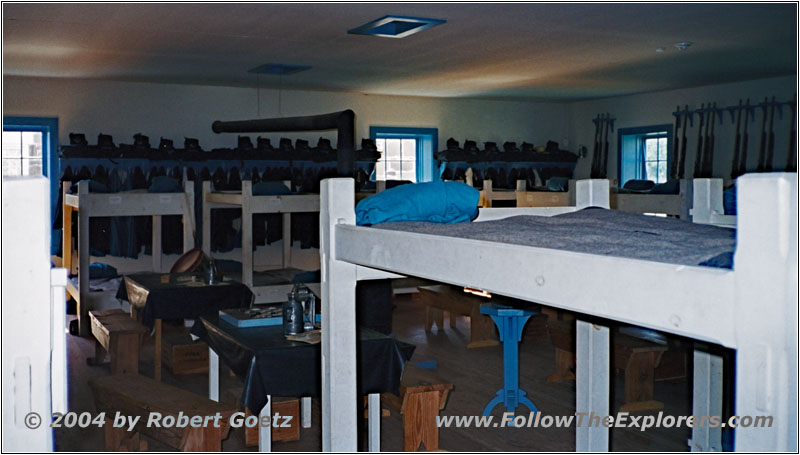 Fort Larned NHS, KS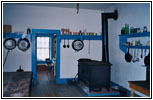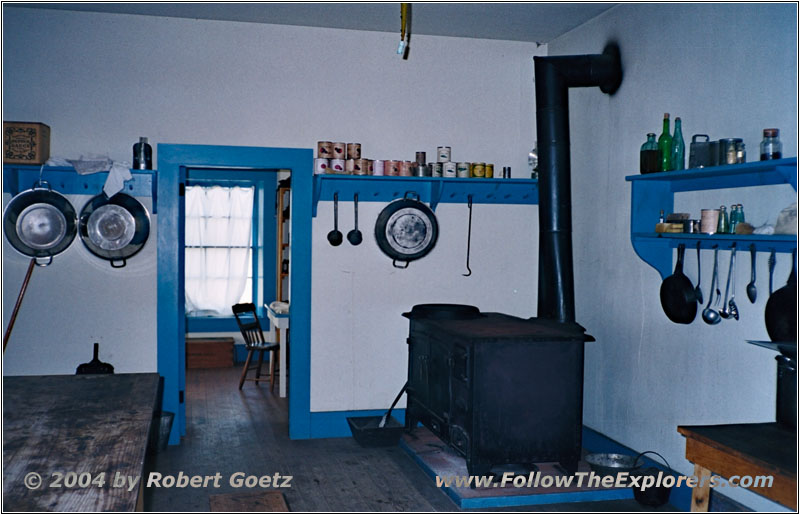 Fort Larned NHS, KS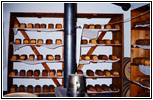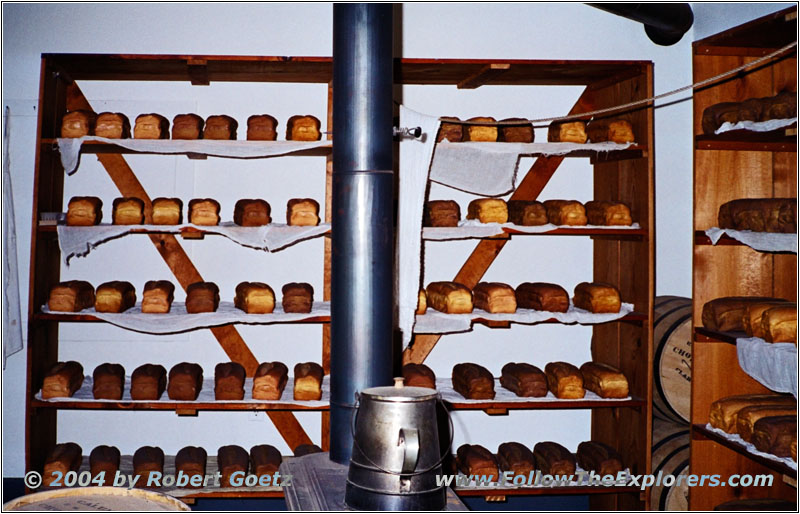 Fort Larned NHS, KS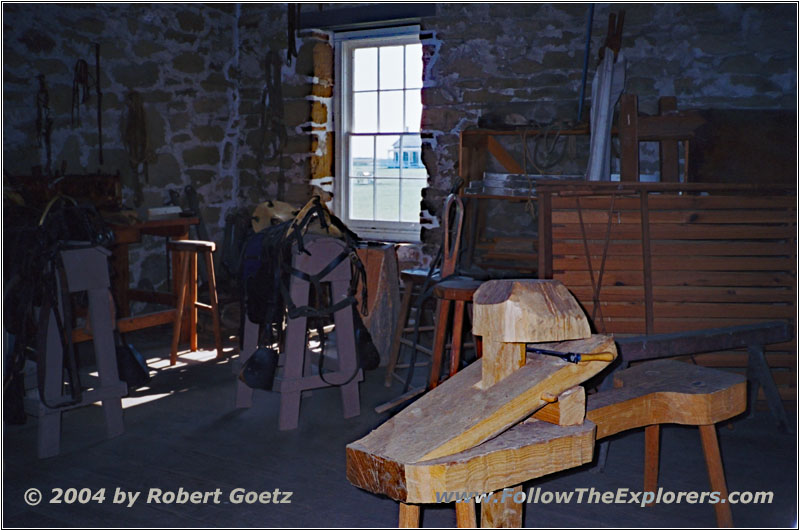 Fort Larned NHS, KS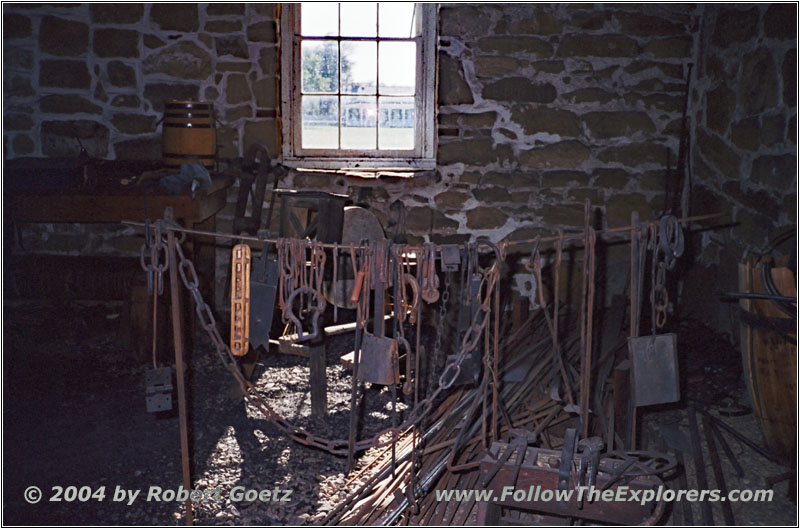 Fort Larned NHS, KS

Fort Larned NHS, KS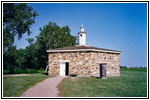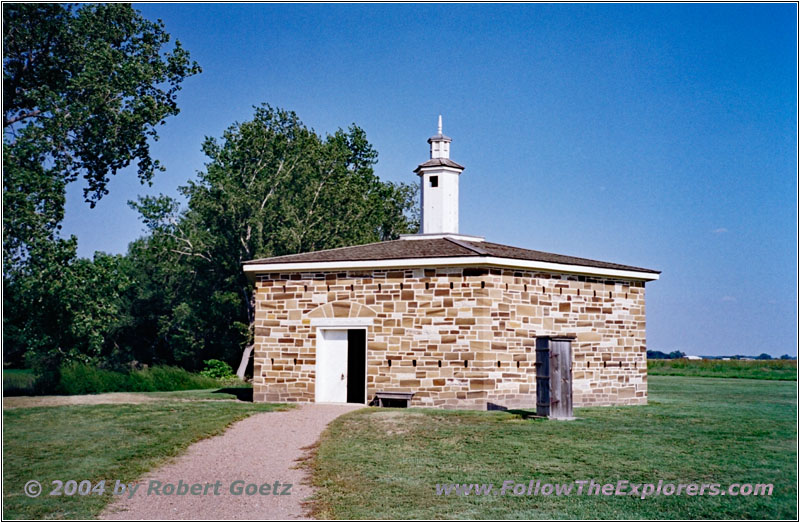 Fort Larned NHS, KS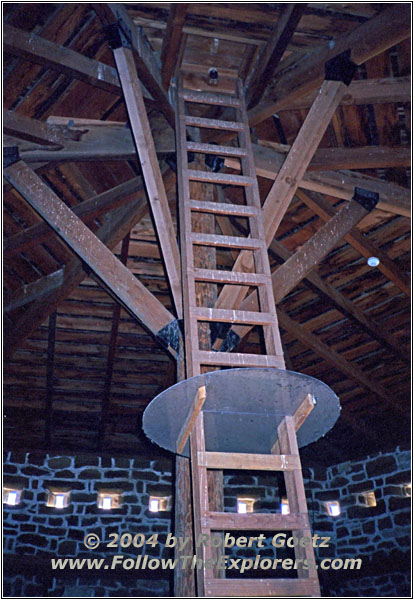 Fort Larned NHS, KS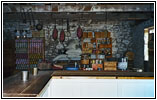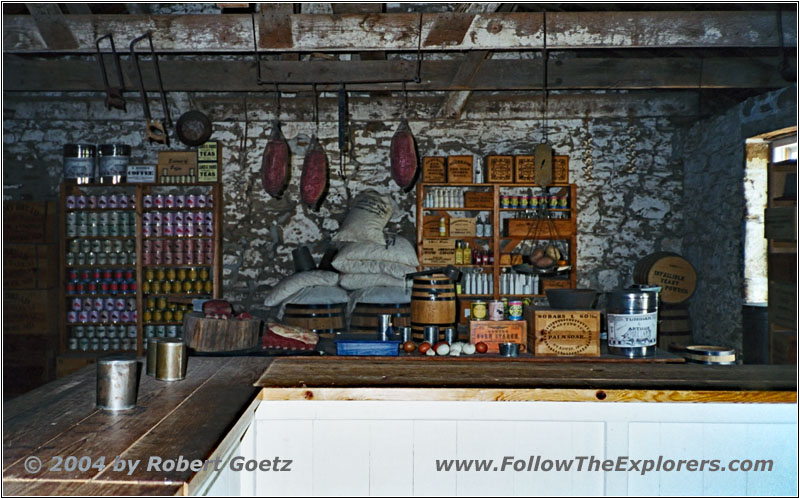 Fort Larned NHS, KS

Fort Larned NHS, KS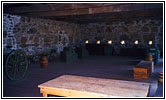 Fort Larned NHS, KS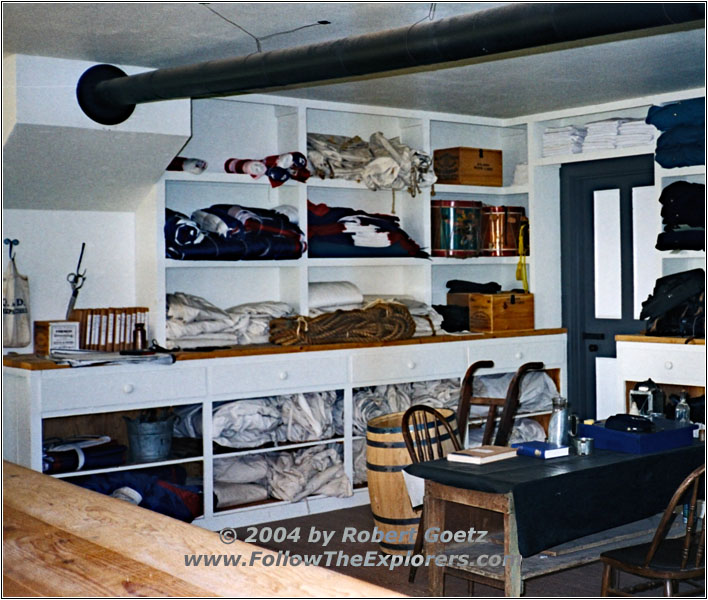 Fort Larned NHS, KS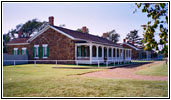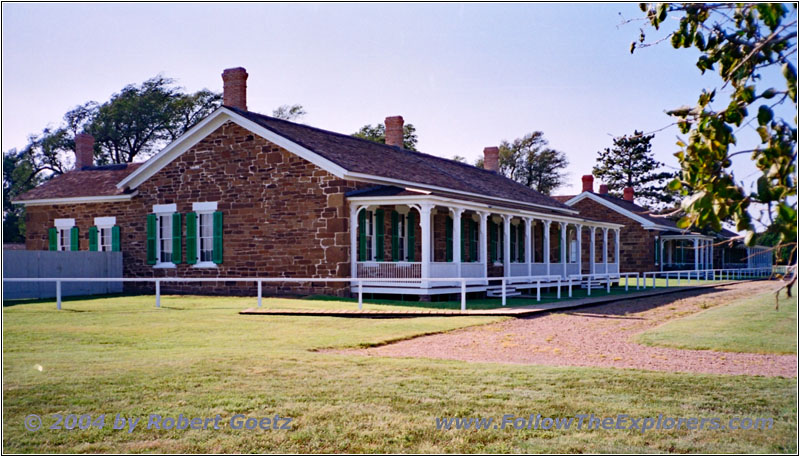 Fort Larned NHS, KS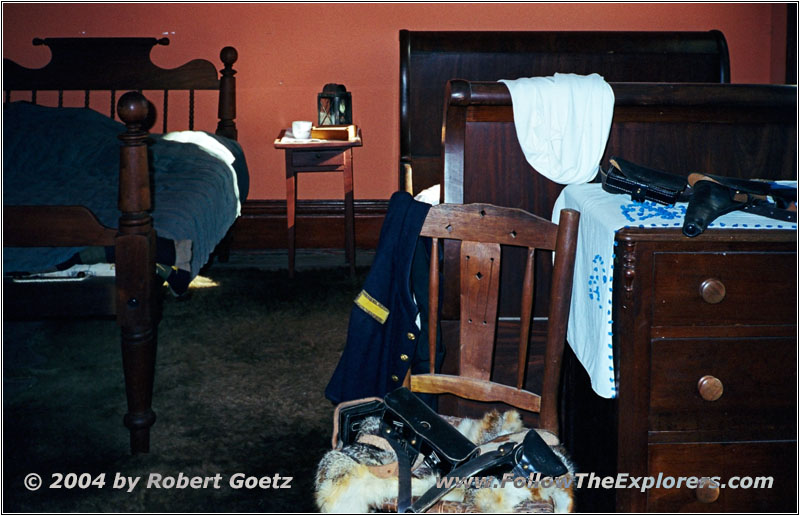 Fort Larned NHS, KS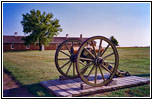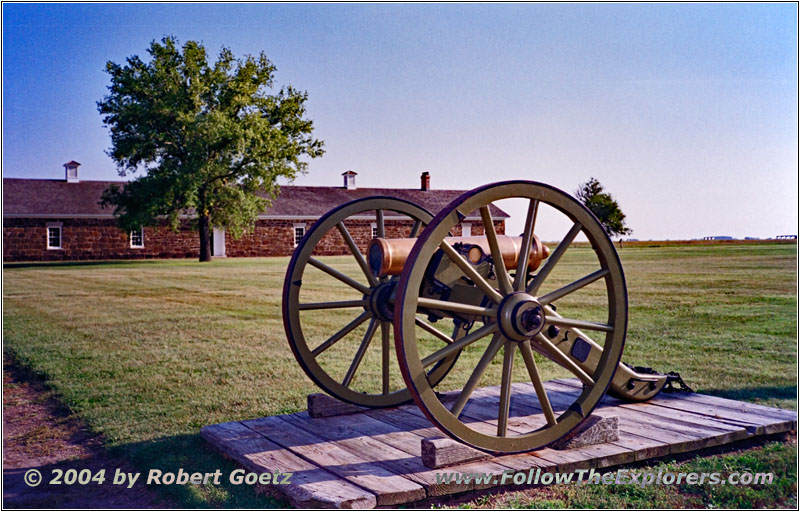 Fort Larned NHS, KS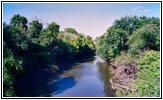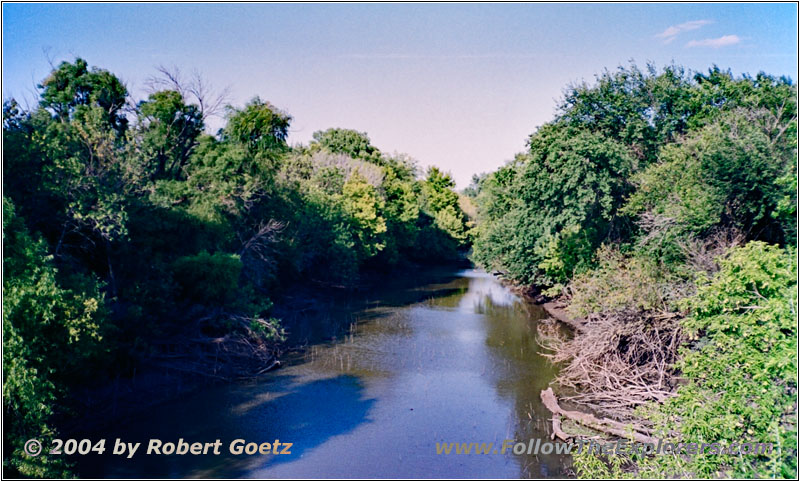 Fort Larned NHS, KS
There is just enough time to visit everything. The Fort is very nicely rebuilt. Everything is done with a lot of love to the details and where the people working here are really proud of. After I have seen everything I drive on Highway 156 back to Great Bend.
For dinner I drive again over to Applebee's. Around a quarter to nine I drive back to my motel. There I check the rest of my video taping of today. Afterwards I go to bed.
Sights
Cheyenne Bottoms (Free)
General
Breakfast: Perkins, Great Bend
Dinner: Applebee's, Great Bend
Motel: Super 8, Great Bend
Distance: 92 miles